Rio Tinto Adding Silvergrass Iron Ore to Nammuldi Operations
---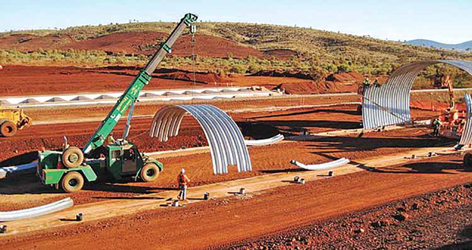 The Silvergrass project will mine a satellite deposit adjacent to Rio Tinto's Nammuldi mine 70 km northwest of
Tom Price, WA. Ore from Silvergrass will be transported to the Nammuldi processing plant over a 9-km-long
conveyor, contributing to an area-wide total output of 20 million mt/y. (Photo: ROCLA)


Rio Tinto is investing $338 million to develop its wholly owned Silvergrass iron ore mine in Western Australia. The project will add 10 million mt of capacity to the company's Nammuldi-area operations, lifting production there to 20 million metric tons per year (mt/y).

"The brownfield expansion of the high-grade mine offers attractive returns, with an expected internal rate of return well in excess of 100% and a payback of less than three years," the Rio Tinto announcement said. "It is a key element in maintaining Rio Tinto's premium Pilbara blend and also delivers incremental tonnage and lower unit costs."

Silvergrass is a satellite deposit located adjacent to the Nammuldi mine, approximately 70 km northwest of Tom Price, Western Australia. The mine will produce high-quality, low-phosphorus Marra Mamba ore that will be blended into Rio Tinto's premium Pilbara blend product. Project development includes a 9-km conveyor system linking the mine to the existing Nammuldi processing plant.

Silvergrass is the third phase of Rio Tinto's investment in the Nammuldi area. The initial phase, with 5 million mt/y of production capacity, started up in the fourth quarter of 2015, and the second phase, with an additional 5 million mt/y of capacity, is scheduled to come into production in the fourth quarter of 2016. Silvergrass is scheduled to come into production in the fourth quarter of 2017 and will lift Rio Tinto's Nammuldi-area production to 20 million mt/y in 2018.

Rio Tinto Chief Executive Jean-Sébastien Jacques said, "The final phase of the Silvergrass development, which is one of the most value-accretive projects across the mining industry, will deliver high-quality, low-cost growth that will underpin future returns to shareholders. The additional low-phosphorus metric tons from Silvergrass will sustain the longterm viability of our Pilbara blend, ensuring continued premium pricing, whilst also lowering our operating costs through infrastructure improvements."

Rio Tinto's Pilbara operations produced 160.8 million mt of iron ore in the first half of 2016, up 10% from the same period of 2015. Rio Tinto's share was 131.3 million mt. The production total refl ected minimal weather impacts as well as successful implementation of operational improvements and ramp-up of expanded and new mines across the company's Pilbara operations.
---
As featured in Womp 2016 Vol 09 - www.womp-int.com