Gahcho Kué Ramping-up to Commercial Production
---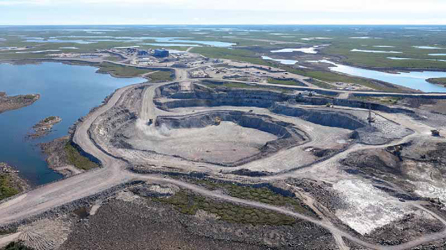 The C$1-billion Gahcho Kué mine began processing ore in March; the owners, De Beers and Mountain
Province Diamonds, recently reported recovery of two gem-quality diamonds during the commissioning phase:
A 12.10-carat diamond was recovered on July 29, and a 24.65-carat diamond on August 1.
(Photo: De Beers Group)


The De Beers Group of Companies (51%) and Mountain Province Diamonds (49%) announced in early August that commissioning was complete at their Gahcho Kué diamond project in Canada's Northwest Territories. Ore from the mine was being fed to the processing plant, and ramp-up to commercial production was scheduled for completion in the first quarter of 2017.

The Gahcho Kué project is located approximately 280 km northeast of Yellowknife and 80 km southeast of De Beers' Snap Lake mine. De Beers is the operator. Open-pit mining will mine three kimberlite pipes in sequence. The total capital cost to complete the project will come in at about C$1 billion.

Gahcho Kué's probable mineral reserve stands at 35.4 million mt, grading 1.57 carats/mt for total diamond content of 55.5 million carats. Production is planned to average 4.5 million carats/y over a 12-year mine life.

First ore was exposed at Gahcho Kué on March 23; first ore was introduced into the plant on June 20; and first commissioning carats were recovered on June 30. De Beers Canada CEO Kim Truter said, "Gahcho Kué will not only strengthen De Beers in Canada but will ensure Canada remains the third leading diamond producer, by value, in the world. We are excited to see this project move into the production phase and must congratulate our Gahcho Kué team and thank our community partners for helping us deliver this world-class mine."

De Beers is a member of the Anglo American group of companies; it has mining operations in Botswana, Canada, Namibia, and South Africa, and is the world's largest producer of diamonds by value.
---
As featured in Womp 2016 Vol 09 - www.womp-int.com