OZ Minerals Earning Into West Musgrave Copper-Nickel Project
---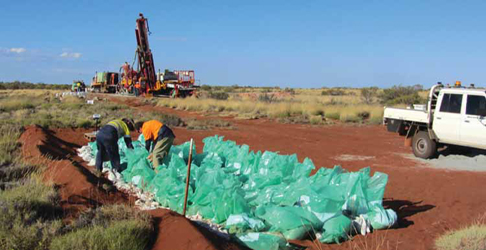 Workers handle drill samples at OZ Minerals' Musgrave project. (Photo: OZ Minerals)


OZ Minerals has signed a heads of agreement with Cassini Resources to earn up to 70% of the West Musgrave project in east-central Western Australia. The project area includes the Nebo-Babel nickel and copper sulphide deposits, the Succoth copper deposit, and other high-grade targets. OZ has made an initial A$3 million commitment to fund a detailed scoping study to optimize the project. Further regional exploration will leverage the A$100 million of previously completed exploration.

If OZ elects to proceed, it will then commit A$15 million towards a prefeasibility study and A$4 million in further regional exploration to earn 51% of the project. An additional investment of A$10 million toward a feasibility study and another A$4 million for exploration will earn OZ a total 70% interest in the project. In conjunction with Cassini, OZ plans to optimize the project parameters through a new infrastructure scoping study, more drilling, and further metallurgical test-work.

The shallow-dipping Nebo-Babel deposits lie close to surface, with higher- grade mineralization occurring at the top. The deposits were discovered in 2000 by Western Mining Corp. and have been subject to a significant amount of work, including more than 75,000 m of drilling in 307 drill holes, metallurgical test work, and environmental and scoping studies. An extensive regional exploration database will enable targets to be rapidly assessed and tested.

"The West Musgrave project is Australia's largest undeveloped copper-nickel deposit," OZ CEO and Managing Director Andrew Cole said. "With over an estimated 200 million mt of resource at greater than 1.3% copper equivalent that could be mined from a shallow open pit, Nebo- Babel is pretty compelling just on its own. This deal is strategic because it gives us access to an exciting project and, importantly, a very significant proportion of a new mining province."

Carrapateena Progress: In other news from OZ Minerals, the company has awarded Pybar Mining Services the contract for construction of a decline to provide primary access to the orebody at its Carrapateena copper-gold project in South Australia. The decline will be 7,500 m long and 600 m deep. The scope of the work includes construction of a 20-m-deep box cut, 1,500 m of surface ventilation raises, and supply of all surface infrastructure to support the development, including offices, workshop, and a temporary power station. The contract is valued at approximately A$65 million.

OZ Minerals recently increased the scope of an ongoing prefeasibility study of the Carrapateena project to include mine production of 4 million mt/y, up from a previously considered 2.8 million mt/y. The study is also evaluating construction of a concentrate treatment plant at the port of Whyalla on the Spencer Gulf, about 200 km south of the Carrapateena project site.
---
As featured in Womp 2016 Vol 09 - www.womp-int.com