Rusal Sells Jamaican Operations to Jiuquan
---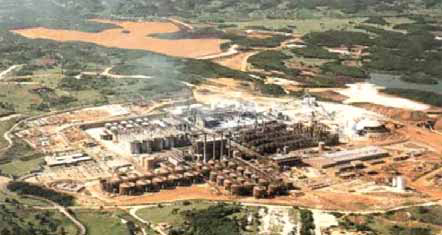 Rusal, which bought a major share of Alpart, pictured here, in 2007 and consolidated its ownership by
acquiring Glencore's interest in 2011, will sell the operation for $299 million.


Russian aluminum producer Rusal has entered into an agreement to sell its 100% stake in Alumina Partners of Jamaica (Alpart) to Chinese state industrial group Jiuquan Iron & Steel (Jisco) in a transaction valued at $299 million. To facilitate the transfer of ownership, Jisco and Rusal will enter into a "Consulting and Technical Service Agreement" to become effective 18 months from the closing of the transaction.

Alpart is a large bauxite mining and alumina production complex in Jamaica. Before being shut down from 2009 to 2015, its annual production capacity was 4.9 million mt of bauxite and 1.65 million mt of cell-grade alumina. Rusal acquired a 65% stake in Alpart in 2007 following the merger of the company's assets with the alumina assets of Glencore and acquired the remaining 35% in 2011. The Rusal/Jiuquan transaction is subject to approvals by the government of Jamaica and by a number of state bodies in China.

Rusal CEO Vladislav Soloviev commented, "This transaction does not affect the vertically integrated production chain of the company. Rusal's production facilities both in Russia and abroad fully satisfy the company's alumina demand, while company-owned bauxite resources ensure our plants' performance for the next 100 years and more. The deal also strengthens our relationship with our Chinese partners, opening new opportunities for future co-operation in other areas."

Jisco was established in 1958 as a large-scale producer of iron and steel, the first to be located in northwest China. Iron and steel remain the company's primary focus; however, it has also developed other business divisions, including aluminum, electricity, engineering, and technical services.

The Jamaica Observer reported that Jamaica's Minister of Transport and Mining Mike Henry expects Jisco's takeover of Alpart to be complete by November. Henry also stated during a press conference that major processing modifications and capacity upgrading work will be carried out at the plant, with firstphase investment totaling up to $220 million. Jisco expects to bring approximately 200 workers from China to carry out this work.

Jisco will continue employing existing Alpart staff and will recruit former employees as well. "Thus, approximately 700 jobs are to be created as early as October to November this year," Henry said, with modification and capacity upgrade work expected to last from December 2016 to December 2017.
---
As featured in Womp 2016 Vol 09 - www.womp-int.com