To receive your own edition of the print version of E&MJ -
Go Here



Green for Metals?

As mining companies were releasing their second quarter financials, it was becoming clear that some of the markets for several metals may be turning the corner. Prices for precious metals and iron ore had moved north. Gold miners have seen their market capitalization rise considerably since the beginning of the year. Other areas, especially bulk commodities such as coal, oil sands and potash, have yet to see a rebound.
Because of its ticker symbol (AA), Alcoa is always one of the first companies to discuss its earnings and in a way it sets the tone for industrial sectors. And they sent a very positive message. Discussing global demand for aluminum, the company said demand should grow by a "robust 5%" in 2016, while supply should only grow by 2.5%, leaving the market with a 775,000 metric ton (mt) deficit. In a world with negative interest rates, 5% is robust. They are also ..... read more


Steve Fiscor, Editor in Chief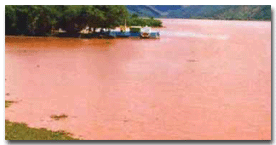 Samarco Unlikely to Restart Before Year-end, Says BHP Billiton
BHP Billiton reported in mid-July that the Samarco joint venture's iron ore mining operations in Brazil had not received government approvals for a restart and that such a restart was unlikely before year end 2016. "Samarco's operations will restart only when it is safe to do so and when all regulatory approvals are granted and accepted by the ...... read more
Centerra Gold Acquiring Thompson Creek Metals
Centerra Gold and Thompson Creek Metals announced in early July an agreement whereby Centerra will acquire all of the common shares of Thompson Creek in exchange for Centerra shares and assumption of Thompson Creek's debt, totalling more than $800 million. Total value of the transaction is about $1.1 billion. Mount Milligan is a low-cost producer with more than two decades of profitable production expected from the current reserve. Production during 2016 is forecast at 55 million lb to ..... read more

Top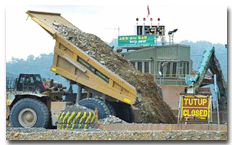 MedcoEnergi Acquires 82.5% Stake in Batu Hijau
Indonesian oil and gas company MedcoEnergi acquired an 82.2% interest in the Batu Hijau copper-gold mine on Sumbawa Island in Indonesia in late June when it acquired PT Amman Mineral Internasional (PT AMI) in a transaction valued at $2.6 billion.   Just prior to being acquired by MedcoEnergi, PT AMI obtained its 82.2% stake in Batu Hijau through separate transactions to ..... read more


BC Gov't Authorizes Return to Normal at Mount Polley
Imperial Metals reported that British Columbia's Ministry of Energy and Mines and Ministry of Environment have issued the necessary authorizations for Imperial's Mount Polley open-pit copper-gold mine in south-central British Columbia to return to normal operations based on use of its repaired and buttressed tailings storage facility (TSF).   The TSF at Mount Polley suffered a massive breach on August 4, 2014. Over the past two years ..... read more

| | |
| --- | --- |
| AROUND THE WORLD - USA & CANADA | |
Peregrine Considering Open-pit Diamond Mining on Baffin Island
Peregrine Diamonds has reported the results of an independent preliminary economic assessment (PEA) for phaseone development of an owner-operated, open-pit mining project on its Chidliak diamond project on south Baffin Island, Nunavut, Canada. The Chidliak PEA proposes sequential mining of two kimberlite pipes, CH-6 and CH-7. Production would average ..... read more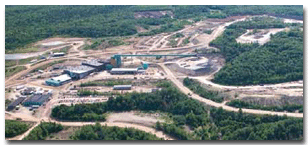 Trevali's Caribou Zinc Mine Reaches Commercial Production
Trevali Mining's Caribou zinc mine in the Bathurst mining camp of northern New Brunswick achieved commercial production effective July 1. Having achieved this key milestone, the company is continuing to optimize operations and ramp up production to boost effi ciencies, recovery rates, and ultimately metal concentrate production. Production guidance for the period .... read more

Top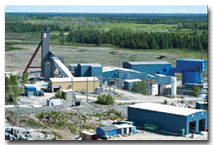 Tahoe Increases its Timmins District Interests
Tahoe Resources has acquired Goldcorp's 2% net smelter return royalty related to production at Tahoe's 100% owned Bell Creek mine in the Timmins district of Ontario. The companies have also signed a letter of intent to increase Tahoe's ownership interest in their Whitney Joint Venture to 100%, with Goldcorp's current interest of approximately .... read more

| | |
| --- | --- |
| AROUND THE WORLD - Latin America | |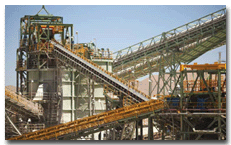 Escondida Targets Growth Through Concentrator Expansion
Escondida, the world's largest copper mine, is targeting a copper production increase from about 940,000 metric tons (mt) in 2016 to 1.2 million mt/y for 10 years following completion of a newly approved, $200 million expansion of its Los Colorados concentrator (one of three concentrators on the property). Escondida is located in .… read more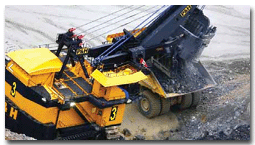 Las Bambas Reaches Commercial Production
MMG Ltd. reported that the new Las Bambas open-pit copper mine in the Apurimac region of south-central Peru reached commercial on July 1. The project is scheduled to produce 250,000 mt to 300,000 mt of copper in concentrate in 2016 as production ramps up. Full commercial production at a rate of 400,000 mt/y will rank Las Bambas among the world's largest …. read more

| | |
| --- | --- |
| AROUND THE WORLD - Australasia | |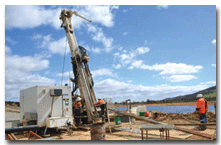 Robust Feasibility Study Supports Woodlawn Base Metals Project
Heron Resources reported in late June that a robust feasibility study of its 100% owned, fully permitted, high-grade Woodlawn zinc-copper-lead project in New South Wales supports the viability of a "Starter Case" project based on current mineral reserves to deliver quality zinc, copper and lead concentrates to market over a nine-year mine life.  The project is located on the site of the former Woodlawn mine, which operated from 1978 to 1998 and processed …. read more


Top

Brockman Studying Independent Rail Project
Brockman Mining has reported the results of a study evaluating the potential for it to build an independent railway to connect its Marillana iron ore project, and later its Ophthalmia iron ore project, in the East Pilbara region of Western Australia to Port Hedland. The Marillana project is located 300 km south of Port Hedland and has the potential to produce up to 20 million mt/y over a period of 20 years. Brockman has been unable to negotiate access to existing rail systems, and an independent railway is one of a number of logistics options  …. read more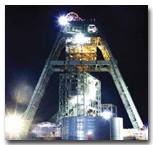 Shaft Sinking Begins at Ivanhoe's Platreef Project
Ivanhoe Mines began permanent shaftsinking work on Shaft 1 at the Platreef platinum-group-metals, nickel, copper, and gold project in South Africa in mid-July. The shaft will have an internal diameter of 7.25 m and will provide initial access for early underground development.  A second shaft, Shaft 2, is planned for Platreef. It will be the project's main production shaft—10 m in diameter and with capacity to hoist …. read more
Top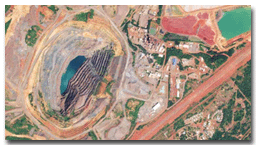 Resolute Going Underground at Syama
Resolute Mining is initiating development of an underground mine at its 80% owned Syama gold operations in south Mali. Processing operations at Syama include parallel sulphide and oxide processing plants that are currently processing materials from open-pit stockpiles and a satellite open pit. Preproduction capital costs to develop an underground mine below the current open pit are …. read more


Oyu Tolgoi Production on Target
Production from open-pit mining at Turquoise Hill Resources' Oyu Tolgoi copper-gold-silver operation in Mongolia's South Gobi region is reported to be on target to meet the 2016 production guidance of 175,000 metric tons (mt) to 195,000 mt of copper in concentrates and 255,000–285,000 oz of gold.  The project is operated by …. read more


Top
Commision Approval Allows Malmyzh to Move Ahead
Eurasian Minerals reported that IG Copper has received approval to advance the Malmyzh copper-gold project in Russia's Far East. Approval was granted by the Russian Government Commission on Monitoring Foreign Investment chaired by Prime Minister Dmitry Medvedev.  The Malmyzh exploration and mining licenses are held by IGC (51%) and Freeport-McMoRan Exploration Corp. (49%), with IGC operating and managing the joint venture project. Eurasian is IGC's largest shareholder with .… read more



| | |
| --- | --- |
| THIS MONTH IN COAL | |
Contura Acquires Alpha's Core Assets
Contura Energy completed the previously announced acquisition of several core assets from Alpha Natural Resources (ANR), which was a key step for Alpha to emerge from Chapter 11 bankruptcy. Contura will be a private, Tennessee-based company with affi liate mining operations across multiple major coal basins in Pennsylvania, Virginia, West Virginia and Wyoming. It also purchased Alpha's interest in the Dominion Terminal Associates coal export terminal in eastern Virginia. Contura will be …. read more


Top
| | |
| --- | --- |
| FEATURE - E&MJ 150 Years | |

The 1960s Usher in a New Era for Mining and E&MJ
Progress was accelerating as the mining industry prepared to launch from a solid foundation built over the course of 100 years

By Steve Fiscor, Editor-in-Chief


Engineering & Mining Journal (E&MJ) celebrated its 100th birthday during June 1966. Alvin W. Knoerr was the editor at the time, a position he had held since 1955. He and his associates had chronicled the revolutionary advances that had taken place in exploration, mining and mineral processing during the roughly 20year span following World War II.  The theme for E&MJ's Centennial edition was Mining's Dynamic Age. Rather than documenting 100 years of mining history, the editors opted to showcase the start-of-the-art in mining and mineral processing, contemplate the issues of the day and make meaningful forecasts about the future direction of ……. read more

| | |
| --- | --- |
| FEATURE - Slope Stability | |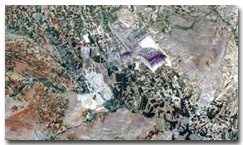 The Pursuit of Solid Ground
Round-the-clock monitoring of the stability of open-pit mine walls is becoming the norm, especially as pit depths increase. E&MJ takes a look at some of the systems that offer insight into potential rock-mass hazards.

By Simon Walker, European Editor

In case anyone might have thought otherwise, the fact that the last time E&MJ provided an in-depth review of pit-wall monitoring systems appeared shortly after the massive wall failure at Bingham Canyon was pure coincidence. The coverage of the April 10 event in the May 2013 edition, including a news report (p. 4) and in the article itself on pp.32-41, highlighted the precautions that Kennecott Utah Copper had taken to monitor the area of concern. As a result, the company was prepared for the slide, most of the major equipment was withdrawn and nobody got hurt. Had appropriate monitoring systems not been in place, the consequences would have been unimaginable.  Fortunately, wall failures of that magnitude are rare, although ..... read more

Top

For more companies with products in the Slope Stabilty market -
Go Here
| | |
| --- | --- |
| FEATURE - MINExpo 2016 Preview | |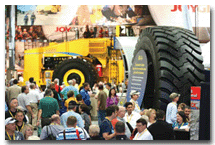 Mining Business Bets Big on MINExpo
World's largest mining exposition reconvenes in Las Vegas to showcase advances in equipment, technology and services.

By Steve Fiscor, Editor-in-Chief

Billed as the largest gathering of mining professionals and equipment suppliers, MINExpo International 2016 is scheduled to take place September 26-28 at the Las Vegas Convention Center. Organized by the National Mining Association (NMA) every four years, the event gives the professionals involved in mining and mineral processing a chance to see the latest equipment, listen to presentations and meet with their peers.  So, what can delegates expect at MINExpo 2016? E&MJ asked the NMA and several of the leading equipment suppliers that question. The association is building on its prior successes with some interesting twists. Some vendors are keeping their MINExpo 2016 activities under wraps, but a few did share their plans.  As a point of reference, MINExpo 2012 set new records .... read more

| | |
| --- | --- |
| FEATURE - Utility Equipment | |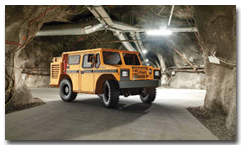 Plugging-in for Productivity
Utility vehicles for underground use are edging toward an electric future, driven by improvements in battery technology and the absence of exhaust emissions.

The effectiveness of a mine's utility equipment fleet can have an influential role in dictating the operation's overall level of performance. For example, underground mines lacking sufficient or reliable crew-transfer and craftsman vehicles can suffer from less-than-optimal shift productivity and delayed repairs to crucial equipment.   E&MJ's most recent coverage of personnel carriers and other utility vehicles suitable for underground use (See The People Movers, pp. 46–51, May 2015) presented a wide range of choices that included everything from above-ground units modified for underground use, to specialized vehicles designed exclusively for below-ground operation. Most of the vehicles mentioned were diesel-powered, and even now .... read more

Top


For more companies with products in the Utility Equipment market -
Go Here

Cone Crusher Line Offers Performance and Productivity Improvements
Weir Minerals' new Trio Top Performance (TP) cone crusher range combines aggressive crushing action, high crushing force and high power. Weir said the new line of compact, robust crushers offer advanced cone crusher automation technology to ensure continuous high performance and application versatility. All Trio TP cone crushers feature a steep crushing chamber angle …. read more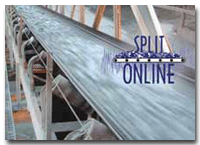 Particle Size Monitor Has Expanded Functionality
Split Engineering has released a new version of its Split-Online automated fragmentation size measurement system. According to the company, Split-Online, to date, has been installed at more than 140 mine operations, encompassing more than 560 camera locations. The system provides an online measurement of …… read more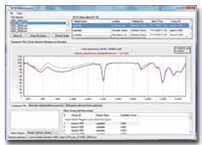 Spectrometer Identifies Lithium Pathfinder Minerals
Spectral Evolution said its oreXpress spectrometer with EZ-ID software can provide critical real-time mineral identifiation for key pathfinder minerals in lithium exploration, including lepidolite and spodumene. The oreXpress is a high-resolution/low-noise NIR spectrometer that covers the 350-2500 nanometer range and is designed for …. read more

Top

System Monitors Site Dust, Noise, Vibration Emissions
Casella has developed the new Noise Guardian and Boundary Guardian webbased remote monitoring system, claimed to elevate continuous monitoring of various mining-related emissions to a higher level of simplicity and power. Users of the system receive real-time email or text messages when noise, dust or vibration levels rise above acceptable levels. According to the company, sound level measurements .… read more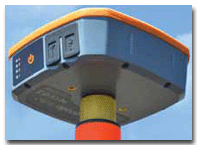 Low-cost, Versatile GNSS Receiver
Juniper Systems unveiled the Geode GNSS receiver, an all-in-one sub-meter receiver that provides users with real-time, precision GNSS data at an affordable price. Designed with versatility in mind, the Geode features one-button simplicity and can be used with any of Juniper Systems' rugged handhelds, as well as a wide range of Windows, Windows Mobile and Android devices. The Geode features a compact design that can be easily …. read more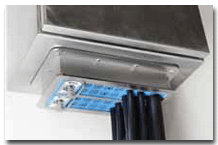 Device Makes Cable Entry Points Safe and Secure
Cable and pipe transit provider Roxtec has developed the Roxtec HD, a robust cable entry device for use in terminal boxes and enclosures. It is available in versions for use in potentially explosive atmospheres as well as for non-hazardous locations. The HD is claimed to make it easy to route and seal multiple cables of any type in just one …. read more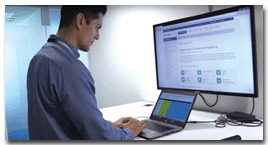 Outotec Answers a Customer's Need for Speed
Yamana Gold is a Canada-based gold producer with mines and operations in Canada, Mexico, Brazil, Argentina and Chile. Yamana Gold's Chapada open-pit gold-copper mine in Brazil is a relatively low-cost operation and contributes significantly to Yamana's favorable cost structure.   In 2015, Finnish .…. read more

Top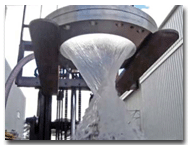 Technology Makes Slurry Pumping Less of a Drag
Australia's CSIRO has developed what it described as a "water and energy efficient technology for reducing the problematic drag effect" experienced in pipes during industrial pumping. The system has been implemented by Glencore's Minara Resources, and is touted as capable of saving companies millions of dollars each year.  As CSIRO pointed out, almost all ….read more
SEPTEMBER 12–16, 2016: Electra Mining Africa 2016, Expo Centre, Nasrec, Johannesburg, South Africa. Contact: Web: www.electramining.co.za
SEPTEMBER 14–16, 2016: The 2016 MEMSA Technical Symposium, Sheraton Sand Key, Clearwater Beach, Florida, USA. Contact: Web: www.miningelectrical.org
SEPTEMBER 25–28, 2016: Solution Mining Research Institute (SMRI) Fall Technical Conference with optional Technical Class on "Elements of Rock Mechanics related to Salt Caverns," Salzburg, Austria. Contact: Web: www.solutionmining.org
SEPTEMBER 26–28, 2016: MINExpo INTERNATIONAL 2016, Las Vegas Convention Center, Las Vegas, Nevada, USA. Contact: Web: www.minexpo.com
OCTOBER 18–21, 2016: 24th World Mining Congress, Rio de Janeiro, Brazil. Contact: Web: www.wmc2016.org.br
NOVEMBER 16-19, 2016: International Mining and Machinery Exhibition (IMME), Eco Park, Rajarhat, Kolkata, India. Contact: Web: www.immeindia.in
MAY 7-9, 2017: Haulage & Loading, Wigwam Resort, Phoenix, Arizona, USA. Contact: Web: www.haulageandloading.com
JUNE 13-15, 2017: Longwall USA, David L. Lawrence Convention Center, Pittsburgh, Pennsylvania, USA. Contact: Web: www.longwallusa.com
For a full calendar of mining industry conferences and events - click here
| | |
| --- | --- |
| WHO'S MOVING WHERE | |

Kumba Iron Ore appointed Themba Mkhwanazi as CEO, following Norman Mbazima's decision to step down after four years to focus on his role as deputy chairman of Anglo American South Africa. Mbazima will remain a member of Anglo American's Group Management Committee. Mkhwanazi has been CEO of Anglo American's Coal South Africa business since May 2014.

Atlantic Gold appointed Maryse Bélanger as COO. Bélanger will succeed John Morgan, who will retire. Morgan will remain as a director and has agreed to remain as an advisor. Most recently, Belanger was the CEO and managing director of Mirabela Nickel.

Nemaska Lithium hired François Godin as vice president of operations. Prior to joining Nemaska Lithium, Godin worked 28 years in progressively senior operations and process optimization roles for the Iron and Titanium division of Rio Tinto.

Asante Gold appointed Ned Goodman as the chairman of the board of directors. He was involved in the creation of Kinross Gold, Repadre (later IAMGOLD) and Dundee Precious Metals, and was an early backer of FNX Mining Co. Inc. (later Quadra FNX Mining). Goodman is the deputy chairman of the Canadian Securities Exchange.

Kombat Copper appointed Stephan Theron as president and CEO. Paul Bozoki will return to his role as CFO and Heidi Gerry will resume her role as corporate controller. Theron will also join the board of directors replacing Bozoki. Prior to joining Kombat Copper, Theron was managing director at Liberty Metals and Mining.

The Idaho Mining Association appointed Ben Davenport as its new executive director. Davenport brings more than 12 years of experience in public policy and governmental affairs and was previously the president of the Associated Taxpayers of Idaho. Davenport is replacing Jack Lyman, who recently retired after serving 27 years.

FLSmidth appointed Jeff Court as senior vice president for regional operations within the Minerals division. Most recently, he worked for Orica as a regional vice president over Europe, Turkey and the Middle East.

McLanahan Corp. hired Jeff High as global product manager of crushing and screening.
About - providing an abreviated version of the current print edition of E&MJ, WOMP is distributed throughout the world to decision makers in the global mining industry, the last week of every month.

Subscribe to E&MJ - To receive your own copy of the print edition of E&MJ, click here , and complete your details. E&MJ is available free of charge to qualified readers.

Contact - if you have views, opinons or comments or editoral that you would like to submit, we would be delighted to hear from you - click here

Top