Outotec Answers a Customer's Need for Speed
---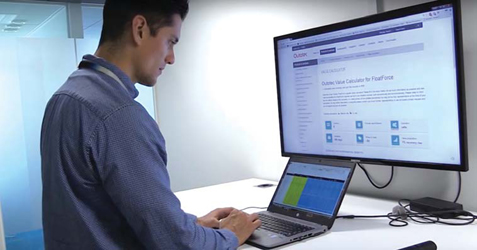 Yamana Gold is a Canada-based gold producer with mines and operations in Canada, Mexico, Brazil, Argentina and Chile. Yamana Gold's Chapada open-pit gold-copper mine in Brazil is a relatively low-cost operation and contributes significantly to Yamana's favorable cost structure.

In 2015, Finnish process-technology provider Outotec delivered a Courier onstream analyzer to the mine, which enabled operators to determine they were losing a significant amount of metal content to tailings. The mine's flotation circuit also suffered from poor availability caused by heavy sanding of the flotation cells.

Yamana was looking for a partner to improve its operations. Daniel Diez, responsible for Yamana Gold's business and operations development in South America, along with the entire site processing team, researched various approaches to boost flotation circuit performance, and invited Outotec to jointly develop a solution to solve the mine's processing challenges.

"Outotec developed a concept [targeted] to minimize the shutdown period, which [took] the total cost of the project and the return of investment into consideration. With this concept and the full solution including demolition, installation and commissioning and shutdown process know-how, Outotec offered the added value to the customer and won the project," said André Batista, sales director, Outotec Brazil.

In March, Outotec began replacing 10 existing 160-m3 non-Outotec flotation cells with new units representing its TankCell and FloatForce technology. The project scope included Computational Fluid Dynamics (CFD) studies, basic and detailed engineering, shutdown planning, delivery of proprietary equipment, turnkey installation, commissioning, assisted operation, and advanced training of site personnel. Outotec's manufacturing and service workshop in Guarapari, Brazil, supported the project.

At the start of the project, Outotec completed an in-depth metallurgical assessment of the rougher/scavenger flotation circuit and identified a large potential for improvement in the flotation plant, which could positively impact overall copper and gold recoveries. An on-site mechanical assessment with advanced laser 3-D scanning collected the necessary technical information for shutdown and installation planning.

During the course of the project, Outotec manufactured custom-made steelworks in Brazil and imported only specialized items; handled logistics, disassembly and removal of old equipment; conducted installation and mechanical completion of new cells; implemented all commissioning phases; and started up and tested the flotation cells jointly with Yamana personnel. In total, more than 80 Outotec personnel implemented the modernization in day and night shifts.

The shutdown required for cell replacement took place in two phases—affecting just one line of five flotation cells at a time and allowing plant processing to continue with half the equipment operational at all times. With the experience gained from the first-phase installation, Outotec took only six days to install the second bank instead of the planned 11 days.

The company reported that the upgrade has provided improved stability and control of the plant's flotation cells, enabling greater process optimization; and the new cells have reduced energy consumption by 40%. Overall, the reduction of cell sanding has increased flotation circuit availability, leading to higher production and improved recovery of both copper and gold.
---
As featured in Womp 2016 Vol 08 - www.womp-int.com