Mining Business Bets Big on MINExpo
World's largest mining exposition reconvenes in Las Vegas to showcase advances in equipment, technology and services
By Steve Fiscor, Editor-in-Chief
---
More than 52,000 people visited the Las Vegas Convention Center for MINExpo 2012.


Billed as the largest gathering of mining professionals and equipment suppliers, MINExpo International 2016 is scheduled to take place September 26-28 at the Las Vegas Convention Center. Organized by the National Mining Association (NMA) every four years, the event gives the professionals involved in mining and mineral processing a chance to see the latest equipment, listen to presentations and meet with their peers.

So, what can delegates expect at MINExpo 2016? E&MJ asked the NMA and several of the leading equipment suppliers that question. The association is building on its prior successes with some interesting twists. Some vendors are keeping their MINExpo 2016 activities under wraps, but a few did share their plans.

As a point of reference, MINExpo 2012 set new records as far as the number of exhibitors (1,865), exhibition space (860,000 ft2) and attendance (52,000). That, however, was a different time, when business for both coal and metal mining companies was brisk. In the ensuing four years, the coal industry has suffered a rout. Prices for metals weakened and some have since recovered, but not to 2012 levels.

Organizing an event of this magnitude is no easy task. With the help of others, Moya Phelleps, senior vice president, member services for the NMA, manages MINExpo. Describing what delegates would see at this year's event, she said many of the exhibitors are bringing large equipment and unveiling new models. "Participating in MINExpo is a huge financial commitment and they not only want to support the mining business, but they believe strongly that the mining industry has a bright future," Phelleps said. "In 2012, MINExpo hit all of the high points. The last 18 months to two years, however, have been particularly challenging for both sectors, coal and hard rock mine operators. The number of exhibitors is about the same as this time four years ago, and so are preregistration levels for delegates."

Phelleps said visitors can expect to see new technologies and services that can lower production costs, improve productivity and improve safety. Technical experts will be available to assist operators with daily issues and challenges.

Visitors will also notice some differences. As many as 25% of the exhibitors are new companies. There will be several international pavilions on the show floor, including Canada, China, Australia, Chile, Germany, France and Sweden. "France and Sweden are new this year," Phelleps said. At this point, 840,000 ft2 at the Las Vegas Convention Center has been booked, which is all of the indoor space, but Phelleps said they do have limited outdoor space available.

Acknowledging that times are difficult, the NMA has been working with its producer members to get as many people from the mines to the show floor as they can. At its annual fall board meeting in 2015, the NMA decided to waive the registration fees for all miners whose companies are members of the NMA. "All of our producer members and those members developing properties in the U.S.—Barrick Gold, Freeport McMoRan, Rio Tinto, etc.—will have company-wide complimentary registrations no matter where they reside," Phelleps said. "This is a big commitment on our part. It was well received by the producers. All of the producers have agreed to bring large contingents of personnel to the show and some are planning to host company meetings at the event. The vendors have committed to bringing their customers to the show as well." This is a $100 savings before the August 12 deadline, and $200 afterward.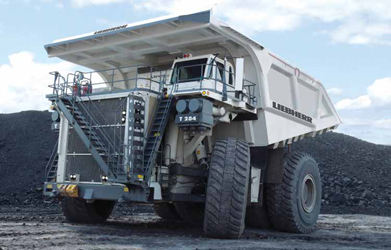 The 3,000-kW Liebherr T 284 haul truck has a 363-mt payload.


The Largest Mining Exhibition
The chairman of MINExpo 2016 is Denise Johnson, president of Caterpillar's mining division. This is the first time the event has been chaired by a woman. She and other dignitaries will cut the ribbon at an opening ceremony on Monday morning, September 26. Afterward, the crowd is invited to attend an opening session from 10 a.m. to 11:30 a.m. "We are building on the success of the opening session we hosted in 2012," Phelleps said. "That was the first. This time we have Nina Easton, chair of Fortune's Most Powerful Women International and a Fox News analyst, moderating a panel discussion with senior mining industry executives discussing the issues of the day and the future as they see it." The panelists include Phillips S. Baker, Jr., president and CEO, Hecla Mining; Harry M. "Red" Conger, president and COO–Americas and Africa Mining, Freeport-McMoRan; Kevin S. Crutchfield, chairman and CEO, Contura Energy; Ted L. Doheny, II, president and CEO, Joy Global; Gary J. Goldberg, president and CEO, Newmont Mining; and Denise C Johnson, group president for resource industries, Caterpillar Inc., and Chair, MINExpo International 2016. While it is understood that MINExpo is more of an equipment exhibition, the event does have a technical program with presentations from professionals on various topics related to mining and mineral processing.

"We have organized 20 sessions covering a number of topics: safety, markets, research, equipment maintenance, water, surface mining, underground mining, automation, exploration, bulk materials, processing, etc.," Phelleps said. "These discussions will take place on the mornings of September 27 and 28."

As it has in the past, the NMA will also host two awards luncheons: the Sentinels of Safety (Tuesday, September 27) and the Department of the Interior's Sustainable Development and Reclamation Awards (Wednesday, September 28). Hecla is sponsoring the Sentinels of Safety. "A silver miner celebrating its 125th anniversary, Hecla is also a signatory to NMA's CORESafety program," Phelleps said. "On Wednesday, the Office of Surface Mining will present coal operators with reclamation awards. The Bureau of Land Management will recognize metal- nonmetal miners with sustainable development and reclamation awards."

The NMA is also expecting strong international participation. "In 2012, about 35% of the attendees came from abroad and we expect that number to be about the same," Phelleps said. "We have formed 30 delegations, building on the 20 delegations that participated in 2012."

These delegations are part of the International Buyers Program organized by the U.S. Department of Commerce (DOC). The DOC Commercial Services division selects a limited number of exhibitions and they work with the embassies to bring qualified buyers to the exhibition. "With the delegations, we offer them an opportunity to present market briefings," Phelleps said. "People who want to learn about these foreign markets can speak directly with knowledgeable people who know them best."

As the excitement builds toward the event, the NMA plans to keep everyone informed by whatever means necessary. At MINExpo 2012, the association used social media well. It has evolved, and they plan to take full advantage of this medium to communicate with delegates. "We will have a large social media presence and that will continue to grow toward the show," Phelleps said. To stay informed, delegates should register and follow MINExpo on Twitter, Facebook and Instagram.

Similar to 2012, there will be a MINExpo app for smartphones to assist with planning prior to arrival and navigating the floor on-site. The association will also publish an online directory, which will remain on the website (www.minexpo.com) for a year after the event. There will also be an Export Interest Directory associated with the International Buyers Program. As of press time, more than 1,800 companies were planning to exhibit at MINExpo 2016. What follows is a small sampling of what some of them have planned for the event.

Liebherr Wants Miners to Experience the Progress
In a 28,000-ft2 display, Liebherr (Booth 7627) will present new products, components and service solutions to reinforce the motto, "Experience the Progress," supported by the six pillars of Liebherr Mining: productivity, efficiency, reliability, customer service, safety and environment.

Four of Liebherr's 11 divisions will present products at MINExpo. The Liebherr- Mining division will display the T 284 haul truck with its gross vehicle weight of 661 tons and the very first presentation of the Liebherr 100-metric-ton (mt) truck. Moreover, the R 9200 mining excavator will also be introduced to the American market for the first time as well as the PR 776 crawler tractor from the Earthmoving division. The Liebherr Components division will be represented for the first time at MINExpo and will showcase its latest developments in the areas of mechanical, hydraulic, and electric drive and control technology. To complement the product line, the Mobile Crane division will also be part of the show with the LTR 1100 telescopic crawler crane, which is known for its maneuverability.

The T 284 offers a high payload and features the latest generation of the Litronic Plus AC drive system, according to the company. A special feature is its Tier 4-ready MTU engine. With application-specific recommendations from Liebherr, customers are able to select the engine that will allow the truck to meet productivity targets while minimizing fuel consumption.

The R 9200 mining excavator, fitted with the Liebherr advanced bucket and GET solution, is equipped with a 12.5-m3 bucket capacity, which offers the biggest payload in its class. This new 200-mt machine is designed to match mining trucks with payloads of up to 140 mt and provide maximum uptime since it features superior reliability and easy serviceability. In addition, the cutting-edge cab provides the operator optimal comfort and safety due to its large panoramic windshield, armored glass and low noise level.

Liebherr will also showcase the PR 776 Litronic crawler tractor, which is designed for tough mining and quarry operations. Liebherr will use the MINExpo platform to launch its latest crawler tractor in the 70-mt category. It is the largest hydrostatically powered crawler tractor in the world, according to the company.

The Liebherr's Components division will showcase a new series V-diesel engine D9812 with a power rating up to 2,012 hp (1,500 kW), the 3/4 new electric travel drive FAT 325, and a fully integrated energy storage system for mobile and stationary applications based on double layer capacitors. A system exhibit comprising a roller bearing slewing ring and swiveling drive will also be presented by way of a sample application in the mining area.

Hitachi Introduces Integrated Solutions
Visitors calling on Hitachi (Booth 8527) will discover the value of the products, technology, parts, and solutions that have been engineered and developed exclusively by the company. The "Hitachi to the Core" display will give them a chance to learn what Hitachi can do for their bottom line by getting up close and personal with some of the most effi cient, reliable, and durable excavators and haul trucks at the show, meeting with global product experts and taking the haul truck simulator challenge. In addition, Hitachi will introduce visitors to new technologies and integrated solutions that will reduce overall costs and optimize productivity.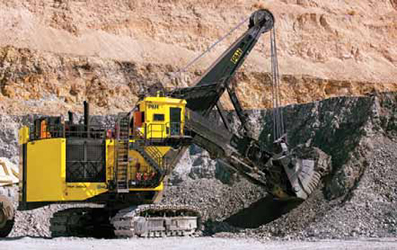 In the four years since the last MINExpo, Joy Global has developed new technology for
surface and underground mining.


Joy Global Shows Miners How to Do More With Less
With a focus on helping its customers do more with less, Joy Global (Booth 6211) will highlight new products and services designed to lower customers' total cost of operation and remove people from harm's way. Products featured will include a new surface drill, underground hard rock loaders and industry-leading attachments from Montabert. Technology on display will include Joy's SR Hybrid Drive, which allows power generation that is fully regenerative, resulting in efficient machine operation across several of Joy Global's product lines. A key feature of the company's new underground loader series, SR Hybrid Drive is also featured in its new P&H 2650 hybrid excavator, which will be highlighted at the show. JoySmart Solutions experts will also be on hand to discuss how the company's integrated offerings can help customers reduce costs and increase productivity.

Modular Mining Systems
Modular Mining Systems (Booth 7121) will display new technologies designed to increase operators' situational awareness, minimize vehicle incidents, and assist in load-cycle optimization. Visitors can step into its Integrated Solutions Center and learn how Modular's fleet management, high-precision guidance, and maintenance management technologies work together to optimize, identify, track, and respond to production activities and maintenance events in real time. It will also showcase its Communications Solutions Group, which focuses on the design, integration, deployment, and ongoing support of mining operations wireless networks. Additional highlights include demonstrations of the entire IntelliMine Mine Management platform, consisting of the Dispatch open-pit and underground fleet management systems, ProVision high-precision guidance solutions, Mine- Care maintenance management solution, and MineAlert collision awareness system, which is part of the MineAlert safety management toolkit.

IWT Offers Communications, Asset Tracking and More
Innovative Wireless Technologies (Booth 29505) is a leading supplier of wireless communication, tracking and data systems for underground mining operations. IWT's Sentinel system provides real-time, crystal-clear voice communications with minimal setup and low maintenance for maximum productivity and low cost of ownership. The all-in-one digital system supports tracking of people and assets, data from atmospheric and other sensors, and data analytics. Line or battery-powered infrastructure components and handset and tracking tag options provide flexibility to meet unique application and deployment requirements. Tiered solution offerings allow customers to upgrade and expand features as their needs change. The new legacy system interface allows customers to maximize their current communication investment while taking advantage of the advanced range and resiliency provide by the Sentinel network.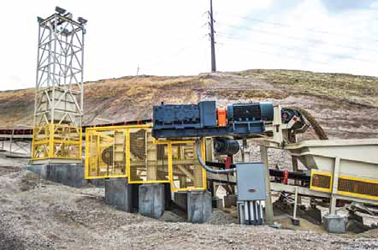 In addition to a new crusher and screening machine, Superior will display its full line of
conveyor equipment.


Superior Broadens its Scope
Superior Industries plans to launch several new products at MINExpo. In the Silver lot (Stand 19100), the manufacturer will display its new Patriot cone crusher, TeleStacker conveyor, mine duty idlers, mine duty pulleys, conveyor drive package solutions from its Core Systems Design group, Chevron pulley and a brand new mine duty Exterra belt cleaner.

Last winter, Superior debuted its brand new cone crusher, the Patriot cone crusher, marking a major milestone for the manufacturer's new crushing and screening division. Unique features include a tramp relief system design using significantly fewer accumulators, which greatly minimizes maintenance. In addition, an internal relief valve provides instant, fail-safe relief should an accumulator malfunction. Secondly, each Patriot cone crusher is designed with inverted tramp relief cylinders, which reduce opportunities for harmful contaminants to damage the cylinders.

For heap-leach applications, the Tele- Stacker conveyor, telescoping radial stacker conveyor, achieves speedy payback, which is measured in more tons per move, larger leach pad footprints and increased profitability. Engineered with an internal stinger conveyor that maintains constant motion along a cell, the TeleStacker conveyor distributes material evenly to achieve flat top piles, while also piling more material per move. Its longer stinger conveyor allows for greater flexibility and the popular FD Series axle assembly allows a quick transition from radial to linear modes.

Fenner Dunlop considers itself a complete conveyor solution


Fenner Dunlop Presents Complete Conveyor Solutions
Fenner Dunlop Americas (Booth 3237) strives to be a complete conveyor solutions provider. It presents integrated offerings including below and above-ground conveyor belt, idlers and structures, installation, diagnostic services, repairs and belt replacement. Its premium conveyor belts are made in their factories in the USA and Canada and are held to the highest quality control standards. It guarantees that its product offering will drive value for its customers, maximizing uptime, overcoming hurdles and creating cost savings.

Jennmar Provides Ground Control Solutions
Jennmar (Booth 4249) is leading the way in ground control technology for the mining and tunneling industries. Jennmar will have their advanced line of INSTa'L Bolt Anchor Systems, including the Fully Grouted Cable Bolt (FGCB), Fast Anchor 3 steel bolt for strata control that provides quick assembly and secure installation, and a wide variety of cable bolts.

Jennchem, one of Jennmar's affiliates, will be displaying its Cribs (a pumpable standing support), Cans (custom-made corrugated steel shell filled with specialized cement), PUR (Polyurethane Resin for stabilization of fractured strata and grouting of cable bolts), and one-day Seals (a specialized foaming cement used with a variety of form designs including wood, concrete block, props and mesh).

L&H Showcases Enhanced Products
L&H Industrial (Booth 8876) will have a full display of some of their newest enhanced products for the mining industries. Some of the products showcased at the event will include a new hydraulic gearbox design for wheel loaders with throughshaft technology, an improved spline as well as an innovative rotary seal. L&H has redesigned the electric rope shovel, straddle- mount front idler to reduce bearing stress by 50% and has removed the internal thrust washers; resulting in greater safety with the virtual elimination of splitting the tracks. Finally, a new track design for Atlas Copco drills will be on display, engineered to alleviate inherent "dozer" design shortfalls including reduced steering load and contact force.

TerraSource Presents Materials Handling Options
Mining companies can count on the enduring, end-to-end value they receive by partnering with TerraSource Global (Booth 8618). Broad engineering expertise, indepth knowledge of industry sectors, precision original equipment manufacturer parts, dependable and local customer-focused service, and a broad application portfolio that offers real product choice from three renowned flagship brands, Gundlach Crushers, Jeffrey Rader and Pennsylvania Crusher. A day at MINExpo isn't complete without stopping by Terra- Source Global's booth to check out some of its industry leading hammermills, roll crushers and vibrating feeders and talk with the company's knowledgeable staff about unique business challenges and how the TerraSource team can help customers achieve objectives for growth, efficiency and profitability.

Martin Engineering Promotes Conveyor Safety
Martin Engineering (Booth 4015 inside/ 10380 outside) will showcase its latest technology designed for the mining industry including the CleanScrape cleaner, an innovative metal-tipped belt cleaner that provides maximum cleaning efficiency without compromising the belt, and the Martin Roll Generator, a generator that draws power from the movement of the belt.

Martin will also be introducing its new "Foundations for Conveyor Safety" book. It is the world's first collection of best practices and joins the company's Foundations series of books and seminars. This comprehensive 300-plus page textbook is devoted exclusively to conveyor safety and will be available at the show.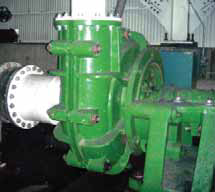 Schurco specializes in handling the toughest and
most abrasive applications, while supplying new
slurry pumps with some of the lowest lead times in
the industry.


Shurco Builds Mine-duty Slurry Pumps
Schurco Slurry (Booth 5735) manufactures high-quality heavy-duty horizontal slurry pumps, vertical slurry pumps, replacement pump parts for Warman pumps, and provides pump services to a wide array of markets worldwide.

The company specializes in handling the toughest and most abrasive applications, while supplying new slurry pumps with some of the lowest lead times in the industry. The goal is to have the lowest total cost of ownership of any slurry pump manufacturer on the market by offering the greatest value on capital equipment, the highest quality spare and replacement slurry pump parts, and providing unmatched engineering excellence from a company that only focuses on one product: slurry pumps.

With low lead times and attentive customer service, Schurco Slurry is one of the few remaining American ultra-heavy-duty slurry pump manufacturers delivering unmatched quality, engineering expertise and product value.

Columbia Steel Engineers Crusher Wear Parts
Columbia Steel's engineers will be on hand (Booth 5819) to discuss the right design and alloys—or a custom design—for wear materials and replacement parts. When it comes to crushers, the company has more than 2,000 jaw profiles and more than 1,000 cone profiles, plus gyratory mantles, concaves and accessory wear parts.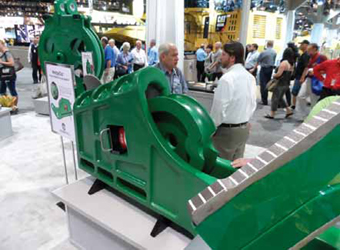 Engineers will be available at Columbia Steel's stand (seen here in 2012) to
discuss the right design and alloys.


For dragline mining, the company's XtraLife chain's additional ridge of metal is far greater than that of oval chains. The result is longer link life and fewer premature stress failures. Cast in Columbia's H-alloys, XtraLife has good resistance to both abrasion and impact. For greater abrasion resistance and even longer wear life, Xtend Process high carbide overlay can be bonded to high wear areas.

Flanders Promotes Open Architecture
Flanders (Booth 25215) will launch several new products associated with its Freedom platform, the Flanders open architecture control system, which includes Freedom for haul trucks, Freedom for draglines, Freedom for underground coal transporters, and updated features for Freedom for shovels. Moreover, the company will announce a new machine health reporting system, Invision.

Kal Tire Offers Tips for Extending Tire Life
Kal Tire's Mining Tire Group (Booth 8793) will showcase several of its newest innovations designed to help maximize tire life and productivity, including its award-winning Ultra Repair technology— an exclusive product and process for repairing large injuries on ultra-class tires that may have previously been deemed irreparable. The process involves replacing damaged or broken steel belts in ultra- class tires to restore the tire's original strength, integrity and performance at a fraction of the cost of new tires. With more than 10 years of proven success in Canada, Kal Tire brought Ultra Repair to mine sites in the U.K. and West Africa. It will also be available in Australia and Chile later this year.

Mine operators in western Canada now have a solution for one of their major environmental concerns thanks to Kal Tire's new OTR recycling service. In 2016, Kal Tire partnered with a leader in tire recycling to give western Canadian mine operators their first opportunity to have scrap tires disposed, shredded and converted into products such as sports field flooring. This new plant, located in northern Alberta, will have the capacity to recycle nearly 6,000 tires per year (including ultra-class tires). This recycling solution will be made available to other markets in the near future.
Polydeck, seen here at MINExpo 2012, will display its screening systems.


Polydeck Offers Modular Screening Solutions
Since 1978, Polydeck Screen Corp. (Booth 5619) has been a leading provider of modular screening solutions for the mining industries. At MINExpo, the company will exhibit some of its newest products and innovations including:
• Metaldex: A new line of modular AR500 steel sections in a range of apertures that fit their PipeTop II stringer system;
• PaneLite: A lighter series of screen panels with a really strong composite insert that reduces panel weight by nearly 2 lb per square foot;
• VST: This patent-pending design incorporates slots at opposing 45° angles creating a zigzag flow that increases retention time, providing increased drain rates per square foot; and
• DMax: A series of extreme open-area screen panels that utilize a modified insert configuration that allows more apertures.
Cast members of Discovery Channel's hit TV show "Gold Rush" will also make appearances at their booth.

Siemens Implements Automation, Digitalization
With innovative, integrated technologies for electrification, automation and digitalization across the entire lifecycle, Siemens (Booth 6063) helps mining engineers and metallurgists increase productivity, while improving reliability, safety and efficiency.

All over the world, miners benefit from future-proof automation, drive technology, industrial software, and services based on best-in-class technology platforms, such as Totally Integrated Automation (TIA) and Integrated Drive Systems (IDS).

Siemens offers solutions to improve extraction including rope shovels, draglines and bucketwheel excavators. In transportation, it offer alternative solutions for haul trucks, conveyors, hoists, and train control systems. For the processing plant, it offers systems to improve the performance of crushers, mills and pumps.

Victaulic's Pipe Joining Technology
Victaulic (Booth 6959) has developed a number of innovative pipe-joining solutions designed for reliable, worry-free service under the most severe conditions imaginable while keeping pace with today's technology. Among its extensive line of piping solutions, they will be showcasing their Series 795 knife gate valve and Refuse-to-Fuse HDPE pipeline system.

The Series 795 is the industry's first knife gate valve designed to be maintained in-line without having to remove the entire valve from the pipeline, resulting in up to 95% savings in downtime and more than 60% savings in annual maintenance costs, according to the company. It is also the first installation-ready valve, made with an integrated coupling design allowing the valve to be directly installed on the pipe.

The Refuse-to-Fuse system is simpler than traditional fusing methods installing up to 10 times faster, reducing labor costs and schedule times while also eliminating the need for expensive equipment rentals and certified technicians, the company said. The system is suitable for plain end and grooved HDPE pipelines, and can be used above ground, below ground and in buried systems. Installation is weather independent and made easy with two or four bolts, reducing labor time and minimizing safety hazards.

Boart Longyear Offers Safe Solutions to Improve Drilling
Boart Longyear (Booth 2603) will have product experts on hand to discuss its broad range of drilling equipment, including underground coring rigs, surface coring and sonic rigs, and the narrow-vein underground production drill rigs. The display will also show tooling and the first two products in the company's instrumentation line, TruCore and TruShot.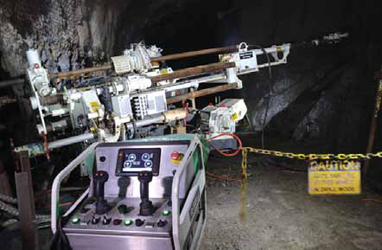 The Boart Longyear Drill Control Interface improves effi ciency underground.


The LM110 underground coring rig was designed as a modular unit with a number of options for site-specific customization. An optional rod handler greatly increases safety by locating the driller away from moving parts.

The Drill Control Interface (DCi) provides drillers with a fully electronic interface to safely and efficiently operate underground drilling equipment, such as the LM series, via an independent, lightweight control panel. The DCi also increases safety on-site by moving the driller away from moving parts and hydraulic hoses.

LF160 surface coring rig is one of the first completely hands-free rod handling solutions with an optional rod loader. The LF160 rig paired with the Freedom Loader is ideal for contractors who want to target sophisticated surface drilling exploration contracts with clients that stipulate the highest safety standards.

The LS250 MiniSonic is a compact sonic rig and is ideally suited for a wide range of environmental and infrastructure drilling applications, including difficult-to-reach drill sites.

The company will demo some of its performance tooling. The Roller Latch underground head assembly allows greater pump-in speed and productivity while using large rollers for latching and holdback braking to retain inner-tube assemblies in the drill string. Boart Longyear also has a full lineup of diamond bits that are designed for a wide range of drilling needs, such as the 10UMX Diamond Bit series. This combination of synthetic diamonds and an advanced formulation makes it an ideal choice for the hardest rock formations. With a complete range of shank adaptors, the company also offers a complete selection of rods and bits for top-hammer drilling application.

Boart Longyear will also display its StopeMaster hydraulic production drill along, which is designed to meet the challenges of narrow vein and other underground mining techniques. Capable of drilling holes ranging from 64 mm to 106 mm in diameter, it can drill to 35 m and it can be configured with a self-propelled diesel option with four-wheel independent drive that can be disengaged for towing.Boart Longyear also offers the StopeMate pneumatic drill, which is designed for flexibility and productivity in tight access locations. Both are durable and compact, with 360° rotation for greater flexibility.

Hexagon Mining
Hexagon Mining will present the progress made with the company's mine planning software applied to complex geology and dynamic unfolding at Freeport-McMo- Ran's Tenke Fungurume mine in a white paper. At the Hexagon Mining stand (Booth 4133), engineers and mine planners will get to see new solutions from the company's operations, planning and safety suites. A new look for mine traffic control within Mineops will be unveiled, including an integrated GIS mine map. The flagship high-precision drill solution, Drill HP, will demonstrate new hardness profiling capabilities for rotary and hammer drills, plus start-of-hole detection for compatible drills and market-leading navigational intelligence. The latest advances in monitoring solutions will be on show, including Leica MultiStations. By incorporating laser scanning into total stations, Leica MultiStations push surveying and monitoring to a new realm of possibilities. Complementing the monitoring component will be the company's unmanned aircraft systems. UAS are improving both surveying and safety for mine personnel, plus filling in data gaps from hard-to-reach places.

Attendees interested in underground surveying can see Leica high-definition laser scanners (HDS) and MultiStations. These solutions deliver the most accurate and comprehensive data for design versus as-built inspection, volumetric analysis, geological mapping and geotechnical analysis.

Also on display will be a full suite of monitoring solutions to keep underground and surface mines continuously safe and operational. From GPS and Total Station Prism Systems (TPS) and HDS to Georadar and UAS, attendees can learn how Hexagon Mining monitoring technology identifies hazardous events in time to take preventative measures and how mine plans are optimized with this critical information. Hexagon Mining will host demonstrations of augmented reality technology for today's mine, bringing together the real and digital worlds.

Thyssenkrupp Introduces the Largest Gyratory Crusher
The Industrial Solutions business area of thyssenkrupp (Booth 3051) will unveil the world's biggest gyratory crusher. The new machine is the KB 63-130, which despite a roughly 14% larger mantle diameter of 130 in. (3.3 m), weighs much less than its predecessor at 490 metric tons (mt). Its throughput of up to 14,000 mt/h is more than 30% higher than that of the predecessor model. The unit weighs less because thyssenkrupp's engineers have done away with the usual design principles.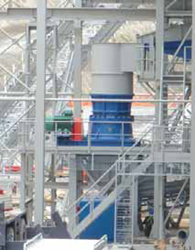 The KB 63-130 weighs much less and crushes
30% more (14,000 mt/h).


The new machine will sets new standards with a drive rating of 1,500 kW as well. It replaces the KB 63-114 gyratory crusher developed by thyssenkrupp in the mid-1990s. The 30% increase in throughput, combined with the significant weight reduction compared with its predecessor, has been made possible by combining finite element modeling with advanced discrete element method simulations.

The housing parts have a similar "fish belly design" to other thyssenkrupp gyratory crushers. This special design reduces stresses in the crusher housing and increases its strength despite the optimized weight.

Technical highlights of the new crusher include the rotatable countershaft assembly for setting tooth clearance, and the eccentric bearing assembly with top bevel gear. As well as allowing better balancing of the machine, the new bearing system permits a much more compact design as well as maintenance-friendly assembly and disassembly.

Sandvik Promotes Safety and Efficiency
Sandvik (Booth C-7309) will showcase the latest in its portfolio of innovative equipment and services, ranging from a single drill bit to mine automation. The company offers a wide range of automation solutions that miners can apply right now to maximize the full potential of their mine site while significantly improving safety. Depending on a customer's requirements, it can provide AutoMine for autonomous solutions and OptiMine for information management or a combination of these two—all resulting in improved safety and productivity.
Sandvik's battery-powered DD422iE jumbo eliminates emissions while tramming and recharges during drilling.


3-D scanning is one of several new and innovative features available in Sandvik's automation offering. It automatically scans overbreak and underbreak to save valuable time during the drilling cycle, helping customers develop more meters every month.

Sandvik will also launch a number of drill rigs, including its latest addition to the DD422 series. The DD422iE uses electric battery power instead of a diesel engine to eliminate emissions during tramming. The patented electric driveline system on its latest automated mining jumbo enables battery recharging during drilling. Sandvik DD422iE burns less fuel, also generating less heat and noise than conventional drivelines. There are many other new and innovative solutions on Sandvik DD422iE designed to increase productivity and simplify maintenance, to help ensure maximum rig availability. For underground miners, Sandvik will unveil the latest addition to its modular 400 underground range of ITH long hole drill rigs with automation capability.

The newly introduced Top Center (TC) drill bits, incorporating the most significant upgrade to face drilling bits in decades, is one of the Sandvik highlights at MINExpo. The new design features a so-called "raised front," elevating two or three front buttons—depending on diameter size—a few millimeters above the gauge buttons located on the periphery of the bit. Additionally, the front buttons are set at a slight angle relative to the symmetric axis of the bit. The raised front creates a slightly recessed hole bottom pattern that alters the rock-breaking action in order to achieve improved performance. This, together with a new cemented carbide grade GC80, which combines toughness with a softer center, further extends the service life and long grinding intervals. More launches will be revealed at the show.

The company will also showcase its advancements in the field of comminution and miners will see the latest in the range of crushers in the quest for more eco-efficient comminution solutions— one of these being Sandvik CH865, the midrange mining crusher for high-reduction tertiary and pebble applications. Intelligent systems on Sandvik CH865 enable real-time performance optimization, while smart, compact design solutions reduce dynamic loads, and minimize engineering and installation work.

As previously announced, Sandvik and Getman Corp. entered into a global distribution agreement under which Sandvik Mining will be the exclusive global distributor of Getman's products. Getman representatives will be available at the Sandvik booth to discuss solutions in underground drilling, rock enforcement systems and aftermarket services.

Remote-controlled Demolition Machines
Brokk (Booth 29013), maker of remote- controlled demolition machines, will feature its updated Brokk 60 II, now with 10% more power than the original Brokk 60. The new model is the smallest unit in the world and has an upgraded hydraulic system, which increases the machine's power, according to the company.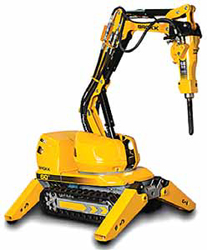 The Brokk 60 II can be used to bust boulders in
the ore pass.


Besides the hydraulic system changes, Brokk improved machine handling to make it even more maneuverable in tight spaces. The Brokk 60 II's machine movements are smoother and more precise than before.

The Brokk 60 II weighs 1,102 lb, and its overall dimensions remain the same as the original Brokk 60—only 23.2 in. wide and 34.3 in. tall. The unit's threepart arm system works with a variety of attachments including hydraulic hammers, grapples, crushers and buckets to achieve flexibility and versatility.

FLSmidth to Present New Ideas for Mineral Processing
FLSmidth (Booth 4237) will announce several new products and present key industry topics including: water recovery and tailings management solutions; plant, mechanical and maintenance audits that maximize plant efficiencies; impressive results from new developments in flotation with nextSTEP rotor/stators; and mill liners that extend wear life and improve performance.

"We will be introducing our new pulp lifters during the show and will have presentations to help people understand the benefits of installing these new cost-effective devices for increasing your SAG mill's volumetric throughput," said Andrew Cuthbert, director global marketing and communications. "Not only are these pulp lifters efficient, they last up to 50% longer than chrome moly pulp lifters and reduce mill shut down time."

Hilliard Unveils New Braking System
Hilliard Corp. (Booth 1763) will unveil a new braking system that uses brakes that it has developed, tested and certified. For more than 30 years, the company has been supplying braking systems for draglines, electric shovels, conveyors, mine hoists and mills. The new systems, according Rick Kallenborn, mining industry sales representative for Hilliard, will replace existing systems with a standardized product that is more user-friendly and will allow miners to reduce their inventory. Because of the harsh environment and extremely high loads, most mines push their braking systems to the limits. Eventually the seals begin to leak and then the brakes fail. "We want to eliminate these catastrophic failures," Kallenborn said. "We have implemented several modifications to improve maintenance. These new systems are completely interchangeable with the old systems. The mounting configurations and the footprint are the same. The arm kits replace the 'left' and 'right' arms with one standardized arm. The changeover can be implemented quickly." And, quicker repairs mean less downtime for maintenance, he explained.

Wirtgen Showcases Surface Mining Technology and More
Acknowledging that powerful and durable equipment is essential, Wirtgen (Central Hall 8801) will showcase two innovative solutions for mining: the 2500 SM Surface Miner and the MOBICAT mobile jaw crusher from Kleemann. The robust Wirtgen surface miners and crushing and screening plants from Kleemann offer high reliability and efficiency.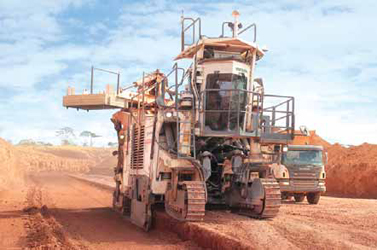 Wirtgen Surface Miner cuts and loads valuable raw materials, such as limestone, kimberlite,
bauxite, iron ore, phosphate or oil shale, in a single operation, producing an even and easily
trafficable surface in the process.


The 2500 SM surface miner is used for the selective mining of raw materials with unconfined compressive strengths of up to 80 MPa. Heavy-duty components such as the 2,500-mm-wide mechanically driven cutting drum, separately height-adjustable track units and the direct material loading system provide the efficient continuous operation. The 2500 SM offers three different operating modes: the cut material can be directly loaded into trucks via the miner's conveyor system, discharged to the side of the machine by means of the slewing discharge conveyor, or deposited as a windrow between the machine's track units. The surface miner cuts, crushes and loads rock in a single working pass.

With a feed rate of up to 330 mt/h, MOBICAT MC 110 Zi EVO is one of the highest-performing and most efficient machines in its class, according to Kleeman. The generously sized feeding unit, the continuous feed system (CFS), as well as the level control in the crusher, guarantee optimal capacity utilization without interruptions. The productivity is also increased by thorough primary screening. The independent double deck pre-screen filters out fines with oscillating movements. On the one hand, this protects the machine as it is less prone to wear, and, on the other hand, ensures a higher quality end product. Another advantage of the MC 110 Zi EVO is the diesel-direct electric drive, which boasts significantly lower fuel consumption than comparable jaw crushers.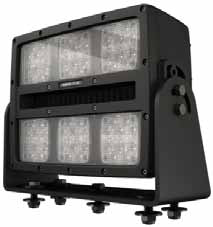 Nordic Lights work lamps are developed for the
demanding mining industry requirements.


Dazzling Output From Nordic Lights
The new Nordic Gemini LED N4701 (Booth 1728) work light offers a dazzling light output with an evenly distributed light pattern. With a theoretical output of 40,300 lumens and an operational lumens output of 25,200 lumens, it really is the "king of the hill." With a power consumption of 300W it gives a high lumens/ watt efficacy. The work lamp is offered in two light patterns; high beam and flood. With a size of 409- x 318- x 137-mm and a weight of 18 kg, miners get a robust light at the work site.
---
As featured in Womp 2016 Vol 08 - www.womp-int.com