Peregrine Considering Open-pit Diamond Mining on Baffin Island
---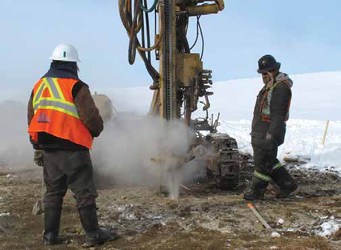 The company reports Chidliak's Phase One diamond development inferred resource
is estimated at more than 15 million carats. (Photos: Peregrine Diamonds)


Peregrine Diamonds has reported the results of an independent preliminary economic assessment (PEA) for phaseone development of an owner-operated, open-pit mining project on its Chidliak diamond project on south Baffin Island, Nunavut, Canada. The Chidliak PEA proposes sequential mining of two kimberlite pipes, CH-6 and CH-7. Production would average 1.2 million carats/year over a mine life of about 10 years.

Other PEA highlights include estimated life-of-mine pretax free cash flow of C$1.31 billion; estimated preproduction capital costs of approximately C$434.9 million, including a C$56.7 million contingency; life-of-mine average operating costs of C$94/mt processed, or C$58/carat recovered; operating margin of 72%; after-tax payback period of two years; and life-of-mine average mining head grade of 1.67 carats/mt.

Preproduction capital includes the construction of a 160-km, all-weather road to connect to the town of Iqaluit, which has a population of about 7,000 and is the capital of Canada's Nunavut territory. All of the PEA costs incorporate factors specifi c to northern Canada and Baffin Island locations.

The Chidliak project PEA was prepared by JDS Energy & Mining Inc. and incorporates a resource estimate prepared by Mineral Services Canada Inc. Inferred resources in the project's CH-6 pipe total 11.39 million carats to a depth of 260 m; inferred resources in the CH-7 pipe total 4.23 million carats to a depth of 240 m. The resources in both pipes remain open at depth and represent expansion opportunities that have not been included in the current economic study. An additional six kimberlite pipes on the Chidliak property are considered to have economic potential. Overall, a total of 74 kimberlites have been discovered on the property.
---
As featured in Womp 2016 Vol 08 - www.womp-int.com