Mining Industry Apps
View


To receive your own edition of the print version of E&MJ
Go here





Can Kuczynski Unlock Peru's Potential ?



Pedro Pablo Kuczynski (PPK) won Peru's presidential runoff election during June. The runoff was between two center- right candidates each of whom promoted a continuation of the country's pro-development path. The differences, however, were stark. The 77-year-old PPK, a former finance minister and successful investment banker, argued that cutting taxes and reducing the regulatory burden would bring more business into the formal economy and grow revenue for the government. He also promised to reform the police and improve the judiciary system, and make running water available to all Peruvians. By a thin margin, Peruvians voted for a president that advocated for economic stability and growth. While his opponent, Keiko Fujimori, lost her bid for the presidency, her Popular Force Party won 56% of congress vs. 14% for PPK's party.... read more



Steve Fiscor, Editor in Chief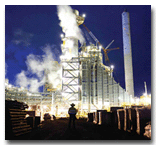 Rio Tinto Reorganizes
Incoming Rio Tinto Chief Executive Jean-Sébastien Jacques announced a new organizational structure for the company's businesses effective July 2. Included are four product groups—Aluminium, Copper & Diamonds, Energy & Minerals, and Iron Ore—and a newly shaped Growth & Innovation group, which will focus on future assets and technical support. The previous structure was Aluminium, Copper & Coal .... read more
Lundin Targeting 340K oz/y of Gold at Fruta del Norte


Lundin Gold has reported the results of an independent feasibility study of its 100% owned Fruta del Norte gold-silver project in southeast Ecuador. The study confirms that the project will support a high-grade underground mine, producing an average of 340,000 oz/y of gold over a mine life of 13 years. In mid-June, Lundin submitted a "Phase Change Application" to the government of Ecuador for the La Zarza concession, which hosts to the Fruta del Norte project, to permit the company to proceed with its development plans .... read more

Top
Brexit Brings Uncertainty to African Mining Finance Outlook


Apart from lifting - at least temporarily - the price of gold and gold producer stocks, the eventual effect of Brexit on the mining industry is unclear at this early stage of the process. E&MJ 's South African correspondent, Gavin du Venage, reported on initial impressions of how the U.K.'s withdrawal from the European Union (EU) might change the city of London's long-standing role as a financial center for African mining interests. The United Kingdom's stunning decision to dump the EU has roiled world markets and will also.... read more

| | |
| --- | --- |
| AROUND THE WORLD - USA & CANADA | |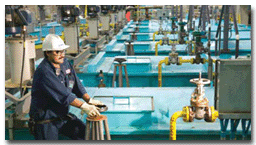 McClean Lake Approved to Increase U3O8 Production


Areva Resources Canada has obtained approval from the Canadian Nuclear Safety Commission to increase U3O8 production at the McClean Lake mill in northern Saskatchewan from 13 million to 24 million lb/y. The mill is owned by Areva (70%), Denison Mines (22.5%), and OURD Canada (7.5%). Areva is the operator. Since 2013, the mill has been through an upgrade and expansion.... read more
Stornoway Commissioning Renard Processing Plant


Stornoway Diamond Corp. began commissioning the processing plant at its Renard diamond project in the James Bay region of north-central Quebec in late June. The commissioning process is expected to take several weeks and will include operation of the plant's crushers, vibrating screens, conveyors, pumps, diamond recovery circuits, and processed kimberlite management systems, first with water and then with ore. First ore is scheduled to be delivered to the plant at the end of September, and commercial production.... read more

Top
Energy Fuels Buys Mesteña Uranium


Energy Fuels has acquired Mesteña Uranium and its Alta Mesa in-situ recovery (ISR) uranium production facility in Brooks and Jim Hogg counties, south Texas. Alta Mesa operations are currently on standby but could be ramped up to commercial production levels within approximately six months of a positive production decision by Energy Fuels, with only minimal capital requirements. The all-share transaction valued Mesteña at about $11.4 million. The transaction includes a land package of 195,501 contiguous acres, including 4,575 acres.... read more

| | |
| --- | --- |
| AROUND THE WORLD - Latin America | |
NGEx Plans to Spin Out Filo del Sol


NGEx Resources has announced plans to spin out its cross-border Chile-Argentina Filo del Sol property into a wholly owned subsidiary to be called Filo Mining Corp. NGEx will retain and focus on advancing its 60% owned, cross-border Constellation project, which is developing the Los Helados property in Chile and the Josemaría property in Argentina. Filo del Sol is adjacent to these two properties. NGEx shareholders will be entitled to receive one common. . . . read more
Avino Attains Production at Namesake Mexico Property


Avino Silver & Gold Mines reported that it has reached commercial production at a second mine—the Avino mine—on its Avino silver-gold-copper property in Durango state, Mexico. The company has operated the 250-mt/d San Gonzalo mine on the property since 2012. The two mines feed a conventional flotation mill that has three separate circuits and a capacity of 1,500 mt/d. Commercial production was declared at the Avino mine following a 19-month test period that established mineral recoveries at, or above. . . . read more

| | |
| --- | --- |
| AROUND THE WORLD - Australasia | |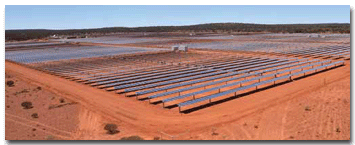 Sandfire Commissions Massive Solar Power Facility in WA


Sandfire Resources announced that the new solar power facility at its DeGrussa copper-gold mine in Western Australia has achieved full generation capacity after successfully attaining key milestones during commissioning. The facility is currently generating approximately 7 megawatts (MW) of power, which is in line with seasonal expectations. Solar generating . . . . read more

Top



Mincor Advancing Kambalda District Gold Strategy


Mincor Resources reported progress on a gold-development strategy initiated in early 2016 on properties it holds south of Kambalda, Western Australia. Mincor is better known as a nickel miner but suspended production at its two Kambalda district nickel mines and placed them on care and maintenance in January due to low nickel prices. Mincor is currently investigating the potential for developing relatively small, near-surface gold mining operations on these properties, and in early June reported that its gold mineral resource inventory. . . . read more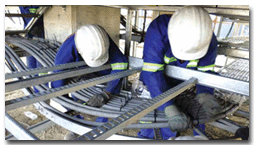 Nevsun Adds Zinc Concentrator at Bisha
Nevsun Resources has completed construction of the new zinc concentrator at its Bisha operations in Eritrea and began commissioning the plant in early June. The company has previously produced copper concentrates from the Bisha deposit's copper-enriched supergene zone, which overlies a primary sulphide zone containing both zinc and copper. The new zinc fl otation plant adds to existing copper flotation, and Nevsun now expects to produce both zinc and copper concentrates. . . . read more

Top
Ivanhoe Reports Positive PFS for Kamoa Copper
Ivanhoe Mines has reported positive fi ndings from an independent prefeasibility study (PFS) for the first phase of development of the Kamoa copper project in the Democratic Republic of Congo (DRC). The project is a joint venture between Ivanhoe and Zijin Mining Group. The Kamoa PFS focused on the initial phase of project development, describing construction and operation of a 3-millionmetric- ton-per-year (mt/y) underground mine, concentrator, and associated infrastructure. The first phase of mining would…. read more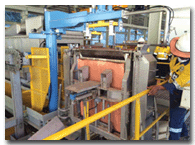 Finders Strips First Copper at Expanded Wetar Operations


Finders Resources announced in mid-June that it has plated and stripped the first copper at the recently commissioned, 25,000-metric-ton-per-year (mt/y) copper cathode solvent extraction/ electrowinning (SX-EW) plant at its Wetar copper project on Wetar Island, Indonesia. Production from the new plant will add to production of an already-operating, 3,000-mt/y SX/EW plant at the project, increasing project capacity to 28,000 mt/y of cathode copper. Mine life is estimated at. . . . read more


Top
Oyu Tolgoi Moves Toward Restart of Underground Mine Development
Turquoise Hill Resources reported in early June that Oyu Tolgoi LLC has drawn down approximately $4 billion of a project finance facility signed in December 2015 for development of block cave underground mining at the Oyu Tolgoi copper- gold-silver mining complex in southern Mongolia. The boards of Oyu Tolgoi LLC, Turquoise Hill and Rio Tinto approved the restart of underground development at Oyu Tolgoi in early May The project finance facility is being provided by a syndicate. . . . read more


| | |
| --- | --- |
| THIS MONTH IN COAL | |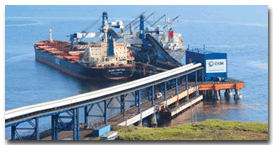 SUEK's Daltransugol Hits Milestone


Russia's largest coal terminal, SUEK's Daltransugol in the Khabarovsk Territory, announced July 1 it had achieved a record of 10 million metric tons (mt) of coal handled since the beginning of the year. Officials cited terminal equipment updates for the positive results, as well as the introduction of new high-efficiency technology. Daltransugol, the largest sea coal terminal in the Far East transshipping. . . . read more

MEC to Lay Off Up to 4,400 Workers


Ohio, USA-based Murray Energy Corp. (MEC) confirmed just hours before the start of the Independence Day holiday weekend that it has issued potential layoff notices to its workforce in six states, stating that up to 4,400 miners—about 80% of its total front-line payroll—could be without a job by September. The cuts are expected to be taken in Ohio as well as Pennsylvania, West Virginia, Kentucky, Illinois and Utah. Officials did not indicate which specific mines could see cuts, or the number of impacted workers. . . . read more

Top
Alpha Turns Coal Reserves Over to Environmentalists
In the midst of its Chapter 11 bankruptcy reorganization, Alpha Natural Resources has donated more than 53 million tons of reserves in Pennsylvania to a collection of environmental groups including the Sierra Club and will also pay millions for site restoration in Appalachia. The turnover is part of a settlement the producer agreed to with it and the West Virginia Highlands Conservancy, the Ohio Valley Environmental Coalition and Appalachian Mountain Advocates. The reserves in Westmoreland. . . . read more
| | |
| --- | --- |
| FEATURE - E&MJ 150 Years | |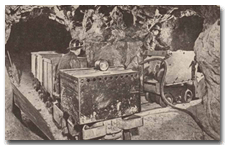 Miners Make Significant Productivity Gains During WWII
Developments during the 1940s usher in a new era of mechanization and labor issues.

By Steve Fiscor, Editor-in-Chief

This month, the magazine peers into the 1947 editions of Engineering & Mining Journal (E&MJ), which contain data pertaining to 1946. E&MJ is now a respected 80-year-old trade journal and the voice of the American mining industry. The magazine is published monthly with about 200 pages per issue and many of the advertisers are either companies that are still around today or names that would be recognizable by longtime E&MJ readers. World War II ended in 1945. There was a peacetime lull taking place as the world took stock of what had occurred. From a mining perspective, the effort to satisfy wartime consumption of natural. . . . read more

| | |
| --- | --- |
| FEATURE - Surface Drilling | |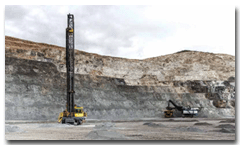 Advances With Large Rotary Blasthole Drills


Miners are seeing significant improvements in drilling and they will soon see more.

By Steve Fiscor, Editor-in-Chief

Blasthole drilling is one aspect of openpit mining that engineers identified long ago as a promising area for autonomous operations. Unlike haulage and loading operations, which are much more dynamic and complex with several pieces of equipment interacting in a 3-D environment, drilling a blasthole pattern on a bench is a very repetitive process. Over time, the task has evolved from automated drilling operations to hole location via GPS to teleremote operations to today's autonomous operations. Much of the advances in autonomous mining operations are taking place among iron operations in the Pilbara in Western Australia. Rio Tinto and BHP Billiton have been investing a significant amount... read more

Top

For more companies with products in the Drilling market -
Go Here
| | |
| --- | --- |
| FEATURE - Pumps | |
Prime Time for Pumps


Water management is becoming increasingly complex. Selection of the right pumps is essential for success in this critical and costly component of mine operation.

By Russell A. Carter Walker, Managing Editor

Anyone who has golfed is familiar with the old joke, usually engraved on a plaque somewhere in the clubhouse, that says: "Golf isn't a matter of life and death. It's much more important than that." Anyone familiar with mining knows that water carries a similar level of importance to the industry. Whether it involves dewatering to allow mining to start or continue; ensuring that a suffi cient supply is available for processing ore; or simply providing enough for worker health, safety and comfort, access to water is essential. In fact, one expert described it as "the lifeblood of almost any mine." Harvinder Bhabra, Weir Minerals' global products manager–dewatering, pointed out in a recent blog post on dewatering: "At the outset of any project, one of the most fundamental questions that needs to be. . . . read more


For more companies with products in the Pumps market -
Go Here
| | |
| --- | --- |
| FEATURE - Dust Control | |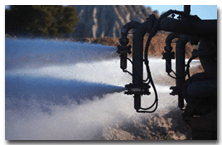 Tackling a Gritty Problem


Controlling dust emissions from haul roads, crushers, stockpiles and tailings impoundments can be costly — or inexpensive. E&MJ looks at some of the options.

By Simon Walker Fiscor, European Editor

Without appropriate control measures in place, dust can be all-pervasive. The days when society was prepared to tolerate fugitive emissions from industrial plants of any description are long gone, and there is also a better understanding of the damage that exposure to dust can do to people and machinery alike. Such appreciation, especially of the health implications of dust exposure, is by no means new, of course. The connection between dry drilling in South Africa's gold mines and the subsequent development of dust-related diseases such as silicosis was established before the turn of the 20th century, with a series of investigative commissions then being established in South Africa, Britain, the United States and elsewhere. In point of fact, in conceptual terms, they were already 450 year.... read more

Top


For more companies with products in the Dust Control market -
Go Here
| | |
| --- | --- |
| APPS | |
Current and active 'Apps' from the mining market.
TRUST THE NUMBERS

- The Sandvik 365 app.

In the world of mining, success is all about the numbers. You need hard facts and concrete data to be able to make the best decisions for your operation. That's why we created the Sandvik 365 app. Explore it now.
Get the App - Go Here


Grindex

- Toolbox

Grindex Toolbox, for hand held devices, provides a range of features to support a quick and easy selection of Grindex pumps as well as identification of Grindex original spares.
With this app you get a very convenient access to the wide range of Grindex offerings.
The application offers several powerful and easy to use functions: Pump selection, Spare parts identification, Cart function and Grindex Pumps school
All major languages are supported.

Get the App - Go Here


E&MJ - Engineering and Mining Journal



Engineering & Mining Journal (E&MJ) is the voice of the international mining community providing in-depth editorial to mining companies and the mining industry..

Get the App - Go Here


Dyno Nobel

- Explosives Engineers Guide

Dyno Nobel's Explosives Engineers' Guide equips explosives engineers with the full range of blasting tools on mobile devices. Access key blasting calculators, product information, unit conversions and more- worldwide even in remote locations.

Get the App - Go Here


iJohn Deere - Go Push



1050K crawler app offering features that will make your life easier when using a John Deere crawler. Whether you're an operator, site foreman, or fleet manager--this 1050K crawler app will help you make sure your John Deere crawler moves more dirt for less money while maximizing operator comfort.

Get the App - Go Here

For more details on our Apps listing or details on how to list your App - Go Here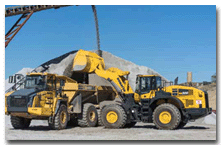 Midsized Loader Has Payload and Fuel Efficiency Improvements


Komatsu America recently introduced the new WA500-8 wheel loader. Equipped with an Environmental Protection Agency (EPA) Tier 4 Final certified engine, this model includes upgrades that enable users to achieve low fuel consumption and high travel speeds. Standard bucket capacity is increased to 7.6 y 3 (5.8 m3) and the bucket now fills easier and retains material better, contributing to productivity gains. . . . read more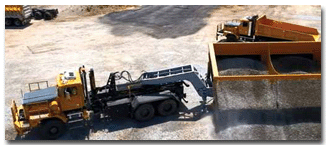 OTR Truck Package With Quick-change Body Feature


Western Star Trucks announced the availability of its new Extreme Duty (XD) Offroad package and the launch of the MBT- 40 Transformer chassis. The XD Off-road package is engineered specifi cally for extremely rugged environments and is available on Western Star's 4900 and 6900 models. (The company said it plans to offer the XD Off-road package on other models in the hammer . . . . read more

Skid Steer Track Kits Improve Mobility


Camso (formerly Camoplast Solideal) offers over-the-tire rubber tracks (OTT HXD) designed to give wheeled skid steer machines up to five times more ground flotation than with conventional pneumatic tires. The OTT HXD design includes an embedded iron core and an engineered wing profile to keep the tracks securely attached to the tires and avoid de-tracking on tough terrain. An internal traction rib maximizes the fit between the track and the tire tread, so the tracks run efficiently without slippage and undue wear . . . . read more

Top
Valve Controllers Get Software Upgrade


Emerson has enhanced the software for its Fisher Fieldvue DVC6200 series digital valve controllers, which are now available for use in applications that employ PLCs and Profibus communications as the dominant protocol. It has also been tested and integrated for use with multiple Field Device Tool (FDT) host systems. The Fieldvue DVC6200p digital valve controller with Device Type Manager (DTM) software supports control valve startup, commissioning and diagnostic . . . . read more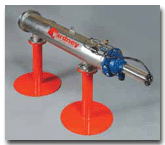 Filters for Industrial Water Treatment and Recovery


Yardney Water Filtration Systems now offers Filtaworx automatic self-cleaning screen filters as part of its commercial and industrial product line. The new filters are claimed to provide superior protection for industrial process water, incoming plant water, wastewater cleanup and industrial water for plant reuse. The system is simple to install and can be mounted in any position or orientation with minimal space requirements. It removes algae, slime, organic/inorganic .... read more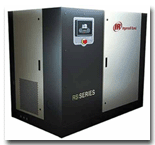 New Compressors Talk to the Internet


Ingersoll Rand unveiled its new RS30 and RS37 models, described as the first in a series of next generation oil-flooded, rotary screw air compressors for use in a wide range of industrial plant applications. According to the company, the new compressors improve performance through a state-of-the-art air end. The new air end design was developed through advanced analytics and modeling, and includes an optimized rotor profile that provides up to an 18% efficiency . . . . read more

Hydraulics Simplify Auto-lube System


SKF's Lincoln HTL 201 EEX hydraulically driven pump is intended for use in applications such as underground mining. Featuring a steel pump body and lubricant reservoir, the unit is claimed to be a cost-effective alternative to electrically driven pumps that need a cabinet for protection. The HTL 201 EEX is operated via the hydraulic system of a primary machine or carrier system and supplies lubricant as long as that machine or carrier is active. The HTL 201 EEX is based on the . . . . read more

Top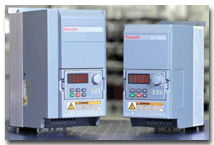 Frequency Converters Keep Energy Costs Down


The EFC 3610 and EFC 5610 frequency converters from Rexroth address energy- consumption issues facing operators of high-capacity pumps, compressors and fans. Scalable in performance and functionality features, the units can be integrated into a wide range of automation environments with simple commissioning and open interfaces. These intelligent frequency converters control machine speed as demanded, potentially significantly reducing energy consumption . . . . read more
SEPTEMBER 12–16, 2016: Electra Mining Africa 2016, Expo Centre, Nasrec, Johannesburg, South Africa. Contact: Web www.electramining.co.za
SEPTEMBER 14–16, 2016: The 2016 MEMSA Technical Symposium, Sheraton Sand Key, Clearwater Beach, Florida, USA. Contact: Web: www.miningelectrical.org
SEPTEMBER 26–28, 2016: MINExpo INTERNATIONAL 2016, Las Vegas Convention Center, Las Vegas, Nevada, USA. Contact: Web: www.minexpo.com
OCTOBER 3–5, 2016: The Tailings and Mine Waste 2016 Conference, Keystone, Colorado, USA. Contact: Linda Hinshaw E-mail: Linda.Hinshaw@colostate.edu
OCTOBER 18–21, 2016: 24th World Mining Congress, Rio de Janeiro, Brazil. Contact: Web: www.wmc2016.org.br
NOVEMBER 16-19, 2016: International Mining and Machinery Exhibition (IMME), Eco Park, Rajarhat, Kolkata, India. Contact: Confederation of Indian Industry; Web: www.immeindia.in
MAY 7-9, 2017: Haulage & Loading, Wigwam Resort, Phoenix, Arizona, USA. Contact: Web: www.haulageandloading.com
JUNE 13-15, 2017: Longwall USA, David L. Lawrence Convention Center, Pittsburgh, Pennsylvania, USA. Contact: Web: www.longwallusa.com
For a full calendar of mining industry conferences and events - click here
| | |
| --- | --- |
| WHO'S MOVING WHERE | |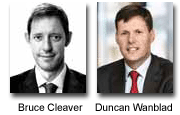 Anglo American appointed Bruce Cleaver as CEO of the De Beers Group following Philippe Mellier's decision to step down after five years. Duncan Wanblad, CEO of Anglo American's Base Metals business, will add the Strategy & Business Development portfolio of Anglo American to his responsibilities. Cleaver served as De Beers' executive director responsible for strategy and commercial relationships until 2015, and served as co-acting CEO for a year prior to Mellier's appointment.

Kirkland Lake Gold Inc. announced that George Ogilvie has resigned and has appointed Anthony (Tony) P. Makuch as CEO. Most recently, he was president of Canadian Operations, Tahoe Resources Inc. Following Makuch's departure, Ron Clayton, Tahoe's president and COO, will assume day-to-day management of the Lake Shore Gold Division. Makuch joined Tahoe in April following the acquisition of Lake Shore Gold, where he had served as president and CEO.

Monarques Gold Corp. announced that Donald Trudel has been appointed chief geologist for the Croinor gold project. Most recently, Trudel was a senior reserve and resource estimation geologist in West Africa..
Magellan Gold Corp. appointed W. Pierce Carson as president and CEO and a member of the board of directors. Previously, he was president of Gulf & Western Industries Inc. John C. Power, formerly president of Magellan, will continue in the roles of CFO and director.

Pilbara Minerals Ltd. appointed corporate finance executive Brian Lynn as the CFO. Most recently, he was CFO at Atlas Iron.

LeadFX Inc. announced that Robert Scargill, the current managing director of LeadFX, has been appointed as president and CEO. The former president and CEO, Wayne Richardson, is stepping down to focus on the development of Enirgi Group's projects, LeadFX's affiliate, but will continue to serve as a member of the LeadFX board..

Wellgreen Platinum Ltd. announced that Diane R. Garrett has joined the company as president and CEO and a member of the board of directors. Most recently, Garrett was president, CEO and director of Romarco Minerals Inc.

Dr. Daniel Kontak , full professor in the department of earth sciences at Laurentian University, has been named the 2016 winner of the Duncan R. Derry Medal, awarded by the Geological Association of Canada. The medal is awarded annually by the association's mineral deposits division to the outstanding economic geologist who has made significant contributions to the science of economic geology in Canada.
About - providing an abreviated version of the current print edition of E&MJ, WOMP is distributed throughout the world to decision makers in the global mining industry, the last week of every month.

Subscribe to E&MJ - To receive your own copy of the print edition of E&MJ, click here , and complete your details. E&MJ is available free of charge to qualified readers.

Contact - if you have views, opinons or comments or editoral that you would like to submit, we would be delighted to hear from you - click here

Next Issue - the next issue of Womp will be distributed on August 25th, along with the regular news and suppliers information, it will carry features on Slope Monitoring, Utility Equiment, Grinding, Sustainable Development and our MINExpo Preview - click here

Top