Tackling a Gritty Problem
Controlling dust emissions from haul roads, crushers, stockpiles and tailings impoundments can be costly— or inexpensive. E&MJ looks at some of the options.
By Simon Walker, European Editor
---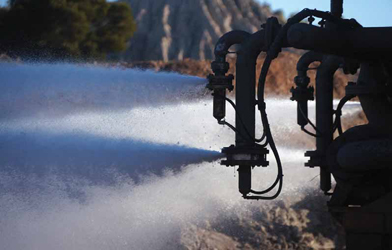 Australian Diversified Engineering claims that its ECO Spray system can deliver the optimum
volume of water on to haul roads, consistent with current conditions.


Without appropriate control measures in place, dust can be all-pervasive. The days when society was prepared to tolerate fugitive emissions from industrial plants of any description are long gone, and there is also a better understanding of the damage that exposure to dust can do to people and machinery alike.

Such appreciation, especially of the health implications of dust exposure, is by no means new, of course. The connection between dry drilling in South Africa's gold mines and the subsequent development of dust-related diseases such as silicosis was established before the turn of the 20th century, with a series of investigative commissions then being established in South Africa, Britain, the United States and elsewhere. In point of fact, in conceptual terms, they were already 450 years too late—published in 1556, De Re Metallica noted the link between dusty working conditions and lung disease in miners in the Carpathian Mountains of Europe.

Yet for all of that background knowledge, societal understanding was slow to change. Black lung was an accepted outcome of coal mining as much as many other industrial hazards until well into the 20th century, while the fact that surface mines, quarries and steel plants emitted dust was often perceived as being just a way of life for those people living nearby.

Thus it can be seen that there are essentially two threads to the dust story; internal and external. Within a mine, quarry or mineral processing plant, the principal concerns revolve around personal health, maintenance and—in dry locations in particular—visibility issues. Beyond the mine boundaries, the nuisance caused by fugitive dust can have a major effect on relations between the operator and local communities, with problems likely to increase further if the dust itself is not completely inert. As this author noted in a presentation to a conference on dust control in mining some 20 years ago, "finely divided iron ore, mudstone or coal being spread around the countryside, perhaps over arable land or gardens, is unlikely to result in overwhelming gratitude from the recipients."

The presentation also looked at the financial implications of ineffective dust control for mineral producers from a number of perspectives. These include implications:
• for the company itself, with regard to losses that will be incurred to its products or property if dust is not controlled;
• for dust control outside the operator's immediate area of activity, as dust from its process or products affects others who may have no involvement in its activities;
• stemming from regulatory authorities, particularly in relation to health and safety; and
• the financial impact that the development of new technology has on an operation's investment strategies.

As an illustration of how things have progressed even since that paper was written, the significant omission from the list is environmental regulation, which today would rank as a major disincentive to unconstrained dust emissions.

Dust Control Basics
Operations typically seek to control dust emissions by either applying an agent— usually water—or enclosing the source. Both options cost money to implement, but as Dr. Mark Kestner, president of National Environmental Service Co. (NESCO), pointed out, there are other ways of addressing the problem that need not cost a penny. "One of the most effective tools that you can use to control dust is good operating practice" is his watchword.

When it comes to haulage, Kestner said, slow the trucks down, especially if there is likely to be a delay before they can unload at a crusher. Slower trucks generate less dust. Reduce the height of stockpiles—lower piles are less affected by the wind. Choke-feed primary crushers— this will generate less dust than a crusher that is handling fluctuating loads.

And, most importantly of all, he added, dust control is everybody's business on-site, with a strong dust-control culture essential right through an operation's management and operator hierarchy. "Good operating practice means training operators to take personal responsibility for minimizing dust," Kestner stated. "Training them to do so is barely a blip in the budget and can have a big payoff.

"Do the least expensive things first," he added. "You'll find that the savings go a long way in reducing the costs of more expensive controls like chemical suppressants and dry collection systems."

Aside from stating the obvious, NESCO's business includes the supply of DustPro dust-control spray systems. Operating at 200 psi, these produce a highly atomized mist to suppress airborne dust and minimize water addition rates. Dust- Pro systems are electronically controlled, can be completely automated, and winterized for use in cold climates. For metals mines, the duplex version is designed with two pumps, one operational and one spare that can kick in immediately if a maintenance issue arises, thereby avoiding any production downtime.

The Benefits of Cartridge Collectors
According to Camfil Air Pollution Control (Camfil APC), its Farr Gold Series dust and fume collector combine enhanced performance with ease of service and reliability for a cleaner workplace. Applications include primary, secondary and tertiary crushing, high-pressure grinding roll crushers, screening plants, conveyor transfer points, stockpiles and ore-storage bins, electrical switchgear and control rooms, and assay labs.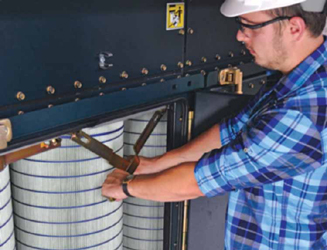 According to Camfil, filter change-out with its Farr Gold Series dust collectors
is simple and easy.


The Farr Gold Series dust collector has a rugged, compact, modular design that optimizes field flexibility and integrates well with conveyor bin vents, the company noted. They have a much smaller footprint than a conventional baghouse and operate at a lower pressure drop, leading to lower energy costs. The pleated filters are mounted vertically inside the collector, eliminating the problems of dust blinding and premature failure that sometimes occur with horizontally installed filters.

In addition, Camfil reported that its HemiPleat high-efficiency cartridges and a cross-flow inlet design allow Farr Gold Series collectors to handle very heavy loads that horizontal cartridges cannot.

In an application on a crusher station in a U.S. copper mine, Camfil collectors were used to replace existing wet scrubbers for dust control. Subsequent testwork showed that these units reduced PM10 emissions down to about 2 st/y, a massive improvement over the performance achieved by the earlier system. In addition, the company estimated that it was saving around $900,000 annually in water and energy costs.

Camfil pointed out that although its filter cartridges are more expensive initially than conventional baghouse filter bags, they last much longer and fewer of them are needed. Hence, downtime for maintenance is reduced. In consequence, total annual installation and operating costs can be markedly lower.

As the company's mining market manager, David Stock, noted in a past article in E&MJ (May 2013, pp.110–113), "It is not the cost of one bag vs. one cartridge that matters when evaluating dust collector filter costs: It is all of the other factors that come into play during dust collector operation and change-out."

Geometrica's Domes
With facilities in Houston, Texas, and Monterrey, Mexico, Geometrica has been constructing its domes and space-frame structures since 1992. The company noted that these offer an alternative approach to dust control, particularly for applications such as stockpiles.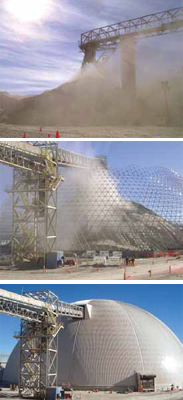 Three stages of Geometrica's Zaldívar project:
the problem (top), dome construction and final
dust containment (bottom).


The company pointed out that traditional building methods are often not practical or cost-effective, especially in remote and rugged regions. Steep slopes or corrosive saltwater environments require more than conventional building systems, Geometrica said, with its system offering lightweight, strong domes and barrel vaults. Structures that can span up to 300 m without internal columns, these can also be built over and around irregular shapes and live operations.

Geometrica cited the example of the Freedome that it supplied to Minera Coemin to cover the crushing and conveying equipment at its Carola mine in Chile, as a means of preventing dust emissions. The challenge at this particular site was that the crushing plant had been expanded several times, resulting in a highly irregular footprint that needed covering.

The company's solution was to design a freestyle dome covering some 5,000 m2 while bridging existing buildings without needing modifications to the crushing and screening plant. The heart-shaped result included 90-m spans in the principal directions.

Dome construction progressed upward, with the partly built dome supporting its own weight and that of the construction crews. No scaffolding was needed, nor was there any operating downtime. Cladding consisted of corrugated metal sheets with a polyester finish.

This has not been Geometrica's only project for Chile's copper industry, with the company having supplied domes to Mantos Blancos and Escondida amongst other operations. For Barrick's Zaldívar mine, in 2006, it supplied a 90 m-diameter dome to cover the ore stockpile, replacing an earlier A-frame structure that became unserviceable. Covering an area of 7,100 m2, the dome is a little more than 40 m high, yet weighs only 290 mt including the cladding.

With Barrick concerned about dust emissions on two counts—worker safety and copper losses—the dome took 90 days to erect the structure and a further 49 days for cladding. The design of the steel-tube structure means that no welding is needed. The stockpile was operational during construction, which mainly took place during the region's winter, with the dome designed to withstand snow loading.

Carefully Measured Control
Australian Diversified Engineering (ADE) claims to offer the only system in the world that can deliver consistent, measurable water coverage for dust suppression on haul roads. This, the company said, has the potential to save millions of dollars and billions of liters of water every year, while also increasing truck productivity.

ADE specializes in water truck spray systems for haul-road dust suppression. This is a precise art—if too much water is sprayed, the road can become slippery, while with too little water, dust can obscure the road. The company's Electronically Controlled Operating (ECO) Spray system uses technology to measure the truck's ground speed, the road surface material, the road geometry, and other factors to calculate and supply the ideal amount of water to the road.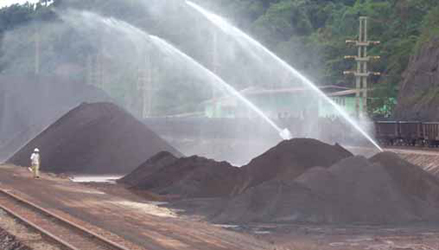 Rain Bird supplied an automated system for iron-ore dust control at Vale's Guaíba Island export terminal.


ADE suggested that on sites where water typically costs around A$2,000 per million liters (say US$1,500), using the ECO system a fleet of five trucks operating 18 hours per day can save 4 million liters of water per day, or 1.4 billion liters per year—a monetary saving of A$2.9 million (more than US$2 million).

According to ADE, by removing the guesswork, the ECO Spray Premium system gives mine operators the power to apply the minimum amount of water needed to ensure that their haul roads are safe. As well as supplying mines in Australia, the company now has dealers in Chile, Peru, Colombia, Indonesia and the United States.

Damping Iron-ore Dust
While its main focus is on irrigation products, U.S.-based Rain Bird also offers systems for dust control on stockpiles. As an example, it supplied a system based around its model 1005M-DC rain gun to Vale for dust control at its Guaíba Island iron-ore export terminal in Brazil.

Here, iron ore is delivered by railcars, off-loaded into stockpiles, processed and loaded for export. With dust emissions regularly exceeding the upper limits for airborne particulate matter, jeopardizing long-term operations at the facility, Vale installed the sprinkler system with a central control system and weather monitoring to control the airborne dust.

According to Rain Bird, effective water- based dust control requires uniform wetting as well as monitoring weather conditions such as the air temperature, relative humidity, and wind direction and speed. The Guaíba Island system uses Rain Bird SiteControl, which allows Vale to monitor the system performance, manage watering schedules, and update weather data for numerous field controllers from a single location.

The water used by the system is drawn from a local river, with a booster pump providing the pressure needed to move it along 13 km of pipeline to the sprinkler system. This sprays water onto stockpiles, roadways, and railways using a combination of rain guns, impact sprinklers and pop-up rotors—components that were chosen for their trajectory, throw radius, durability and performance using dirty water.

Monitoring the weather conditions daily allows Vale to apply the right amount of water to the stockpiles and roads, with the system automatically making any adjustments needed. The 1005M-DC rain guns used at Guaíba have a 43° trajectory angle, the height of the water stream can reach 23.7 m (79 ft) and the throw radius can reach up to 55.4 m (182 ft).

Mobile Dust Suppression
U.S.-based Dust Control Technology produces customized equipment using atomized mist technology for dust suppression in coal, aggregate-processing, slag-handling, ports and shipping, and other applications. The company recently introduced what it claims to be the most powerful mobile system available to control dust in large open areas—the trailer- mounted DustBoss DB-100 Fusion.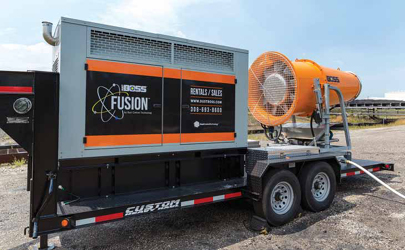 Dust Control Technologies' DustBoss DB-100 Fusion has an effective range of up to 100 m of
atomized water mist.


Capable of achieving a range of 100 m with up to 15,500 m2 (140,000 ft2) of coverage area, the DB-100 is powered by its own 480 V/150 kW generator with a 6.8-liter John Deere Tier 3 diesel engine, all securely mounted on a dual-axle trailer with stabilizing jacks.

The company stated that the unit can deliver effective particle control from a highly mobile platform that can be positioned directly at the source of dust-generating activities, even on sites without an available power supply. It can also be specified with a high-lift pump for drawing water from a stationary source.

The DB-100 has a 150-gallon fuel tank, providing about 32 hours of run time without refueling. The generator's engine compartment is fitted with sound attenuation, and day-to-day operation can typically be managed by a remotely located on/off switch outside the enclosure.

To achieve its 100-m throw distance, the DB-100 employs a 60-hp (45-kW) electric fan motor coupled with 10- 90 psi of inlet water pressure that is run through a booster pump to achieve pressures as high as 250 psi. Unlike industrial dust-management sprinkler systems, which can require as much as 500 gallons/minute (30 liters/s) of water, the DB-100 uses only about 38 gallons/ minute (2.4 liters/s) to help avoid pooling or runoff. Featuring simple, user-defined oscillation, along with adjustable elevation from -7° to 45°, the unit shatters the inlet stream into millions of tiny droplets in the range of 50-200 µm. It can also be fitted with a dosing pump to meter in surfactants or tackifiers to enhance dust particle binding.

The company cited an example of the use of its smaller DB-60 unit by a 2-million-st/y U.S. limestone producer, which reported a purchase payback period of less than a month on account of the major reduction in dust-related downtime achieved with its use on the primary crusher station.

Lignins and Latex
With its headquarters in Ohio, Zinkan Enterprises offers ranges of dust-control products that can address emissions in underground and surface mining, stockpiles, rail transport and road surfaces.

In a recently issued paper, the company's manager of inside sales, Richard Greene, and colleagues took a wide-ranging look at some of the treatment alternatives available for each of these emission sources. Putting the problem into perspective, they cited estimates of typical dust emissions. For example, they said, "It is estimated that for every vehicle traveling one mile of unpaved roadway once a day, every day for a year, 1 ton of road dust is deposited along a corridor extending 500 ft (150 m) out on either side of the road."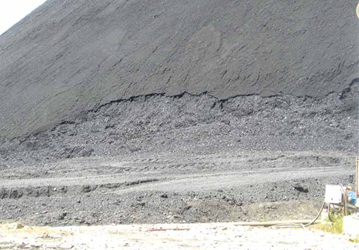 The crust formed on a coal stockpile treated with Zinkan's PileReady, a week after
sprayed application.


Looking at transporting coal by rail, they noted that the major railway companies have estimated that "uncovered or untreated coal trains can lose between 500 and 650 lb (225–295 kg) of coal per car for the Powder River Basin and upwards of 2,000 lb (907 kg) per car in the east."

Zinkan's dust control products include its MineReady range for underground and surface applications, PileReady for stockpiles, RailReady for transport and DustReady for haul roads. For example, RailReady-50 is a water- and latex-based sealing agent used for stabilizing materials such as coal to reduce losses during transit or storage. It penetrates the material surfaces, forming a tough water-resistant crust. A winterized version is also available.

For haul roads, DustReady-110 is a natural byproduct from trees, made primarily of lignin, the natural polymer that binds tree fibers together. Applied annually to roadways and commercial yards to stabilize and improve the quality of the road surfaces and to control dust, it is non-corrosive. DustReady-110 is applied as a liquid and dries to a hard durable surface that controls dust and increases the load-bearing capacity. As a binder, it reduces gravel losses and grading requirements, thus lowering overall road maintenance costs, the company stated.

The Power of Oranges
Natural orange oil is the raw material behind Polo Citrus Australia's range of dust-control products, with the company focusing on providing specific turnkey solutions for individual sites. As well as for surface mines, it also has a range of products suitable for underground mines where respiratory dust is a major issue, with reductions in dust emissions of between 80% and 90% not uncommon, Polo Citrus claimed.

Biodegradable, Haulage DC has been designed for use in underground and surface mines to reduce dust in high-traffic areas. It reduces the surface tension of sprayed water, allowing it to penetrate faster and deeper into the road surface, as well as containing additives that help retain the water in the ground and reduce evaporation losses. This in turn helps to reduce pothole, corrugation and rut formation. Fewer applications mean that water truck costs are reduced, Polo Citrus said, with water usage cut by up to 50%.

The company's Dust Bind product is used to bind soils and coat materials such as coal or iron ore with a fine acrylic polymer film that helps to prevent dust liberation and drift from stockpiles and rail wagons in wind-affected areas. Diluted to one part in 100 of water, it is also biodegradable, is non-corrosive and will not re-emulsify once it has dried.

Roadside Sign Dust Removal
While dust problems are often considered in terms of airborne material or bulky accumulations, the effect of dust on road signs and haulage markers is often overlooked. Spinflector Industries believes it may have a solution to what it explains can be a long-term, high-cost challenge.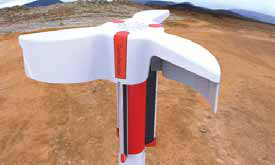 The Spinflector is designed to clean haulage marker reflectors automatically.


The Spinflector itself is a wind-powered device that automatically cleans the reflectors on the delineator posts used to mark haulage routes and other features in surface mines. With a big mine often using 10,000–15,000 individual marker posts, manually cleaning dust and grime from the reflectors can involve teams of workers traveling almost weekly along major thoroughfares, creating safety issues, loss of productivity and additional labor costs.

The Spinflector is designed to fit on a 50-mm PVC delineator post and contains a series of brushes to clean dust and grime from reflectors. The device has a built-in wind vane to power the brushes, with the company claiming that it only needs to rotate about half a dozen times in a 48-hour period to take off the layer of dust and be effective.

According to Spinflector Industries, it has trialed the system at an iron ore mine in South Australia for five months without incident, and without the need for any manual cleaning of roadside reflectors.
---
As featured in Womp 2016 Vol 07 - www.womp-int.com