Rio Tinto Reorganizes
---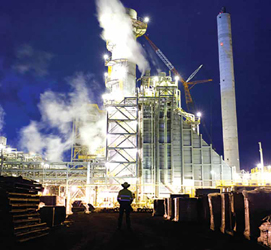 Four product groups have emerged as a result of Rio Tinto's recent
reorganization: Aluminium, Copper & Diamonds, Energy & Minerals,
and Iron Ore. Shown here is the aluminum group's Yarwun alumina
refinery in central Queensland, Australia. (Photo: Rio Tinto)


Incoming Rio Tinto Chief Executive Jean- Sébastien Jacques announced a new organizational structure for the company's businesses effective July 2. Included are four product groups—Aluminium, Copper & Diamonds, Energy & Minerals, and Iron Ore—and a newly shaped Growth & Innovation group, which will focus on future assets and technical support.

The previous structure was Aluminium, Copper & Coal, Diamonds & Minerals, Iron Ore, Exploration, and Technology & Innovation.

The Aluminium group includes Rio Tinto's bauxite, alumina and aluminum businesses. Alfredo Barrios remains as its chief executive, based in Montreal.

The Copper & Diamonds group has an objective of maximizing Rio Tinto's technical underground mining expertise. Arnaud Soirat is its chief executive. Soirat was previously president and CEO for Aluminum. He will be based in London, where Rio Tinto has its corporate headquarters.

The Energy & Minerals group brings together Rio Tinto's coal, uranium, salt, borates, and titanium dioxide businesses, as well as the Iron Ore Co. of Canada. The group is headed by Alan Davies, formerly chief executive of Diamonds & Minerals. He is based in London.

The Iron Ore group is exclusively focused on Rio Tinto's iron ore operations in Western Australia. Chris Salisbury, previously acting Copper & Coal chief executive, has become Iron Ore chief executive, and is based in Perth, Western Australia.

The Growth & Innovation group will provide strategic leadership and technical expertise for end-to-end delivery and management of Rio Tinto's corporate growth, from exploration through project development. Stephen McIntosh, previously acting Technology & Innovation group executive, now heads the Growth & Innovation group. He is based in Brisbane, Australia.

Regarding the new executive lineup, Jean-Sébastien Jacques said, "I am pleased to unveil our new executive team, which represents seven nationalities and is as diverse as it is experienced. Each new team member has more than 20 years' experience in the resources sector, which complements the deep expertise of the existing executive team. We will work together with all of our employees around the world to build an even stronger company, well positioned for delivering returns and building growth."

Previous Iron Ore Chief Executive Andrew Harding left Rio Tinto on July 1.
---
As featured in Womp 2016 Vol 07 - www.womp-int.com