Prime Time for Pumps
Water management is becoming increasingly complex. Selection of the right pumps is essential for success in this critical and costly component of mine operation.
By Russell A. Carter, Managing Editor
---
Over the life of a mine, a single solution is unlikely to be able to handle typical variations in pumping
flow rates and discharge head. Multistage systems are often needed, with additional pump stations
added as the mine workings progress. (Photo: Schlumberger).


Anyone who has golfed is familiar with the old joke, usually engraved on a plaque somewhere in the clubhouse, that says: "Golf isn't a matter of life and death. It's much more important than that."

Anyone familiar with mining knows that water carries a similar level of importance to the industry. Whether it involves dewatering to allow mining to start or continue; ensuring that a sufficient supply is available for processing ore; or simply providing enough for worker health, safety and comfort, access to water is essential.

In fact, one expert described it as "the lifeblood of almost any mine." Harvinder Bhabra, Weir Minerals' global products manager–dewatering, pointed out in a recent blog post on dewatering: "At the outset of any project, one of the most fundamental questions that needs to be answered is how will the ground be kept dry enough throughout the lifespan of the mine to allow safe excavation and protect personnel and equipment?

"At the same time, a steady supply of water needs to be maintained to keep the process running efficiently. Depending on location, having insufficient water on site can be just as problematic as having too much.

"These two challenges create the complex balancing act of water management on any mine."

This is where project pumping-system discussions become interesting. As Bhabra noted, over the life of a mine a single solution is unlikely to be able to handle typical variations in pumping flow rates and discharge head. Multistage systems are often needed, with additional pump stations added as the mine workings progress. The goal is to achieve a solution that is capable of coping with all of the potential challenges that it might face, but which also operates efficiently.

Technological advances have made this easier to achieve. Variable frequency drives and sophisticated PLCs can control pump speeds, enabling them to adapt to changing conditions. This increase in complexity has, in turn, created a demand for remote and automated control and operation so that personnel do not have to physically be at the pump in order to make any system adjustments.

Yet, Bhabra emphasizes that at the most basic level, the efficiency of a complete system—and not just those designed for dewatering—depends on the pumps, as well as the pipework and valves, control philosophy and drive system. Significant inefficiencies can be encountered with incorrectly specified equipment, whether it involves pit dewatering, slurry transport or mill circuit design. That's why Weir Minerals has structured its business strategy to help customers address the critical issues of uptime, performance, durability, consistency, longevity, capacity, operational efficiency and maintenance.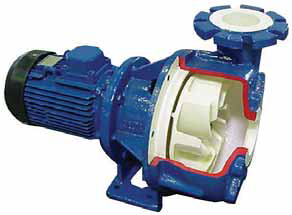 Warman WRR centrifugal pump.


Part of that approach involves release of new or improved models to designated markets and/or regions. In that vein, Weir Minerals Europe just launched a new addition to its Warman range of centrifugal pumps for slurry transport.

Unlike standard centrifugal pumps, the new Warman WRR pump uses a vortex to move slurry through the unit, created by an impeller that sits outside of the main flow path. This provides an unobstructed passage between suction and discharge, even for particles as big as the suction inlet. The WRR is available in a large range of sizes and configurations including standard horizontal, close coupled, submersible and vertical bearingless designs. Flow rates range from 1 to 1,250 m3/h and free spherical passages from 40 to 250 mm.

Tony Lawson, engineering director at Weir Minerals Europe, said, "The Warman WRR pump features similar technology to Wemco vortex pumps. It is available in a range of materials suitable to the level of abrasion resistance required by the application, and is supported by our Weir engineering expertise and extensive aftermarket support network."

Pairing for Progress
Customer retention through product development and technical support isn't a new strategy for mining-class pump builders, but as the industry evolves to meet constantly changing economic, environmental and technological trends, one of the most useful strategies for both vendor and customer may simply be that of maintaining long-term collaborative relationships that benefit both parties, pairing next-generation technology with old-school on-site support.

For example, Sulzer—a Switzerlandbased manufacturer of industrial equipment, including a wide range of general and special-purpose pump types commonly used in mining—has had a business relationship with Boliden Group's Garpenberg underground mine in Sweden since 2007, with the primary intent of jointly solving the mine's pumping challenges. Boliden has a two-pronged approach to achieving economy: One aspect is reducing individual costs, the other is making the mine's processes more economical as a whole. Dealing with pumping challenges plays a role in both.

Rough pump handling has always been associated with cost. "One thinks of how the pumps are handled underground on their way down the ramp to operations, and how they look sometimes when they come back up again," said Reidar Ericsson, mine service technician at Garpenberg. "When the pumps are dragged backward for blasting and loading—that's where the expensive problems start."

An additional cost factor, especially for mobile pumps, is whether the pumps are properly installed and in good working condition. Pumps connected with improper phase order, for example, will start pumping but with the wrong impeller rotation, resulting in poor capacity. When this or an issue such as a leaking primary seal goes unnoticed, problems can quickly escalate.

Given rough handling and the harsh, abrasive conditions underground, pump service is an unavoidable part of mining operations. "Previously we did all the pump service ourselves," explained Ericsson. "The pumps that couldn't be repaired were taken out of operation, and unfortunately they weren't always replaced." Besides stressing the importance of having working pumps readily available, Ericsson notes the value of getting information that can prevent pump breakdowns in the first place.

In almost 10 years of cooperation, Sulzer has supplied the mine with hundreds of dewatering pumps, including its XJ/XJS submersible drainage and sludge pumps, which the mine was among the first to test. The mine has a comprehensive service agreement with Sulzer, including not only Sulzer pumps but also those of other suppliers.

Since the introduction of XJ/XJS submersible drainage and sludge pumps to the mine, Ericsson has noticed a decrease in the number of pump issues caused by rough handling. "I think transport damage has been more or less 'built away' in these pumps," he said. "We were used to seeing damage to electrical cables and other pump components. We were skeptical when we saw the advanced electronics inside the XJ/XJS pumps, but that sort of damage is now eliminated."
Boliden's Garpenberg mine has benefitted
from a long term pump repair and
replacement program.


Ericsson is also impressed by the electronic intelligence associated with these submersible drainage and sludge pumps. For example, the pumps' AquaTronic unit has put an end to capacity problems at startup by correcting for improper phase order. "Previously when there were problems, the first thing asked was, 'Is it connected and rotating in the right direction?'" Ericsson said. "I don't hear that question anymore, and today no one has to think about it."

Ericsson also praises AquaPlug, a module that incorporates control and monitoring functions into the pump power line. "We have AquaPlug in all our fi xed installations, and you can see the pump condition with the help of the lights on it," he explained. "AquaPlug warns us if there's a primary seal going, which lets us plan the pump change in time—before the leakage makes its way to the starter and results in a much more expensive repair."

As part of the mine's service agreement, damaged pumps from Boliden Garpenberg are sent to Sulzer's workshop in Karlstad Sweden, even if the pumps are not Sulzer's brand. Depending on the level of damage and the mine's needs, the workshop returns either a refurbished pump or a new Sulzer pump. "We have a certain store of pumps underground, and that number can never decrease," said Ericsson. "If we turn in a pump that's been run over, Sulzer will ask us first if we want to replace it with a new one, which means we still decide over our own pump fleet."

The workshop also returns pump condition data and statistics, which Ericsson says is just as important as the return of serviced and repaired pumps. Detailed reports from Karlstad help Ericsson's team identify problems related to location and installation factors, rather than the pumps themselves. "If we see that there are repeated problems with pumps in a certain place, it tells us that it's likely a problem with the place, not the pumps," he said. "That helps us reduce our costs by working with the site, for example by sending another pump model that lets us pump at a [lower] cost."

As part of Sulzer's newest generation of products, the pumps delivered to Garpenberg are equipped with high-efficiency electric motors rated 11.8 kW for 50-Hz markets and 13.5 kW for 60-Hz markets. The motor and new hydraulics combine with low-friction bearings to reduce power losses. As a result, Sulzer said the total energy costs are low and the carbon footprint is minimized.

Sulzer said its XJ 110, a submersible drainage pump, is designed for pumping water and dirty water mixed with light abrasives. Its slim-design XJC 110 submersible drainage center-line pump is well suited for applications with limited installation space. The XJS 110 submersible sludge pump is made for pumping dirty water and water mixed with solids.

It also should be noted that, among the brands offered by Sulzer, Pumpex submersible pumps have been part of the company's lineup since 2011. However, Sulzer is in the process of setting up a new mining and construction business segment that will encompass all of its dewatering activities worldwide. Consequently, product brand names formerly used in this sector will be eliminated during 2016 in order to create a united Sulzer brand.

As a result, Sulzer said the Pumpex name will be phased out during 2016, but the popular Pumpex products—used in more than 70 countries—will be available under the Sulzer brand. Replacement pumps, spare parts and service for existing Pumpex pumps will be provided through the Sulzer sales organization.

New to the Market
Among the most recent product introductions in the pump sector are several models that stand out for their massive properties, in both dimension and performance. Tsurumi literally stood tall at bauma 2016 with its display of two new products: the LH4110W and KRSU822. The flagship LH is now listed as its strongest submersible pump with a maximum head of 216 m. It drew attention at the show, weighing 1.3 mt and standing 1.8 m (6 ft) high. With a 110-kW motor, it is intended for applications involving long pumping distances.

The LH can handle sediment with up to 8-mm particle diameter, but Tsurumi's KRSU822 provides clear passage of particles up to 56 mm, making it an ideal choice for applications with heavy media such as sludge, sandy water or bentonite. Tsurumi has equipped the 400-volt unit with a 110-KW electric motor, a pump casing fabricated with GG20 grey cast iron and the two closed non-clog impellers, arranged behind each other, made of chromium cast iron. A double inside mechanical seal is made of hard silicon carbide. Tsurumi said a water jacket surrounding the motor housing keeps the motor sufficiently cool even in semi-immersed operation.

Schurco slurry pumps are widely used in mineral processing plants, functioning as an important link in the processing chain. The Schurco S and Z series are all-purpose workhorse pumps that provide useful duty points from low flows of 10 gpm or 2.3 m3/h to capacities as high as 18,000 gpm. Designed to be able to reach heads greater than 250 ft (76 m) with a single stage, these pumps strike an optimal balance between wear rates and efficiency, according to the company.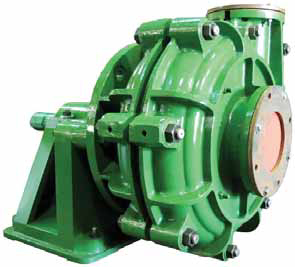 Schurco's S and Z series are all-purpose pumps that provide useful duty
points from low flows of 10 gpm or 2.3 m3/h, up to 18,000 gpm.


The S Series employs a well-known, almost universal pump design approach: split-case halves with hardened highchrome liners and impellers installed in the wet-end. Expeller seals allow these pumps to run with no sealing water in most applications. The Z Series pumps have thick, oversized solid bowl casings with robust three-vane impellers designed to pass the largest solids possible.

The S Series pumps are designed for slurries through Class IV, with appropriate construction material selection. Oversized high-strength alloy steel shaft limits deflection during operation. A robust cast-iron base cradles the bearing cartridge and allows simple impeller adjustment and pump wet-end support with minimal number of through bolts. Tapered mating faces enable accurate alignment of liners. A heavy-duty, castiron cover and frame plates enclose the wetend of the pump, enabling high operating pressures.

Schurco application engineers can assist in specifying from a wide range of available chrome iron alloys and molded elastomers to optimize the wear characteristics of each component.

BJM Pumps describes its new XP-SKX submersible pump series as being able to handle the toughest applications, offered with an explosion-proof motor for hazardous locations. These pumps include a shredder-type impeller and suction cover design that utilizes a tungsten carbide cutting tip on the impeller and specially designed spiral suction cover able to shred solids and prevent clogging. The series is equipped with double mechanical seal assemblies using hardened lower seal faces with a protective lip seal for improved reliability, while 316 stainless steel pump parts and FKM elastomers provide superior corrosion resistance. Pumps are configured with a Pump Seal Minder system and automatic thermal switches offer XP motor protection. Heavy-duty, corrosion-resistant power and sensor cables are standard, while an epoxy-coated cast iron motor housing provides both corrosion resistance and heat dissipation.

The XP motors are FM approved under both Canada and U.S. regulations, and suitable for use in Class I, Division 1, Groups C & D hazardous locations. These motors are air-filled and use NEMA class F winding insulation.

Netherlands-based BBA Pumps BV said its BA line of dry self-priming pumps now is available in corrosion-resistant 316 stainless steel. These pumps are designed for a variety of industrial applications, particularly with corrosive environments such as mining that demand high performance materials. The stainless steel casting parts are typically available from stock for the most popular BA models. Stainless steel pumps can be quickly assembled and configured with a diesel or electric motor in either a sound-attenuated canopy or in an open frame version.

The stainless steel 316 line consists of four models ranging from the BA80H, a 3-n. clear liquid unit with maximum capacity of 200 m3/h; to the BA180E, an 8-in. solids handling pump rated at 720 m3/h.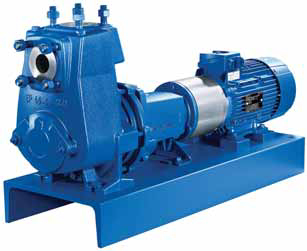 KSB's Etaprime self-priming pumps are available in 28 sizes.


Earlier this year, KSB Aktiengesellschaft, Germany, launched the latest versions of its self-priming centrifugal Etaprime pump line. According to the company, the new model offers good suction properties even in the presence of poor inlet conditions—they deliver even when inlet pressure is low. At negative inlet pressure, for example, the pumps still provide up to 9-m suction lift. Fluids with entrained gas can also be handled without need of foot valve installation.

The pump sets are designed for handling fluid temperatures ranging from –30°C to +90°C. Maximum head is 105 m, while low rate can reach up to 180 m3/h.

The new series spans 28 sizes, all of which can be powered by either 2-pole or 4-pole IE3 motors. The pumps are available in compact close-coupled design (Etaprime B) or as classic baseplate-coupling- motor versions (Etaprime L). All mating dimensions are fully compatible with those of the previous generation.

Depending on the application, the customer can choose between oil-lubricated rolling element bearings or those grease-packed for life. It is also possible to provide connections for temperature or shock pulse sensors on the bearing brackets. Available materials include cast iron and stainless steel, thus expanding the application range beyond just water-handling duties.

KSB said the pumps' design facilitates convenient installation and removal of its mechanical seals. For more demanding applications, double mechanical seals in tandem or back-to-back arrangement can be fitted, and special sealing material can be specified when handling emulsions.

Smooth Operator
Netzsch Pumps offers NEMO progressing cavity pumps, claimed to be ideal for moving extremely abrasive sludge such as that encountered in transporting crushed ore for processing. According to the company, the smooth pumping action and robust components found in the NEMO line can withstand an aggressive sludge medium, offering a significantly longer service life than that of centrifugal pumps. The NEMO progressing cavity pumps are also said to be low power consumers and are easy to clean and maintain, which further reduces operating and maintenance costs.

Netzsch says its NEMO technology allows users to pump sludge with 40% water content, using less power
and with reduced maintenance requirements.


With the NEMO technology, users can pump a sludge mixture containing no more than 40% water—moisture content considered ideal for sludge concentration requirements. Netzch said centrifugal pumps, typically used in the mining industry in the past for this transportation step, require a medium that is at least 50% water, which makes subsequent extraction more difficult.

The NEMO progressing cavity pump operates with a combination of rotor and stator. The helix rotor rotates within a stator jacket fitted to the rotor with a reversed helix to form conveying chambers with the same shape between the two components. The medium is conveyed from the suction to the discharge side without pulsation, shear forces, or changes in pressure. This allows even viscous substrates and substrates containing a large proportion of solid matter to be reliably conveyed.

The NEMO pump rotor is made of tungsten carbide, selected to help the system achieve maximum service life even in heavy use. With a scratch hardness of 9.5 on the Mohs scale, tungsten carbide is nearly as hard as diamond and is scarcely affected by the grinding effect of crushed stone in ore sludge. The stator is made of SBE, a closed-cell, oil-resistant synthetic rubber material. Extremely wear resistant, SBE nevertheless maintains its elasticity to prevent points of contact with the rotor from wearing out too quickly.

NEMO pump technology also features speed control, which allows users to adjust rotor speed with complete flexibility, using a variable frequency inverter. Users can achieve a balance between the lowest possible surface speed to reduce abrasion and a speed that will provide sufficient throughput to prevent the medium from settling.

Keeping it Under Control
Xylem says its Godwin Primeguard Controller with Field Smart Technology enables a pump to be remotely stopped, started and monitored via live satellite link to ensure optimum efficiency. The company demonstrated the technology by monitoring a pump based in Bridgeport, New Jersey, USA, from its exhibit booth at the bauma 2016 trade fair held in April in Munich, Germany.

According to the company, Godwin Field Smart Technology offers customers additional security as it enables them to turn off and lock a pump located anywhere in the world. A built-in alarm system warns operators of faults in a pump, allowing maintenance personnel to zero- in on the problem without needless troubleshooting or time-wasting parts retrieval. The technology can also monitor emissions from a pump engine, which can indicate problems such as blocked filters. Data from connected pumps is collected at one minute intervals and send to a password-protected web page that is accessible to customers on laptop or tablet computers and smartphones. The technology, said Xylem, has been designed by Xylem's Godwin team specifically for dewatering pumps.
Franklin Electric's FluidWise Drive and Control System
offers three modes of operation for application flexibility.


Franklin Electric recently introduced the FluidWise drive and control system that protects and controls artificial lift motors, electric submersible centrifugal pumping (ESP) systems, and electric submersible progressive cavity pumping (ESPCP) systems used in mine dewatering and other applications. The system incorporates increased functionality and data acquisition capabilities, allowing the pumps to operate at depths up to 4,921 ft (1,500 m).

The FluidWise Drive and Control System for artificial lift applications includes three running modes: a set speed; regulated speed to reach a set target water level; or a regulated speed to reach a desired flow rate (requires a flow meter). The system provides underload/overload protection including dry run protection, one-second data logging with Microsoft Excel file downloading capability, real-time data monitoring, alarms and alerts sent directly to cell phone or email, web page interface via direct or Wi-Fi connection, and a Franklin Electric controller designed specifically for dewatering applications.

Pumping Profitably: Pipeline Optimization at Los Bronces Copper
Cambridge, U.K.-based IntelliSense.io and diversified miner AngloAmerican announced they have initiated a joint project in which IntelliSense.io will optimize the energy and water utilization performance of a pipeline that supplies recovered tailings water to the Confluencia plant at Anglo's Los Bronces copper operation near Santiago, Chile.

IntelliSense.io said its technology is used to deliver continuous optimization of processes and systems through a combination of sensors, software and simulation, delivering "Optimization-as-a-Service" with quick deployment and regular technology upgrades to deliver rapid ROI to its customers.

IntelliSense.io CEO Sam G. Bose stated, "By developing a pipeline pumping system optimization and integrity monitoring application for this project, AngloAmerican will be able to improve efficiency of their pipeline systems, gain reduced energy consumption and reduced carbon footprint from their operations. This will be delivered through software that incorporates real-time, multisensor data. The project will deliver a dynamic pumping schedule that will allow AngloAmerican operations to automate pipeline pumping equipment and deliver continuous optimization of water and energy consumption."

The IntelliSense.io dynamic pumping schedule models the demand for process water, balancing the supply of recovered tailings water with the availability of "make up" or fresh water. The application also monitors pipeline integrity and wear rates by utilizing existing and additional sensing along the pipeline to detect degraded operation and generate alerts, enabling proactive maintenance and reducing the risk of pipeline integrity failures.

AngloAmerican selected Intellisense.io to develop a system for improving water pipeline performance at its Los Bronces
mine, shown here. (Photo: AngloAmerican)


"Investing in technologies that reduce the environmental impact of our operations— and therefore improve their sustainability— is one of our most important focus areas," said Meshal Ruplal, head of engineering for AngloAmerican's Copper business. "Reducing the energy required for our pipelines and improving the efficiency of our pumping systems will directly benefit our ability to improve water conservation."

IntelliSense.io and AngloAmerican were awarded project funding through the Newton-Picarte Fund. The fund aims to promote the economic development and social welfare of partner countries through strengthening their science and innovation capacity. It is part of the U.K.'s Official Development Assistance (ODA). The Water & Energy Management Pipeline Pumping System Optimization (WEMPSO) project, as it is known, will operate within a designated budget from CORFO, the Chilean funding agency and through Innovate U.K., a U.K. funding agency.
---
As featured in Womp 2016 Vol 07 - www.womp-int.com