To receive your own edition of the print version of E&MJ -
Go Here





2016: E&MJ's Sesquicentennial Year



The gold logo emblazoning this edition of E&MJ states it simply: Celebrating 150 years. Few trade journals can make this claim. Engineering & Mining Journal was originally founded as the American Journal of Mining in 1866 (See E&MJ 150 Years). The publication established an early reputation for reliability and authority. In 1910, E&MJ was purchased by Hill Publishing, which eventually merged with another company to form McGraw-Hill Publishing Co. in 1917. E&MJ remained with McGraw-Hill until 1988 when it was sold to Maclean Hunter. The title changed hands a few more times during the 1990s. Mining Media International took control of E&MJ in 2003.

What people were able to accomplish before electricity, let alone the tablet, computer and the four-cycle engine, was amazing. Thumbing through the back issues of E&MJ is like a stroll through world history as so much of the planet......... read more



Steve Fiscor, Editor in Chief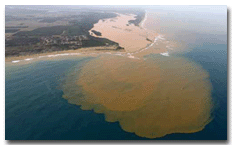 Brazilian Court Sets Deadline for Actions Related to Samarco Spill
On December 18, the 12th Federal Court of Belo Horizonte handed down decisions on injunctions requested by federal and certain state governments against Samarco, Vale and BHP Billiton Brazil for cleanup costs and damages related to the breach of the Fundão tailings storage facility (TSF). The court ordered Samarco to deposit R$2 billion ($519 million) in a court-managed bank account within 30 days—10% of the R$20 billion ($5.2 billion) sought by plaintiffs for the fund. The money........ read more
Mining Majors Cope With Low Commodity Prices


Several major mining companies made presentations to investors in the first 10 days of December, with an emphasis on what the companies are doing to cope during the current low commodity price environment and on how operating costs and capital expenditures are being reduced. Asset sales and shutdowns were at the top of the agenda for Anglo American, Freeport-McMoRan and Vale. Newmont focused on production expansions and cost reductions, while....... read more

Top
Silver Standard Evaluating Chinchillas Deposit


LSilver Standard Resources has entered into an agreement with Golden Arrow Resources to explore, evaluate and possibly develop Golden Arrow's Chinchillas project in Jujuy province, northern Argentina. The Chinchillas project is based on a prospective silver- lead-zinc deposit located approximately 30 km from Silver Standard's Pirquitas silver- zinc mine. Under the terms of the agreement, Silver Standard is evaluating Chinchillas during an 18-month preliminary period as a mining operation to supply feed to the Pirquitas plant beginning in the second half of 2017. Silver Standard has committed to spend a..... read more

Top
Cliffs Sells Remaining U.S. Coal Assets


Cliffs Natural Resources sold the Pinnacle mine in West Virginia and Oak Grove mine in Alabama to Seneca Coal Resources. The $268 million deal is based on Seneca Coal assuming all liabilities. Additionally, Seneca Coal may pay Cliffs an earn-out of up to $50 million contingent upon the terms of a revenue sharing plan, which extends through the year 2020. "The sale of Pinnacle and Oak Grove to Seneca Coal marks Cliffs' exit from the coal business, and represents another very..... read more
| | |
| --- | --- |
| AROUND THE WORLD - USA & CANADA | |
Donlin Project Reaches Permitting Milestone


Barrick Gold and NovaGold Resources reported in late November that the U.S. Army Corps of Engineers (Corps) published its Donlin Gold Draft Environmental Impact Statement (DEIS) for the Donlin gold project in southwest Alaska. The Corps will hold public meetings on the DEIS and accept written comments until the end of April, with publication of a final EIS expected in 2017. Donlin Gold LLC, jointly owned by Barrick and NovaGold, has applied for permits to develop an open-pit, hard rock gold mine. The project would take about three to four years...... read more
Champion Buying Cliffs' Bloom Lake Iron Ore Mine


Champion Iron has agreed to purchase the Bloom Lake open-pit iron ore mine, related rail assets, and the Quinto mineral claims in Québec from affiliates of Cliffs Natural Resources. The assets are currently subject to restructuring proceedings. The Bloom Lake mine and concentrator are located approximately 9 mi southwest of Fermont, Québec. Cliffs shut down production at the mine and placed it on care and maintenance in late 2014. Production in 2014 totaled 5.9 million metric tons (mt) of iron ore concentrate. Concentrate is transported 320 m by rail to a ship-loading port at Pointe Noire, Québec... read more

Top
Nyrstar Suspends Production at Middle Tennessee Mines


Nyrstar NV announced on December 7 that it is placing its middle Tennessee zinc mines on care and maintenance to further minimize cash consumption in its mining segment as it continues to address the impact of low metals prices. The decision will result in approximately 50,000 mt/y of zinc in concentrate being taken out of the market. Zinc metal production at Nyrstar's Clarksville, Tennessee, smelter will be reduced by about 9,000 mt/y. The Clarksville smelter will continue to be supplied by Nyrstar's east Tennessee mines and additional external sources. The smelter produced 110,000 mt of zinc in 2014.... read more

| | |
| --- | --- |
| AROUND THE WORLD - Latin America | |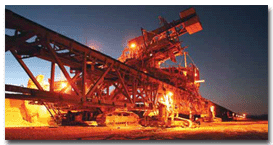 Barrick, Antofagasta Form Zaldívar JV


Barrick Gold completed sale of a 50% interest in its Zaldívar copper mine in northern Chile to Antofagasta Plc on December 1. Plans for the transaction were initially announced in late July. Under the new ownership structure, Zaldívar will have a joint Barrick-Antofagasta board of directors consisting of three Barrick nominees and three Antofagasta nominees. Antofagasta will act as the operator of the mine and will be subject to oversight and direction by the board. Zaldívar is an open-pit, heap-leach copper…… read more
Goldcorp, Teck Complete Project Corridor Transactions


Goldcorp announced in late November completion of transactions necessary for the formation of a 50/50 joint venture with Teck Resources to develop their respective El Morro and Relincho projects in the Atacama region of Chile as a single project. The combined project currently has the interim name of Project Corridor. Formation of the joint venture followed completion of purchase by Goldcorp of New Gold's 30% interest in the El Morro project, giving Goldcorp 100% ownership…. read more

| | |
| --- | --- |
| AROUND THE WORLD - Australasia | |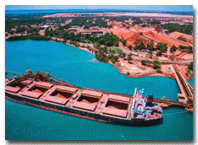 Rio Tinto Approves $1.9B Amrun Bauxite Project


Rio Tinto has approved development of its $1.9 billion Amrun bauxite project on the west coast of the Cape York peninsula in north Queensland, Australia, about 40 km south of the company's existing East Weipa and Andoom mines. Development will include construction of infrastructure required to support the bauxite mine, including a processing plant and port, a dam, a tailings storage facility, roads, and a ferry terminal on the Hey River to transport workers from the nearby town to the mine. Rio Tinto is targeting an initial bauxite production rate of 22.8 million…. read more



Hermes Deposit Will Add to Plutonic Production


Northern Star Resources has completed a scoping study of its Hermes gold deposit 60 km southwest of its Plutonic mine in Western Australia. The study suggested that the deposit can contribute 1.1 million mt of feed to the Plutonic mill at a grade of 2.6 g/mt gold over a two- to three-year period. Contained gold would total 86,000 oz. Capital cost to bring the Hermes deposit into production is estimated at A$10 million. All-in sustaining cost of production is estimated at A$1,095/oz of gold. Northern Star forecasts that completion of the Hermes project will increase  …. read more

Top

Political Controversy Shakes South Africa's Struggling Mining Industry
South Africa's battered mining sector recently took another hit with the unexpected sacking of a respected finance minister, sending the country's currency and stock market into a tailspin. In mid-December, President Jacob Zuma said he was replacing Finance Minister Nhlanhla Nene with David van Rooyen, a little-known legislator. South Africa's banking sector plunged on the news with banking shares dropping more than 10%, a fall not seen since the 2008 crash. The Rand breached 16 to the dollar…. read more


Golden Star Going Underground at Prestea
Golden Star Resources has reported the results from a feasibility study of development of an underground mine on the high-grade West Reef deposit on its Prestea property in southwest Ghana. The Prestea property hosts a previously operated underground mine that Golden Star acquired and placed on care and maintenance in 2002. Extensive surface infrastructure and underground development are in place and can be used in developing a new mine on the West Reef deposit. Prestea is located 16 km from Golden Star's existing Bogoso processing plant. West Reef ore will be hauled…. read more


Indian Bauxite Projects Scuttled


Ultra-left wing extremists have stalled India's plan to kick-start greenfield bauxite mining projects, the first of their kind to be developed since the early 1980s. Armed insurgency, violence and abductions attributed to the extremists have forced the government of the southern Indian province of Andhra Pradesh to back away from bauxite mining projects on 1,212 hectares of forest land containing estimated reserves of about 617 million metric tons (mt). According to an official in the Andhra Pradesh state government, a government order permitting exploitation of the bauxite reserves by Andhra Pradesh Mineral…. read more

| | |
| --- | --- |
| THIS MONTH IN COAL | |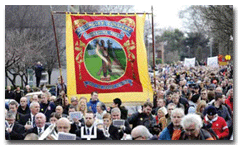 Last U.K. Deep Mine Closes


Friday, December 18 was the final day of work for 450 mines at the Kellingley Colliery in North Yorkshire, also known as the Big K, as the mine will be permanently idled—bringing to an end a two-yearlong closure plan for British deep mines. Kellingley, the largest deep pit in Europe and the last deep mine in Britain, had employed about 1,600 in recent years, and at one time had a payroll exceeding 2,000. It first came online in 1965 and produced 900 metric tons (mt) per hour at prime levels …. read more

Westmoreland Signs Long-term Deal Extension in Canada


Independent producer Westmoreland Coal confirmed it has lengthened a long-term supply deal with Saskatchewan Power Corp. (SaskPower) by an additional 14 years. The deal, which includes more than 58 million tons, will now run through the end of 2029. The coal will originate at Westmoreland's Poplar River surface mine in the south-central Saskatchewan town of Coronach. The mine has been supplying coal to SaskPower's Poplar River Generating Station since 1978. "We are proud to continue to be the sole provider of fuel to SaskPower from…. read more

Wollongong to Restart Wongawilli in Australia


After placing the mine on care-and-maintenance status last year, New South Walesbased Wollongong Coal is moving toward a restart of operations at the Wongawilli mine and adding 110 workers. The move comes just three weeks after the New South Wales Planning Assessment Commission (NSW PAC) gave a greenlight to a five-year extension of the operation's mining license. It had been idled since late August 2014. Officials told ABC News Australia that production should begin again early next year. "Wongawilli Colliery is an important asset for the company and a key part of our …. read more

| | |
| --- | --- |
| FEATURE - E&MJ 150 Years | |

A New Approach to Building Haul Roads
At a time when pioneers were beginning to discover the vast natural resources of the American West, publishers launch a weekly journal dedicated to mining

By Steve Fiscor, Editor-in-Chief


TEditor's Note: In 2016, Mining Media celebrates 150 Years of E&MJ, which will culminate with a Special Collector's Edition (September 2016) to be distributed at MINExpo 2016. As a lead up to this event, E&MJ will provide monthly snapshots of its history. Serving an industry for 150 years is a milestone only a few companies have achieved. Engineering & Mining Journal (E&MJ) traces its roots back to 1866, when it was originally founded as the American Journal of Mining (AJM). The California gold rush was at its peak and the Comstock Lode had just been discovered outside of Virginia City, Nevada. Copper mines were exploiting native copper deposits in Michigan's Upper Peninsula. The lead mines in Missouri were established as were some precious metals mines in the Carolinas ……. read more

| | |
| --- | --- |
| FEATURE - Modular Plants | |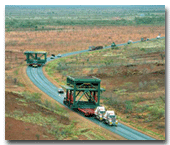 Making the Most of Modules


Modular design can give major advantages when companies are constructing processing plants. E&MJ asks some industry experts in this field for their views and advice

Russell Simon Walker, European Editor

A mineral processing plant represents a major capital investment for any new mine, with more capex usually needed from time to time as optimization routes become apparent after operational experience has been gained. And, given that most mines are far enough away from major supply sources to make equipment transport costs a real consideration, there can be significant benefit from having components manufactured off-site and brought in, as the construction schedule requires, as preassembled modules. Add to that the cost of on-site fabrication labor compared to the same work being carried out in dedicated workshops..... read more

Top
| | |
| --- | --- |
| FEATURE - Lonmin | |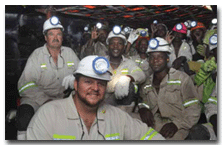 Lonmin Optimistic About Future


The company's strategy is to rebuild and prepare for better times.

By Gavin du Venage, South African Editor

Many expected platinum miner Lonmin to slip quietly into the night—its assets broken up and sold off—but the century-old company is not done yet as it commences the fight for its life. A sign that the South African platinum producer's wide turnaround strategy may succeed is the ebullient mood at its Saffy shaft, which lies at the heart of the platinum belt in the country's North West province. E&MJ was invited to tour the facility. Ever since its inception in 2000, Saffy has been the troubled child of the group, consistently failing to meet production targets. Designed to produce 200,000 metric…... read more

| | |
| --- | --- |
| FEATURE - Maintenance | |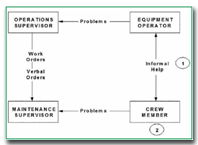 Achieving World-class Mining Maintenance: Step 3—Establish an Efficient Program


TIn the third segment of this six-part series, the author presents the basic steps in crafting an effective program that will enable operators to develop and sustain top-notch mine maintenance performance.

By Paul Tomlingson

The third step in the path toward achieving world-class maintenance is to establish an effective mine maintenance program. This consists of developing, documenting, testing and implementing a quality program that spells out how maintenance work is requested, identified, classified, planned, scheduled, assigned, controlled, measured and assessed to ensure sustained, effective performance. After a program is developed and agreed upon, an educational effort is carried out to ensure that the entire mining operation understands what Maintenance does, who does what, how and why. Personnel will then see their supporting and cooperative maintenance- related roles clearly and contribute more effectively to the success of the total operation.... read more

Top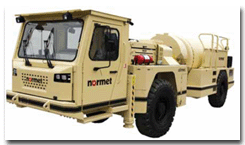 Underground Utility Equipment Line has Tier 4F Engine Technology


Normet has launched its new M- and LSeries underground mining and tunneling equipment line with European Stage IV/U.S. EPA Tier 4 Final (4F) power train technology, featuring Cummins engines and equipped with an engine brake, lockable turbine and automatic gear selector. The new power and drivetrain concept, according to Normet, provides the lowest possible emissions, higher speed in flat and inclined tunnels, superior driving and service ergonomics…. read more

Rotary Drill Bits Provide Longer Service Life


Sandvik's new RR221 bit series is the latest addition to the company's rotary blasthole bit line. Developed to meet the need for a more productive and longer-lasting rotary bit, the new model represents a more resilient bit designed to extend bearing hours—saving customers money, reducing safety risks and boosting productivity. The RR221 series employs a patented, modularized air bearing…… read more
Truck Builders Support Fleet Optimization Efforts With New Tech


Understanding that many mine operators are opting to squeeze more hours from their haul trucks before making replacement purchases, original equipment manufacturers (OEMs) are looking at different ways to help them improve performance and lower their cost per ton. "We know that our mining customers are under tremendous cost pressure," Sudhanshu Singh, Caterpillar's product line manager…. read more

Top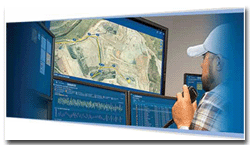 Modular's Latest MineCare Release Has Cloud-based Deployment, Many New Features


Modular Mining Systems has unveiled its third-generation Maintenance Management solution, MineCare 3. First introduced in 2003, MineCare, according to the Tucson, Arizona, USA-based company, was designed from the start to provide fleet operators with the information and tools needed to monitor fleet health in real time. The MineCare 3 solution builds upon this…… read more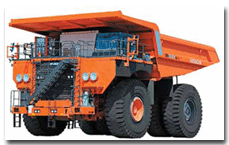 Hitachi Adds Two Midrange AC-drive Haulers


Hitachi recently introduced two new models—the 200-ton EH3500AC-3 and the 240-ton EH4000AC-3—both equipped with an advanced AC-drive system developed by Hitachi. The company said it coupled the AC-drive system, which has a load-responsive IGBT inverter, with drive control software to better control travel motor speed and torque. The Hitachi drive-control system aims to achieve higher drive control   performance by reducing tire slippage on acceleration and tire lockup during braking, and preventing chassis oscillation in a frontrear direction…. read more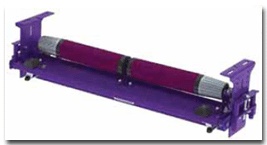 Versatile Belt Trainer Quickly Corrects Mistracking


Flexco's first reversing belt trainer, the PT Pro, uses the company's patented pivot and tilt design, is capable of tracking singledirection and reversing belts and is available in standard- and heavy-duty options. Unique, tapered rollers activate the trainer movement, eliminating the need for sensor rollers. The unit reacts to belt misalignment and compensates instantly, ensuring that the belt stays away from the structure and material…. read more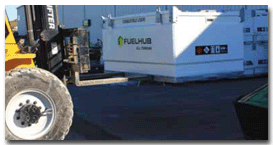 Transportable Fuel Tanks are Stackable and Secure


McCloskey International has introduced the Fuel Hub product line—transportable tanks that allow for fast, efficient refueling at scattered work sites. Fuel Hubs are available in eight sizes with capacities ranging from 450 L to 10,000 L. The fuel tanks have 110% bunded capacity, ensuring compliance with environmental standards and making them PPG compliant. They feature an easily removable inner tank and outer lid for maintenance, cleaning and quick  .…. read more

Top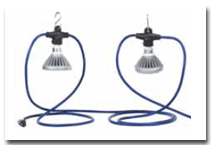 Linkable Tunnel String Lights for Long-span Illumination


Larson Electronics now offers a temporary tunnel string lighting set that is designed for high output illumination and daisy chain connections up to 510 ft from the power source. The WAL-SL-51-PAR38-LED-12.4 light set consists of 51 industrial grade LED lamps with 10 ft of 12/4 SJTW cable between each unit. Each globe light is equipped with a high-output LED lamp, which delivers more light output than 150 watt PAR38 halogen lamps. Each LED light screws into a molded E26 lamp socket and each socket has hook eyelets. Fifty-one high output PAR38 lamps ….read more
JANUARY 31–FEBRUARY 3, 2016: 41nd Annual Conference on Explosives and Blasting Techniques, Las Vegas, Nevada. Contact: ISEE; Web: www.isee.org
FEBRUARY 21–24, 2016: SME Annual Conference and Expo, Phoenix Convention Center, Phoenix, Arizona, USA. Contact: Web: www.smenet.org
APRIL 11–17, 2016: bauma, Messe Munchen, Munich, Germany. Contact: Web: www.bauma.de/
MAY 25–27, 2016: Coal Prep 2016, Kentucky Exposition Center, Louisville, Kentucky USA Contact: Web: www.coalprepshow.com
JUNE 7–10, 2016: Ugol Rossii Mining 2016, Kuzbass Fair Exhibition Center, Novokuznetsk, Russia Contact: Web: www.ugol-mining.com
JUNE 14–16, 2016: Euro Mine Expo, Skelleftea, Sweden. Contact: Web: www.eurominexpo.com
SEPTEMBER 12–16, 2016: Electra Mining Africa 2016, Expo Centre, Nasrec, Johannesburg, South Africa. Contact: Web: www.electramining.co.za
SEPTEMBER 26–28, 2016: MINExpo INTERNATIONAL 2016, Las Vegas Convention Center, Las Vegas, Nevada, USA. Contact: Web: www.minexpo.com
For a full calendar of mining industry conferences and events - click here
| | |
| --- | --- |
| WHO'S MOVING WHERE | |

James R. "Jim Bob" Moffett, chairman and co-founder of Freeport McMoRan, will step down. The board has elected Gerald J. Ford as nonexecutive chairman. During his more than 50-year career in the natural resource industry, Moffett became an icon as an explorationist. He was instrumental in the discovery and development of the Grasberg deposit in Indonesia, which has grown to become one of the world's largest copper and gold deposits. Moffett has served as executive chairman of FCX since 2003 and previously served as the company's CEO from 1995 to 2003. In 1969, Moffett and two associates founded McMoRan Oil & Gas Co., which merged with Freeport Minerals.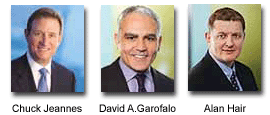 Goldcorp announced its President and CEO Chuck Jeannes will retire in April. He will be replaced by David A. Garofalo, who is the current president and CEO of HudBay Minerals. He will also join the board of directors. Jeannes has led Goldcorp since January 2007 and worked with Goldcorp and its predecessor company Glamis Gold Ltd. for almost 17 years. Alan Hair will replace Garofalo as president and CEO, HudBay Minerals. Hair has served as COO since 2012.

Highland Copperappointed Luc Lessard to the board of directors. He is senior vice-president, technical services, of Osisko Gold Royalties Ltd. and president, CEO and a director of Falco Resources Ltd.

Rodney Lamond has been appointed as CEO of Jaguar Mining. Lamond is currently a director of Jaguar and was the president and CEO of Crocodile Gold Corp. before the July business combination of Crocodile Gold and Newmarket Gold.

Nyrstar NV appointed Christopher Eger CFO and a member of the Nyrstar Management Committee. He takes over from Heinz Eigner, who is leaving the company. Previously, Eger was senior member of the Mergers and Acquisitions team at Trafigura.

Lithium X Energy appointed David Hawkins as chief hydrogeologist for the Clayton Valley North project.

Mincor Resourcesannounced that long-serving Managing Director David Moore will step down from day-to-day management and move to a nonexecutive role. COO Peter Muccilli will be appointed CEO, effective February. Moore will move to the position of deputy chairman from March 1.

TerraSource Globalappointed Jason Burlage president, succeeding Mark Kohler, who announced his retirement earlier this year. Burlage joined TerraSource Global in 2014 as vice president of service and strategy, after 14 years with Hillenbrand.
About - providing an abreviated version of the current print edition of E&MJ, WOMP is distributed throughout the world to decision makers in the global mining industry, the last week of every month.

Subscribe to E&MJ - To receive your own copy of the print edition of E&MJ, click here , and complete your details. E&MJ is available free of charge to qualified readers.

Contact - if you have views, opinons or comments or editoral that you would like to submit, we would be delighted to hear from you - click here

Top