Political Controversy Shakes South Africa's Struggling Mining Industry
---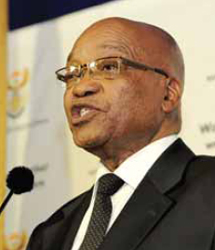 Yielding to widespread public criticism,
South Africa's President Jacob Zuma backtracks on
his sudden and unexplained firing of the country's
finance minister.


South Africa's battered mining sector recently took another hit with the unexpected sacking of a respected finance minister, sending the country's currency and stock market into a tailspin.

In mid-December, President Jacob Zuma said he was replacing Finance Minister Nhlanhla Nene with David van Rooyen, a little-known legislator. South Africa's banking sector plunged on the news with banking shares dropping more than 10%, a fall not seen since the 2008 crash. The rand breached 16 to the dollar for the first time. Then just days later, Zuma—under pressure—removed van Rooyen from the post and reappointed Pravin Gordhan, who previously served as finance minister from 2009–2014.

Nene was an old-school banker who imposed fiscal discipline on government spending. Although no official reason was given for his sacking, it was widely believed to be related to his refusal to sign off on the pet projects of Zuma's inner circle, such as plans to build five nuclear plants around the country.

Nene's challenging of details within a plan to acquire new aircraft for the stateowned airline, South African Airways (SAA), from European aeronautics firm Airbus may have been the trigger for his firing. The SAA Chairmwoman Dudu Myeni wanted to conclude an aircraft acquisition deal that would have been routed through a third party, a previously unknown firm nominated by her. Earlier on the day of his dismissal, Nene had said publicly that he would not endorse Myeni's proposed transaction.

Myeni and Zuma are reportedly close; she heads his personal foundation, and is involved with other presidential projects. The events are likely to put further pressure on South Africa's struggling resource sector's ability to attract investors. The industry is already unsettled by the unexpected replacing of the mines minister, Ngoako Ramatlhodi, in September. His replacement, Mosebenzi Zwane, is a confidant of the president.

No official reason was given for Ramathlhodi's replacement, but recently, respected financial columnist Alec Hogg suggested it was because of his refusal to block the threat of the closure of a mine run by a consortium in which one of Zuma's sons had an interest. The mine had reportedly been cited for health and safety violations.

The axing of the finance minister is another blow the mining industry can ill afford. In December, ratings agencies lowered South Africa's credit worthiness to a notch above junk status. Standard & Poor's has warned that any subsequent deviation from South African fiscal policy could lead to a credit downgrade.
---
As featured in Womp 2016 Vol 01 - www.womp-int.com