Donlin Project Reaches Permitting Milestone
---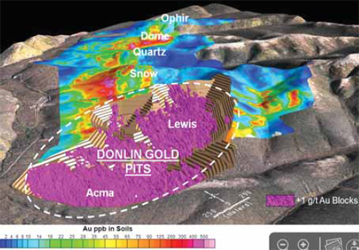 Deposit map for the Donlin gold project shows future exploration and
resource-expansion targets. (Courtesy of NovaGold)


Barrick Gold and NovaGold Resources reported in late November that the U.S. Army Corps of Engineers (Corps) published its Donlin Gold Draft Environmental Impact Statement (DEIS) for the Donlin gold project in southwest Alaska. The Corps will hold public meetings on the DEIS and accept written comments until the end of April, with publication of a final EIS expected in 2017.

Donlin Gold LLC, jointly owned by Barrick and NovaGold, has applied for permits to develop an open-pit, hard rock gold mine. The project would take about three to four years to construct. Mine life is estimated at 27.5 years, producing approximately 1 million oz/y of gold. The processing facility would have throughput capacity of about 59,000 st/d.

If developed, the Donlin project would be based on a subsurface lease with Calista Corp., an Alaska Native regional corporation, and a surface use agreement with Kuskokwim Corp., a merged Alaska native village corporation. Some project components would be on state of Alaska and U.S. Bureau of Land Management lands.

The mine and facilities would have a total footprint of about 16,300 acres. The open pit would ultimately be about 2.2 miles long, 1 mile wide, and 1,850 ft deep. A tailings impoundment would ultimately cover about 2,350 acres, while a waste rock facility would cover approximately 2,300 acres.

A proposed barge landing on the Kuskokwim river would be a key piece of transportation infrastructure, which would also include a 30-mi road from the mine site to the barge landing, a 5,000-ft airstrip, and upgraded dock facilities at the shipping port of Bethel. A proposed 315- mi pipeline would bring natural gas to a proposed on-site power plant.

The Corps has a dedicated website for its Donlin projectís DEIS at www.donlingoldeis. com.
---
As featured in Womp 2016 Vol 01 - www.womp-int.com