Brazilian Court Sets Deadline for Actions Related to Samarco Spill
---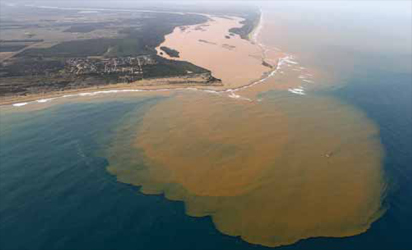 An aerial view of the Rio Doce (Doce River) on November 23, which was flooded with mud after
a dam owned by Vale SA and BHP Billiton Ltd. burst at an area where the river joins the sea on
the coast of Espirito Santo in Regencia village, Brazil. (Reuters/Ricardo Moraes)


On December 18, the 12th Federal Court of Belo Horizonte handed down decisions on injunctions requested by federal and certain state governments against Samarco, Vale and BHP Billiton Brazil for cleanup costs and damages related to the breach of the Fundão tailings storage facility (TSF). The court ordered Samarco to deposit R$2 billion ($519 million) in a court-managed bank account within 30 days—10% of the R$20 billion ($5.2 billion) sought by plaintiffs for the fund. The money must be used to pay for community and environmental rehabilitation. A daily fine of R$1.5 million ($390 million) will be applied to Samarco for noncompliance with a court-mandated mid- January deadline.

The court also imposed a restriction on existing mining/exploration concessions held by Samarco, BHP Billiton Brazil and Vale in Brazil, preventing those concessions from being transferred or sold by the current holders. The court also gave the three companies until February 2 to present a comprehensive plan for environmental remediation and socioeconomic recovery. The judge said if Samarco did not have enough money to pay for the cleanup, the parent companies could be held responsible.

Vale has been further implicated in the spill. The company was pumping tailings from its Alegria iron ore mine to the Fundão TSF. The judge ruled that Vale shared responsibility rather than being an indirect polluter, although Vale claimed that less than 5% of the tailings in the Fundão TSF were from the Alegria operation. Meanwhile the death toll from the spill has increased to 17—five civilians and 12 miners working on the Fundão TSF.
---
As featured in Womp 2016 Vol 01 - www.womp-int.com