| | |
| --- | --- |
| | To receive your own edition of the print version of E&MJ - Go Here |




Cyber Security: A Sign of the Times



People were surprised when they learned that the reporters at News of the World were hacking cell phones. With revelations about the U.S. National Security Agency's (NSA) activities from Edward Snowden and other "leakers," the world is learning with each passing moment just how commonplace spying has become and the fact that modern technology better enables it.

On a recent trip to Germany, the news broke that U.S. President Barack Obama knew the NSA was listening to German Chancellor Angela Merkel's phone calls. That made for some interesting conversations in the beer garden. Then at a press conference for the German Engineering Federation (VDMA), the chairman of the association explained that this is a serious topic and that several of their members have complained about industrial espionage. The NSA is probably not probing German equipment manufacturers and services......... read more



Steve Fiscor, Editor in Chief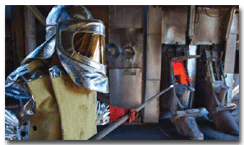 Nyrstar Investing to Increase its Smelting Returns
Nyrstar has completed a smelting strategic review (SSR) of its metals processing operations and a pre-feasibility study of proposed redevelopment of its Port Pirie primary lead smelter in South Australia, Australia. The company's metals processing operations, in addition to the lead smelter, include zinc smelters in Auby, France; Balen, Belgium; Budel, the Netherlands; and Hobart, Australia; and a zinc refinery........ read more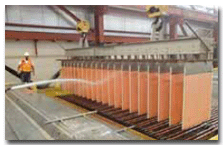 Newmont Reaches Commercial Production at Akyem and Phoenix Copper Leach Projects


Newmont Mining reported on October 30, that its Akyem gold project in Ghana and its Phoenix copper leach project in Nevada have safely achieved commercial production, on schedule and on budget. Akyem is a large, open-pit mine in the Birim North District in the eastern region of south Ghana, about 180 km northwest of the capital city of Accra. Gold production during its first five years of operation is projected at 350,000 to 450,000 oz/y at costs applicable to sales of $500 to $650/oz....... read more

Top

Cliffs Shelves its Ring of Fire Chromite Project


TCliffs Natural Resources announced on November 20, that its affiliate, Cliffs Chromite Ontario Inc., is suspending indefinitely its Chromite project in the Ring of Fire region of northern Ontario. The company will not allocate additional capital for the project because of the uncertain timeline and risks associated with the development of necessary infrastructure to bring the project online. In June of this year, Cliffs suspended environmental assessment activities at the project because of issues impeding the progress of the project..... read more

Top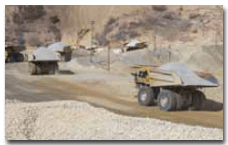 Bingham Canyon Beats Timetable to Open-pit Access After April Slope Failure


As part of its recovery from the massive landslide that occurred at its Binghan Canyon mine in April, Rio Tinto Kennecott announced on November 6 that it had achieved its latest slide remediation milestone— restoring top-to-bottom access within the mine by restoring the pit access road. The company said that the road opening occurred many months ahead of its original schedule target, which could be credited to efficiency initiatives identified and implemented by the mine's workforce..... read more
| | |
| --- | --- |
| AROUND THE WORLD - USA & CANADA | |

Fort Hills Oil Sands Project Gets Go-ahead


Suncor Energy, Total E&P Canada and Teck Resources have voted to proceed with the Fort Hills oil sands mining project in Alberta's Athabasca region, 90 km north of Fort McMurray. The project is owned 40.8% by Suncor, 39.2% by Total, and 20% by Teck. Suncor is the developer and operator of the project via an operating services contract. The Fort Hills project is scheduled to produce its first oil as early as the fourth quarter of 2017 and to achieve 90% of its planned production capacity of...... read more
AuRico Goes Commercial at Young-Davidson Underground


AuRico Gold achieved commercial production at its Young-Davidson underground mine in northern Ontario effective October 31, following successful commissioning of the shaft and hoisting infrastructure. The commissioning marked a key project milestone, according to the company—unlocking the potential of the Young-Davidson underground mine and supporting increased underground production and favorable unit cost efficiencies over the life of the mine.... read more

Top

Mosaic Acquiring CF Industries' Phosphate Business


The Mosaic Company and CF Industries have signed a definitive agreement where Mosaic will acquire CF's phosphate business for $1.2 billion in cash plus $200 million to fund CF's asset retirement obligation escrow. Under the terms of the agreement, Mosaic will acquire CF's 22,000-acre South Pasture phosphate mine and beneficiation plant in Hardee County, Florida; its phosphate manufacturing facility in Plant City, Florida; and its ammonia terminal and finished product warehouse facilities in Tampa, Florida.... read more

| | |
| --- | --- |
| AROUND THE WORLD - Latin America | |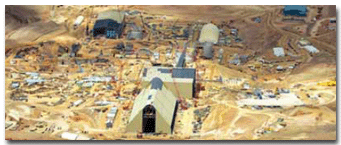 Barrick Halts Pascua-Lama Construction


Barrick Gold announced in conjunction with the release of its third-quarter 2013 results that it has temporarily suspended construction activities at its cross-border Chile/Argentina Pascua-Lama gold-silver project, except activities required for environmental protection and regulatory compliance. Barrick suspended construction work on the Chilean side of the project in April to address environmental and other regulatory requirements to the satisfaction of Chilean authorities. The current decision applies to the entire project…… read more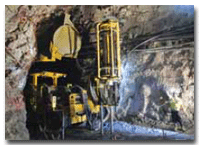 Tahoe Nears Full Production at Escobal


Tahoe Resources reported on November 12 that it expects mine production at its underground Escobal silver project in southeast Guatemala to reach full production of 3,500 mt/d during the first quarter of 2014. The project produced its concentrate on September 30 and shipped its first concentrate on October 15. At the end of the third-quarter of 2013, 10 Escobal stopes were available for production, and an additional 10 stopes were in final development. Stockpiled mill feed totaled 97,250 mt at an estimated grade of 487 g/mt silver, 0.4 g/mt gold, 0.7% lead and 1.3% zinc…. read more

| | |
| --- | --- |
| AROUND THE WORLD - Australasia | |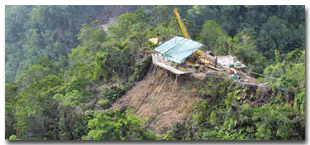 PanAust Buying Glencore Xstrata's Frieda River Interest


PanAust Ltd. has entered into an agreement with Glencore Xstrata (Glencore) for PanAust to purchase Glencore's 80% interest in the Frieda River copper-gold project in Papua New Guinea. Highlands Pacific Ltd. Holds the remaining 20% of the project. At the same time as its entry into the PanAust/Glencore agreement, PanAust entered into an agreement with Highlands Pacific to purchase a 7.5% interest in the company. This placement is unconditional. Subject to completion of the PanAust/ Glencore agreement, the PanAust/Highlands agreement provides the framework for the future relationship between PanAust and…. read more



Sandfire Looking for More Ore near DeGrussa


Sandfire Resources has reached an agreement to secure up to an 80% interest in the Thaduna/Green Dragon copper project 40 km east of its 100%-owned DeGrussa copper mine in Western Australia through a farm-in and joint venture with Ventnor Resources. The project produced its first copper concentrate during commissioning of its 1.5-million-mt/y concentrator in late September 2012. The project was officially opened in early August 2013…. read more

Top
Alacer Plans Development of Çöpler Sulphides
Alacer Gold announced in early November its intention to employ whole ore pressure oxidation to process the refractory sulphide ores at its 80% owned Çöpler gold mine in Erzincan province, eastern Turkey. Alacer currently mines and heap leaches Çöpler oxide ores, with 2013 production expected to be in the range of 192,000 to 200,000 oz. Alacer said an exhaustive technical review confirmed that pressure oxidation processing provides the best economic return…. read more


Mongolia Revokes 106 Mineral Exploration Licenses
Kincora Copper, a Canadian junior company headquartered in Vancouver, British Columbia, reported on November 6, that the Mineral Resources Authority of Mongolia (MRAM) had revoked 106 mineral exploration licenses, including the Tourmaline Hills and North Fox licenses wholly owned by a Kincora subsidiary company, Golden Grouse LLC. Kincora's flagship Bronze Fox license remained in good standing. The revocation of the licenses was effective October 30…. read more



Ivanhoe Planning Two-phased Development for Kamoa


Ivanhoe Mines has reported the results of an independent preliminary economic assessment (PEA) that proposes two phases of development for its Kamoa copper project in Katanga province, Democratic Republic of the Congo (DRC). The first phase targets underground mining of 3 million mt/y of high-grade copper ore and production of about 100,000 mt/y of copper in concentrate for sale to smelters. The second phase entails a major expansion of the mine and concentrator and construction…. read more

Sibanye Gold and Harmony Exchange Some Mining Rights
Sibanye Gold and Harmony Gold have entered into an agreement for the exchange and sale of certain mining right portions of Sibanye's Beatrix operation and Harmony's Joel operation in the Southern Free State, South Africa. Sibanye will exchange two mining right portions at Beatrix that are not included in its current life-of-mine (LOM) profile for two mining right portions at Harmony's Joel operation that will be more readily accessible from the Beatrix North and South sections.…… read more

Top
| | |
| --- | --- |
| THIS MONTH IN COAL | |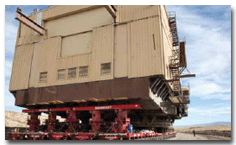 Peabody Moves Lee Ranch Dragline to El Segundo


Peabody Energy's 8-million-lb dragline completed a historic journey from the company's Lee Ranch mine northwest of Grants, New Mexico, more than 20 miles to its new home at the El Segundo mine. One of the world's most massive machines, the 1570-W dragline crossed the high desert, carried by a specialized 600-wheel vehicle. NASA uses a similar transportation method to haul space shuttles. Transporting a machine of this size required precision and planning, said Brad Brown …. read more

Sherritt Ordered to Clean Up Coal Sediment Spill


Regulators in Alberta have ordered Canadian miner Sherritt International Corp. officials to clean up and investigate a 670,000-m3 leak of coal mine process water into a local river. The water—containing clay, mud, shale and coal fines— spilled into the Athabasca River after an onsite water containment pond breach at the Obed Mountain mine near Hinton on October 31. The sediment plume, traveling at less than 2 km an hour, now lies about 128 km upstream from the oil sands production hub of Fort McMurray in northern Alberta  …. read more

BHP Sells Navajo Mine
BHP Billiton officials have announced the sale of their Navajo mine, located near Fruitland, New Mexico, USA, to the Navajo Transitional Energy Co. (NTEC), which, upon approval by Four Corners Power Plant owners for supplies through 2031, will take effect on December 1. BHP will operate the plant through 2016, and the project is estimated to generate more than $5 billion in local economic growth. Representatives at BHP hailed the development. "BHP is pleased to have worked with the Navajo Nation to secure the mine and the benefits it provides to the Navajo Nation…. read more
| | |
| --- | --- |
| FEATURE - Tire Management | |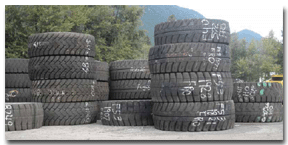 Teaching Tire Awareness
Properly trained techs service tires safely.

By Steve Fiscor, Editor-in-Chief

Replacing the tires on a haul truck is a task that presents several inherent risks. They say the tire has enough contained force to propel a miner a mile into the air. From the time the job begins at isolating and jacking the haul truck, to deflating the tire and breaking the beads, to dismounting the assembly and inspecting the components, it's easy to see that the task involves quite a bit more work than simply changing a tire. Tire technicians are usually located in a small portion of the main shop and they often work off a concrete pad in the yard, which makes their jobs a little more tedious. Understanding the hazards and ……. read more


For more companies with products in the Tires and Tubes market -
Go Here
| | |
| --- | --- |
| FEATURE - Ventilation | |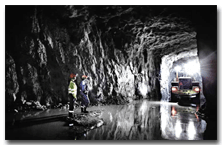 A Good Air Flow


As mines become deeper and hotter, with more diesel-engine vehicles in use, ventilation systems need careful design and tuning. E&MJ looks at some of the opportunities—and the critical need for a responsible approach to fresh air supply

By Simon Walker, European Editor

Presenting one of the keynote addresses at the 35th International Conference of Safety in Mines Research Institutes, held in London in October, Stewart Bell provided a harrowing account of the Pike River coal mine tragedy in New Zealand in November 2010. Bell, the commissioner for Mine Safety and Health at the Queensland Department of Natural Resources and Mines, was a member of the Royal Commission of Inquiry established by the New Zealand government to investigate the accident and to make.... read more

Top

For more companies with products in the Ventilation market -
Go Here
| | |
| --- | --- |
| FEATURE - Shaft Safety | |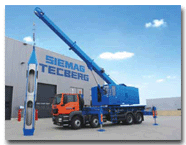 Scaling-up Shaft Safety


New shaft inspection services and technology offer the prospect of quicker—but more effective—underground checks, with less risk to personnel

By Russell A. Carter, Managing Editor

A common notion in underground mining is that each mine is unique, because each deposit has its own set of geologic, geochemical and geophysical characteristics. A logical extension of this view is that each mine shaft also is unique; although modern shafts are built in accordance with accepted engineering principles and applicable standards and regulations, they are, ultimately, designed to meet the needs of the site and the operation. The flip side of the coin is that, despite their relative uniqueness, active mine shafts are bound by a common denominator— they all must be regularly inspected. The combined forces of gravity, corrosion and age wage an ongoing battle with shaft…... read more


For more companies with products in the Safety market -
Go Here
| | |
| --- | --- |
| FEATURE - Dust Control | |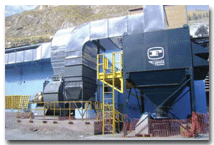 Pressurizing with Dust Collectors



Guidelines on how to apply a concept that is appropriate for mine and plant environments, where dust generated during crushing, screening and conveying must be controlled to protect workers, office spaces and sensitive equipment

By Pablo Rocasermeno

Pressurization is a well-known ventilation technique in which a positive or negative atmospheric pressure is maintained in an isolated or semi-isolated environment. A clear way to illustrate this principle is the example of the health care industry, where pressurization has been used for many years for infectious disease control. A patient with an immunodeficiency disorder will typically be housed in a positive pressure isolation room, which maintains a flow of air out of the room, thus protecting the individual from contaminants and pathogens, which might otherwise enter. Conversely, a patient with a contagious disease will be housed in a negative pressure isolation room, which maintains a flow of air into the room to keep the infection from spreading to other patients and health care workers..... read more

Top


For more companies with products in the Dust Control market -
Go Here

Premium Bits Solve Premature Wear Puzzle on Graphite Drilling Job


When Major Drilling sent project supervisor Brad Kiser to a graphite exploration job in Alabama, Kiser said he pretty much knew what bit series they would start with and what to expect from it. However, Kiser said he wasn't happy with his initial results in this site's conditions. Graphite at first doesn't seem like a mineral that should cause much of a drilling problem. However, the same soft, lustrous gray stuff used for pencil lead (as well as high-temperature lubricants, battery cells and motor components) is most often found in complex layers of abrasive metamorphic rock. Here, the rock was highly fractured, Kiser said. Choosing just the right diamond coring bit for this job would take some trial and error …. read more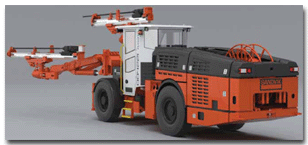 Sandvik to Debut First of Next Generation Underground Rigs


Following closely upon the recent introduction of its new Pantera surface percussive drill platform, Sandvik Mining also announced the forthcoming release of the DD422i Axera development drill rig, the first of the company's Next Generation underground hard rock drill rigs. It also introduced a new narrow-vein development drill, the DD211. Ulla Korsman-Kopra, vice president– underground development drills at Sandvik Mining, said the new Axera rig will offer industry-leading levels of safety, productivity and automation. "Our forthcomin…… read more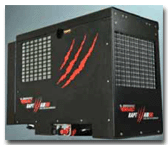 Compressor Runs Safely in Underground Mining Applications


British Columbia-based VMAC said its Raptair diesel-driven, stand-alone air compressor is now available in a U.S. Mining Safety and Health Administration approved version. The primary modification to enable approval was a change to the engine; the MSHA-approved version uses a Kubota engine that runs at a slower speed than the diesel offered in the Raptair60. The approved engine enables the compressor to provide more than 52 cfm and lower RPM also make the system quieter than the…. read more

Top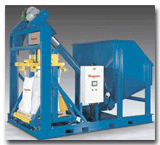 Mining-class Bulk Bag Filler System


Flexicon's new bulk bag filling system for mining applications is designed to fill bulk bags with filter cake, aggregates, abrasive minerals, dry chemical additives and other difficult-to-handle bulk materials. The ultraheavy- duty, skid-mounted system features a patented Twin-Centerpost frame that maxi- mizes strength and improves accessibility to bag hooks while simplifying construction and reducing cost. An integral flexible screw conveyor with heavy-duty screw, steel outer tube .…… read more

Versatile Boxhole Borer


Terratec has launched a new boring rig to expand its raise boring product line. The company's UB1000 universal boxhole boring machine is designed to produce boxhole sections up to 1.06-m diameter x 100-m long and can also ream conventional raises nominally 1.8-m diameter x 200-m deep. Major components include the derrick assembly, featuring a gearbox complete with…. read more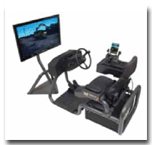 Simulator Training for Cat Articulated Truck Operators


Heavy-equipment simulator training developer Simformotion has released its new Cat Simulators articulated truck system, featuring authentic controls combined with simulated applications, designed to teach truck controls familiarization, how to perform a machine walkaround, driving, hauling, braking, loading methods, unloading, full production cycle, and also including a special open training mode. Exclusive to its Cat Simulators is SimU Campus—software that…. read more

Liner Lifter Makes Vertimill Maintenance Easier, Faster


Metso has developed a solution to ease the maintenance of its Vertimill grinding mills. The new Vertimill liner lifting fixture speeds up the changing of the mill liners and makes it safer, according to the company. Metso has been testing the tool at a customer site since June and said it will be available for existing and future customers in early 2014. The new Vertimill liner lifting fixture was designed to meet growing customer demand for a more efficient way to handle liner changing. As new, larger Vertimill grinding mills with correspondingly larger .…. read more

Top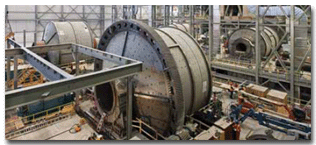 ABB Expands Ring Motor Portfolio with Alstom Acquisition


Power and automation technology group ABB reported that it has acquired Alstom's ring motor business to enhance its gearless mill drive (GMD) system business. The parties agreed not to disclose financial details of the transaction. The business, based in Bilbao, Spain, has about 120 employees and will become part of ABB's Process Automation division. ABB said it expects the market for GMD systems to grow due to rising demand for minerals in emerging countries undergoing industrialization. Deeper mines with more complex orebodies and lower ore grades….read more
FEBRUARY 3–6, 2014: 20th Annual Investing in African Mining Indaba, Cape Town, South Africa Contact: Customer Service Mining Indaba LLC, Events Customer Service; Tel: 1-800-831-8333 (for Canada and US) +1.859-746-5700 (International); E-mail: info@miningindaba.com; Web: www.miningindaba.com
FEBRUARY 9–12, 2014: 40th Annual Conference on Explosives and Blasting Technique, Denver, Colorado, USA Contact: International Society of Explosives Engineers; Tel: 440-349-4400; Fax: 440-349-3788; Web: www.isee.org
FEBRUARY 23–26, 2014: 2014 SME Annual Meeting & Exhibit, Salt Lake City, Utah, USA. Contact: SME Meetings Department; Tel: 303-948-4200; E-mail: meetings@smenet.org; Web: www.smenet.org/meetings
MARCH 3–6, 2014: PDAC 2014, Metro Toronto Centre, Toronto, Canada. Contact: Prospectors and Developers Association of Canada; Tel: 1 416 362 1969; E-mail: convention@pdac.ca; Web: www.pdac.ca
MARCH 4–8, 2014: 2014: CONEXPO-CON/AGG, Las Vegas, Nevada, USA. Contact: CONEXPO-CON/AGG Show Management; Tel: 1-800- 867-6060 (USA and Canada), 1 414-298-4167 (International); E-mail: info@conexpoconagg.com; Web: www.conexpoconagg.com
APRIL 21–25, 2014: Expomin 2014, Santiago, Chile Contact: FISA S.A.; Tel: +56 (2) 530 7000; E-mail: info@fisa.cl; Web: www.expomin.cl
MAY 11–12, 2014: Geominetech 14th Annual Symposium on New Equipment New Technology Management and Safety in Mines and Mineral, Bhubaneswar, India Contact:JK Hota, editor and organizing secretary; E-mail: hotaeditor@sify.com or hotaeditor@gmail.com; Web: www.lusa.info/geominetech
MAY 11–14, 2014: CIM 2014 Convention, Vancouver, Canada. Contact: Lise Bujold, director of events; Tel: 514-939-2710 ext. 1308; E-mail: lbujold@cim.org; Web: www.cim.org/en.aspx
For a full calendar of mining industry conferences and events - click here
| | |
| --- | --- |
| WHO'S MOVING WHERE | |
Stillwater Mining Co. appointed Michael (Mick) McMullen as CEO. McMullen serves on the board of directors and will continue to do so. Most recently, he served as a principal at MRI Advisory AG.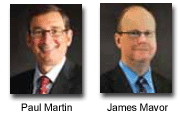 Detour Gold Corp. announced that Gerald Panneton, president and CEO, has resigned. The board appointed Paul Martin, CFO, as interim CEO. James Mavor, vice president, finance, has been appointed interim CFO.


Cliffs Natural Resources announced that Donald J. Gallagher, executive vice president and president, global commercial, will retire. Gallagher assumed his current position in January 2011, after having served as president of Cliffs' North American business unit since 2007.

Uranerz Energy Corp. announced that Paul Goranson has joined Uranerz as president, COO and director. Most recently, he was president of Cameco Resources.

Lydian International Ltd. announced that Dr. Tim Coughlin will step down as president and CEO. Coughlin will continue to serve as a director of the company in a non-executive capacity.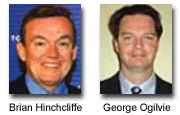 Kirkland Lake Gold Inc. announced that Mark Tessier has resigned as COO and member of the board of directors; Brian Hinchcliffe has accepted a new position as deputy chairman; and George Ogilvie has been appointed as CEO.

Noricum Gold Ltd. appointed Michael Hutchinson to its board of directors as non-executive chairman.
Dr. Reinhold Festge , managing partner of Haver and Boecker in Oelde, Germany, has been elected as the new president of the German Engineering Federation (VDMA). He succeeds Dr. Thomas Lindner of the Groz-Beckert KG in Albstadt who served as president of the VDMA since 2010. Festge is a member of the restricted board and sits on the main board of the VDMA. From 1998 to 2004, he was chairman of the VDMA professional association for construction and building material machinery. He was chairman of the VDMA state federation of North Rhine Westphalia from 2005 to 2011.
About - providing an abreviated version of the current print edition of E&MJ, WOMP is distributed throughout the world to decision makers in the global mining industry, the last week of every month.

Subscribe to E&MJ - To receive your own copy of the print edition of E&MJ, click here , and complete your details. E&MJ is available free of charge to qualified readers.

Contact - if you have views, opinons or comments or editoral that you would like to submit, we would be delighted to hear from you - click here

Top