PanAust Buying Glencore Xstrata's Frieda River Interest
---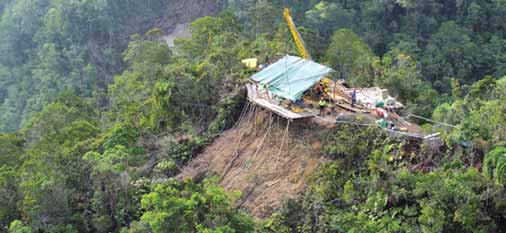 The Frieda River project, located in northwest Papua New Guinea, is one of the largest undeveloped copper and gold
deposits in the world. (Photo courtesy of PanAust Ltd.)

PanAust Ltd. has entered into an agreement with Glencore Xstrata (Glencore) for PanAust to purchase Glencore's 80% interest in the Frieda River copper-gold project in Papua New Guinea. Highlands Pacific Ltd. holds the remaining 20% of the project.

At the same time as its entry into the PanAust/Glencore agreement, PanAust entered into an agreement with Highlands Pacific to purchase a 7.5% interest in the company. This placement is unconditional. Subject to completion of the PanAust/ Glencore agreement, the PanAust/Highlands agreement provides the framework for the future relationship between PanAust and Highlands in relation to further equity support and the Frieda River joint venture.

The Frieda River project is located in northwest Papua New Guinea and is one of the largest undeveloped copper and gold deposits in the world. As part of its due diligence work prior to purchasing Glencore's interest in the project, PanAust completed a scoping study based on a 24-million-mt/y conventional open-pit and flotation operation producing a copper-gold concentrate for export to custom smelters.

The scoping study assumed total mill feed sourced from the project's HIT deposit of 430 million mt grading 0.54% copper and 0.3 g/mt gold. Production would average more than 100,000 mt/y copper and 160,000 oz/y gold in concentrate at a cash cost of approximately $1.25/lb of copper after gold credits over a plus-18-year mine life. The project's economics are in large part driven by a low strip ratio of less than 0.6:1, including pre-strip.

PanAust's proposed development is substantially smaller than that considered in an earlier Xstrata feasibility study, which assumed production of 304,000 mt/y copper and 451,000 oz/y gold in concentrate during its first five years operation and a life-of-mine average of 204,000 mt/y copper and 305,000 oz/y gold. Capital costs for the Xstrata project were estimated at about $5 billion.

PanAust's announcement stated that its proposed scale of development better suits its capabilities, with development capital estimated in a range of $1.5 billion to $1.8 billion, which would equate to a competitive capital intensity of less than $13,000/mt of annual copper-equivalent production. The company expects to complete a feasibility study of its proposed development by mid-2015.

The PanAust/Glencore agreement calls for payments by PanAust of $75 million in two installments. The first installment will be $25 million upon transaction close. A second installment of $50 million will be made on December 31, 2015. In addition, following successful development of a project at Frieda River, Glencore will receive a 2% net smelter return royalty on PanAust's interest in the project to a total aggregate amount of $50 million.

The companies expect the transaction to close by September 30, 2014, but may agree to extend that date.
---
As featured in Womp 2013 Vol 12 - www.womp-int.com