Bingham Canyon Beats Timetable to Open-pit Access After April Slope Failure
---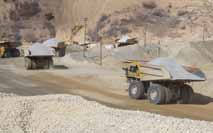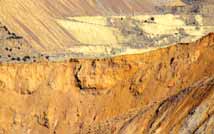 Haulage access to the bottom of the Bingham Canyon pit has been restored ahead of schedule
following a massive landslide in April, pictured here, that dumped an estimated 165 million tons of
material into the bottom of the mine. (Photos courtesy of Rio Tinto Kennecott Copper)

As part of its recovery from the massive landslide that occurred at its Binghan Canyon mine in April, Rio Tinto Kennecott announced on November 6 that it had achieved its latest slide remediation milestone—restoring top-to-bottom access within the mine by restoring the pit access road.

The company said that the road opening occurred many months ahead of its original schedule target, which could be credited to efficiency initiatives identified and implemented by the mine's workforce. Among these, the company listed the following as major factors:

• New haul-truck queuing patterns that shortened driving time enabling workers to spend time on other tasks such as clearing benches within the mine.

• Utilizing the skill and experience of the mine's truck and shovel operators to clear more than 1,900 vertical ft of material in record time.

Bingham Canyon Mine general manager Matt Lengerich said, "Our workforce has spent more than 19,000 hours during the past six months using remote controlled equipment within our fleet to clear material from the April slide."

Nearly 6 million tons of material was moved constructing the road. It is nearly three quarters of a mile long, 150-ft wide and cuts right across the slide, making the mine fully accessible. The access road allows haul trucks and other heavy equipment to move ore and non-ore-bearing material from the bottom to the top of the mine. It also enables supplies to be transported into the pit, and maintenance to be performed on the fleet in the truck maintenance shop.

Kennecott reported that "steady progress" has occurred in the recovery efforts. Since the 165-million-ton April slide, more than 14 million tons of material has been moved from the top of the slide, and material is still being cleared from the sides of the slide to stabilize the area.

Additional milestones included recovery of 10 of 13 haul trucks damaged by the slide; four are back in operation. Replacement equipment including haul trucks and drills have been acquired and are now in operation.

"The progress made to date is remarkable, but we realize that we still face many challenges and have a significant amount of work ahead of us," said Lengerich. "We anticipate it will be 2016 before we return to normal operations."

The company said key recovery objectives that need to be accomplished to return to normal operations by 2016 include continued stabilization of areas within the mine impacted by the slide; and consistent delivery of ore from areas of the mine that were not impacted by the slide.
---
As featured in Womp 2013 Vol 12 - www.womp-int.com