Premium Bits Solve Premature Wear Puzzle on Graphite Drilling Job
---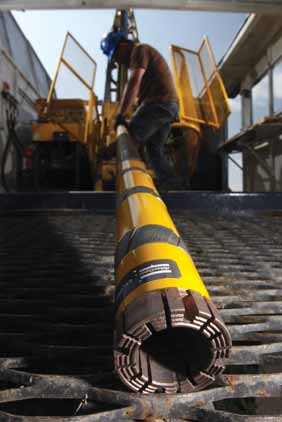 Atlas Copco's Excore premium wireline product family features a
head assembly configured for use in both surface and underground
drilling, an improved overshot assembly, a MO-EX pipe thread for
increased productivity and lower downtime, and both MO and CMO
rod types for straight or deviated-hole drilling applications.

When Major Drilling sent project supervisor Brad Kiser to a graphite exploration job in Alabama, Kiser said he pretty much knew what bit series they would start with and what to expect from it. However, Kiser said he wasn't happy with his initial results in this site's conditions.

Graphite at first doesn't seem like a mineral that should cause much of a drilling problem. However, the same soft, lustrous gray stuff used for pencil lead (as well as high-temperature lubricants, battery cells and motor components) is most often found in complex layers of abrasive metamorphic rock. Here, the rock was highly fractured, Kiser said. Choosing just the right diamond coring bit for this job would take some trial and error.

Although drilling had been progressing satisfactorily, Kiser thought bit life could be longer. He had seen 700 ft (213 m) on one bit, but on average bits lasted between just 300 ft and 500 ft on the job. Having worked previously for a company that used Atlas Copco wireline coring bits, he recommended the manufacturer to Mark Prueher, who is Major Drilling's central area manager based out of its Little Falls, Minnesota, USA, location. Major Drilling Group International, based in Moncton, New Brunswick, Canada, is one of the world's largest drilling service companies primarily serving the mining industry.

Prueher contacted marketing specialist Katherine Rogers of Atlas Copco Geotechnical Drilling and Exploration division.

"We'd tried a variety of bits of other manufacturers here in series four, six and seven," Prueher said. "But we always came up with the same bit life—the gauge row wearing out." Rogers recommended Excore.

Excore, according to Atlas Copco, is its premium bit line, and both longer wear life and faster penetration rate in conditions like these are made possible by fine-tuning its matrices and crown profiles, said the company. Though each Excore bit covers a wider range of conditions than non-premium diamond coring bits, these slight matrix and crown changes can represent huge differences in performance. So when customers are looking to improve bit performance in conditions such as Kiser had been encountering in Alabama, Rogers can dial in corrections to find a perfect match.

Prueher detailed the conditions that were causing bit wear. The terrain at the site was a bit hilly. The driller was encountering bedrock anywhere from 20 ft to 50 ft (6.1 m to 15 m). The bedrock consisted of multiple layers of quartz, pyrite, graphite, schist and densely grained metamorphic rock with fine sandstone blends. Of the 66 holes drilled, depths ranged from 250 ft to 500 ft, vertical and angled. Rogers chose two bits she believed would solve the problem.
Extra attention paid to matrix and crown design on
the Excore line means greater penetration rates
can be achieved with less pressure, according
to the company.
Prueher said, "The results were immediate. With the Excore six to eights Katherine sent us, we saw our penetration rate increase 30% to 40%. Average bit life went to 850 ft. The cost per foot went down to just 27% of what it was, a substantial savings."
Kiser explained, "The inside matrix on these 6-8s was strengthened, so the gauge row won't wear as fast, yet the bit doesn't polish off, it still self-sharpens."
Prueher said, "We weren't just saving on per-foot cost but also on tripping out less often. Originally we were using a new bit each hole when we were drilling 300 ft to 325 ft. But for deeper holes you're looking at up to 60 minutes of nonproduction and associated costs."
"We finished the job while we were on the second bit, an Excore 6-8 in HQ," Kiser said. "This one had 1,200 ft on it when we stopped and the driller believed he could still get maybe 400 ft more from it.
---
As featured in Womp 2013 Vol 12 - www.womp-int.com