Teaching Tire Awareness
Properly trained techs service tires safely
By Steve Fiscor, Editor-in-Chief
---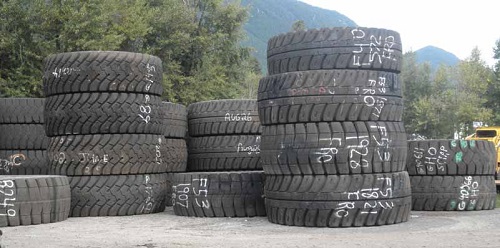 Mining tires, such as these seen outside the Kal Tire section shop in Sparwood, B.C., represent a huge cost to mine
operators.Selecting a company to supply and maintain tires is an important decision.

Replacing the tires on a haul truck is a task that presents several inherent risks. They say the tire has enough contained force to propel a miner a mile into the air. From the time the job begins at isolating and jacking the haul truck, to deflating the tire and breaking the beads, to dismounting the assembly and inspecting the components, it's easy to see that the task involves quite a bit more work than simply changing a tire. Tire technicians are usually located in a small portion of the main shop and they often work off a concrete pad in the yard, which makes their jobs a little more tedious. Understanding the hazards and potential risks is as important with this chore as it is in any other aspect of the mining operation.

Few companies know off-the-road (OTR) mining tires as well as Kal Tire. A privately owned Canadian outfit that traces its roots back 60 years to southern British Columbia, today the company's mining tire group employs more than 1,500, operates in 19 countries, and works with 43 global mining companies at more than 150 mine sites. The company operates four OTR retread plants worldwide and has five large OTR tire repair facilities in Canada alone. They know a thing or two about mining tires.

With exposure to several different types of mines (hard rock, oil sands and coal) in the region surrounding its headquarters in Vernon, B.C., the company has gained considerable experience and now exports that expertise to other facilities around the world. More recently, the company has developed an intuitive safety and training program where each technician's skills are well-documented. Using some continuous improvement techniques, they are also able to keep experienced techs up-to-date and gain the feedback they need to improve the tire service program.

At a time when many mines are pursuing the goal of zero lost time accidents, they want to do business with a contractor who shares that same philosophy. When its techs enter the mine site, the mine operators know that Kal Tire holds its training standards to the same high level as the mine. They also have the ability to train mine personnel in the safe handling and operation of OTR tires as well.

Developing a Global Mining Tire Resource
Kal Tire launched its mining tire group in the early 70s, servicing the mines in British Columbia and the Yukon. In 1990, the company expanded into oil sands as that sector began to grow in Alberta. Seven years later, they entered Latin America, establishing businesses in Chile, Argentina and Bolivia. In 2007, Kal Tire entered Mexico as silver and gold mines began to expand. Today, they also have operations in Africa, Europe and Australia. "With operations on five continents, we consider ourselves the first global mining tire specialist," said Mike Weir, global manager, operations process for Kal Tire.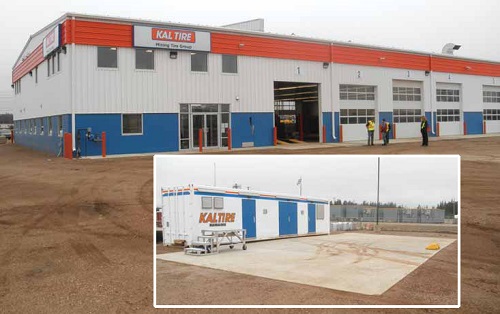 Kal Tire established a new facility in Fort McKay to service equipment used to mine oil sands and the vehicles
servicing those mines. Inset: A Kal Kan sits next to a specially
Weir explained how the company services mining tires and how its safety and training efforts translate into value for their customers on site. "We can handle everything that our customers need us to do on and off site in terms of tire service and tire management," Weir said. "We run the gamut, everything from tire selection and sourcing to installation, inspections, routine maintenance, repairing, retreading and recycling. We can tailor our contract scope to meet our customers' needs."
In addition to the extended health and safety training programs, several attributes set Kal Tire apart, Weir explained. They are a multibrand dealer with worldwide support, and with in-house tools, many developed by Kal Tire, such as True Tire Technology and Tire Track, the company has the technical expertise. Weir believes the company's strength lies in its people. "Our development programs and career progression allows us to attract, train and retain the best people in the business," Weir said.
Starting his career on the shop floor and working with the mines for more than 20 years, Weir believes Kal Tire's people are truly its greatest asset. "A tremendous amount of resources and energy goes into protecting and developing those assets," Weir said. "If we can provide our team members with the tooling, training, support, knowledge and guidance for them to be successful, then Kal Tire will be successful. It's a no lose formula. Being able to provide our customers with this high level of service and the documentation to back it up is of great value to them."
The company has had an impressive global footprint for some time now, and with that comes even more opportunity to improve.
Through the use of video conferencing and their customized web-based communications portal, Kal Tire is using global committees to fully tap into company expertise. Regional experts sit on specialized matrix teams focused on information sharing, collaboration and continuous improvement initiatives. Some examples of these key committees would include: safety, operations process, tooling, training and asset management. Each of those committees is headed by a global manager. Weir heads up the global operations process committee. "The intent is to leverage the collective knowledge and experience of our team members and translate best ideas into best practices, standards, efficiencies and solutions for our customers," Weir said.
In terms of Canadian operations, Kal Tire has 30 different locations and 250 team members in the mining tire division. The company operates in eight distinct locations in the oil sands alone with six of those being full-time on-site service centers, where they would have tire technicians, administrative support and managers dedicated to specific customers and reporting to those sites 365 days a year.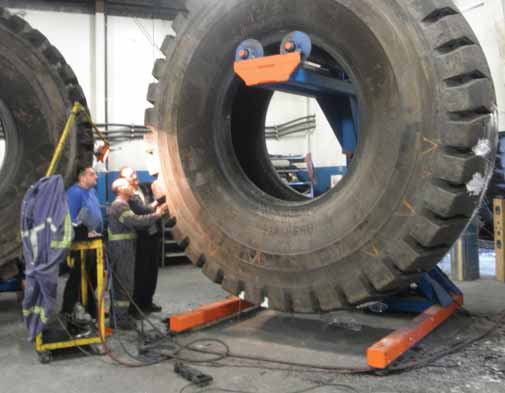 Tire technicians perform a visual inspection at the Sparwood section shop.
Kal Tire has two off-site locations in Fort McMurray, Mildred Lake (its original base of operations) and the new Fort McKay service center. "The two facilities provide the infrastructure to on-site contactors, and back up the workforce and coverage that those sites might need," Weir said. "We can also service the local suppliers and contractors serving the mining business. We can dispatch light and heavy mobile service. We can handle any equipment that rolls onto the Fort McKay site."
The mining activity taking place in the oil sands surrounding Fort McMurray has been well-documented in E&MJ. The highways that link the mines with the city are clogged with buses hauling miners to and from work and trucks hauling supplies. If they are not hauling mine supplies, they are hauling construction supplies for the community. Moving anything anywhere at certain times can be a logistics nightmare.
Kal Tire and a number of other service providers have now set up camp at a business center located near Fort McKay, which lies 30 km to the north of Fort McMurray and is more centrally located to all of the oil sands operations. This outpost is Kal Tire's newest Canadian facility and they are training tomorrow's tire techs here.
LMS Training
Kal Tire has developed its own training program via an online Learning Management System (LMS) platform. The system provides technicians with access to all of Kal Tire's core training materials. The Kal Tire LMS has more than 300 modules (or individual training courses) for the mining tire group specifically, including videos and knowledge testing.
Similar to an apprenticeship, the program is based on classroom time and theoretical learning in front of a computer. Then technicians move into the field and apply that knowledge through mentor-based training. As they progress through the 27-month program, they are challenged with competency evaluations, which are handson practical demonstrations of the skills on critical tasks in the field before a trainer or supervisor. "The key to the program is proof of competency," Weir said. "Not only do they have to pass a test on a computer. They have to demonstrate that they can complete this task safely in front of a trainer. It's documented."
The Kal Tire OTR technician training program is broken into 19 individual training packages and has incorporated a lot of Tire Industry Association (TIA) materials alongside customized Kal Tire training elements.
On the day E&MJvisited the Fort McKay facility in mid-August, four young men, all of whom were hired in February, were working through TIA OTR videos in the training room, while another two were performing a competency evaluation on the safe removal of a light truck tire in the shop. "They progress along their timeline," Weir said. "When they reach the point where they are ready to perform a specific task on their own, we run them through the competency evaluation, the main goal is to ensure their safety and make sure that we have set them up to succeed." Before the technicians take the wheel off a haul truck, mine operators can rest assured that they have been properly trained. "We train them on all of the equipment—forklifts, tire manipulators, and truck-mounted cranes and they must meet the proficiency requirements in order to operate that equipment," Weir said. "The same would go for all countries we conduct our business in, but we have records for about 100 tire techs serving the oil sands at this facility alone."
To make the repair, the damaged tread is carved away
down to the cords.
The Importance of Contractor HSE
Kal Tire's Health Safety and Environmental (HSE) compliance strategy evolved with its customers. Prior to 2000, the mining tire group worked with customer safety representatives on a stewardship process. "As a contractor working on their sites, you followed their rules and they told you how to do things," said Jeff "JJ" Johnson, who spearheads Kal Tire's Mining Tire Group safety initiatives in Canada. "In 2000, we created the first full-time HSE coordinator position based in Fort McMurray to elevate us to the mine operator's level of thinking. Safety was becoming a focal point for the mines and fatalities would no longer be tolerated. The oil sands industry wanted to eliminate any types of injuries."
The company achieved the Certificate of Recognition from the Province of Alberta, which basically said the Workers' Compensation Board had recognized the company for meeting a minimum set of criateria, a safety program, safe work procedures, ERPs, etc. "This has now become commonplace for any company wanting to operate in the region," Johnson said.
In 2003, the company created a corporate HSE position overseeing safety on a global basis. The mission was to bring all of Kal Tire up to an acceptable safety standard and implement a continuous improvement program worldwide. Today, they have created similar positions specifically for the mining tire group.
Johnson, who started with Kal Tire in the 1980s, has helped build and instill this culture of safety. "We start by hiring the right people who are mentally and physically fit," Johnson said. "Drug and alcohol screening eliminates poor candidates."
New candidates are placed in a short service employee (SSE) program and pushed through a powerful mentorship program. It offers a level of comfort to the employees. They understand expectations. SSE started as a pilot program in Fort McMurray and has now spread to other Kal Tire operations in Canada. This is a Canadian initiative that could be exported to other global operations."
Safety training is not limited to new employees, Johnson explained. "In many industries, there is a shortfall with training for front-line supervisors," Johnson said. "They are a critical link for our operations. We believe a supervisor is responsible for the well-being and the health and safety of day-to-day operations."
Kal Tire has invested heavily in its program and it expects the same from its providers. "Mine operators have recognized that incidents were not only related to contractors, but also subcontractors," Johnson said. "We are held to task by third party management systems. So we do something similar. We built our own program because we do not have a lot of subcontractors, but we do have a few who provide services for us on mine sites. We created a set of definitions and pre-determined standards we expect them to meet."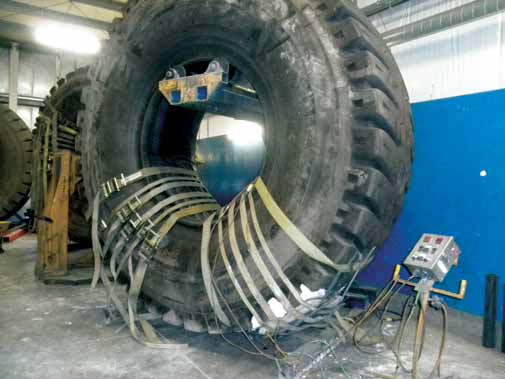 An airbag and a heating pad heats the repair to 140°C. The tire's compound is considered cured when it reaches 115°C,

The Fort McKay office is beta testing a database for reporting and tracking incidents. They are in the process of standardizing the information to meet Occupational Health and Safety Administration (OSHA) requirements, which are accepted worldwide. More recently, Johnson has been concentrating his efforts on the investigation process. "It's one thing to report incidents, but we also need to determine the root cause and identify corrective actions," Johnson said. "Our process also has accountability."
He and his team have also been developing an internal hazard identification program. "Our belief is that, if we can approach safety proactively, by reporting hazards and creating hazard awareness, we can reduce actual incidents significantly," Johnson said. "We set a target of one hazard report per person per month." Although ideally, he would like to see 80%, the response rate has grown to 40% in a short period of time and the quality of the reporting is improving as well.
To determine safe work habits, supervisors have seven critical behavior check lists for tasks such as inflation, inspection, etc. They observe the technicians to see what's happening. One day they may decide to use a PPE observation card and then they enter the results in the database. "We are seeing good trends in behavior and we have identified areas for improvement," Johnson said. As an example, they were seeing low scores on hand tools, particularly the inspection prior to use. The safety department has identified a need and is working on ways to improve in that area.
Maintaining Tires in the Elk Valley
Kal Tire has been in the Elk Valley for 20 years and manages the tires for the majority of mine sites in the area.
Bruce Robertson manages this district for Kal Tire and he invited E&MJto the Sparwood section shop to see how haul truck tires are repaired and to watch his techs change tires at Teck's Greenhills Operations. Overall, Robertson oversees operations that include 42 OTR tire technicians, six locations, and about 4,700 tire changes annually. Recently he has developed a mobile service team. "We put this in place two years ago," Robertson said. "We were encountering problems covering for holiday time for both tire techs. This group floats from mine-to-mine as needed."
The Sparwood section shop repairs most of the mining tires in the Elk Valley. Once a cut has been made in a tire, one that pierces the tread and maybe one or two of the plies, Robertson explained, it might not be visible to the untrained eye, but the tire knows it's there and it only gets worse with each revolution. "We want to catch the cut before it gets any worse," Robertson said. "We want to schedule the tire for repair at an opportune time. We want to get it to a repair shop. We will skive out that cut and chase any separation until we get to tight rubber. If the damage is too deep, we will put a reinforcing patch behind that damage. We will fill the cut with rubber and cure it." Robertson also noted that not all damage can be repaired.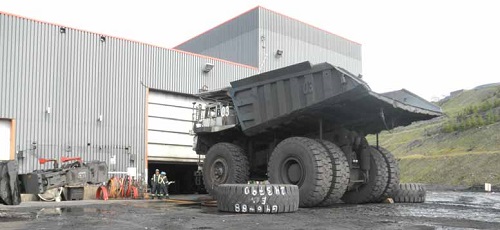 A tire handler approaches a Komatsu 830E after it rolls into the tire service center at Teck's Greenhills mine, near Sparwood, B.C
At the section shop, the tire repairmen place the tires on a rotating tree and inspect them. They listen for drummy, hollow areas. Once they find one, they carve it out down to the steel. They place vulcanizing cement on the chords and fill the gap with rubber. Then they use plaster to make a form. Wires and sensors are placed in the repair to monitor the temperature. An airbag and a heating pad heats the repair to 140°C. The tire's compound is considered cured when it reaches 115°C, which takes eight to 12 hours. The Sparwood section shop can handle 12 cures per day.
Greenhills Operations produces approximately 5 million metric tons of steelmaking coal per year. At this site, Kal Tire has eight OTR tire techs and a site supervisor managing the tire program for Teck Coal. During the visit, a Komatsu 830E rolled into the service center. They needed to replace the front tire on the driver's side. Two tire techs (one experienced and one SSE employee) would change the tire while E&MJwatched.
Before the techs start the job, the site manager, Glenn Thies, discusses the task with them. He checks for proper PPE. He discusses lock out and tag out procedures. He checks the jacks and the jack stands. They discuss tripping hazards and warning signs. "I know that you are trained and that you are training him," Thies said. They discuss some concerns with aligning the manipulator. The work area is situated in such a way that, if something does happen, the trajectory is toward the tire yard and not the more populated areas of the shop.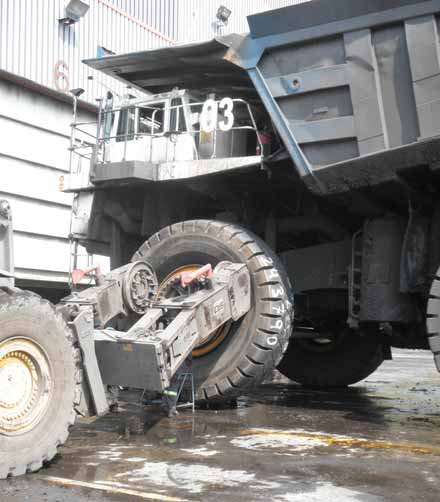 After the old tire has been removed and the wheel and hub assembly have been inspected, a tire handler
positions a new tire on the 830E.
Before the techs start the job, the site manager, Glenn Thies, discusses the task with them.
They discussed the wheel component cleaning and inspection process. The techs verified that they understood that they do this to make sure everything is working and seating properly. And that may have jinxed them because the wheel assembly turned out to be very stubborn. The repair took more than an hour, but it was handled in a safe and efficient manner.
Kal Tire is setting a new standard for contractors working at mine sites. They have set some ambitious goals. Only time will tell if they achieve them, but mine operators will certainly appreciate the fact that they share similar objectives.
5 Key Elements for an Effective Tire Program
Mining tires are very large and expensive, but they are not that much different than a radial tire for a passenger vehicle. They have design limitations. They are limited to the load they can carry, the speed they can travel, and the heat they can transfer. And, they don't like being poked by sharp objects.
The five critical elements for a successful mining tire program include:
1.Air Pressure Maintenance—The casing cords, which form the foundation for the tire, are designed to run within a range of motions within their design capacity. The casing chords deflect where the tire meets the road and, as they exit the footprint, it retains its shape again. An over-deflective situation, caused by too much load or too little air pressure, causes the casing chords to heat up and breakdown prematurely.
2.Tire and Wheel Inspections—Miners work in extreme environments. At times, damage is inflicted on tires and wheels. Trained professionals can spot tread wear, irregular wear (alignment issues), cuts, cracks, bulges, blisters and any irregularities. These inspections need to take place on a daily basis. Wheels are often overlooked and they also need to be inspected, maintained, and replaced on a regular basis.
3.Maximum Availability—Maintenance is required. Work should be scheduled at opportune times. This requires good communications with operations and maintenance departments. When work is scheduled, it is important to have the tools, facilities and supplies to make sure the job is completed safely and in a timely fashion.
4.Survey Site Conditions—Tire professionals can make informed recommendations about haul road construction and maintenance. They should generate a site severity survey for different areas such as the haul roads or loading and dumping areas.
5.Tire Awareness Training—It's important to discuss safe practices and what can damage the tires with all levels of mine operations. As an example, Kal Tire often talks about hard hat size rocks and the significant damage they can do to mining OTR tires. When viewed from the cab of the truck, they do not look nearly as intimidating so operators may not avoid them unless someone explains the situation. If left unattended, those small unassuming rocks can account for the biggest portion of the tire failures onsite.
It's important to have a good collaborative working relationship between the tire service providers, the tire manufacturer, and the various departments at the mine.
---
As featured in Womp 2013 Vol 12 - www.womp-int.com