ABB Expands Ring Motor Portfolio with Alstom Acquisition
---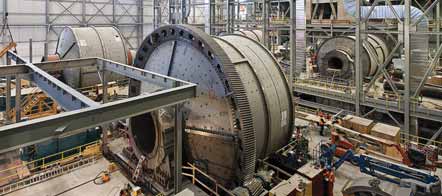 ABB has installed the world's largest low-speed, dual-pinion mill drives at the Detour Lake gold mine in
Ontario, Canada.

Power and automation technology group ABB reported that it has acquired Alstom's ring motor business to enhance its gearless mill drive (GMD) system business. The parties agreed not to disclose financial details of the transaction. The business, based in Bilbao, Spain, has about 120 employees and will become part of ABB's Process Automation division.

ABB said it expects the market for GMD systems to grow due to rising demand for minerals in emerging countries undergoing industrialization. Deeper mines with more complex orebodies and lower ore grades require the grinding of increased amounts of material to yield the same volumes of metal. GMD systems, according to ABB, are designed to address the need for extremely high ore throughput, reliability and availability of the grinding circuit.

"The acquisition will combine the leading ring motor product from Alstom with ABB's electrical offering for GMD systems, enabling ABB to enhance its position as a strong vertically-integrated systems provider," said Veli-Matti Reinikkala, head of ABB's Process Automation division. "The acquired expertise and market strength will provide new opportunities for growth."

ABB said the ring motor product and its current electrical offering for GMD systems can only work in combination and are thus complementary; consequently, the acquisition will enable ABB to increase manufacturing capabilities and strengthen the ring motor business.

The GMD eliminates all mechanical components of a conventional mill drive system. By mounting the rotor poles directly onto the mill, the mill itself becomes the rotor of the gearless motor. The gearless motor—also called a wrap-around motor or ring motor—is a large synchronous machine, which uses power electronics and a magnetic field to control the speed of the motor rotation.

In early November, ABB said it had successfully commissioned four low-speed dual pinion drive systems at the Detour Lake gold mine in Ontario, Canada. These systems include the largest low-speed dual pinion mill drives in the world.

The pre-commissioning phase started in fall 2012 with consecutive commissioning of grinding line 1 and 2 completed in 2013. The first line has been in operation since January, the second since February and commercial production was reached by mid-August.

ABB's contact called for delivery of four dual pinion low-speed mill drive systems for two semiautogenous (SAG) and two ball mills, each consisting of two synchronous motors, converter transformers and ACS6000 frequency converters including active rectifier units that allow the mill drives to achieve a power factor of 0.90 leading. ABB also delivered the programmable logic controller (PLC) to control the drives and mill auxiliaries. Each mill drive has a rated power of 15 MW.

The drive systems order was awarded in May 2010 followed by first equipment deliveries in October 2011.

The Detour Lake mine, owned by Detour Gold Corp., is located approximately 8 km west of the Ontario-Quebec border and 180 km northeast of Cochrane. It will be among the largest gold operations in North America.
---
As featured in Womp 2013 Vol 12 - www.womp-int.com