| | |
| --- | --- |
| | To receive your own edition of the print version of E&MJ - Go Here |




Indaba Debates the Future of African Mining



As this edition was going to press, the annual Investing in African Mining Indaba was getting under way. We will carry a full report in the March 2013 edition, but suffice it to say the dialogue had taken on a new sense of urgency in light of the Marikana tragedy and the reforms that the mining sector will see in South Africa and sub- Saharan Africa. Last year's nationalism and anti-mining rhetoric has given way to whether Africans can change the business model quickly enough to remain competitive.
Susan Shabangu, minister of mineral resources for the Republic of South Africa, spoke about the transformation her country has made and reminded the audience of the remnants of its historical legacy, a migrant labor system, poor housing and living conditions, high levels of illiteracy, and low skills levels. All of these, she said, inevitably contributed to the Marikana tragedy. Shabangu warned the country could not......... read more



Steve Fiscor, Editor in Chief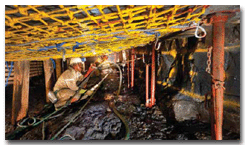 Amplats Proposes Mine Closures for Return to Profitability
Anglo American Platinum (Amplats) reported on January 15, 2013, that it had concluded a review of its business, announced in February 2012, to create a sustainable, competitive and profitable platinum business for the long-term benefit of all its stakeholders. The report followed a statement a day earlier that the company expected to incur a loss for the year ended December 31, 2012.
As a result of the business review, Amplats proposed reconfiguration of its 100%-owned and managed Rustenburg operations in South Africa into three mines—Thembelani, Siphumelele and Bathopele—with five shaft systems. Its Khuseleka and Khomanani mines in the Rustenburg area (four shafts) would be........ read more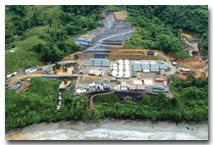 First Quantum and Inmet Argue Takeover Bid


Inmet Mining's board of directors recommended on January 22, 2013, that its shareholders reject an unsolicited offer from First Quantum that valued Inmet at about C$5.1 billion in cash and First Quantum shares. Central to Inmet's argument was its conviction that the First Quantum offer did not adequately compensate Inmet shareholders for the company's low-risk asset base and its strong prospects for growth and value creation at its 80%- owned Cobre Panama project in Panama Quantum has....... read more

Top
Top Management Changes at Anglo American and Rio Tinto


In January 2013, Anglo American and Rio Tinto, two of the world's largest diversified, multi-national mining companies, announced changes in top executive management. On January 8, Anglo American announced the appointment of Mark Cutifani as the company's chief executive, with effect from April 3, 2013. He has been CEO of AngloGold Ashanti since 2007. He replaces Cynthia Carroll, who announced her resignation as Anglo American's chief executive on October 26, 2012, but who agreed to remain in her position until a successor was appointed..... read more

Top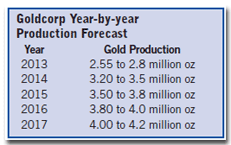 Goldcorp Forecasts 70% Production Increase by 2017


In its year-end 2012 production update and forecast, Goldcorp reported that it expects to increase its gold production by about 70% over the next five years from about 2.39 million oz in 2012 to between 4 million and 4.2 million oz in 2017. New projects will make significant contributions to this growth, with first gold production forecast for Cerro Negro, Argentina in late 2013; Éléonore, Quebec, in late 2014; Cochenour, Ontario, in the first half of 2015; and Camino Rojo..... read more
| | |
| --- | --- |
| AROUND THE WORLD - USA & CANADA | |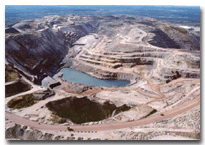 Asian Consortium Takes 15% Stake in ArcelorMittal Mines Canada


ArcelorMittal announced on January 2, 2013, an agreement pursuant to which its wholly-owned subsidiary ArcelorMittal Mines Canada and a consortium led by Korean steelmaker POSCO and China Steel Corp. of Taiwan will enter into a joint venture partnership that will own ArcelorMittal's Labrador Trough iron ore mining and infrastructure assets in Quebec. The consortium will acquire a 15% interest in the joint venture for total consideration of $1.1 billion in cash, with ArcelorMittal Mines Canada and its affiliates retaining 85%...... read more
Copper Fox Reports Positive Feasibility for Shaft Creek


Copper Fox Metals has announced the results of a positive feasibility study for the Schaft Creek open-pit copper-molybdenum- gold-silver project in northwestern British Columbia. The project has a nominal 130,000-mt/d milling capacity over a 21-year mine life. Initial capital costs to develop the project are estimated at C$3.256 billion, which includes contingencies of $374 million. The Shaft Creek project's life-of-mine average annual production of metal in concentrates is estimated at 105,000 mt/y copper, 10.2 million lb/y molybdenum, 201,000 oz/y gold, and 1.2 million oz/y silver.... read more

Top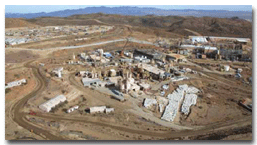 Molycorp's New Rare Earth Complex is Operational


Molycorp announced on January 10, 2013, that all key production components of its new state-of-the-art Project Phoenix rare earth manufacturing complex in Mountain Pass, California, are up and operational and the facility has begun ramping up to its full-scale Phase 1 run rate. The company expects that with an orderly ramp up of production it will reach or exceed its Phase 1 run rate of 19,050 mt/y of rare earth oxide equivalent by mid-year. The Mountain Pass complex is designed to allow for expanded production to a Phase 2 rate of as much as 40,000 mt/y of rare earth oxide equivalent. However, the.... read more

| | |
| --- | --- |
| AROUND THE WORLD - Latin America | |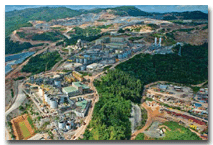 Pueblo Viejo Achieves Commercial Production


Barrick Gold announced in mid-January that it has achieved commercial production at its 60%-owned Pueblo Viejo mine in the Dominican Republic. Goldcorp holds the remaining 40% interest in the jointventure project. The project poured its first gold in August 2012.
Pueblo Viejo is expected to ramp-up to its full capacity in the second half of 2013 and to produce between 500,000 oz and 650,000 oz of gold for Barrick and between 330,000 and 435,000 oz for Goldcorp during the year. Total production is expected to exceed 1 million oz/y during the first five full years of operations. Total cash costs are estimated at $300 to $350/oz…… read more
Eco Oro's Angostura Project 'Mostly Outside' of New Park


Eco Oro Minerals reported on January 17, 2013, that its Angostura underground gold-silver project is mostly outside the boundaries of Colombia's new Paramo de Santurbán regional wilderness park and that development of the project will not be impeded by the park.
Eco Oro is a Canadian junior company headquartered in Vancouver and was formerly known as Greystar Resources. The Angostura deposit is its principal asset. The project covers a total area of 215 ha, of which 193 ha fall outside of the surface boundaries of the park. Approximately 3 million oz of the project's indicated gold equivalent resources and 2.3 million oz of its inferred gold equivalent resources are outside the park boundaries…. read more

| | |
| --- | --- |
| AROUND THE WORLD - Australasia | |
Karara Project Ships First Magnetite Concentrate


The Karara iron ore project in Western Australia shipped its first magnetite concentrate from its export terminal at Geraldton, Western Australia, on January 1, 2013. The project is operated by Karara Mining Ltd., a 50:50 joint venture between Gindalbie Metals Ltd. and Chinese steel producer AnSteel. Ansteel has a life-of-mine off-take contract for production from the mine, which includes both magnetite concentrate and hematite direct shipping ore. Commissioning of the Karara magnetite concentrator was ongoing during January, with a goal of achieving full nameplate production capability of 8 million mt/y by the end of April 2013…. read more



Xstrata will Raise Zinc Production at Lady Loretta


Xstrata Zinc plans to increase ore production by a further 33% to 1.6 million mt/y at its high-grade Lady Loretta mine in northwest Queensland. The greenfield underground zinc-lead-silver Lady Loretta mine began ore production ahead of schedule in September 2012. Commercial-scale mining is due to begin in mid-2013 at a rate of 1.2 million mt/y, and the expanded rate of 1.6 million mt/y is expected by 2016. Capital expenditures required for the expansion are estimated at A$59.2 million, bringing total investment to develop the Lady Loretta project to A$362.2 million…. read more

Top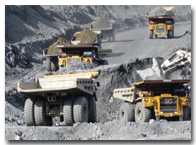 Centerra Looking for 2013 Rebound in Kumtor Gold Production
In its year-end 2012 production report, Centerra Gold reported that gold production at its Kumtor open-pit mine in the Kyrgyz Republic dropped to a "disappointing" 315,238 oz during the year, down from 583,156 oz in 2011. The company began 2012 with a Kumtor production forecast in the range of 575,000 to 625,000 oz for the year but revised the forecast downward in late March to a range of 390,000 to 410,000 oz as a result of ice movement in the southeast section of the Kumtor pit and again in November to a range of 350,000 to 360,000 oz…. read more


Lynas Nears Production at Malaysian RE Plant
Lynas Corp. reported in early January that it had successfully commissioned the cracking and leaching units at its Lynas Advanced Materials Plant (LAMP) in Malaysia. The process was achieving recovery rates of more than 90% of contained rare earth oxides through the cracking units. The mixed rare earths sulphate produced was being fed to the plant's solvent extraction units for ultimate production of individual rare earth products. Lynas anticipated that commercial rare earth products would be available within a few weeks, with ramp up to design production to take place over the next three months…. read more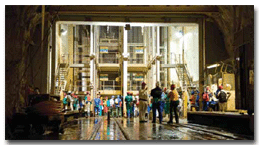 Harmony Closes Kusasalethu Mine, Seeks Solution to Labor Unrest


Harmony Gold announced in early January that following a review of both the financial and operational impact of lawlessness, violence, and non-compliance to South Africa's Mine Health and Safety Act at its Kusasalethu mine near Carletonville during the fourth quarter of 2012, it would keep the mine closed until such time as it is safe enough for its employees to begin mining activities. The Kusasalethu mine was temporarily closed December 20 for security and safety reasons. Events at Kusasalethu beginning October 26 that led to the closure included violence leading to the murder of two…. read more

B2Gold Starts Construction of Otjikoto Gold Project
B2Gold Corp. has started construction of the Otjikoto open-pit gold project in Namibia, 300 km north of Namibia's capital city of Windhoek. The project is owned 92% by B2Gold and 8% by EVI Gold (Pty) Ltd., a Namibian black empowerment group. The Otjikoto feasibility study describes a project that has an initial mine life of 12 years based on probable a mineral reserve of 29.4 million mt at a grade of 1.42 g/mt gold containing 1.34 million oz of gold. Average annual gold production for years one to five is estimated at 141,000 oz/y at an operating cash cost of $524/oz; average life-of-mine gold production is estimated at 112,000 oz/y at an operating cash cost of $689/oz.…… read more

Top
| | |
| --- | --- |
| THIS MONTH IN COAL | |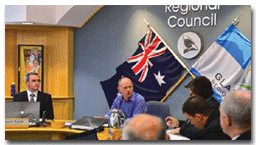 Heavy Rains Slam Australia's Queensland Coal Mines


Heavy rains are again disrupting coal mining in Queensland, West Australia, though effects are believed to be far less severe than the 2011 devastation that brought much of its production to a standstill. BHP Billiton, the biggest player, has lost production from coking mines in its Bowen Basin after roads and other infrastructure were hit. Meanwhile, the BHP Mitsubishi Alliance joint venture—the world's biggest seaborne coking shipper—has received major rains in places previously deemed unaffected; a full survey is under way …. read more

Alliance Prospers Despite Domestic Challenges


Alliance Resource Partners, a U.S. steam coal operator, continued to set production records for a 12th consecutive year in 2012, with 34.8 million tons of coal, amid a challenging period for the U.S. industry. This year witnessed a 13.2% increase from 2011, while surpassing $2 billion in total revenue for the first time. Net income fell to $335.6 million from $389.4 million, however, owing to startup and infrastructure costs at operations in Pennsylvania, West Virginia and Western Kentucky …. read more

Indonesia's Bakrie Family to Quit Bumi for $580 Million
Indonesia coal producer Bumi plc said the influential Bakrie family, which has been locked in a battle with London financier Nat Rothschild over control since the company's 2010 founding, will exit based on a $578 million proposal. "The negotiations have gone well, I'm confident they will come up with the funding," Bumi CEO Nick von Schirnding told reporters; Bumi was valued at $3 billion when the deal was signed in 2010; it's now worth $1.3 billion…. read more
| | |
| --- | --- |
| FEATURE - Gold | |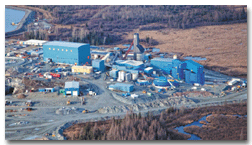 Lake Shore Builds its Reserves
In an area of northern Ontario with a century of gold production, Lake Shore Gold is working hard to turn new-found resources into bullion in the bank

By Simon Walker, European Editor

Forty minutes flying time northeast of Sudbury, and 80 minutes from Toronto, the Timmins-Porcupine district is one of Canada's most important gold camps. Of the many mines that have come and gone there, three stand out: Hollinger with a cumulative output of 19.3 million oz between 1910 and 1968; MacIntyre Mines (10.7 million oz from 1912 to 1988); and Dome (at least 16 million oz since 1910, and still working). In all, the camp has produced some 70 million oz since its discovery. Together with Hoyle Pond and Pamour, Dome is today part of Goldcorp's Porcupine operations……. read more

| | |
| --- | --- |
| FEATURE - Fire Safety | |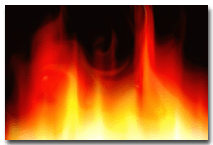 Flame Fighters


New advances in firefighting technology give surface mine operators the capability to avoid getting burned—both physically and financially—by disastrous equipment fires

By Russell A. Carter, Managing Editor

Surface-mine fires are grim, expensive and sometimes terrifying reminders that no industrial enterprise employing huge mobile, rotary and fixed equipment that operates around the clock, involving constant maintenance activity and using a wide variety of flammable liquids and materials, can be complacent about safety in the workplace—whether that place is in a maintenance shop or in the cab of a haul truck, shovel or loader. The mining industry generally receives passing marks for being cognizant of fire-related risks, and for making employees aware of those hazards.... read more

Top

For more companies with products in the Fire Fighting market -
Go Here
| | |
| --- | --- |
| FEATURE - Corrosion | |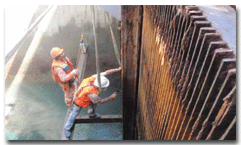 New Technologies Combat Corrosion


With a vast selection of coatings and other protective products available in the market and new, higher-tech solutions on the way, mine operators can choose from many effective weapons to blunt the attack of a relentless chemical enemy

By Russell A. Carter, Managing Editor

Given the nature of the business, the twin forces of corrosion and abrasion are almost constant companions in mining operations. The typical extraction sequence of blasting, loading, hauling, crushing and grinding chunks of raw dirt and rock—often under harsh environmental conditions— basically constitutes an informal demonstration laboratory for the mechanisms of material destruction at thousands of mines around the world. And, since few locations
have exactly the same geological, environmental, structural or operational characteristics, the struggle to combat damage to infrastructure and equipment from corrosion is generally a localized battle…... read more


For more companies with products in the Coatings market -
Go Here
| | |
| --- | --- |
| FEATURE - Clean Diesel Engines | |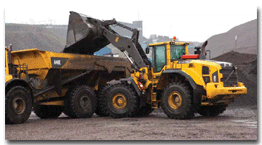 Wheel Loaders Keep Warm by Moving Iron Ore at Kiruna
One of the largest underground mines puts Volvo's new diesel engine to the test

On the surface, temperatures fall below -30°C at Kiruna, one of the world's largest underground mines. Located in Lapland, northern Sweden, the Kiruna mine is blanketed by harsh snowy weather during the winter months. Underground, temperatures are not as extreme, but the conditions are equally demanding in a much different way. On the surface and underground, a fleet of Volvo equipment works around the clock to move 76,000 metric tons (mt) per day of iron ore. LTH Traktor, a sub-contractor for LKAB, ensures its machinery is as powerful, fuel efficient and emissions-friendly as possible to keep the site operating at peak performance. "Fuel is a huge part of our budget..... read more

Top


For more companies with products in the Engines market -
Go Here

Leica Partners with Locata to Bring GPS Down to Earth


It's ironic that as modern surface mining burrows further into the ground, whether at new projects that exploit deeper, more complex deposits or at mature mines that are simply digging deeper in place, production efficiency depends more and more upon a clear view of the sky. Mines are increasingly relying on GPS-based machine location and high-precision surveying applications, and because these applications require accurate Real-time Kinematic (RTK) GPS position data, their …. read more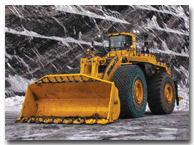 Weighing in on Equipment Total Cost of Ownership


Actronic Technology, the New Zealand based developer of the Loadrite range of products for weighing wheel loader/ excavator buckets, conveyors and other applications, recently released a report on optimizing total cost of ownership on payloadcarrying earthmoving equipment. According to the company, while most equipment owners understand that total cost of ownership is more important than just the purchase price, many don't realize that they could actively reduce their total cost of ownership across earthmoving…… read more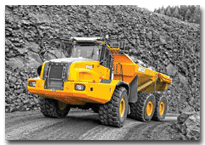 Bell Appoints Wajax as its Canadian Distributor


South African heavy equipment manufacturer Bell Equipment has appointed Wajax Equipment as its distributor and dealer of Bell articulated dump trucks (ADTs) in Canada. The announcement, according to Bell, marks the first major step in its plans to re-launch the brand in the Americas after 12 years of providing product under another brand. Wajax Equipment is a major heavy equipment distributor with more than 32 locations across Canada, with Hitachi Heavy Construction and Mining Equipment being its core business. Hitachi is a common thread, also being Bell Equipment's distributor in the Asia-Pacific region…. read more

Top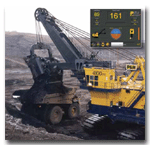 Teck Selects BMT's Shovel Payload Monitoring System


BMT WBM, a subsidiary of BMT Group Ltd., reports that Teck Resources will use its Pulse TerraMetrix RS system to manage machine health, production and payload measurement of a P&H 4100 rope shovel at Teck's Greenhills Operation (GHO) near Elkford in southeast British Columbia.
BMT WBM said it has worked closely with GHO staff to develop and refine the Pulse TerraMetrix RS system to help address accuracy problems commonly associated with shovel-based payload monitoring .…… read more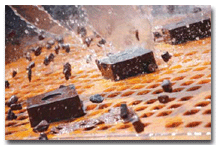 Iron Ore Processing System Boosts Bellzone Project


Jersey-based mining company Bellzone Mining plc is currently developing two iron ore assets in Guinea, West Africa: Forecariah and Kalia. A 15-year mining license was recently granted to the company for the Forecariah site, with output expected to reach 4 million metric tons per year by 2014. The Forecariah license will be held in a joint venture between Bellzone and Chinese group CIF. The partners have an offtake agreement with Glencore for Forecariah's output. The equipment currently on site there…. read more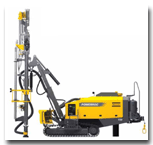 Cabless Track Rig has Extendable Boom


Atlas Copco has introduced the T35 E surface drill rig, the latest addition to the PowerROC product family. The PowerROC T35 E, an extendable-boom version of the current T35 rig, is a no-cabin model that is claimed to drill straighter holes and offers improved safety, comfort and easy-access maintenance. The rig features an aluminum feed system that is highly resistant to bending, while the prism shape of the feed profile allows two directional sliding surfaces as a stable guide for the rock drill cradle. The T35 E's feed system also uses a cylinder with cables that drives the rock…. read more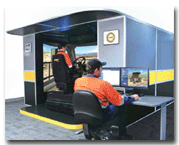 Simulator Upgrade Enhances Trainer Convenience


Immersive Technologies announced the release of its PRO3-B and UG360-B Advanced Equipment Simulators—upgrades of the company's PRO3 and UG360 models via the inclusion of an enhanced trainer station. The new station is a dualmonitor interface that allows a trainer to better manage the simulator during a session. The two-screen setup permits the trainer to administer the simulator on one screen while a view of the session is presented on the second screen. New views of .…. read more

Top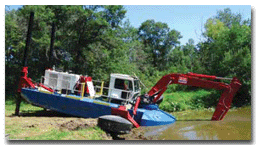 Multi-function Dredge Offers Versatility


Liquid Waste Technology, LLC has launched its newest Mud Cat dredge, the Mud Cat MFD-1000. This multi-function dredge has multiple interchangeable tool options, including an excavator bucket, a cutter basket with dredging pump, a weed rake, and a pile driver. This one-truck transportable, self-launching dredge has a maximum digging depth of 19 ft. 5 in. (5.92 m). The self-launching capability of the Mud Cat MFD-1000 minimizes mobilization and demobilization expenses….read more
MARCH 3–6, 2013: PDAC 2013, International Convention, Trade Show & Investors Exchange-Mining Investment Show, Toronto, Canada Contact: Prospectors & Developers Association of Canada; Tel: 416-362-1969 ext. 1; Fax: 416-362-0101; E-mail: convention@pdac.ca; Web: www.pdac.ca
APRIL 15–21, 2013: bauma 2013, Munich, Germany. Contact: Messe München GmbH; Tel: 49 89 949-11348; Fax: 49 89 949-11349; E-mail: info@bauma.de; Web: www.bauma.de
APRIL 16–18, 2013: Minex Central Asia 2013, Astana, Kazakhstan. Contact: Arthur Poliakov; Tel: 44 (0) 207 520 9341; E-mail: admin@minexforum.com; Web: www.minexasia.com
APRIL 16–19, 2013: 23rd International Mining Congress and Exhibition of Turkey, Antalya, Turkey. Contact: IMCET; Tel: 90 312 425 10 80; Fax: 90 312 417 52 90; E-mail: imcet@maden.org.tr; Web: www.imcet.org.tr
MAY 5–8, 2013: CIM 2013 Convention, Toronto, Ontario, Canada. Contact: Canadian Institute of Mining, Metallurgy and Petroleum; Tel: 514-939-2710, ext. 1311; E-mail: mbell@cim.org; Web: web.cim.org/toronto2013
MAY 6–10, 2013: SYMPHOS 2013, the International Symposium on Innovation and Technology in the Phosphate Industry, Agadir, Morocco Contact: OCP Group, Morocco; Tel: 212 5 23 34 51 22; Fax: 212 5 23 34 50 64; E-mail: info@symphos.com; Web: www.symphos.com
MAY 7–9, 2013: Arminera, Buenos Aires, Argentina. Contact: Viewpoint SA; Tel: (011)4814-3833/4816-5818; E-mail: info@viewpoint.com.ar; Web: www.arminera.com.ar
MAY 11–13, 2013: Indaba 2013, Durban, South Africa. Contact: Witch & Wizard Creative (Pty) Ltd.; Tel: 27 (0)11 467 5011 / 5024; Fax: 27 (0)11 467 5350; Web: www.indaba-southafrica.co.za
For a full calendar of mining industry conferences and events - click here
| | |
| --- | --- |
| WHO'S MOVING WHERE | |

Anglo American has appointed current AngloGold Ashanti CEO Mark Cutifani its new CEO. AngloGold Chairman Tito Mboweni said the group has initiated a formal search for a replacement but, in the interim, after Cutifani departs, the group has asked current CFO Srinivasan Venkatakrishnan and Executive Vice President Business & Technical Development Tony O'Neill to act as joint interim chief executives.

Great Western Minerals Group Ltd. has appointed Marc LeVier president and CEO.


Perseus Mining Ltd. has appointed Jeff Quartermaine managing director and CEO. Mark Calderwood has decided to step down from these roles to take on a part-time technical role with the company.

Dr. Stewart Gillies, interim director of the Rock Mechanics and Explosives Research Center at Missouri University of Science and Technology since 2009, has been named director of the center. Gillies is also the Union Pacific-Rocky Mountain Energy Mining Professor at Missouri S&T. He was named interim director of the RMERC June 1, 2009.

Mintec announced that Larry Berry recently passed away. Berry joined Mintec in 1990 and became a product manager of operations products.

Atlas Copco Rental has appointed Dan Dorran vice president seismic to develop the company's business in the seismic applications market.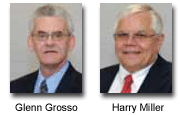 Dresser-Rand has inducted Glenn Grosso and Harry Miller into the Dresser-Rand Engineering Fellowship Program. The "Fellows" program honors individuals who have attained the highest level of distinction through significant engineering achievements that have had a global impact on Dresser-Rand by providing competitive advantages in the energy markets and being recognized as an industry expert in their engineering discipline.
About - providing an abreviated version of the current print edition of E&MJ, WOMP is distributed throughout the world to decision makers in the global mining industry, the last week of every month.

Subscribe to E&MJ - To receive your own copy of the print edition of E&MJ, click here , and complete your details. E&MJ is available free of charge to qualified readers.

Contact - if you have views, opinons or comments or editoral that you would like to submit, we would be delighted to hear from you - click here

Top