Centerra Looking for 2013 Rebound in Kumtor Gold Production
---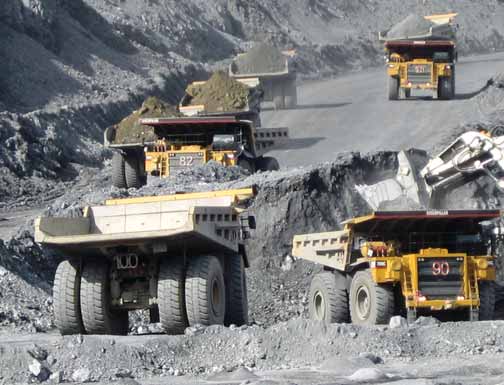 Centerra Gold believes its Kumtor gold operation (shown here) in the Kyrgyz Republic is poised to rebound from
"disappointing" production levels in 2012. (Photo courtesy Centerra Gold)

In its year-end 2012 production report, Centerra Gold reported that gold produc-tion at its Kumtor open-pit mine in the Kyrgyz Republic dropped to a "disappoint-ing" 315,238 oz during the year, down from 583,156 oz in 2011. The company began 2012 with a Kumtor production forecast in the range of 575,000 to 625,000 oz for the year but revised the forecast downward in late March to a range of 390,000 to 410,000 oz as a result of ice movement in the southeast section of the Kumtor pit and again in November to a range of 350,000 to 360,000 oz.

Kumtor operations are located in the Tien Shan mountains 350 km southeast of the Kyrgyz capital of Bishkek at mining ele-vations ranging up to 4,400 m. Local valleys are occupied by active glaciers that extend down to elevations of 3,800 to 3,900 m.

Centerra is currently forecasting that Kumtor gold production will recover to between 550,000 and 600,000 oz during 2013, with approximately half of this pro-duction occurring in the fourth quarter when the mine will gain access to its high-grade SB zone.

Centerra President and CEO Ian Atkinson said, "In November last year we announced an expansion of the open pit at Kumtor. This very exciting development resulted in a significant increase in value of the Kumtor deposit and included a 58% increase in proven and probable reserves to a total of 9.7 million contained oz. Just as important, the new mine plan is expected to deliver consistent annual gold produc-tion averaging 650,000 oz/y for the next 10 years."

Centerra is forecasting 2013 capital expenditures at Kumtor, excluding capital-ized stripping, of $95 million, of which $64 million will be sustaining capital. The largest sustaining capital spending will be for major overhaul maintenance of the heavy-duty mine equipment ($29 million), purchase of new mining equipment ($17 million), raising the tailings dam ($5 million), and other items ($13 million). Growth capital invest-ment is forecast at $31 million, which includes the relocation of certain infrastruc-ture related to the mine expansion ($26 mil-lion) and other items ($5 million). Capital-ized stripping costs related to the develop-ment of the open-pit include $212 million cash and $77 million non-cash for a total capital spending forecast of $289 million.

Centerra plans to spend about $13.5 million for exploration on its Kumtor concession during 2013.

Centerra also owns and operates the Boroo gold mine in Mongolia, which pro-duced 71,838 oz during 2012, well above its forecast of about 60,000 oz made at the beginning of the year.

The company has allocated about $7 million for exploration spending in Mongolia during 2013 and will continue to pursue exploration projects in Turkey, Russia and China. Company-wide exploration spending is planned at $45 million for the year.
---
As featured in Womp 2013 Vol 02 - www.womp-int.com