Leica Partners with Locata to Bring GPS Down to Earth
---
Newmont Mining's Boddington gold operation in Australia is the first to deploy a fleet management solution en-abled by
Leica Geosystems' Locata-powered GPS alternative technology.

It's ironic that as modern surface mining burrows further into the ground, whether at new projects that exploit deeper, more complex deposits or at mature mines that are simply digging deeper in place, pro-duction efficiency depends more and more upon a clear view of the sky. Mines are increasingly relying on GPS-based machine location and high-precision sur-veying applications, and because these applications require accurate Real-time Kinematic (RTK) GPS position data, their reliable operation hinges largely on the ability to 'see' and track at least four GPS satellites at any given time—a situation that isn't always possible when working at certain locations in deep open-pit mines.

To overcome this problem, mines over the past decade have turned to pseudo-lite systems; i.e., ground-based transmit-ters of GPS-like signals that enhance GPS satellite 'geometry' and even replace the GPS satellite constellation in some situations. However, pseudolite-based systems are not completely free of technical problems that can inhibit their performance under certain conditions. Various companies have pursued ways to improve pseudolite performance, but recently Leica Geosystems Mining announced an exclusive industry partner-ship with Australia-based Locata Corp. to provide the mining industry with what is described as the only high-precision radio positioning system that is not reliant on pseudolite concepts.

In fact, Locata's technical literature emphasizes that its 'Locatalite' units are not pseudolites. As explained by Locata, pseudolites do not synchronize to each other, which is a critical requirement for the creation of a radio-positioning sys-tem. Atomic clocks in GPS satellites are used to achieve this. However, the LocataLite transmitters can accomplish synchronization without input from these clocks. Within minutes of being turned on, LocataLites generate an autonomous, nanosecond-accurate positioning net-work through a new synchronization process called TimeLoc.

Locata says its proprietary TimeLoc signals are different from GPS satellite signals, and the Locata system architec-ture is designed to create a ground-based positioning system that is a true GPS replica—a one-way ranging system pro-viding pseudorange and carrier-phase measurements from a network of syn-chronized transmitters.

Part of the Package
Under the Leica/Locata partnership, Leica Geosystems Mining will provide this new technology, called Leica Jigsaw Positioning System (Jps), as a part of its Jigsaw product suite. Leica's Jps, accord-ing to the company, sees LocataLites as a 'constellation' of ground-based satel-lites or alternative points of reference that can be used in conjunction with, or completely independent of, the GPS satellite network. A mine, instead of rely-ing solely on GPS satellites, can maintain availability and accuracy by using the Leica Jps alternative reference points in combination with any available GPS satellites. LocataLites can be permanent-ly positioned on site or moved at will— and the Locata network even can be deployed completely independent of any GPS network, using only the LocataLites as points of reference.

After partnering with Leica Geo-systems in 2008 to participate in devel-opment of the Locatalite technology, Newmont Mining Corp.'s Boddington gold mine in Western Australia installed the first fully integrated (GNSS+Locata) receivers in March 2012 to improve per-formance of the mine's fleet of drill rigs. It has since reported that drill rig up-time and efficiency improved dramatically after the Jps system was commissioned.

Dr. Brendon Lilly and Stuart Gray of Leica Geosystems, collaborating with the Locata team and John Carr and James Earl from Boddington, authored a report released in August 2012 describing the Leica Jps components and their deploy-ment at the mine. As explained by the authors, the installation comprises two main components: the Jps Locata-Lites, which are the transmitters posi-tioned around the mine pit; and the Jps receivers mounted on the machines.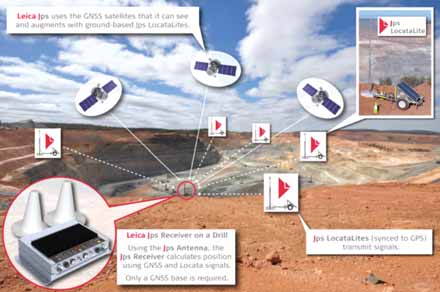 Installing Leica Geosystems' terrestrial Jps LocataLites at strategic points around the Boddington pits
reportedly eliminated the mine's complete reliance on steady GPS coverage for drillrig guidance in the
deepest mining areas.
The Jps LocataNet is the "local con-stellation" network made up of a number of Jps LocataLites. In this network, one of the Jps LocataLites is assigned Master status and the rest are assigned as slaves. The slaves 'TimeLoc' to the Master. The Master also contains a mete-orology station that measures and trans-mits pressure, temperature and humidity data around the LocataNet so that it can be used in positioning computations.
The paper noted that, although the GNSS satellite constellations and the Jps LocataNet have extremely accurate, yet independent time bases, it is far more convenient for the integration of GNSS+Locata combined positioning solu-tions if the time bases of each system are closely aligned. Locata developed a method to slew its internal time base to precisely align with the GNSS timebase (and hence the global-standard UTC time). When temporal alignment is achieved, the combined solution algorithm does not have to correct for the time off-sets between systems. Leica Geosystems has integrated this capability into the Jps LocataNet and Jps receivers, allowing the complete Jps LocataNet to synchronize with GPS time, while both GNSS and Locata signals measured at the Jps receiv-er are synchronous. Consequently all sig-nals can be used directly and simultane-ously in position calculations.
The authors point out that as with any other transmitter used in a GNSS-style network, each transmit antenna attached to a Jps LocataLite must be accurately surveyed. Any traditional survey method can be used, but for convenience LocataLites are designed to autonomous-ly "self-survey" without any surveyor input. Each Jps LocataLite has a built-in GNSS RTK receiver and the Jps tower has a GNSS antenna. When turned on, the Jps LocataLite self-surveys the posi-tion of the Jps tower automatically and continuously monitors any movement of the Jps tower (e.g., from subsidence or blasting). This allows the Jps LocataLite to be positioned in active mining areas and be relocated quickly when required. If RTK positions cannot be computed for the self-survey, then the Jps tower can be manually surveyed and its position entered into the Jps LocataLite using its Web interface.
Based on the results gathered from testing the initial installation, the authors concluded that "the Leica Jigsaw Position-ing System (Jps), powered by Locata, pro-vides substantial improvements in posi-tioning availability compared to normal RTK GNSS receivers, while maintaining RTK quality position accuracies. Leica's Jps receiver is the world's first commercial GNSS RTK receiver to use the new Locata signals for positioning, utilising the exist-ing, mature positioning technologies developed by Leica Geosystems. The Leica Jps has been designed specifically as an OEM device and it can therefore be inte-grated easily into any high precision machine guidance system.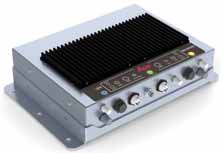 A LocataLite network comprises two types of devices: LocataLite transmitters and Locata receivers.
The transmit-ter generates a carrier phase signal modulated with a proprietary ranging code.
"The Jps LocataNet is capable of cover-ing specific areas in a single pit or multiple pits on a mine site. If additional coverage is required, then the system can be scaled to meet the customer's needs. By simply adding more Jps LocataLites to the area, or by moving the existing Jps LocataNet to a more appropriate configuration, the mine can ensure reliable and accurate position-ing signals are always available where and when they are needed."
More recently Dr. Lilly, who is product manager at Leica Geosystems Mining, stated: "Since deploying the Locata-pow-ered Jps at Newmont Boddington Gold there has been an increase in operational machine guidance availability of almost 23%—from 75% up to 98%. Newmont Boddington Gold is so happy with the results that they have turned off their GPS-only solutions altogether, and now rely solely and successfully on Jps alone. They have already installed Jps on eleven drills and intend to equip their entire high-precision fleet."
The Mining Solution
The Leica Geosystems/Locata partner-ship was announced as part of a global initiative Leica introduced at MINExpo 2012, in which the entire Leica Geosystems technology portfolio will be offered to the mining industry as a comprehensive mining solution.
As a part of the company's mining solution, Leica said its GeoMos slope-sta-bility monitoring software will be fully integrated with the Jmineops fleet man-agement system. Pit slope stability alerts from the GeoMoS monitoring system will be routed in real-time to Jmineops. Each GeoMos monitoring project will be fully visible along with all other Jmineops data.
Also showcased alongside the GeoMos integration was an innovative UAV (un-manned aerial vehicle) resulting from a technology partnership between Leica Geosystems Mining and UAV developer SwissDrones. Specifically designed for the mining environment, Leica said the UAV can fly for up to four hours via line-of-site remote control. In the near future, the unit will be fully automated. Leica's RCD30 medium format camera has been integrat-ed into the SwissDrones Waran helicopter-style TC -1235 UAV to provide high-qual-ity multispectral imagery and accuracy.
---
As featured in Womp 2013 Vol 02 - www.womp-int.com