Pueblo Viejo Achieves Commercial Production
---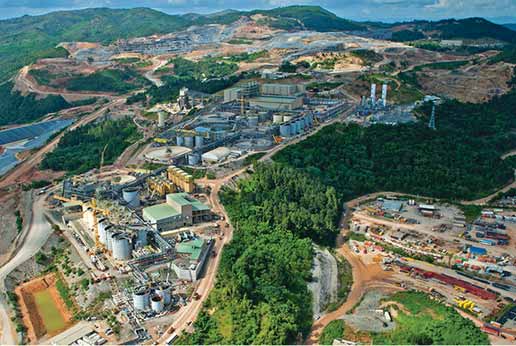 Barrick's Pueblo Viejo gold mine, shown here, is expected to produce up to 650,000 oz of gold for Barrick in 2013.
(Photo courtesy Barrick Gold)

Barrick Gold announced in mid-January that it has achieved commercial produc-tion at its 60%-owned Pueblo Viejo mine in the Dominican Republic. Goldcorp holds the remaining 40% interest in the joint-venture project. The project poured its first gold in August 2012 (E&MJ, September 2012, p. 8.)

Pueblo Viejo is expected to ramp-up to its full capacity in the second half of 2013 and to produce between 500,000 oz and 650,000 oz of gold for Barrick and between 330,000 and 435,000 oz for Goldcorp during the year. Total production is expect-ed to exceed 1 million oz/y during the first five full years of operations. Total cash costs are estimated at $300 to $350/oz.

Pueblo Viejo was completed at a capital cost of $3.7 billion and created more than 11,000 direct jobs during the construction phase of the project. The operation is expected to support about 2,000 direct jobs plus nearly 10,000 indirect jobs over its more than 25-year mine life, with Dominicans accounting for nearly 90% of the full-time workforce.

The project had 25.3 million oz of gold in proven and probable reserves as of year-end 2011.
---
As featured in Womp 2013 Vol 02 - www.womp-int.com