Advancements in Technology
View





Preparing for Future Growth



The four year anniversary for the Global Financial Crisis (GFC) is quickly approaching. Even though the metal mining industry recovered quickly, the improvements for many other industries and regions has come about much more slowly if at all. Those that implemented fiscally conservative measures early (Canada, England, Germany, etc.) are better prepared. The recovery for those that took a wait-and-see approach may not arrive for a long time.

As leaders in the Eurozone try to prevent their economy from unraveling, the situation of Too Big to Fail is quickly becoming Too Big to Bail. U.S. financial markets have recovered (on paper), but unemployment remains high and election year politics will prevent any meaningful decisions from being made. Meanwhile, China has been implementing measures to keep its economy from overheating.

Today, a stark contrast exists between the haves......... read more



Steve Fiscor, Editor in Chief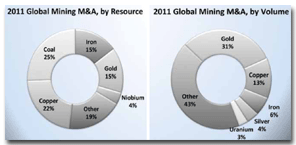 PwC Reports Near-record 2011 Mining M&A—Even More in 2012
PricewaterhouseCoopers (PwC) released its annual review and outlook for merger and acquisition (M&A) activity in the mining industry in early March 2012. The report credits the mining community with "brazen wisdom" in 2011, so confident in the long-term supply-anddemand fundamentals that, for the most part, critical voices were drowned out. Global mining M&A activity during the year increased 33% over activity in 2010........ read more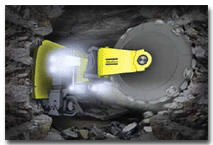 Rio Tinto Expanding Mine of the Future Program


Rio Tinto reported February 21 it is expanding its Mine of the Future program to include development and testing of new technologies for underground tunneling and mineral recovery. At the company's Kennecott Utah Copper mine near Salt Lake City, Utah, USA, Rio Tinto is working in partnership with Atlas Copco on a trial of a tunnelboring system that is expected to allow the company to tunnel more than 10 m per day, nearly twice the rate of conventional methods. This work is scheduled to begin in 2013 and is addition to a first tunnel-boring trial, run in partnership with Aker Wirth, that will begin....... read more

Top
Molycorp Acquiring Neo Material Technologies


Molycorp, Inc. and Neo Material Technologies Inc. signed definitive agreement in early March 2012 under which Molycorp will acquire Neo Materials for approximately C$1.3 billion in cash and Molycorp shares. Neo Material Technologies is a producer, processor and developer of neodymium-iron-boron magnetic powders, rare earths- and zirconium- based engineered materials and applications, and other rare metals and their compounds through its Magnequench and Performance Materials business divisions..... read more

Top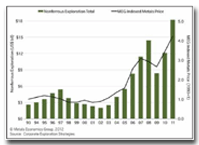 Nonferrous Exploration Doubles in Two Years


Despite periods of weakness and volatility, metals prices—the primary driver of exploration spending—have improved significantly since bottoming in early 2009, and have remained well above their long-term trends through 2010-11, according to Metals Economics Group's (MEG) 22nd edition of Corporate Exploration Strategies (CES). Almost all companies have responded by increasing their exploration budgets over the past two years. As a result, the industry's aggregate exploration total jumped 44% in 2010 and a further 50% in..... read more
| | |
| --- | --- |
| AROUND THE WORLD - USA & CANADA | |
Osisko Brings First Half of Secondary Crusher Online


Canada's newest intermediate gold producer Osisko Mining Corp. reported that construction and installation of the first of two cone crushers in the secondary crushing facility has been successfully completed. Commissioning of crusher No. 1 at the secondary crushing facility is now under way. Crusher number two of the secondary crushing facility will be added upon arrival at site, which is still anticipated to be on schedule this coming June. A planned maintenance shut-down of the mill was also completed, with a liner change out in the SAG mill. The mill and the new secondary crusher...... read more
Organizations Sue Over Arizona Land Withdrawals


The Nuclear Energy Institute (NEI) and the National Mining Association (NMA) filed a lawsuit in U.S. Federal District Court in Arizona February 27, 2012, seeking to reverse the Obama administration's withdrawal of approximately 1 million acres of federal land in the Arizona Strip from uranium mining for 20 years. U.S. Interior Secretary Ken Salazar announced the ban on new hardrock mining claims on land surrounding the Grand Canyon on January 9 (E&MJ, February 2012, p. 10). The land is not within the Grand Canyon National Park or the buffer zone protecting the national park.... read more

Top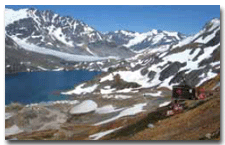 Pretium Initiates Brucejack Feasibility Study


Pretium Resources has retained Wardrop, a Tetra Tech company, to prepare a feasibility study of its Brucejack gold-silver project in northwestern British Columbia. Snowden Mining Industry Consultants will provide an underground resource model for the highgrade gold and silver resources identified to date in the Valley of the Kings and West zones of the project. The feasibility study is slated for completion by year-end 2012. A 24,000-m drill program is in progress at the Valley of the Kings zone, focused on mineralization to be mined in the first.... read more

| | |
| --- | --- |
| AROUND THE WORLD - Latin America | |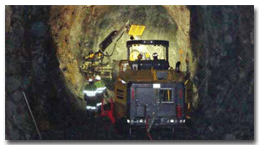 Escobal on Track for 2013 Mill Startup


Tahoe Resources reported in early March 2012 that construction at its flagship Escobal silver project, 70 km southeast of Guatemala City, Guatemala, is on schedule for mill commissioning in the second half of 2013 and commercial production in the first quarter of 2014. The original capital estimate of $326.6 million is onbudget, and the project is fully financed. The operating plan calls for production of 317 million oz of silver over an 18-year mine life…… read more
Codelco Budgets for Major Development Projects


Codelco outlined plans in early March for $4.328 billion in capital spending during 2012, of which $2.273 will be directed toward major development projects. The new Ministro Hales mine and a new level at the underground El Teniente mine are already under construction and are budgeted at $1.145 billion and $399 million, respectively, during 2012. A feasibility study is currently in progress for development of an underground mine at Chuquicamata…. read more

| | |
| --- | --- |
| AROUND THE WORLD - Australasia | |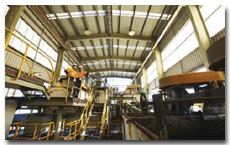 Ivanhoe Australia Starts Up at Osborne


Ivanhoe Australia began producing copper and gold concentrate at its Osborne processing facilities south of Cloncurry, northwest Queensland, on February 28. The company acquired the Osborne mine and concentrator from Barrick Australia in September 2010. Since the acquisition, the company has restarted the Osborne underground mine and developed the Kulthor underground resource, which is accessed via a decline from the from the Osborne mine. Potential additional future ore sources…. read more



Australia Passes MRRT Law


SAustralia's controversial mineral resources rent tax (MRRT) was passed into law by the upper house of the nation's Parliament (the Senate) March 19. The law, which imposes a 30% tax on Australia's iron ore and coal mine profits, will become effective July 1, 2012. The law passed the House of Representatives in November 2011. Proposals for new taxes on Australia's mining industry have been a source of controversy since a proposal for a Resource Super Profits Tax cost then Prime Minister Kevin Rudd his job in June 2010. Julia Gillard replaced Rudd as prime …. read more

Top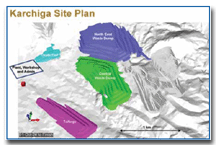 Orsu Reports Feasibility Study for its Karchiga Copper Project
Orsu Metals, a London-based junior company, has reported the results of a definitive feasibility study of its 94.75%-owned Karchiga volcanogenic massive sulphide copper project in the Kurchumskiy district of East Kazakhstan province, Kazakhstan. Production is estimated 13,000 mt/y of copper from open-pit mining of sulphide and oxide ores over a mine life of 11.5 years. A sulphide concentrator would process approximately 750,000 mt/y of ore, using relatively fine grinding and selective sulphide flotation to…. read more


Altynalmas Eyes Kyzyl Construction Start
Ivanhoe Mines reported in late February that an independent feasibility study has increased the mineral reserve estimate at Altynalmas Gold's Kyzyl gold project in East Kazakhstan province, Kazakhstan to 5.76 million oz of gold. Ivanhoe holds a 50% interest in Altynalmas. The reserve estimate is based on an underground mining operation producing an average of 337,000 oz/y of gold during an initial mine life of up to 15 years. The project also has 7.35 million oz of indicated resources…. read more


Impala Platinum Agrees to Indigenization in Zimbabwe


In press releases dated March 13 and March 14, 2012, Impala Platinum (Implats) announced that, following a meeting between Implats directors and the Zimbabwean Minister of Youth Development, Indigenization and Empowerment, a new Zimplats Indigenization Implementation Plan presented to the Minister had met the minimum requirements of Zimbabwe's Indigenization and Economic Empowerment Act and 2010 regulations and was acceptable…. read more

Golden Star Advancing Prestea Underground Studies
Golden Star Resources has completed a preliminary economic assessment (PEA) of the West Reef orebody at its Prestea underground mine in southwest Ghana and is proceeding with a full feasibility study. The orebody has an indicated resource of 874,000 mt grading 18.07 g/mt for 508,000 oz of gold, and the orebody is open along strike and down dip. Economic analysis suggests a capital cost to develop the project of approximately $115 million…… read more

Top
| | |
| --- | --- |
| THIS MONTH IN COAL | |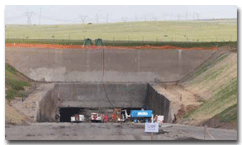 Decline Development Under Way at Penumbra


Progress on Continental Coal's Penumbra Coal Project in South Africa as part of the EPCM contract to develop the underground room-and-pillar coal mine is well under way, after commencing with site work in September last year, reports Adam Wilkinson, project manager and mining engineer, TWP Projects. Located near Ermelo, Penumbra will be CCL's third thermal coal mining operation in the country, and is expected to produce 840,000 metric tons per year raw coal, primarily for the export market. First coal is expected to be reached by end September 2012 …. read more

Seasonal Weather, Labor Issues Affect Australian Coal Exports


Recent storms and flooding in Queensland have halted port and rail movements, curtailed production at surface mines and restricted access to underground operations. "Industrial actions" (strikes) by union are also affecting the Australian coal chain. BHP Billiton Ltd., the world's largest coking coal exporter, said it may miss deliveries from its Australian mines after strikes and rain affected output. Thousands of miners walked off the job during the last week of …. read more

Indonesia's Bayan Aims to Increase Coal Production
PT Bayan Resources Tbk said it will produce up to 20 million metric tons (mt) of coal this year, a 29% increase from last year's production volume of 15.5 million mt. "We are projecting coal production at 18 million mt to 20 million mt this year," said Bayan director Jenny Quantero. The average selling price stood at $95/mt in 2011 and the firm has projected a similar price for this year. Most of Bayan's coal sales were under contract. She declined to reveal the number of contracts her company had secured this year, but said the increase in production…. read more
| | |
| --- | --- |
| FEATURE - Logistics | |
Time-critical Support
Logistics service for the mining industry is much more than just delivering consumables

By Simon Walker, European Editor

It used to be the case that communities came into being on the back of mines. Discovery led to development, and the town grew up around the headframe. No matter how remote the location—take the diamond-mining city of Mirny in eastern Siberia as an example—miners arrived, settled down and the town evolved. Some communities even moved as mines opened and closed, as at Sherridon in Manitoba, when Sherritt Gordon Mines moved lock, stock and barrel 160 miles further north to Lynn Lake in the early 1950s……. read more

| | | |
| --- | --- | --- |
| | For more companies with products in the Logistics market - Go Here | |
| | |
| --- | --- |
| FEATURE - Paste Backfill | |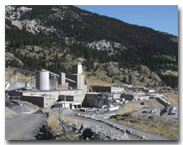 Pump Powers Paste to Stillwater's Stopes


Some of platinum producer Stillwater Mining's more distant—and more difficult— stopes require expensive underhand cut-and-fill mining. A sturdy piston pump has kept the paste flowing dependably to these sites for more than a decade.

By Larry Trojak

Prior to the early 1980s, if poor soil conditions prevented a mining operation from safely accessing a rich vein of ore, that company had little recourse but to abandon the area in question and lose the ore contained within. It was generally accepted as a costly but unavoidable facet of the business. Today, however, techniques such as underhand cut-and-fill mining, in which cemented mill tailings are used to backfill the mined-out stope, allowing subsequent stopes to be cut beneath previously mined areas, have established themselves as a viable alternatives for working in such conditions. While not as frequently relied upon—due in large part to the added costs associated.... read more

Top
| | |
| --- | --- |
| FEATURE - Communications | |
Lock Down Your Data


New wireless mesh network systems offer mines almost unlimited flexibility in voice and data communications. Have network security measures kept pace with expanding wireless capabilities?.

By Russell A. Carter, Managing Editor

Industrial espionage has been practiced for centuries and its more overt sibling, sabotage, has been its frequent companion. Spy tradecraft in the industrial sector has evolved dramatically from the smuggled handwritten documents and material samples that disclosed the secrets of China's coveted porcelain production process to the Western world in the 18th century: Cyber-espionage is the latest spy tool to emerge, and the discovery of the Stuxnet computer worm in 2010 crystallized the notion of destructive electronic espionage and warfare from a mostly Hollywood-cinematic concept into hard fact. Stuxnet was malware that not only spied on but also…... read more

| | | |
| --- | --- | --- |
| | For more companies with products in the Communications market - Go Here | |
| | |
| --- | --- |
| FEATURE - Maintenance | |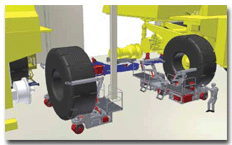 Advancements in Technology Improve Workshop Component Handling and Safety


Purpose-built machines move large awkward components in confined spaces

By Blaine Scarr

The growth in the size of mining equipment places a priority on safety and workshop efficiency. Advancements in technology continue to offer opportunities to dramatically improve safety performance and to achieve operational excellence while maintaining mining equipment. With the use of the latest technologies, several new pieces of purpose- built equipment not only improve methods for accessing and handling heavy, hard-to-handle components..... read more

Top

| | | |
| --- | --- | --- |
| | For more companies with products in the Maintenance market - Go Here | |
| | |
| --- | --- |
| APPS | |
Current and active 'Apps' from the mining market.
Sandvik Mining


Sandvik Mining is a leading global supplier of equipment and tools, service and technical solutions for the mining industry. The Sandvik Mining app provides you with the latest information and news about the company and its wide product range. It also features contact information for Sandvik Mining offices around the world. The app will be updated continuously so make sure to check for updates
Get the App - Go Here


Caterpillar CatUsed


Caterpillar's official online source for used equipment from the world's best dealer network. Download the CatUsed.com iPhone app to view used equipment owned by Caterpillar dealers around the world. In a few clicks you can browse a list of machines, view the details and photos of any unit, place a call directly to the Cat dealer owning the machine, or send them an email.
Get the App - Go Here


Powerscreen


Another pioneering initiative from Powerscreen ! Experience new ways to view mobile crushing, screening and washing equipment. On our official application you can view equipment information and specifications, locate your nearest dealer or simply browse photo and video galleries.
Get the App - Go Here


Trelleborg AB


Online  and  offline access to news and  updates from the Treleborg Group, and over view of our expertise and contact information. Get immediate access to the our range of products and solutions.News and video: Up-to-the-minute stories, press releases and case studies from the world of Trelleborg
Get the App - Go Here


Sandvik Mining - Solid Ground for iPad


Read the re-imagined and re-designed digital version of Solid Ground, the international business and technology magazine from Sandvik Mining. It contains all the same content as the print magazine, along with special ipad-only features. Solid Ground brings a global perspective on business and technical applications to everyone who enjoy new visions and product excellence.
Read about cutting edge developments in research, the latest progress in new technology, the world's widest range of equipment for the mining industries, and share the stories about our costumer's experiences and successes. Be inspired, get updated and stimulated.
Get the App - Go Here


Michelin Truck Tire Locator


Find the nearest MICHELIN® truck tire or service provider wherever you go. Now you can find the nearest MICHELIN® truck tire or service provider wherever you go. Use the app to search for a provider by category or use it to call MICHELIN® ONCall™ directly. The app finds the nearest service providers based on your GPS location, or another location you enter yourself
Get the App - Go Here

For more details on our Apps listing or details on how to list your App - Go Here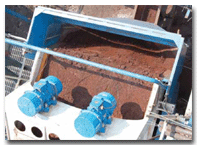 New Ore Washing Plant Improves Downstream Process Performance


According to process equipment supplier CDE Asia, a new iron-ore washing plant installed for Monnet Ispat & Energy (MIEL) in Raigarh, India, has provided efficiency gains resulting from effective removal of unwanted fines and slimes. Before installation of the new plant, the primary problem facing MIEL was the variation in feed material that was sourced from a variety of mines; high fines content in the feed was particularly troublesome. MIEL invested in the …. read more
Bateman Dynamic Scrubber System Installed at Jwaneng


Bateman Engineered Technologies has successfully commissioned a Bateman Dynamic Scrubber system at diamond miner Debswana's Jwaneng mine's Cut 8 project in Botswana, Africa. The project, which will extend the life of the mine by seven years to 2024 at a total cost of $3.5 billion, is the largest capital commitment in Botswana's history. According to Debswana, a venture of De Beers and the Botswana government, an additional 102 million carats of diamonds are expected to be produced after the extension…… read more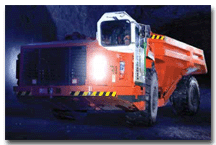 Underground Haulers Designed for Higher Productivity, Lower Emissions


Sandvik Mining says its newest underground trucks—the recently released TH550 and TH540—are the first in the underground mining market to offer EPA Tier 4i/Euro Stage IIIB compliant diesel engines. The two new haulers, which Sandvik describes as "compact and agile," also offer the highest payload per envelope size and empty vehicle weight, according to the company. The new models are based on the company's well-known T50 and T40 haulers, but benefit from improvements resulting from comprehensive research, customer feedback and modern thinking…. read more

Top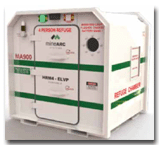 Transportable Refuge Shelter Makes Relocation Easy


MineARC Systems recently launched a new, ultra-portable refuge chamber range designed for tight underground confines such as single entry-headings and development areas: the HRM-ELVP (Hard Rock Mine—Extra Low Voltage Portable). Available in both four- and sixperson configurations, the HRM-ELVP range uses a low-voltage control system to power the chamber's internal life support systems, requiring no permanent connection to main mine electrical power and needing recharging only once every three months. Both the HRM4- ELVP and 6-ELVP can be positioned and .…… read more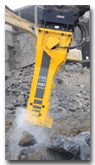 Higher-performance Hydraulic Breaker


Atlas Copco says the newest addition to its heavy hydraulic breaker line, the HB 4100, provides better performance and higher efficiency than the preceding model and weighs less. According to the supplier, the HB 4100 has a service weight of 9,039 lb (4,100 kg) making it suitable for carriers in the 88,185- to 154,324-lb [40,000- to 70,000-kg] weight class, but is as powerful as other, much heavier breakers. The new breaker features a guide system that makes…. read more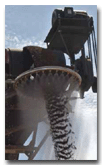 Dust Suppression Ring for Conveyor Discharge Points


A new dust suppression device has been introduced specifically for use at conveyor discharge points, designed to create a virtual curtain around the material flow for outstanding particle containment. The DustBoss DB-R Ring from Dust Control Technology is built with a highquality stainless steel ring outfitted with a network of atomizing nozzles that deliver millions of 50- to 200-micron droplets per minute. By surrounding the discharge flow on all sides, it provides simple, focused dust management that's well suited to continuous duty, such as…. read more

System Warns of Pump Diaphragm Leaks


All-Flo Pump's All-Safe DRM (Diaphragm Rupture Management) product is now available globally, designed to alert pump operators in the event of a diaphragm rupture. The enclosed system provides two layers of protection: An early warning sensor, installed between the PTFE overlay and the backup diaphragm, detects a leak if the PTFE overlay becomes compromised. The sensor alerts pump operators of the leak before the backup diaphragm is compromised and hazardous fluid enters the air section. A second, critical leak detection .…. read more

Top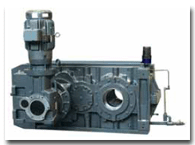 Inching Option for Falk V-Class Drives


Rexnord is now offering an inching drive option for the Falk V-Class gear drive, allowing slow-speed operation of equipment for inspection and maintenance purposes, as well as enabling the equipment to run continuously to prevent freeze-up of components in cold weather environments. The inching drive utilizes a Falk Ultramite gear drive that is integrally mounted to the main gear drive unit coupled via an overrunning clutch. This allows the inching drive to be automatically….read more
MAY 14–17, 2012: Business Improvement in Mining Africa 2012, Johannesburg, South Africa Contact: IQPC South Africa; Tel: 971 4 364 2975; E-mail: enquiry@iqpc.ae; Web: www.businessimprovementinmining.com
MAY 16–19, 2012: Future Mongolia, Ulan Bator, Mongolia Contact: VF Messen GmbH; E-mail: info@future-mongolia.com; Web: www.future-mongolia.com
MAY 29–JUNE 2, 2012: M&T Expo 2012, São Paulo, Brazil Contact: Cristina Bighetti; Tel: 55 11 5585 9787; E-mail: cristina@timepress.com.br; Web: www.mtexpo.com.br
JUNE 5–8, 2012: UGOL Rossii & Mining 2012, Novokuznetsk, Russia. Contact: Messe Düsseldorf GmbH; Tel: 49 (0)211 4560-01; E-mail: infoservice@messe-duesseldorf.de; Web: www.ugol-rossii.com
June 12-14, 2012. Eurominexpo, Skellefteå, Sweden. Contact: Annsofie Greander; Tel: +46 (60) 146581; E-mail: annsofie.greander@eurominexpo.com; Web: www.eurominexpo.com
JULY 24–26, 2012: Queensland Mining & Engineering Exhibition, Mackay, Australia. Contact: Web: www.miningandengineeringwa.com.au
SEPTEMBER 10–14, 2012: Electra Mining Expo, Johannesburg, South Africa Contact: Specialized Exhibitions (Pty) Ltd.; Tel: 27 (0) 11 835 1565; Fax: 27 (0) 11 496 1363; Web: www.electramining.co.za
SEPTEMBER 24–26, 2012: MINExpo, Las Vegas, Nevada, USA. Contact: Hall-Erickson Inc.; Tel: 866-717-6463; E-mail: minexpo@heiexpo.com; Web: www.minexpo.com
For a full calendar of mining industry conferences and events - click here
| | |
| --- | --- |
| WHO'S MOVING WHERE | |

UC Rusal has appointed Barry Cheung chairman of the board, replacing Viktor Vekselberg , who resigned. The company said in a recent statement Vekselberg failed to perform his functions as a public company board chairman over the past 12 months.

Moly Mines Ltd. announced that Dr. Derek Fisher has resigned as managing director and CEO. The company has appointed COO Collis Thorp acting CEO.

Gold Mountain Mining Corp. has appointed Chris McLeod president and CEO.

Mine Radio Systems (Pacific) Pty Ltd. has appointed Warren Dix western regional manager.

Einar Brønlund has been appointed head of management at Aker Wirth, a subsidiary of the international oil service company Aker Solutions. He succeeds Christoph Kleuters, who is leaving the company.

Hawk Measurement has appointed Jerry Boisvert a mining specialist.

Matthias Grawe has been appointed head of the Division Industry at Voith Turbo.

Normet Africa (Pty) Ltd. has appointed Gary Clench head of the South African operation of Normet.
About - providing an abreviated version of the current print edition of E&MJ, WOMP is distributed throughout the world to decision makers in the global mining industry, the last week of every month.

Subscribe to E&MJ - To receive your own copy of the print edition of E&MJ, click here , and complete your details. E&MJ is available free of charge to qualified readers.

Contact - if you have views, opinons or comments or editoral that you would like to submit, we would be delighted to hear from you - click here

Top