Impala Platinum Agrees to Indigenization in Zimbabwe
---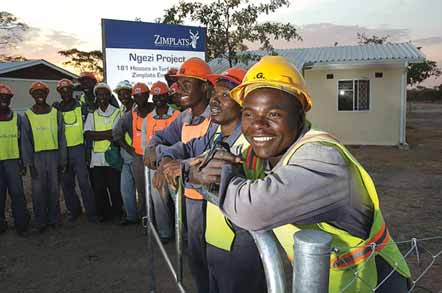 Zimplats, in which Implats has an 86.9% stake, comprises a mining operation located at Ngezi, Zimbabwe,
as well as a metallurgical plant—the Selous metallurgical complex—which incorporates both a concentrator
and a smelter. (Photo courtesy of Implats)

In press releases dated March 13 and March 14, 2012, Impala Platinum (Implats) announced that, following a meeting between Implats directors and the Zimbabwean Minister of Youth Development, Indigenization and Empowerment, a new Zimplats Indigenization Implementation Plan presented to the Minister had met the minimum requirements of Zimbabwe's Indigenization and Economic Empowerment Act and 2010 regulations and was acceptable in principle to the government.

Implementation of the agreement would be at appropriate value, and the details for the transfer of a 51% shareholding in Zimplats would be addressed by a joint technical team, comprising Impala Platinum, the ministry responsible for indigenization, and the National Indigenization Economic and Empowerment Board. Implats holds an 87% interest in Zimplats.

No agreement was reached on the timing or valuation of the transaction other than it would be at appropriate value. Implats pro-posals were that:

1) 10% of Zimplats will be issued to the Community Trust at the independent val-uation previously submitted to the gov-ernment. Zimplats Holdings will provide an interest free loan to the Community Trust to fund the shares, and the loan will be repaid from dividends. This stake will be non-contributory.

2) 10% of Zimplats will be sold to an employee share ownership trust for the benefit of all full-time employees of Zimplats. The shares will be sold at the same independent valuation, and Zimplats Holdings will provide an inter-est-bearing loan to the Employee Trust to fund the purchase of the shares. The loan will be repaid from dividends and will be contributory or dilutive.

Zimplats and the government will explore fair value compensation for ground released by Zimplats to the government under an agreement dated May 24, 2006. On receipt of this compensation, Zimplats will make available for sale to the National Indigenization and Economic Empower-ment Fund a 31% fully contributory stake in Zimplats for cash at an independently determined fair value at the time. Future expansion opportunities will therefore not be impacted.

"If they don't come up with the cash, the stake will not be transferred," Reuters reported Implats CEO David Brown as say-ing during a conference call following the agreement. Also, the stake, whose value must be decided, will only become avail-able for sale once the government has compensated Implats for the land it released to the state under the 2006 agreement. Brown said the company believed the $158 million value it had placed on the land at that time was still appropriate. That sum would have to be paid before a value could found for the 31% stake in Zimplats, which would be worth $372 million based on the com-pany's market capitalization, the Reuters report said.
---
As featured in Womp 2012 Vol 04 - www.womp-int.com