Bateman Dynamic Scrubber System Installed at Jwaneng
---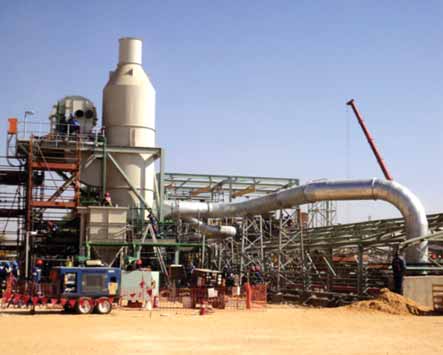 Bateman Engineered Technologies recently commissioned a Bateman Dynamic Scrubber system,
shown here, at Debswana's Jwaneng mine's Cut 8 project.

Bateman Engineered Technologies has successfully commissioned a Bateman Dynamic Scrubber system at diamond miner Debswana's Jwaneng mine's Cut 8 project in Botswana, Africa. The project, which will extend the life of the mine by seven years to 2024 at a total cost of $3.5 billion, is the largest capital commitment in Botswana's history. According to Debswana, a venture of De Beers and the Botswana government, an additional 102 million carats of diamonds are expected to be produced after the extension.

Bateman Engineering Projects was responsible for the engineering on the project while Fluor, which gave Bateman Engineered Technologies the order for the Dynamic Scrubber system, was responsible for construction and procurement. Bateman Engineered Technologies designed, manufactured, installed and commissioned the scrubber system.

Jimmy Tomlin, Bateman Engineered Technologies air environmental manager, said the scrubber handles dust from apron feeders and the outgoing conveyor at the mine's primary stockpile tunnel.

"The Bateman Dynamic Scrubber is a well-proven design. It is a low cost, high efficiency system with an integral self-cleaning fan and is also is well known for its low-maintenance requirement and extreme-ly low water consumption," said Tomlin.

According to Bateman, the system comprises four basic stages:

• Dust-laden air enters the bottom of the scrubber tangentially. Cyclonic effect forces heavy particles toward the scrub-ber shell, where they mix with water and are washed into the outlet cone.

• The air is then forced through horizontal impingement vanes and mixed with water under turbulent conditions. This causes the water to break up into smaller drop-lets, which entrap the fine dust particles and carry them into the slurry outlet.

• The almost dust-free air enters the scrubber fan inlet. Water is sprayed into the center of the fan impeller and mixes with the remaining dust.

• The dust-laden water flows through the impingement stage into the slurry outlet and clean air leaves the scrub-ber vertically.
---
As featured in Womp 2012 Vol 04 - www.womp-int.com