Dust Suppression Ring for Conveyor Discharge Points
---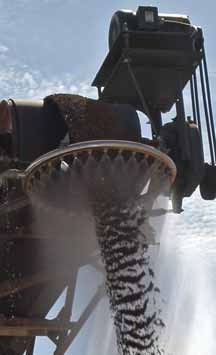 A new dust suppression device has been introduced specifically for use at convey-or discharge points, designed to create a virtual curtain around the material flow for outstanding particle containment. The DustBoss DB-R Ring from Dust Control Technology is built with a high-quality stainless steel ring outfitted with a network of atomizing nozzles that deliv-er millions of 50- to 200-micron droplets per minute. By surrounding the discharge flow on all sides, it provides simple, focused dust management that's well suited to continuous duty, such as radial stackers.

The DustBoss DB-R is available in five standard sizes, from 17 in. (43.2 cm) to 100 in. (254 cm) in diameter. All five can be customized with DCT's Variable Particle Sizing technology, allowing cus-tomers to specify different droplet size ranges to match specific materials. Designed without any moving parts, the intrinsically safe DB-R is intended for ele-vated mounting. It requires no electrical power or compressed air. The water sup-ply hose is connected directly to male pipe threads on the ring: ¾-in. NPT for the 17-in. model, and 1-in. NPT for the three intermediate sizes: 22.5 in. (57.2 cm), 25.5 in. (64.8 cm) and 42 in. (106.7 cm). For large applications, the company also offers the 100-in. diameter model, which is supplied by a 1.5-in. NPT hose.

Available options for the DB-R include a booster pump to elevate low water pres-sures, a variety of nozzle sizes and con-figurations, and a water filter. Customers can also order the units with a two-way valve and/or hose included.

The number and size of the spray noz-zles vary by model. The smallest model features 30 brass nozzles that produce 3.25 gallons per minute (gpm) of water flow. The 22.5-in. unit is designed with 18 medium-flow nozzles, with a water usage of 11.34 gpm. The 22.5- and 42-in. mod-els feature 30 high-flow nozzles that deliv-er 18.9 gpm, and the 100-in. size employs 84 nozzles for 52.9 gpm of water delivery.
---
As featured in Womp 2012 Vol 04 - www.womp-int.com