| | |
| --- | --- |
| | To receive your own edition of the print version of E&MJ - Go Here |

Blaze a New Path Forward


Mining is a good thing, right? Yes, of course it is. The mining industry provides the raw materials society needs to advance. The business itself creates wealth, employs millions and brings much-needed infrastructure to remote parts of the world. Overall, the industry's track record regarding health and safety, environmental stewardship and sustainable development continues to improve. With so many mining companies doing so many great things, why is it saddled with a bad reputation?
Several articles in this edition talk about the good, the bad and the ugly. Leading Developments this month carries a story detailing the tax revenue stream mining provides for Canada. Throughout the regional news, readers will see several success stories, many of which are new projects using the best available means to mine and process ore. In Clarity Matters, Simon Walker offers a wide encompassing update on the diamond mining......... read more

Steve Fiscor, Editor in Chief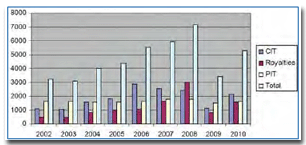 Mining Association Reports on Industry Payments to Canada's Governments
The Mining Association of Canada (MAC) on August 4, 2011, released its annual report on "Revenues to Governments from the Canadian Minerals Sector." The report, prepared by ENTRANS Policy Research Group, details the direct revenues that accrue to governments from the industry in the form of corporate taxes, royalties and employee income taxes. The report covers the years 2002 through 2010. For statistical purposes, oil sands mining is usually subsumed under oil and natural gas extraction. To allow inclusion of oil sands mining, the MAC report draws on the member surveys conducted by the Oil Sands Developers Group and the financial reports of companies involved in oil......... read more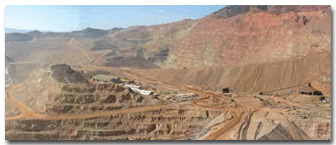 Freeport Advances Major Projects


In its July 21, 2011, report of secondquarter financial results, Freeport- McMoRan Copper & Gold (FCX) included updates on major project developments at its operations worldwide. At the Climax molybdenum mine near Leadville, Colorado, USA, construction activities for a restart of mining were 75% complete, and production is expected to begin during 2012. Production is planned to ramp up to a rate of 20 million lb/y of molybdenum during 2013 and, depending on market conditions, may be increased to 30 million lb/y. Freeport intends to operate its Climax and Henderson molybdenum mines in a flexible manner to meet market requirements. The company sees Climax as one of the most attractive primary molybdenum development projects in the world....... read more

Top
Molycorp Signs Supply Agreement with Hitachi


Molycorp announced on August 12, 2011, the signing of a new agreement with Hitachi Metals to supply Hitachi with rare earth magnetic materials, including didymium (a mix of neodymium and praseodymium) metal and alloy, as well as lanthanum oxide. The threeyear deal extends and expands upon an existing supply relationship between the companies and significantly increases the amount of rare earth materials Molycorp will provide to..... read more

Top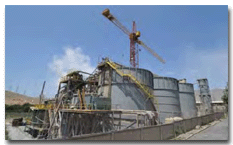 GPM Gold Implements the Latest Processing Technology at Ararat


During early July, GeoProMining (GPM) held a groundbreaking ceremony for its new gold extraction upgrade at its Ararat gold extraction plant, located near Yerevan, Armenia. The President of the Republic of Armenia, Serzh Sargsyan, attended the event. The facility is using the Albion gold ore processing technology, which is part of a major capital expenditure program by GPM to upgrade its Armenian assets. Over the course of the next three years, GPM Gold will invest approximately $100 million to improve efficiency and to maintain high environmental standards. To date, GPM has spent about $260 million to acquire and modernize its Armenian assets..... read more
| | |
| --- | --- |
| AROUND THE WORLD - USA & CANADA | |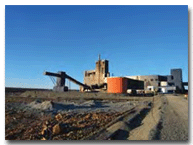 Xstrata Expanding Raglan and Fraser Morgan Mines


Xstrata Nickel will develop growth projects having a combined value of $649 million at its Raglan mine in Quebec's far north and its Fraser Morgan mine in Sudbury, Ontario, Canada. At Raglan, Xstrata will invest $530 million to develop the high-grade Qakimajurq and Mine 2 Lower Zone deposits and to upgrade associated infrastructure to increase production of nickel in concentrate from 26,000 mt/y to 32,000 mt/y by 2014. In addition, Xstrata will increase Raglan concentrator capacity to 40,000 mt/y of nickel-in-concentrate by 2016 to support additional..... read more
Hecla Board Approves Completion of Shaft Project


Hecla Mining has received board approval to complete the No. 4 Shaft project at its Lucky Friday mine at Mullan, Idaho. The project entails sinking of an internal shaft from the mine's 4900 level to the 8800 level. The hoist room and associated equipment installation for the project were completed in the first half of 2011, and shaft sinking is expected to begin in the fourth quarter of 2011. The project was 38% complete as of early August 2011, and 78% of major procurements had been ordered or installed. Project capital is estimated at about $200 million. Production ramp-up is scheduled for 2014 to 2016. Production metrics for the Lucky Friday mine once.... read more

Top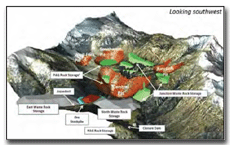 New Study Provides Outline for Galore Creek Development


NovaGold Resources has announced the results of a new prefeasibility study for the Galore Creek copper-gold-silver project, owned 50% by NovaGold and 50% by Teck Resources, in northwestern British Columbia. The companies previously initiated construction of the project in early summer 2007 but shut it down in November 2007 when it became clear the project could not be completed within then-estimated costs or time schedules. The new Galore Creek prefeasibility study.... read more
| | |
| --- | --- |
| AROUND THE WORLD - Latin America | |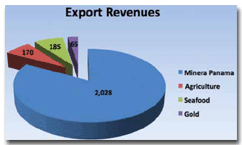 Inmet Board Approves Cobre Panama Development


Inmet Mining announced on July 25, 2011, its board of directors approved development of its Cobre Panama project in Panama as described in the final frontend engineering and design study of March 2010. That study considers an open-pit mining operation, concentrate pipeline and port to be developed at a total capital cost of $4.32 billion. Production is forecast at 255,000 mt/y of copper, 90,000 oz/y of gold, 1.51 million oz/y of silver and 3.2 million lb/y of molybdenum in concentrate over a 30-year mine life. During years 2 to 16 of operation, production is…… read more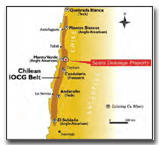 Capstone Reports Positive PFS for Santo Domingo Project


Capstone Mining announced positive results for a prefeasibility study (PFS) of the Santo Domingo iron oxide-copper-gold project in Region III, Chile. The project is owned 70% by Capstone and 30% by Korea Resources Corp. (KORES). The PFS considers an 18-year mine life at average annual production of 144 million lb of copper, 4.1 million mt of iron concentrate, and 15,000 oz of gold. During the first five years of operation, copper production will average 255 million lb/y. Life-of-mine total cash production costs are estimated at $0.11/lb of payable copper, net of magnetite iron and gold by-product credits and selling costs. Total capital costs are estimated at…. read more

| | |
| --- | --- |
| AROUND THE WORLD - Australasia | |

Xstrata Launches Two North Queensland Projects


Xstrata announced in early August 2011 it has approved an A$47-million prefeasibility study into the development of a large, multi-commodity, open-pit mine within the existing Xstrata Mount Isa Mines footprint in Queensland, Australia. The announcement followed an announcement in late July that the company has begun construction to develop the high-grade, zinc-lead-silver Lady Loretta deposit 140 km northwest of Mount Isa as a new, greenfield underground mine.At Mount Isa, development of a largescale, zinc-lead-copper open-pit is thought to have the potential to extend the life of the combined operations beyond 2060. Approval of the prefeasibility study follows…. read more



Samancor Expanding on Groote Eylandt


Samancor Manganese is expanding beneficiated product capacity at its GEMCO operations on Groote Eylandt, Carpentaria Bay, Northern Territory, Australia, from 4.2 million mt/y to 4.8 million mt/y. The expansion will also address infrastructure constraints by increasing road and port capacity to 5.9 million mt/y, creating 1.1 million mt/y of latent capacity for future expansions. The $279-million project is scheduled for completion in late 2013. Samancor is owned 60% by BHP Billiton and 40% by Anglo American. The company produces a combination of manganese ores and alloys at sites in Australia and South Africa. BHP Billiton operates all of Samancor's operations …. read more

Top
Emirates Aluminum Proceeding with $4.5-billion Phase II Expansion
Emirates Aluminum reports it will proceed with Phase II of its operational development plan following approval by the company's board of directors of the $4.5-billlion investment. The Phase II project will entail construction of a new potline within the Emirates Aluminum complex at Al Taweelah, Abu Dhabi, and will double the smelter's production capacity to 1.3 million mt/y of aluminum metal. The new potline will comprise 444 reduction cells powered. On-site power plant capacity will be increased to 3,000 MW. Emirates Aluminum is a joint venture between aluminum producer Dubai Aluminum (Dubal) and Mubadala Development Co. New generation DX+ reduction technology developed by Dubal will be incorporated…. read more

Jindal and Rio Tinto Agree to Advance HIsmelt Technology
Indian steelmaker Jindal Steel and Power and Rio Tinto signed a memorandum of understanding in early August 2011 to work jointly toward global commercialization of the HIsmelt direct iron ore smelting technology developed by Rio Tinto. The agreement calls for relocation of the existing HIsmelt plant at Kwinana, Western Australia, to Jindal's steel plant in Angul, Orissa, India. The relocated plant will be fully owned by Jindal, and Jindal and Rio Tinto will work together to develop and market the HIsmelt technology in the future, with sharing of royalties…. read more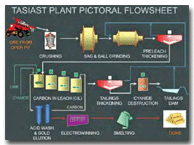 Costs Rising at Kinross' Tasiast Project


Kinross Gold's second-quarter 2011 report on its financial results stated it expects to see upward pressure on capital and operating costs at its Tasiast expansion project in Mauritania, where it is pursuing a project to expand mill capacity from 8,000 to 68,000 mt/d. At the same time, the company reported its aggressive exploration program continues to add significant gold ounces to the Tasiast mineral resource inventory. Based on a preliminary analysis, Kinross expects higher capital expenditures of $500 million to $1 billion above the original aggregate estimate…. read more

Shandong Agrees to Acquire 25% of Tonkolili
African Minerals and Shandong Iron & Steel Group have signed final agreements for acquisition by Shandong of 25% of African Mineral's Tonkolili iron ore project in central Sierra Leone for a cash consideration of $1.5 billion. Shandong is one of the largest iron and steel groups in China and is currently ranked as the world's ninth largest steel group. The agreements include discounted off-take arrangements for Shandong for iron ore produced at the Tonkolili mine, which will be developed in three phases. Phase I of the Tonkolili project is scheduled…… read more

Top
| | |
| --- | --- |
| THIS MONTH IN COAL | |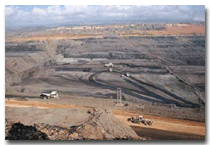 El Cerrejón will Increase Production by 25% by 2015


A $1.3 billion project to expand the Cerrejón thermal coal mine in Colombia has been approved by Cerrejón's three equal shareholders: Xstrata Coal, BHP Billiton and Anglo American. The project will increase saleable production and export capacity by 8 million metric tons per year (mt/y) from 32 million mt/y to 40 million mt/y. Construction is set to commence later this year and be completed by 2013 with production progressively ramping up to 40 million mt/y by 2015 …. read more

Mechel Moves Forward with Yakutugol and Elga


Russian coal miner and steelmaker Mechel OAO announced it has reached full production capacity at the Nerungrinskaya processing plant of Yakutugol Holding Company OAO and provided an update on the construction of Elga Coal Complex. In July, Yakutugol's Nerungrinskaya prep plant washed 783,000 metric tons (mt) of coking coal and produced 536,000 mt of concentrate and 197,000 mt of middlings. This is the highest monthly result the plant achieved …. read more

Vale Increases Coal Production Targets for Mozambique
Brazilian mining giant Vale intends to produce 1.5 million mt of coal this year from its open cast mine at Moatize, in the western Mozambican province of Tete, a 75% increase on its previous estimate of 850,000 mt for the year, and to ramp up output to 6.3 million mt in 2012. According to NAM News Network, Vale had hoped to begin exporting coal in July, but delays in rebuilding the Sena railway line from Moatize to the port in Beira will result in postponement of export shipments until October. Production in the first phase will increase to 11 million…. read more
| | |
| --- | --- |
| FEATURE - Shovel Rebuilds | |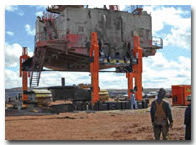 Giving New Life to Old Shovels
A Wyoming, USA-based company finds ways to chop, cut and rebuild aging rope shovels for additional years of service

By Russell A. Carter, Managing Editor

Like death or taxes, decisions on whether to repair or replace crucial production equipment are inevitable in almost any mining operation. The questions that must be answered before that decision can be made range from the macro level (Will current market prices and future prospects justify a purchase?) to the micro (If we tear this machine apart and find hidden problems, where does that leave us?)Depending on an operation's location, workforce experience and capabilities, capital equipment and maintenance budgets, and a host of other factors, the risk/reward pendulum may swing clearly toward one alternative or the other……. read more

| | |
| --- | --- |
| FEATURE - Hoisting Systems | |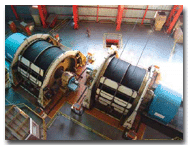 Mine Hoist Technology Answers the Bell


Challenged by emerging trends in mining practice, the leaders in lifting technology find ways to safely hoist heavier payloads from deeper shafts

By Russell A. Carter, Managing Editor

Deeper, faster, bigger, safer. These sought-after qualities are desirable in almost any aspect of modern mining, but they hold particular importance when applied to mine hoist systems which, apart from often being an underground operation's sole method of ore transport to the surface, might also represent the only mechanized means of access for men, machines and materials. As major producers focus increasingly on large, long-life and high-production projects and underground development extends to unprecedented depths, the demands placed on hoist systems will continue to intensify. In recent years, skip capacity for new or refurbished shaft systems has routinely exceeded previous capacity by 25% to 50%, with hoist speeds up to 50% faster than older equipment. The convergence of broad trends, such.... read more

Top
| | | |
| --- | --- | --- |
| | For more companies with products in the Hoists market - Go Here | |
| | |
| --- | --- |
| FEATURE - Primary Gyratory Crushers | |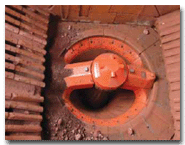 Declining Ore Grades Challenge Primary Gyratories


OEMs modify machines to make them safer and easier to maintain

By Steve Fiscor, Editor-in-Chief

Primary gyratory crushers (PGs) reduce ore from the pit to a consistent, manageable size. While most agree that PG design has changed very little in the last 20 to 30 years, thoughts surrounding PG installation have. Much of that thinking has to do with declining ore grades. Many mines have to process more ore to retrieve the same amount of metals. Miners looking to process huge amounts of ore have to strike a balance between capacity and product size. Ideally, a single, massive PG could maintain a very high capacity while providing a consistent small product size. In the real world, however, a tighter setting on the largest PGs means less ore moves through the machine …... read more

| | | |
| --- | --- | --- |
| | For more companies with products in the Crushers market - Go Here | |
| | |
| --- | --- |
| FEATURE - Diamonds | |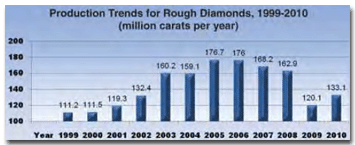 Clarity Matters


A look at the world diamond-mining industry, and some of the ethical issues that continue to dog it

By Simon Walker, European Editor

In 1948, De Beers made history: the company's advertising agency came up with the 20th century's most memorable slogan. More than 60 years on, 'A diamond is forever' still carries exceptional weight on more than one level, with an unprecedented number of companies seeking diamond deposits, and demand from consumers across the world steadying once again after the economic uncertainties of the past few years. From the producers' perspective, the problem with a high-value commodity..... read more

Top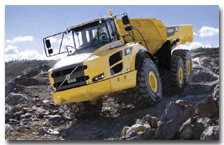 Volvo: Clean, Fuel-efficient Power Suits Mining Customers


The AB Volvo Group, which shares the Volvo brand with Volvo Cars and is Sweden's largest company, focuses on its proclaimed mission of producing technically and commercially appropriate transport- related hard and soft products for demanding customers in selected industry segments. Volvo aims to be the world's leading supplier of commercial transport solutions. However, while transportation knits …. read more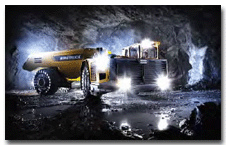 New Underground Truck Rolls into U.S. Market


Atlas Copco has released its next-generation underground truck, the Minetruck MT42, to the U.S. market after a limited release in Scandinavia and Canada last year. The four-wheel-drive MT42 provides 42-metric-ton tramming capacity, has eight forward and two reverse gears, and is powered by a 520-hp (388-kW) Cummins QSX15 EPA Tier 3/Stage IIIA diesel. According to the company, the MT42's articulated steering increases maneuverability and allows agile cornering, while the dump system can…… read more
Screening Media is Environmentally Friendly


Metso has developed what it claims is the first fully recyclable modular screening media, Metso Trellex LS-Eco. According to the company, it began with the basic design of its Trellex LS rubber modular screening media systems but replaced the LS's traditional steel reinforcement with an environmentally friendly composite material, in the process reducing the weight of each media panel by 40% over standard steel-reinforced panels. Metso says that compared with steel-reinforced panels, the composite-reinforced…. read more

Top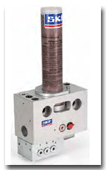 Unique Design Powers Lubricator System


SKF says its Hydraulic Driven Lubricator offers an innovative solution for lubricating off-highway equipment attachments, using an integrated pump driven by the hydraulic oil itself. The technology, according to the company, has been optimized to perform in the toughest operating environments and reduces the need for manual relubrication. The hydraulically driven lubricator incorporates a patented pump design; the pump's drive is provided by its drive piston, which is pressurized on an alternating basis by the machine's hydraulic circuit via a hydraulic changeover valve .…… read more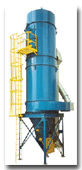 Reversible Air Filters Designed to Reduce Operating Costs


Airlanco says its low-pressure reverse air filters are custom engineered for efficient, economical, and trouble-free operation. They can be used in applications where dust loads range from light to extremely heavy. The filters feature an onboard direct drive fan to save energy and maintenance costs by eliminating the need for compressed air and external blowers. A chain-drive gear motor rotates the reverse air cleaning arm over the…. read more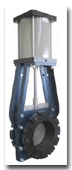 Slurry Valve Designed for Mining


ITT Corp.'s latest innovation in its family of mining products is the Fabri-Valve 33 PTA push-through slurry valve. Specifically designed to withstand harsh slurry applications in the mining industry, the 33 PTA incorporates proprietary sleeve technology and a wide body design that together, according to the supplier, maximize valve life. The new valve's elastomeric seats have been engineered to provide the highest degree of abrasion resistance and chemical compatibility. The seats form a pressure boundary, allowing for maintenance of gate and actuation while under pressure, to minimize…. read more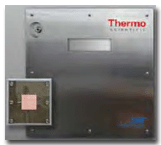 Analyzer Measures Moisture in Mined Materials


Thermo Fisher Scientific has released its third-generation Thermo Scientific low frequency microwave (LFM3) moisture analyzer. The analyzer, according to the company, provides improved, real-time moisture measurements and can be easily integrated and installed in a variety of mining applications. The LFM3 allows for the precise addition of water to control dust in operations where adding too much water can cause ore to become sticky and clog chutes or screens. It also integrates across Thermo Scientific material handling solutions that incorporate sampling, weigh feeders  .…. read more

Top

Safety Switch Protects Against Equipment Tampering


Siemens' Industry Automation Division has introduced the 3SE63 electronic contactless safety switch for protective equipment such as covers, flaps and doors. Switch operation is based on contactless RFID (Radio Frequency Identification) transponder technology and, according to the company, offers a high level of protection against interference, tampering or bypassing. The switch's plastic enclosure provides protection complying with IP69K, is resistant to detergents and is designed for use under extreme environmental conditions….read more
OCTOBER 10–12, 2011: Mineral Processing Conference, Lake Tahoe, Nevada, USA Contact: Steve Fiscor; Tel: 904-721-2925; Fax: 904-721-2930; E-mail: sfiscor@mining-media.com; Web: www.mining-media.com
NOVEMBER 21-24, 2011: Québec Exploration 2011—From Knowledge to Discovery, Québec, Canada. Contact: Gladys Chamberland; Tel: 418- 627-6292; E-mail: info@QuebecExploration.qc.ca; Web: www.QuebecExploration.qc.ca
NOVEMBER 29–30, 2011: LatAm International Mining Conference, Rio de Janeiro, Brazil. Contact: Sandeep Pokkali, Fleming Gulf Conference; Tel: 971 4609 1570; Fax: 971 4609 1589; E-mail: sandeep.pokkali@fleminggulf.com; Web: http://www.fleminggulf.com/energy/south-america/latam-international-mining-conference
NOVEMBER 30–DECEMBER 2, 2011: 8th International Mineral Processing Seminar, Santiago, Chile. Contact: Carolina Barahona, Gecamin Ltd.; Tel: (56-2) 652 15 42; E-mail: carolina.barahona@gecamin.cl; Web: www.procemin.cl
DECEMBER 6–9, 2011: The Mine Managers Show Asia 2011, Bali, Indonesia Contact: Terrapinn Pte Ltd., Ya Ling Ngt; Tel: 65 6322 2771; Fax: 65 6223 3554; E-mail: yaling.ng@terrapinn.com; Web: www.terrapin.com
FEBRUARY 12–15, 2012: 38th Annual Conference on Explosives and Blasting Technique, Nashville, Tennessee, USA. Contact: The International Society of Explosives Engineers; Tel: 440-349-4400; Fax: 440-349-3788; E-mail: isee@iss.org; Web: www.isee.org
FEBRUARY 19–22, 2012: 2012 SME Annual Meeting & Exhibit, Seattle, Washington, USA. Contact: Society for Mining, Metallurgy, and Exploration; Tel: 303-948-4200; E-mail: meetings@smenet.org; Web: www.smenet.org
JUNE 12-14, 2012: Euro Mine Expo 2012, Skellefteå, Sweden. Contact: Ann-Sofie Greander, Tel: +46 (0)60 14 65 81; E-mail: annsofie.greander@eurominexpo.com; Web: www.eurominexpo.com
For a full calendar of mining industry conferences and events - click here
| | |
| --- | --- |
| WHO'S MOVING WHERE | |

New Guinea Gold Corp. has appointed Greg Heaney acting CEO.

Ur-Energy Inc. has appointed Wayne W. Heili president and CEO.

Tetra Tech, Inc. has appointed Dale W. Halley vice president and senior mining consultant.

Vincent Tan has been appointed president of Volvo Construction Equipment's Asian sales and marketing organization. He succeeds Eberhard Wedekind who was recently appointed executive vice president of sales and marketing.

Dr. Ying Gu was recently awarded the Innovation Heroes Award for 2011 by The Warren Centre for Advanced Engineering at the University of Sydney for his conception and development of the Mineral Liberation Analyzer. This annual award is presented to Australian innovators who have developed new technology, developed it into a product or service, raised capital and commenced sales. As the inventor of the Mineral Liberation Analyzer (MLA), Dr. Gu worked closely with his JKTech team for more than a decade to establish the MLA as the global leader in automated mineralogy. JKTech's MLA based service bureau business developed into a joint venture partnership with ALS in 2007 and the MLA sales business, including the MLA IP, was sold to FEI Company in 2009. Both businesses continued to benefit significantly from the MLA technology, which resulted from research outcomes produced by the Julius Kruttschnitt Mineral Research Centre.

Atlas Copco Construction Mining Technique USA LLC has appointed Bruce Beatty product and business development manager of horizontal directional drilling and raisebore.

Burrell Mining Products, Inc. has appointed Brian Travis president. He is replaces Charley Lash who is retiring later this year.

W.S. Tyler has promoted Sam Palombo to global mining manager for the Haver Screening Group.
About - providing an abreviated version of the current print edition of E&MJ, WOMP is distributed throughout the world to decision makers in the global mining industry, the last week of every month.

Subscribe to E&MJ - To receive your own copy of the print edition of E&MJ, click here , and complete your details. E&MJ is available free of charge to qualified readers.

Contact - if you have views, opinons or comments or editoral that you would like to submit, we would be delighted to hear from you - click here

Top