Volvo: Clean, Fuel-efficient Power Suits Mining Customers

---
Volvo CE is a major supplier of articulated dump trucks to the mining and quarrying industries; approximately 40%
of its ADTs are sold to customers in those sectors.

The AB Volvo Group, which shares the Volvo brand with Volvo Cars and is Sweden's largest company, focuses on its proclaimed mission of producing technically and commercially appropriate transport-related hard and soft products for demanding customers in selected industry segments. Volvo aims to be the world's leading supplier of commercial transport solutions. However, while transportation knits the product suite, the thread is driveline engineering: the group is one of the world's largest diesel engine manufacturers, for both on- and off-road applications and also produces gearboxes and drive shafts. A recent press event hosted by the company allowed E&MJ contributing writer Kyran Casteel to take a closer look at its

Volvo Group performance is reported as Industrial Operations and Customer Finance, with services and aftermarket soft products accounting for about 35% of Industrial Operations' net sales. Industrial Operations comprises five product units: the Volvo Aero, Volvo Bus, Volvo Construction Equipment (Volvo CE) and Volvo Penta companies, and Volvo Truck which includes four business areas and several companies. This combination of diversity and focus provides the basis for developing new, highly efficient products, not least for the mining and quarrying segments.

Underpinning Product Renewal
Working in concert with the Group product companies are eight service business units, including Volvo Technology and Volvo Powertrain.

Volvo Technology is the center for innovation, research and development. In developing a lead in existing and future technology areas of high importance to Volvo the unit looks at both hard and soft projects within a system approach framework. Customers include all Volvo Group companies and Volvo Cars plus selected suppliers. The unit is located at Göteborg, Sweden, and at Volvo's establishments in Lyon, France, and Greensboro, North Carolina, USA.

The Volvo Powertrain business unit is responsible for the development and production of medium- and heavy-duty engines in the 3–18 liter classes, gearboxes and drive shafts. Powertrain manufactures heavy gearboxes in-house, with production in Köping, Sweden, and Hagerstown, Maryland, USA. Volvo claims its internally produced AMT gearbox, which was recently launched in North America, is now in practice the industry standard in Europe.

Since one of the group's core values is environmental responsibility, meeting the emissions standards set in the European Union, North America and Japan comes naturally, Volvo argues. But it is also the case that, in meeting the challenge of 2011 EU Stage IIIB and U.S. (EPA) Tier 4 interim off-road legislation, Volvo has been able to transfer experience and technology from its global on-road Truck and Bus solutions which have met similar emissions requirements for some time. So Volvo CE has been able to adopt a combination of in-cylinder and external solutions to meet the emissions reductions requirements and has received EPA Tier 4 interim emissions certification for its D11 (11 liter), D13 and D16 engines.

The new generation V-ACT (Volvo-Advanced Combustion Technology) engines feature ultra-high pressure variable fuel injection systems, super-efficient cooled exhaust gas recirculation (EGR), precise control of the turbochargers, powerful new EMS engine management systems and an integrated exhaust after-treatment system that features a particulate filter and thermal regenerator. Volvo said these Stage IIIB/Tier 4 interim-compliant diesel engines offer market-leading performance and economy of operation in terms of power capacity, engine response and fuel efficiency. However, the wider impact of the EU Stage IIIB and U.S. (EPA) Tier 4 interim legislation cannot be underestimated, Volvo emphasized. There will be a need for additional operator and technician training in order to understand the principles of the new technology, but in terms of the benefit to the environment, it is worth the effort.

For the longer term Volvo is developing a more focused research and development program, more efficient production and a more sharply defined supplier structure. The group is working to meet future standards with competitive products, focusing on convergent technologies and common architectures. With hybrid-powered buses already in use Volvo is also working on alternative drivelines and fuels.
Volvo CE's new F Series articulated dump trucks feature a three-point bogie beam which allows the rear
wheels to move independently when operating in rough terrain.
Machines for Mining
While truck business accounts for almost two-thirds of Volvo Group net sales, Volvo CE contributes about one-fifth. The company is now the world's largest manufacturer of articulated haulers and one of the largest producers of wheel loaders and excavators, as well as offering road development machines and compact construction equipment. It has become one of the most successful companies in its industry in terms of both size and profitability, said Volvo. In 2010, the company was active in 102 countries worldwide: in Europe (31), Africa (27), Asia/Pacific (26), South America (14) and North America/Caribbean (4). Growth looks set to continue since Volvo CE will invest $250 million—including an additional $100 million toward boosting production in North America. There, the manufacturing facility at Shippensburg, Pennsylvania, is being expanded and a customer/demonstration center plus a new office building will also be added.
Although the main destinations for the company's products are construction and materials handling, Volvo CE is a significant supplier to mining and quarrying, sufficiently so to be regarded as a serious competitor by major manufacturers of equipment for both surface and underground use. In particular, some 40% of the articulated haulers sold go to the mining, quarrying and aggregates customer segment which also makes extensive use of the larger hydraulic excavators and wheel loaders in the Volvo CE range.
The firm has been guided through its recent growth period by Olof Persson as president and CEO. He was recently promoted to deputy CEO of the Volvo Group and will take over as group president and CEO in September, when Leif Johansson retires. Patrick (Pat) Olney, who was previously president and CEO of the Volvo Road Machinery business, has taken over as head of Volvo CE. Ahead of "Volvo Days," the company's annual show for customers and dealers held at the Customer Center in Eskilstuna, Olney hosted an international press event.
With "Product renewal, the key to success in a new strengthening market" as his theme, the new president and CEO assured about 100 journalists that business would continue as usual, Volvo CE will maintain the development strategy established by Olof Persson and retain its Swedish ethos. Olney stressed the necessity of developing the company's global industrial and distribution system but pointed out that to succeed in the new-look construction industry, "You have to offer customers products that are much closer suited to their local needs, resources and applications—and this requires a significant rethink of the traditional product offering," said Perron.
Following this briefing, the Volvo team demonstrated a representative sample of the 55 new or updated models resulting from the recent fundamental overhaul of the company's product portfolio, including the L220G wheel loader that won the Red Dot design award and the F-Series articulated haulers. Also on display were a training simulator for hydraulic excavator operators and the CareTrack telematic monitoring system which provides continuous equipment status data for diagnosis at any chosen location. During 2010, Volvo CE decided to include a three-year CareTrack service agreement as standard for all new 10-ton and larger wheel loaders and 12-ton and larger haulers, excavators and graders.
Volvo CE said the F-Series articulated dump trucks launched at the beginning of 2011 not only meet U.S. and European emissions standards but are also up to 4% more fuel-efficient than the E-Series. They feature a self-compensating hydro-mechanical articulated steering system that provides better control both in tough off-road conditions and at high hauling speeds, said Volvo. This system also offers exceptionally small turning circles. The four models, sized for 26.5-, 31-, 37- and 43-ton pay-loads, have Automatic Traction Control to select the appropriate drive mode for the roadway conditions while the three-point bogie beam design maintains good traction and minimizes frame strain. A unique FS full suspension version has fully hydraulic front and rear suspension that helps operators to maximize hauling speeds. The operator's control data system and display have been improved and CareTrack is fitted as standard.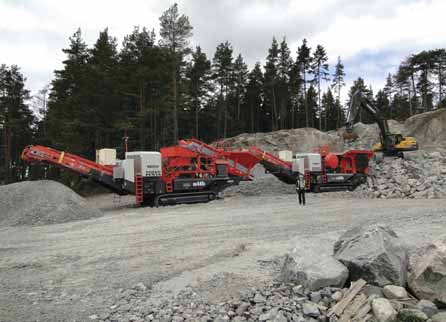 On display at Volvo's Customer Center are Volvo Penta-powered Sandvik mobile crushing and screening
plants.
Power for Mining Equipment
Volvo Penta, the world's largest producer of diesel engines for leisure boats at plants in Sweden and the United States, also supplies industrial diesel engines manufactured at various factories for power generation, mining and quarrying and other customer segments. At the Eskilstuna Customer Center display, the company took the opportunity to show some of the mobile crushing and screening equipment equipped with Volvo Penta engines.
Sandvik offers mid-range (QJ) and heavy-range (UJ) jaw, mid- (QH) and heavy-range (UH) cone, and QI mid-range impact crushers varying in total weight from 35.4 mt (39 st) to 124 mt. The company's mobile mid-range screen product line comprises seven QA models delivering from 300–600 mt/h (331–661 st/h) of up to four different products. Since the different units are compatible with each other, it is easy to combine two, three or more units, depending on the fractions required. Sandvik started using the Tier 3-compliant Volvo TAD1252VE engine for heavy-range crushers some time ago and is now also fitting the 225-kW (326-hp), 7.2-l TAD765VE and two 12.8-l engines—the 315-kW (428-hp) TAD1362VE and 345-kW/469-hp TAD1363VE—across the product range.
The overall Penta engine size range extends from D1 (where 1 indicates displacement in liters) through D2; the marine D3; the D4 and D6 marine units manufactured by Volvo Penta at Vasa and the D5, D6 and D7 industrial engines from Cologne, Germany; the D9 and D11 marine engines from Lyon, France, and the D13 and D16 marine and industrial engines from Skövde, Sweden. Volvo Penta is also responsible for ensuring that the group is supplied with drivetrains for medium-duty applications from external manufacturers. The company contributed 3% of Volvo Group net sales in 2010 and 3.3% of operating income.
In all, the company's sales account for approximately 10% of the Volvo Group's total diesel engine volumes—but for about 66% of the 16-l units. The industrial engine range accounted for about 40% of Volvo Penta's total sales value in 2010 and the company aims to expand the customer base, assisted by a new global logistics system launched during 2010. The four base industrial engines, at 5, 7, 13 and 16 liters displacement and ranging from 129–515 kW, obtained EU Stage IIIB type approval in April 2010 and were launched at bauma.
Darren Tasker, off-highway project director at Volvo Penta Europe, said the earlier Stage IIIA/Tier 4 and the latest Stage IIIB/Tier 4i Volvo engines have also proved very effective for underground mine use in both LHDs and trucks. The combination of robust, simple design with high performance, low emissions, good fuel economy and reliability is reportedly well-liked by customers.
---
As featured in Womp 2011 Vol 07 - www.womp-int.com