Xstrata Launches Two North Queensland Projects
---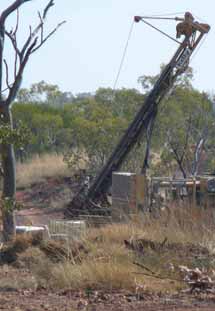 Xstrata's Lady Loretta property is a lead-zinc-silver
project anticipated to provide 10 years of production.
Although the photo depicts exploration drilling at the
site, work has already begun on surface
infrastructure.
Xstrata announced in early August 2011 it has approved an A$47-million prefeasibility study into the development of a large, multi-commodity, open-pit mine within the existing Xstrata Mount Isa Mines footprint in Queensland, Australia. The announcement followed an announcement in late July that the company has begun construction to develop the high-grade, zinc-lead-silver Lady Loretta deposit 140 km northwest of Mount Isa as a new, greenfield underground mine.
At Mount Isa, development of a large-scale, zinc-lead-copper open-pit is thought to have the potential to extend the life of the combined operations beyond 2060. Approval of the prefeasibility study follows an A$3-million concept study completed in May 2011, which indicated the potential to mine and process at least 340 million mt of zinc-lead ore and 130 million mt of copper ore by large-scale open-pit mining methods. The prefeasibility study began in August and is expected to be completed in early 2013, with the objective of confirming a preferred approach to the proposed development.
Subject to the successful outcomes of the prefeasibility study, the next stage in planning would be to progress to feasibility stage and a full environmental assessment commencing in 2013.
Xstrata has budgeted the Lady Loretta underground mine project at $246 million, and work has begun on the access decline, underground services and surface infrastructure. The mine is scheduled to be operational by the end of 2013.
Xstrata Zinc assumed sole ownership of the Lady Loretta deposit in April 2011, following acquisition of the 25% stake in the project previously held by Minerals Securities Ltd. The deposit hosts a mineral resource estimated at 13.7 million mt, grading 17% zinc and 6% lead. The mine will produce 1 million mt/y of zinc-lead-silver ore and an average of 126,000 mt/y of zinc in concentrate and 40,000 mt/y of lead in concentrate over its 10-year mine life. Ore will be treated at Xstrata's Mount Isa processing facilities.
Haulage trucks will bring ore and waste rock to the surface via the access decline. When fully developed, the mine will have a maximum depth of 510 m. Mine development will create jobs for up to 230 contractors at peak of construction in 2013, followed by a similar number of permanent jobs when operational.
Xstrata Zinc Australia COO Brian Hearne said, "Lady Loretta's higher-grade zinc improves the overall quality of our Mount Isa resource base, increases annual average zinc production from this region by around 20% or 100,000 mt, and supports further cost efficiencies from the Mount Isa operations."
---
As featured in Womp 2011 Vol 07 - www.womp-int.com