Mine Hoist Technology Answers the Bell
Challenged by emerging trends in mining practice, the leaders in lifting technology find ways to safely hoist heavier payloads from deeper shafts
By Russell A. Carter, Managing Editor
---
Deeper, faster, bigger, safer.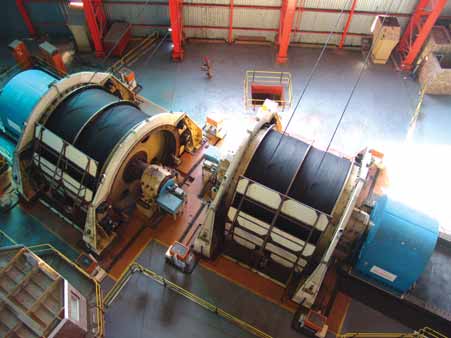 This 5.7 x 2.2-m, electrically coupled Blair multi-rope (BMR) man/material hoist at AngloGold Ashanti's Moab
Khotsong gold mine in South Africa was the first hoist to operate to a depth of 3,150 m in a single wind, with
an end-load of 23 mt. (Photo courtesy of FLSmidth)
These sought-after qualities are desir-able in almost any aspect of modern mining, but they hold particular importance when applied to mine hoist systems which, apart from often being an underground operation's sole method of ore transport to the surface, might also represent the only mechanized means of access for men, machines and materials. As major producers focus increasingly on large, long-life and high-production projects and underground development extends to unprecedented depths, the demands placed on hoist systems will continue to intensify. In recent years, skip capacity for new or refurbished shaft systems has routinely exceeded previous capacity by 25% to 50%, with hoist speeds up to 50% faster than older equipment.
The convergence of broad trends, such as those mentioned above, with specific site considerations that can encompass everything from space availability, costs and energy usage to local regulations, often results in a challenging design environment for hoist system suppliers. To get a deeper understanding of how these factors affect system configurations and capabilities, E&MJ asked Ian Bailey, a member of the management board of Siemag Tecberg Gmbh, a well-known hoist equipment supplier, to sketch out some of the more important issues facing OEMs.
E&MJ: With large mines being developed in more remote areas, is there a corresponding change in equipment configuration or performance to compensate for unreliable power grids, shortages of skilled technicians in the area, or other factors inherent in remote locations? Similarly, as mines go deeper, how does that, in general, affect the types of equipment required?
Bailey: "It is reasonable to state the major international miners continue to 'push the envelope' with underground hoisting technology parameters where payloads, speeds and torque requirements are products of ever-increasing duty cycle expectations for 'mega mine' developments. This invariably requires consideration of suitable technology associated with the mechanical, hydraulic, structural and electrical engineering disciplines accordingly. As a typical OEM, we are expected to consider the site remoteness, local skills and a degree of compromise between the technology sophistication and the ability of the site personnel to maintain and operate the equipment.
"Invariably, given the general shortage of skills in the industry, we are challenged with the 'labor-technological substitution effect' in providing safe and maintainable products and solutions into the industry where we are witnessing structural changes in legislation, safety compliance and industry good practice. The emphasis on safety in the current era and compliance to new standards and code of conducts will continue to challenge the industry, OEMs and consultants in the mitigation of project risks in the successful execution of new project developments.
"The large-scale mega mine development challenges for a hoisting supplier invariably consider balancing the depth of shaft, payload, speed and torque requirements associated with the proposed new infrastructure of the shaft complex. The products required for 400-to 3,000-m hoisting depths typically vary among double drum, Blair multi-rope and multi-rope Koepe applications; whereby the duty cycle requirements and the rope construction generally have a defining impact on the respective hoist suitable for the application.
"The hoisting parameter constraints in the industry continue to be the steel wire ropes associated with hoisting machines where rope performance is a key factor in the ability to deliver a robust hoisting solution with sustainability. Mechanical size, mass and electrical installed power and control systems are feasible beyond 8-m diameter with 20-MW applications; however, the ability to retain adequate rope performance, safe rope handling capability and minimal downtime with large rope compartment loads are challenges that impact safe practice, skills and suitable technology."
E&MJ: Considering the impact of trends in the mining industry involving safety, energy conservation and other factors, are certain types of configurations or control systems becoming more prevalent because of these trends?
Bailey: "The large mining operators are clearly conscious of the type and form of power utilization for the hoisting plants; however, the hoisting technology and customer demands for the plant ore deliverable will dictate the size and type of machine appropriate for the application. This may negate or counter the appropriate energy-efficient approach used where, say, a Koepe multi-rope application potentially offers considerable operating cost savings.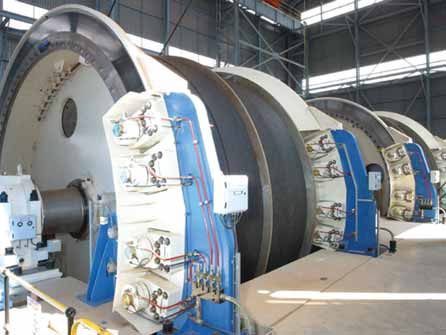 Measuring 33 m in length, 11 m wide, and with a total equipment weight of about 1,050 mt including the motor,
this Blair multi-rope hoist designed and built by Siemag Tecberg for South Deep Gold Mines is considered to be
the largest winder in the industry to date. (Photo courtesy of Siemag Tecberg)
"In terms of safety expectations and maximization of rope performance, we have introduced over the years a variety of spring applied, hydraulically released brake control systems that incorporate features appropriate for the respective hoisting machine and application. The high-end, closed-loop multi-channel brake control systems with backup brake control incorporating SIL 3 industry compliance represent the latest design and application to the industry in large Blair multi-rope and multi-rope Koepe solutions.
"Furthermore, with the degree of sophistication and technology involved in the control application of the drives and brake control systems, we have an obligation to customers to provide suitable service concepts for the support and collaboration with the maintenance staff, particularly in remote regions where skills remain a key issue."
Among the company's milestone projects completed in recent years, Bailey highlighted the installation of its largest integrated set of Koepe multi-rope production hoists at Palabora in Africa, where he noted the effective handling of the large compartment loads in the shaft provided challenges for Siemag Tecberg's rope handling products, requiring innovative solutions to the shaft and headgear arrangement. In South Africa, installation of the second of two large Blair multi-rope hoists for a gold producer is under way. At that site, single-wind depths of 3,000 m and 102-mt compartment loads represent potentially the largest production reference base developed to date by the company.
Siemag Tecberg also is partnering with power conversion specialist Converteam—recently acquired by GE Energy for $3.2 billion—on a major mine hoist project for Mosaic Potash at the Esterhazy K3 mine expansion project in Regina, Saskatchewan, where Mosaic's $2.3-billion investment in the project will increase the operation's annual potash production to 6.4 million mt/y.
The Converteam/Siemag Tecberg team will supply and install a complete service and production mine turnkey hoist package encompassing total electrical and mechanical supply, training, commissioning and installation. Complete project scope includes a 6-m Koepe hoist, a 4-m Blair hoist, three induction motors and medium-voltage MV7000 AC drives, transformers, switchgear, low-voltage motor control centers, and a complete control and automation system.
Converteam's equipment package is to be installed at the Mosaic Esterhazy site by November 2014 and the overall service hoist project is expected to be fully commissioned by October 2015.
Projects Proliferate
Elsewhere around the industry, ABB announced it had won an order worth more than $10 million from Dannemora Minerals to deliver a complete mine hoist system to the newly reopened Dannemora iron ore mine in east-central Sweden.
ABB, which claims to have delivered more than 600 mine hoists to projects located in roughly 30 countries, said the new mine hoist will transport ore from 600 m underground. The hoist system is scheduled for commissioning by spring 2013. ABB will be responsible for supply, installation and commissioning of the hoist system. Hoist capacity is approximately 500 mt/h and it will operate 24 hours a day, 7 days a week.
ABB also is participating in a $5.4-million hoist project contract awarded to U.K.-based DavyMarkham for the supply of two mining hoists to Volcan Compañia Minera of Peru, the fourth largest producer of zinc and silver worldwide. DavyMarkham will deliver production and service hoists for Volcan's Pique Andaychagua mining project 150 km northeast of Lima, which will have an estimated production rate of 4,000 mt/d from depths extending to 970 m.
The scope of supply includes a 3.66-m double-drum production hoist capable of hauling twin ore skips, and an 2.54-m single-drum service hoist, equipped with a personnel carrying cage, with the latter also designed to perform shaft-sinking duties prior to operating in final production mode. The service hoist will have a payload capacity of 2,400 kg, operate to a shaft depth of 940 m and is scheduled for delivery this autumn. The larger production winch has a maximum payload of 9,000 kg and is due for commissioning next spring.
The double-drum production hoist will have fixed and clutched drum assemblies, running on a drumshaft supported by a pair of self-aligning bearings. The two drums will be assembled in halves from rolled steel plate, for ease of transportation and site assembly, and machined to provide parallel grooving and half-pitch crossovers for the 44.45-mm-diameter multi-strand rope. The whole arrangement will be directly driven by two geared motors via a low-speed coupling.
The single-drum service winch, intended for hoisting from one level at a time, is a simplified version of the main production unit, with a fully fabricated drum assembly, single-piece forged steel shaft and no clutch. It will be driven by a double-reduction gear unit and foot-mounted drive motor linked by a high-speed flexible coupling.
Electrical drives and controls for the Volcan hoists will be subcontracted to ABB Sweden, and ABB is also supplying the hydraulic brake control system. Davy-Markham is providing the disk brake assemblies for both hoists, which are spring applied, hydraulically released failsafe units, with infrared temperature transmitters providing thermal monitoring of braking surfaces. The scope of supply will also include hydraulic power packs, guards and handrails for the hoist house, supervision of on-site installation and commissioning services by DavyMarkham, and training for operators.
FLSmidth is another major hoist-systems supplier with a proven history in the business. In fact, the company claims a hoist reference list of more than 500 installations worldwide over a period spanning more than 100 years when taking into account equipment previously installed by companies it has acquired. This includes GEC Alstom, South Africa, which FLSmidth purchased in 1997, and the Vecor hoist line, which has origins in the late 1940s when Vanderbijlpark Engineering Corp. began designing and supplying mine hoisting systems for the booming South African gold mining industry. FLSmidth's hoisting systems group in Johannesburg, South Africa, is designated as the center of excellence for hoisting technology within the company, but it also has a Mine Shaft Systems operation in Ontario, Canada, that designs and builds skips, cages, guide rollers, sheaves and an assortment of other hoist-related equipment.
Jim Brownlee, manager, Mine Shaft Systems in Ontario, recently told E&MJ the company is designing the world's largest man-cage, with capacity for up to 300 workers, for PT Freeport in Indonesia. According to Brownlee, the cage will be supplied in 28 pieces for final assembly underground. In addition, skips it is currently designing for Ivanhoe's Oyu Tolgoi project in Mongolia also will set a new industry record for capacity.
FLSmidth has supplied hoists with drum diameters ranging from less than 1 m to more than 6 m. The majority of these hoists have been of the double-drum configuration with dual clutched drums and diameters greater than 5 m. FLSmidth claims to have designed, manufactured and supplied more BMR (Blair multi-rope) hoists than any other hoist supplier, as well as being the first to successfully supply a hoist operating over a single winding depth exceeding 3,000 m.
Extending Service-life Longevity
Although hoist-systems contract announcements typically focus on new installations, there's also a brisk market for refurbished equipment ranging from skips to winders and more. With full fabrication and repair facilities available through suppliers such as FLSmidth and others, older equipment can be restored to original functionality and even upgraded to provide additional safety and reliability. Like locomotives and airplanes, certain types of shaft equipment can often be rebuilt multiple times before the economic balance scale starts tipping toward retirement.
As an example, FLSmidth's shaft-equipment refurbishment services allow worn-out skips or cages to be returned to a functionally new condition, recertified and returned to the mine. As the company points out, skips that have undergone a regular series of preventative maintenance rebuilds tend to cost less in the long run because they serve more tours of duty.
When rebuilding skips, the company prepares an engineering package that, among other things, lists critical items that may require NDT ultrasonic testing or magnetic particle and liquid penetrant inspection, and that includes original detail and modification drawings, quality assurance check lists and client requests for modifications. Routinely, the equipment is blast cleaned, straightened, cracked welds repaired, worn guide slippers replaced, all bearings, seals and bushings replaced, safety springs replaced, all safety device pins, shackles, shafts and dogs and drawbars NDT tested and replaced as necessary, and hinge pins and liners replaced. Refurbished units are painted with two coats of epoxy enamel and given a new load certificate and OEM warranty. At the end of the process, the skip is considered functionally the same as a new model.
Winders often outlive the mines in which they were originally installed. South African hoist-systems specialist DRA Technical Services, for example, provided refurbished winders to Great Basin Gold's Burnstone gold mine near Balfour prior to the mine's startup of production in late 2010.
An 1,800-kW, 4.27-m double-drum man winder—built originally in the 1930s—and a 4.88-m double-drum rock winder—of 1950s vintage—driven by two 1,343-kW motors were given full mechanical refurbishment, replacing all wear components as well as providing modern brakes and hydraulics. All of the rotating machinery including motors and generators were rebuilt and state-of-the-art electronic speed control and protection equipment was supplied and installed.
Graham Du Plessis, managing director of DRA Technical Services, said, "It made economic sense to the client to refurbish the winder units rather than opt for new ones. From a cost perspective, in this particular case, the refurbished winders offered a 50% saving compared to the cost of new winders while at the same time providing a delivery period of about half that of new machines. This project took about nine months to complete from contract signing to completion of winder refurbishment."
According to Du Plessis, while the electrical equipment in a winder has a finite lifespan due to eventual obsolescence, overall, a winder can be used almost indefinitely. He cites the example of the oldest continuously operating winder in South Africa, at the Hercules shaft at ERPM in Boksburg, which was in use at its original location for 91 years until the mine was closed.
---
As featured in Womp 2011 Vol 07 - www.womp-int.com