New Study Provides Outline for Galore Creek Development
---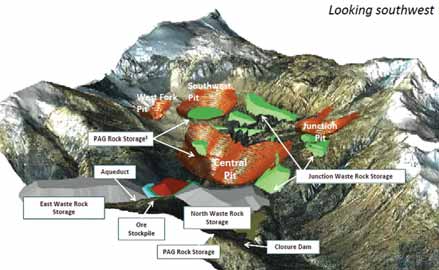 This diagram from a recently released prefeasibility study of Galore Creek, a large copper-gold-silver
porphyry complex in northwestern British Columbia that is 50% owned by NovaGold and 50% by
Teck Resources, shows the proposed mine facility layout arrangement. (Courtesy of NovaGold Resources)
NovaGold Resources has announced the results of a new prefeasibility study for the Galore Creek copper-gold-silver project, owned 50% by NovaGold and 50% by Teck Resources, in northwestern British Colum-bia. The companies previously initiated construction of the project in early summer 2007 but shut it down in November 2007 when it became clear the project could not be completed within then-estimated costs or time schedules.
The new Galore Creek prefeasibility study incorporates a significant increase in scale and redesign of the project from earlier configurations. The study separates the mine from the mill, which would be located in adjacent valleys, thereby increasing flexibility for possible future expansions. A 13.6-km tunnel would be used for conveying ore and moving equipment between the two facilities.
Total capital costs to develop the project are now estimated at about $5.2 billion, but further study may identify ways to reduce this total.
The new prefeasibility study provides for nominal open-pit mining and milling capacity of 95,000 mt/d. Run-of-mine ore would be fed into a single gyratory crusher in the Galore valley. Crushed ore would then be transported via conveyor from the Galore valley through the access tunnel and via a road to a single coarse-ore stock-pile near the proposed mill site in the West More valley. A conventional grinding and flotation circuit would produce a high-quality copper concentrate with significant gold and silver credits.
Thickened concentrate would be pumped 71 km through a pipeline to a filter plant located near the junction of the mine access road and provincial Highway 37. From the filter plant, the concentrate would be transported by truck to a port facility in the town of Stewart for shipment to various international destinations.
Proven and probable mineral reserves for the Galore Creek project currently total 528 million mt, grading 0.6% copper, 0.32 g/mt gold and 6.02 g/mt silver. Total project production is forecast at 6.2 billion lb of copper, 4 million oz of gold, and 65.8 million oz of silver in concentrates over a mine life of about 18 years at base-case cash costs averaging $0.80/lb of copper.
The partners expect to complete required project engineering before year-end 2011. They anticipate the environmental assessment review process for the redesigned project will take approximately two years from submission of a project description to issuance of new provincial and federal approvals. Project construction is expected to take about four years from initial start of tunnel boring to commencement of pre-operational commission activities.
---
As featured in Womp 2011 Vol 07 - www.womp-int.com