Features

PROJECT SURVEY 2009
E&MJ's Annual Survey of Global Mining Investment .......read more

EXPLORATION
Shifting from High Times to Low Expectations... read more

UNDERGROUND MINING
Kemi Cracks a Problem.......read more

PROCESSING SOLUTIONS
Finn Mineral Processing: Business Almost as Usual—for Now......read more






To update your details or renew your current print subscription or to receive your own edition of the print version of E&MJ -

CLICK HERE

The Tide Goes Out - The wheels began falling off the financial bandwagon in December. The signs were evident even before Bernard Madoff Investment Securities was exposed as a Ponzi scheme and $50 billion worth of investments disappeared. In India, Satyam Computer Services topped the news cycle for a while with $1 billion in alleged fraudulent accounting practices. All of this scandalous behavior could easily be summed with an often cited quote from Warren Buffet, chairman, Berkshire Hathaway, who said in 2001, "you find out who's swimming naked when the tide goes out."
Loyal E&MJ readers look forward to the combined January-February edition because it carries the Project Survey, which is assembled by......... read more

Steve Fiscor, Editor in Chief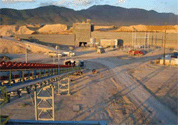 Goldcorp Forecasts Five-Year Production Growth of 50% - On January 8, 2008, Goldcorp provided production and cost guidance for 2009 and said that development projects are expected to increase its gold production by 50% to 3.5 million oz over the next five years. Startup of the sulphide mill circuit at the company's Peñasquito operations in Mexico at the end of 2009 will be the primary driver of this production growth. During 2009, Goldcorp expects to produce approximately 2.3 million oz of gold at a total......... read more
OZ Minerals Struggling to Stay Afloat - OZ Minerals, launched with much fanfare in July 2008 as a result of the merger of Oxiana Minerals and Zinifex, faced an uncertain future as of mid-January 2009. At the heart of the company's problems were a dwindling supply of cash, reported at A$169.2 million at the close of business on December 23; a need for cash to complete development of its Prominent Hill copper-gold project in South Australia and for other operating exigencies; debt amounting to roughly A$1....... read more

Top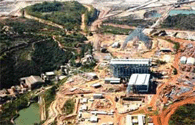 Startups Will Drive Kinross Growth in 2009 - A full year of production from three mine projects completed during 2008 is expected to lift Kinross Gold's 2009 gold production by 32% to between 2.4 million and 2.5 million oz, the company announced on January 7, 2009. Kinross's production for 2008 was expected to come in at between 1.8 million and 1.9 million oz, up 16% from 2007. New production during 2009 will derive from Kinross's Paracatu expansion in Brazil, its Kupol mine in Russia.... read more
NovaGold Suspends Operation at Rock Creek - NovaGold Resources, owner of the Rock Creek gold mine near Nome, Alaska, reported in November that it anticipated significant cash flow problems due, in part, to mechanical problems and severe weather conditions and consequently had decided to suspend operations at the mine, which commissioned in September 2008. NovaGold said it was required to complete a number of additional environmental and operational tasks following startup to....read more
Golden Eagle Agrees to Operate Jerritt Canyon Mill - Golden Eagle International, Salt Lake City, Utah, said it has entered into an agreement with the owner of the Jerritt Canyon gold mine to operate the mine's 4,000 t/d CIL mill located 50 miles north of Elko, Nevada. The 27-year-old mine and mill, owned by Vancouver, B.C., Canada-based Yukon-Nevada Gold Corp., was suddenly shut down in early August 2008 with no clear explanation for the closure provided by company executives..... read more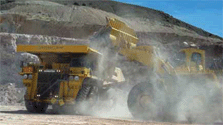 Allied Nevada Reactivates the Hycroft Mine - Allied Nevada Gold Corp. announced on January 6, 2009, that it has initiated production of gold-silver doré at its reactivated Hycroft heap-leach mine near Winnemucca, Nevada. Production during December 2008 totaled about 1,000 oz of gold and 3,000 oz of silver. A new refinery at the property will process the doré into gold and silver bullion. Allied Nevada is targeting a production rate of about 90,000 oz/y of gold by July 2009. Capital expenditures to.... read more

Top
PolyMet Receives Long-Awaited NorthMet EIS - PolyMet Mining Corp. announced in late December that, after roughly three years in process, it had received the draft Environmental Impact Statement from the State of Minnesota, assessing the company's proposed mine development project located in the Mesabi Iron Range in northeastern Minnesota. PolyMet controls 100% of the NorthMet copper-nickel-precious metals orebody and owns the nearby Erie Plant.... read more
Apex Files for Chapter 11, Arranges Sale of San Cristobal - On January 13, Apex Silver Mines Ltd. and its subsidiary, Apex Silver Mines Corp. announced that they had filed voluntary petitions for reorganization under Chapter 11 of the U.S. Bankruptcy Code. Apex Silver's flagship asset is the 65%-owned San Cristobal silver-zinc-lead project, located in the Potosi district of southwestern Bolivia. San Cristobal is one of the world's largest open-pit silver deposits. Apex Silver said it had entered into an agreement…… read more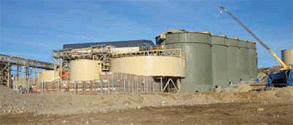 Manantial Espejo Project Pours First Gold - Pan American Silver began pouring goldsilver doré at its new, $185-million Manantial Espejo mine in the Patagonia region of southern Argentina on December 29, 2008. As of December 31, approximately 10,000 oz of silver and 230 oz of gold had been poured, and another 65,000 oz of silver and 1,200 oz of gold remained in precipitate to be poured and shipped by mid-January. Manantial Espejo is designed to produce an average of 4 million oz/y of silver…. read more

Top
Work Begins on Chinalco Peru Water Treatment Plant - N.A. Water Systems, a subsidiary of Veolia Water Solutions & Technologies, recently broke ground for a $25-million project to design and build a water treatment plant at the Minera Chinalco Peru S.A. Kingsmill Tunnel water treatment plant site east of Lima, near the border of Junin Province. N.A. Water Systems partnered with Cosapi S.A. Ingenieria Y Construccion, a Peruvian engineering and construction company. Historical mining sites in the area fill the 11.2-km Kingsmill Tunnel continuously…. read more

AngloGold Conducting Fortitude Gold Mine Study - Australian junior Midas Resources reported that AngloGold Ashanti has agreed to carry out a pit optimization and mining study on Midas's Fortitude gold deposit, located 35 km south of AngloGold Ashanti's Sunrise Dam gold operation and about 220 km north-northeast of Kalgoorlie, Western Australia. The study will incorporate a review of the current resource estimate, pit optimization work and a mining study based on trucking ore 35…. read more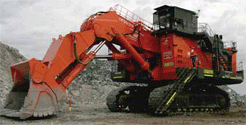 Second Ultra-Class Digger for Mt. Keith - Australian junior Midas Resources reported that AngloGold Ashanti has agreed to carry out a pit optimization and mining study on Midas's Fortitude gold deposit, located 35 km south of AngloGold Ashanti's Sunrise Dam gold operation and about 220 km north-northeast of Kalgoorlie, Western Australia. The study will incorporate a review of the current resource estimate, pit optimization work and a mining study based on trucking ore 35…. read more

Top
Russian Miners Scramble to Refinance Debt - As credit becomes scarce worldwide, the wealthy businessmen or oligarchs that control Russia's mining giants are moving quickly to refinance large debts, which are secured by stakes in the companies they control. During December, Oleg Deripaska, who owns UC Rusal, was forced to take a $4.5 billion loan from a $50 billion Kremlin bailout fund to protect the company's 25% stake in Norilsk Nickel from Western creditors. As part of the deal, Alexander Voloshin, a top Kremlin official, was appointed chairman of the board at Norilsk Nickel…. read more

Indonesia Passes Controversial Mining Law - Indonesian legislators during December ended years of deliberation to endorse a contentious mining bill that includes provisions on revising the permit system and advocating a review of all existing contracts, according to the Jakarta Post. Under the bill, the permit system will take the form of a license to replace the current contract of work (COW) scheme—something business interests have objected to, saying licenses were more easily revoked than a binding contract .…. read more


Great Western Studies Restart of Rare Earth Mine - Great Western Minerals Group, a Canadian company, has entered into an option agreement with Rare Earth Extraction Co. Ltd. (Rareco) of Stellenbosch, South Africa, to refurbish, re-commission, and operate the currently abandoned Steenkampskraal underground rare earth mine in the Western Cape, South Africa. Under the terms of the agreement, GWMG has agreed to pay Rareco an amount of ZAR1 million (approximately C$125,000) for this option, payable…. read more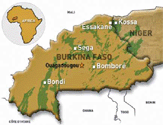 Iamgold to Acquire Orezone's Essakane Gold Project - Iamgold Corp. reported in mid-December that it was planning to acquire, through a plan of arrangement, all of the outstanding common shares of Orezone in an all-share transaction valued at approximately $139 million. "This transaction represents excellent value and takes us a large step toward our stated goal of 1.8 million ounces annual gold production by 2012, while lowering our average cash cost by $40 to $50 per ounce," said Joseph Conway, president and CEO of Toronto, Canada-based Iamgold…… read more

Top
Vale Acquires Coal Assets in Colombia - Vale announced that it entered into a purchase and sale agreement to acquire 100% of the export coal assets of Cementos Argos S.A. (Argos), a Colombian cement producer, for $300 million. Located in the Cesar department, Argos coal assets consist of two mining concessions: El Hatillo, an open-pit mine, with expected 2008 production of 1.8 million metric tons (mt) of thermal coal ramping up to full capacity 4.5 million mt/y by 2011; and Cerro Largo, in the exploration stage. Together these mining …. read more

Peabody Energy Announces 2009 Production Cutbacks - Peabody Energy announced in early January that it is reducing its 2009 targets for Powder River Basin coal and Australian metallurgical coal production, reflecting the effects of the global recession. The company's 2009 U.S. production is now targeted at 190 to 195 million tons, compared with actual 2008 production in excess of 200 million tons. Targeted 2009 Powder River Basin volumes are being reduced by approximately 10 million tons from 2008.…... read more

Top
Annual Exports Fall Short at Richards Bay - South Africa's Richards Bay Coal Terminal (RBCT), the world's largest coal-export facility, said shipments fell for a fourth straight year in 2008 because of lower demand and erratic rail service, according to Bloomberg. RBCT shipped 61.79 million mt of coal last year, 6.6% less than the 66.16 million mt exported in 2007. The pace of exports improved in the last quarter of the year. Derailments, a shortage of capacity on the rail lines and…... read more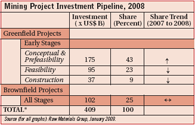 E&MJ's Annual Survey of Global Mining Investment
WThis year's survey confirms that the economic engine driving mining investment is running out of fuel

By Magnus Ericsson and Viktoriya Larsson, Raw Materials Group

The mining boom is over. During 2008, only 158 new mining investment projects with a projected total cost of $81 billion were registered in Raw Materials Group's Raw Materials Data Metals (RMD Metals) Mines/Projects database. Admittedly this figure is 40% higher than the $58 billion registered in 2007, but when compared with the increases noted during the preceding years it is relatively moderate. The trends are clear: The boom in mining projects peaked in 2006 with 200 new projects, but projects are getting larger and more expensive—up from an average capital cost of $190 million in 2006 to $512 million in 2008……. read more


Exploration: Shifting from High Times to Low Expectations
2008 marked an all-time high for exploration spending, but the industry's string of record-breaking years looks ready to snap in 2009.

By Russell A. Carter, Managing Editor; Kyran Casteel, European Editor; and Magnus Ericsson, Raw Materials Group

For the mining industry—with apologies to poet T.S. Eliot—2008 ended not with a bang, but with a shudder. During the last quarter of the year, global mining encountered a major speed bump in the form of an abrupt international economic slump that left producers and industry vendors nervously peering ahead to see if the next obstacle could possibly be a brick wall, or worse, a cliff. The go-go, feelgood atmosphere that permeated corporate hallways and trade-show exhibit halls for the past several years quickly vanished, and with a few industry-sector exceptions, has been replaced by a near-vacuum largely devoid of encouraging news or even faintly optimistic economic indicators...... read more

Top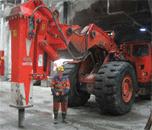 Kemi Cracks a Problem
When this Nordic underground chromite producer needed more power to break boulders in the stopes, it found a solution literally in its backyard

By Kyran Casteel, European Editor

By the end of last year the market outlook for the Outokumpu Tornio Works (OTW) integrated chromite mine, ferrochrome plant and stainless steel mill was not looking too great (see sidebar). But the Kemi mine engineers had won one battle, beating an oversize boulder problem by building a machine the team believes is the first of its class in the world, explained Senior Underground Maintenance Foreman Mika Saari. "When we blast our stopes it sometimes happens that large boulders break loose from weaker rock types in the ground surrounding the charged volume…... read more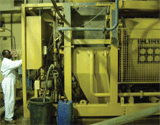 Finn Mineral Processing: Business Almost as Usual—for Now
E&MJ's European editor, Kyran Casteel, reports that Finnish mineral processing technology specialists are still winning new orders and plaudits, but the future may be a touch frosty

Metso Mills for Talnakh - Metso will supply grinding equipment to MMC Norilsk Nickel for its subsidiary Talnakh concentrator in Northern Russia. Located on the Taimyr Peninsula in Siberia, the Talnakh concentrator processes high grade ores mined at the Talnakh and Oktyabrsky deposits to recover nickel, copper and pyrrhotite concentrates. The Metso delivery, which will be completed by the end of 2010, is for the renovation of the minerals processing plant at the concentrator. This project is set to increase capacity from the present capacity of 10.5 million mt/y ore processed to an estimated 17 million mt/y. The order, valued at approximately €40 million, comprises a..... read more

Top

Quicker, Stronger Mine Scaler - Atlas Copco's Underground Rock Excavation Division has launched a new version of its Scaletec scaling rig, giving operators a stronger and faster scaling tool in mines and tunnels. The new Scaletec LC, based on the proven Scaletec MC, is available with standard 4-cylinder, EPA Tier 3-compliant low-emission diesel engine as well as a 6-cylinder version which enables faster tramming between sites. Other features have been improved such as an ergonomically designed …. read more

Fit to Print: Thermal Printer Meets Mining Customer's Explosives Accounting Needs - In the current global business environment, governmental security policies can require mining companies to account for all transactions affecting their explosives inventory— down to how much explosive is used in each particular shot at each specific location. To accomplish this level of recordkeeping, mining companies may have to turn to information technology specialists such as Logical Control Concepts of for assistance. A system integrator…… read more

Western Star's Dump Trucks Prove Popular in South African Mining - Seven years ago, Daimler Trucks North America subsidiary Western Star partnered with Liebherr Africa to introduce its custom trucks to the South African market. Today, according to Michigan, USA-based Western Star, its model 6900XD has gained acceptance in that market as a highly efficient and durable off-highway 40-ton dump truck. "Our partnership with Liebherr was formed to fill this unique niche in the mining industry," said Duncan Prince, product manager for Western Star South Africa.…. read more

Top

Mine Equipment Electrical Insulation Monitor - Bender Inc. developed the A-Isometer IR425 insulation monitor to increase safety in the operation of ungrounded control circuits in mining equipment. The IR425 is designed to monitor insulation resistance of ungrounded AC/DC control circuits from 0–300 volts. Operating on the AMP (Adaptive Measuring Pulse) principle, the A-Isometer IR425 initiates an alarm when the control wiring of a mining machine and its frame ground falls below preset response values .…… read more

Brochure Presents Profile Screen Line - A six-page brochure from Amistco Separation Products describes their profile wire screen product line. Profile wire screen products are effective in a variety of applications that range from catalyst bed supports, inlet and outlet baskets and nozzles to complete hub and header lateral systems, center pipes, basket strainers, resin traps, flat and curved sieve screens. Profile wire industrial screens are constructed of a series of parallel V-shaped cold drawn wire…. read more

IP Telemetry's Spread Spectrum Radio Option - Semaphore, a CSE Global company, has introduced an integral, spread spectrum radio option for the T-BOX LT compact remote terminal unit (RTU) and SCADA system. T-BOX LT is claimed to be ideal for decentralized applications where its push and Web technologies enable high performance, economical implementation and operation. According to the company, this spread spectrum radio cost-effectively extends license-free communications to…. read more

"Pinpoint" Laser Heat-Treating Process Now Available - Laser Cladding Services, of Houston, Texas, USA, has introduced LaserHeat, a laser pinpoint heat-treating process, to their array of laser treatment services designed to extend the lifecycle of critical parts. According to the company, LaserHeat dramatically enhances the metallurgical properties of a part within a specific critical wear area by providing surface hardening to the area without altering the chemistry of the entire part. The process offers advantages overs.…. read more

Top

Upgraded Generator Line Meets Emission Standards - Doosan Infracore Portable Power has upgraded its IR mobile generator line and now has 10 models ranging from 25 kVA to 570 kVA, all of which it says comply with U.S. EPA emissions regulations. The G25 and G40 are powered by Mitsubishi engines certified to EPA. Tier 4 interim requirements in effect until 2013 when Tier 4 final standards become effective for this horsepower category. These new models, rated at 25 kVA and 35 kVA respectively, replace EPA Tier 2 versions with the same model designation. The G70 and G90, rated at 72.….read more

Shocktube-Based Blast Initiator- U.K.-based ASL now offers the Beethoven SparkMaster, a shocktube-based initiation system that employs a concept new to the industry whereby the necessary energy is delivered to the firing shocktube by an inexpensive, disposable, single-use sparker. Three "traffic-light" LEDs indicate status: Red warns of a used or missing sparker, Orange shows the unit is charging, and Green advises that the SparkMaster is ready for firing. For firing…. read more
MAY 10-13, 2009: CIM, Canadian Institute of Mining Conference and Exhibition, Toronto, Canada. Contact: Tel: 514-939-2710;; Web: www.cim.org
JUNE 16–18, 2009: Exponor 2009, Antofagasta, Chile Contact: Tel: 56-66-454306; Web: www.exponor.cl
JUNE 23–26, 2009: Securing the Future—Mining, Metals & the Environment in a Sustainable Society; and 8th International Conference on Acid Rock Drainage, Skelleftea, Sweden. Contact: Web: www.securing.skelleftea.se
JUNE 28–JULY 1, 2009: ASSE Professional Development Conference and Exposition, Safety 2009, San Antonio, Texas, USA Contact: The American Society of Safety Engineers; Tel: 847-699-2929; Fax: 847-768-3434; Web: www.safety2009.org
SEPTEMBER 15–18, 2009: ESCC 2009—European Symposium on Comminution and Classification, Espoo, Finland Contact: Web: www.escc2009.fi
For a full calendar of mining industry conferences and events - click here

Anglo American plc announced that Neville Nicolau has been appointed CEO of Anglo Platinum and will join the Executive Committee of Anglo American plc. Duncan Wanblad, joint acting CEO of Anglo Platinum, has been appointed CEO of copper in the base metals division of Anglo American.

Klaus Kleinfeld president and CEO. He succeeds Alain Belda who will continue as chairman of the board.

Top

The John E. Willson Distinguished Alumnus Award, which recognizes a graduate of the University of Utah's Mining Engineering Program who has set a high standard of accomplishments in the mining industry, has been presented to John W. Kinneberg, a 1981 graduate. Kinneberg is currently director of mine planning for Rio Tinto Minerals America in Denver, Colorado, USA.

ESCO Corp. appointed Jon Owens, current vice president, mining and construction products, to the newly created position of vice president, business development and global products..

Leica Geosystems Mining appointed Jeff Mahar national sales manager for Australia..

Safety Vision announced the appointment of Michael Ondruch as CFO.

Hawk Corp. announced the appointment of B. Christopher DiSantis as president and COO.

Farr Air Pollution Control appointed David E. Stock mining market manager.
About - providing an abreviated version of the current print edition of E&MJ, WOMP is distributed throughout the world to decision makers in the global mining industry, the last week of every month.

Subscribe to E&MJ - To receive your own copy of the print edition of E&MJ, click here , and complete your details. E&MJ is available free of charge to qualified readers.

Contact - if you have views, opinons or comments or editoral that you would like to submit, we would be delighted to hear from you - click here

Top