Manantial Espejo Project Pours First Gold
---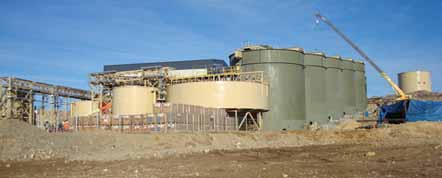 After completion of the 2,000-mt/d mill, shown here during construction, and the commencement of mining from
its openpit operations, Pan American Silver expects its $185-million Manantial Espejo gold-silver mine to reach
design capacity by the end of the first quarter of 2009. (Photos courtesy of Pan American Silver)

Pan American Silver began pouring goldsilver doré at its new, $185-million Manantial Espejo mine in the Patagonia region of southern Argentina on December 29, 2008. As of December 31, approximately 10,000 oz of silver and 230 oz of gold had been poured, and another 65,000 oz of silver and 1,200 oz of gold remained in precipitate to be poured and shipped by mid-January.

Manantial Espejo is designed to produce an average of 4 million oz/y of silver and 60,000 oz/y of gold and is expected to reach design capacity by the end of the first quarter of 2009. With cash costs of negative $1.15/oz of silver, it is expected to be the lowest-cost producer among Pan Am's eight mines.

The project plan for Manantial Espejo includes two surface and two underground mines, plus a 2,000-mt/d processing facility. Surface mining is by conventional methods using 54-mt trucks and a mix of rubber-tired and tracked loading equipment. The considerable variation in dip and thickness of the various mineralized zones throughout the property requires use of a number of different underground mining methods, including long-hole, cut-andfill, and shrinkage methods.

In addition to reporting on its Manantial Espejo project, Pan Am also noted in early January 2009 that its San Vicente expansion project in Bolivia was nearing mechanical completion and that commissioning activities were scheduled to begin in late January. At feasibility study levels, San Vicente is expected to produce an average of 2.9 million oz/y of silver.

Pan Am also said that it will suspend operations at its Quiruvilca mine in Peru during 2009. Quiruvilca has been in operation for more than 80 years and has become increasingly reliant on base metal production, particularly zinc. Declining base metal prices have rendered current reserves uneconomic.

For 2009, Pan American is forecasting silver production of 21.5 million oz, an increase of 15% as compared to 2008. With the inclusion of Manantial Espejo, the company also expects to more than double its gold production to 85,000 oz. Cash costs for 2009 are forecast in the range of $6 to $6.50/oz for the full year, with higher costs expected in the first two quarters, before the lower-cost Manantial Espejo mine ramps up to full capacity.
---
As featured in Womp 09 Vol 01 - www.womp-int.com