Western Star's Dump Trucks Prove Popular in South African Mining
---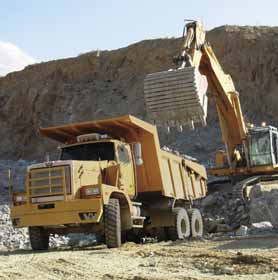 Seven years ago, Daimler Trucks North America subsidiary Western Star partnered with Liebherr Africa to introduce its custom trucks to the South African market. Today, according to Michigan, USA-based Western Star, its model 6900XD has gained acceptance in that market as a highly efficient and durable off-highway 40-ton dump truck.

"Our partnership with Liebherr was formed to fill this unique niche in the mining industry," said Duncan Prince, product manager for Western Star South Africa.

Western Star says the 6900XD excels when running comparatively long distances from pit-to-crusher in conditions typical of surface mines in South Africa. For example, on maintained haul roads a half mile (0.8 km) or longer the 6900XD is claimed to be up to 30% more fuel efficient than competitive articulated dump trucks and rigid dumps in the same payload class. On hauls as long as 12 miles (20 km), the 6900XD consumes as little as 7 gal/h (27 l/h) of fuel, significantly lower than other conventional mining haulers. The truck's 6x4 drive train and high-pressure tires enable the 6900XD to travel up to 43 mi/h (70 km/h). The tires are designed to stay cooler over long distances and offer reduced rolling resistance that also contributes to fuel efficiency and cycle speed.

Western Star's South African-market 6900XD trucks are powered by a 15-liter Cummins ISX engine rated at 500 hp (373 kw) and feature a six-speed, Allison RDS 4500 automatic transmission. In addition, these trucks are outfitted with a 28,000-lb-capacity (12,700 kg) front axle, and 110,000-lb (49,895-kg) tandem rear axle.

According to the company, the trucks' torque converter locks up shortly after the vehicle starts moving, allowing the transmission to provide mechanical efficiency similar to a manual transmission. For braking and downhill retardation, the South African models feature Interbrake— a Cummins engine compression brake— and dry drum brakes on all six wheels.
---
As featured in Womp 09 Vol 01 - www.womp-int.com