Fit to Print: Thermal Printer Meets Mining Customer's Explosives Accounting Needs
---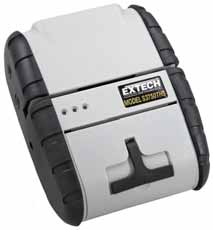 In the current global business environment, governmental security policies can require mining companies to account for all transactions affecting their explosives inventory— down to how much explosive is used in each particular shot at each specific location. To accomplish this level of recordkeeping, mining companies may have to turn to information technology specialists such as Logical Control Concepts of for assistance. A system integrator specializing in the design of automation and control systems, New Jersey, USA-based Logical Control Concepts recently delivered such a control system for a customer with mining operations in southern Ukraine.

"We put together a control system that would function from trucks at each mining site used to mix and load [explosive] materials,' said company president Scott Jones. "We had specified that the system would incorporate a Sauer-Danfoss PLUS 1 control and monitoring network. Our next step was to find the best mobile printer—one that could solve the mining company's need for complete accountability, as it had to be able to automatically provide a document detailing how much ammonium nitrate, emulsion, fuel oil and nitric acid has been loaded in each blasthole. We eventually determined that the Extech printer had the capabilities we were looking for."

The Extech S3750THS is a batteryoperated thermal printer designed to withstand the rigors of mobile computing applications. The printer provides multiple interface options, offering high flexibility for a job based in the Ukraine with operators speaking a non-English language.

"One of the main advantages of the Extech printer is that we were able to load it with a Cyrillic font," Jones said. "Extech provided me with software that allowed me to easily load the font. It's really seamless— the printer interfaces with simple ASCII (American Standard Code for Information Interchange) commands and doesn't rely on a Windows driver. And all the information can be printed in whatever font you need."

Connected by a 6-foot cable to the system control panel, the S3750THS serves as the end cap on a mobile information station in the company's truck cabs. After each of about 100–150 blastholes per day is filled, the printer automatically picks up all the essential data from the system computer and provides print-outs of the work done at each hole.

"There were a couple of unique types of information that this Ukrainian customer wanted to track, in addition to the type and quantity of product used," Jones said. "They wanted to assign the mines a number, because the trucks would service four or five different mines in the area.".
---
As featured in Womp 09 Vol 01 - www.womp-int.com