Goldcorp Forecasts Five-Year Production Growth of 50%
---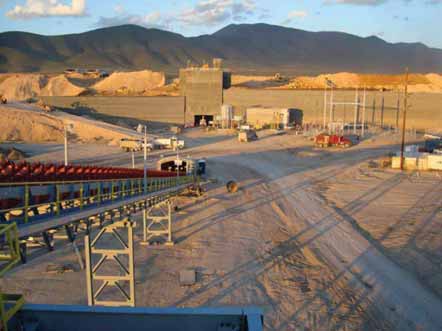 Primary crusher at Goldcorp's Peñasquito mine in Mexico. At full production, projected for late 2009,
Peñasquito will mine an estimated 600,000 mt/d and will produce two concentrates—lead and zinc—with almost
all of the payable gold and silver values contained in the lead concentrate. (Photo courtesy of Goldcorp Inc.)

On January 8, 2008, Goldcorp provided production and cost guidance for 2009 and said that development projects are expected to increase its gold production by 50% to 3.5 million oz over the next five years. Startup of the sulphide mill circuit at the company's Peñasquito operations in Mexico at the end of 2009 will be the primary driver of this production growth.

During 2009, Goldcorp expects to produce approximately 2.3 million oz of gold at a total cash cost of about $365/oz on a by-product basis and $400/oz on a coproduct basis. Forecast production increases at most of Goldcorp's mines during the year are expected to be offset by significant planned declines at Alumbrera in Argentina and El Sauzal in Mexico. Assumptions used to forecast total cash costs for 2009 included a by-product silver price of $10/oz; a by-product copper price of $1.75/lb; an oil price of $65/bbl; and the Canadian dollar and Mexican peso at $1.20 and $12.50, respectively, to the U.S. dollar.

In addition to Peñasquito, Goldcorp capital spending during 2009 will target construction of the large Pueblo Viejo project in the Dominican Republic and completion of the Red Lake underground development program in Ontario. Spending at some other longer-term growth projects, including shaft construction projects at Éléonore in Quebec and Cochenour at Red Lake, is being temporarily deferred while the Pueblo Viejo and Red Lake underground projects are being developed. At Porcupine, Ontario, plans for an open-pit and potential underground operation at Hollinger will also be deferred.

Goldcorp is forecasting total capital expenditures for 2009 of approximately $1.4 billion, including $530 million for Peñasquito and $430 million for Pueblo Viejo. Exploration expenditures in 2009 are projected at about $95 million, with efforts focused on replacing reserves mined throughout the year.

In another development, Vancouver, B.C.-based Terrane Metals Corp. reported that its board of directors had approved a modified project execution plan for its Mt. Milligan copper-gold project located 155 km northwest of Prince George in central British Columbia, Canada. The 12-month modified plan—which Terrane said is supported by Goldcorp, its majority shareholder (59%)—will advance the project through the completion of key pre-construction- related activities.

In July 2008, Terrane and Goldcorp entered into an agreement which grants Goldcorp an option to convert its equity interest in Terrane into a participating joint venture interest in the Mt. Milligan project.

The plan, according to Terrane, is based on a review of the project execution plan to begin construction in Q3 2009 of an openpit mine and 60,000-tpd copper flotation process plant with forecast average annual production in the first six years of 265,100 oz gold and 97 million lb copper. The review was undertaken in response to the on-going liquidity crisis in global credit and equity markets where traditional sources of financing required by the plan are not readily accessible at this time.

Terrane noted that the key objectives of the modified plan are to reduce project implementation risk, minimize on-going and near-term capital expenditures and to better position the project for a timely production decision when financial markets improve. The modified plan calls for work to continue on fundamental pre-construction- related activities including basic and detailed engineering and design, permitting and the Environmental Assessment Review process. In addition, it contemplates a Q4 2009 update of the Feasibility Study Report to reflect then-current operating and capital costs. The project will not proceed to construction in Q3 2009 as set forth in the original plan.

The modified plan is funded through a credit facility guaranteed by Goldcorp and a current working capital balance of $4.4 million. The company previously announced financial commitments to consultants and suppliers of long lead-time equipment were under review and that it has received the cooperation of these parties in considering the restructuring of existing commitments and/or delaying others pending completion of the modified plan.
---
As featured in Womp 09 Vol 01 - www.womp-int.com