The latest from the
World Mining Equipment
Video Library
View





A Mining Crisis Looms in South Africa

The world these days seems highly polarized, where evenly divided groups of people are taking extreme positions. This can be seen in several recent elections and referendums, and it has shaken the status quo. This is also having a knock-on effect on mining. Some governments who realize the importance of mining to regional economies have reversed course and created an environment conducive to mining-related investments. Others, many of which take mining for granted, are moving in the opposite direction, not realizing that excessive taxation and regulation may be killing the Golden Goose. E&MJ's lead news story this month covers the new mining charter that was introduced in South Africa during June. The country is blessed with an abundance of natural resources. Some of the world's deepest and richest gold mines are located near Johannesburg. They are steeped in.... read more

Steve Fiscor, Publisher & Editor in Chief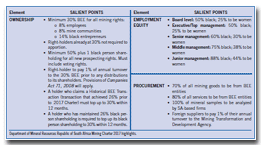 South Africa's Mining Industry Opposes New Mining Charter
South Africa's mining industry has been caught off guard by the launch of a new black ownership law package and said it would go to court to force the government to renegotiate its terms. In June, the Department of Mineral Resources (DMR) promulgated a new version of the Mining Charter that differed substantially.... read more
Nornickel Completes 30% Expansion of Talnakh Nickel-Copper Concentrator
Norilsk Nickel (Nornickel) has completed commissioning of a 30% expansion of throughput capacity and modernization of the Talnakh concentrator at its Polar division in north-central Russia. Total throughput capacity has increased from 7.6 million to 10.2 million mt/y of ore; target nickel and copper recovery rates and the target quality of nickel-pyrrhotite and copper concentrates have been reached; and metal losses to tailings have been reduced. The plant is meeting its metal production targets while utilizing less .... read more

Top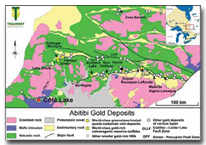 I amgold-Sumitomo JV Will Develop Ontario Gold Project
Iamgold and Sumitomo Metal Mining have agreed to form a joint venture to develop Iamgold's Côté gold project approximately 200 kilometers (km) northwest of Sudbury, Ontario. Sumitomo will pay an aggregate of $195 million for a 30% undivided participating interest in Iamgold's 92.5% ownership interest in the project. Côté is one of Canada's .... read more


Gold Reserve Receives First Payment From Venezuela
Gold Reserve Inc. reported it has entered an amendment to the settlement agreement with the Bolivarian Republic of Venezuela. Under the terms of the amended settlement agreement, Venezuela will pay Gold Reserve a total of $1.032 billion as result of negotiations of the parties to satisfy the arbitral award granted in favor of the company by the International Centre for Settlement Investment Disputes, including the price agreed for the mining data related to the Brisas property. Venezuela has paid Gold Reserve an initial installment of $40 million .... read more

| | |
| --- | --- |
| AROUND THE WORLD - USA & CANADA | |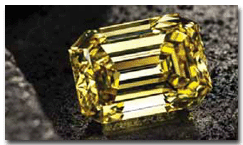 Dominion Going Underground at the Misery Kimberlite Pipe
Dominion Diamond has reported positive results from a prefeasibility study (PFS) of development of an underground mine, to be called "Misery Deep," below the Misery open pit at Ekati diamond mining operations in Canada's Northwest Territories, approximately 300 km northeast of Yellowknife. The Misery kimberlite pipe is located in the .... read more

Cliffs Natural Resources Picks Ohio for HBI Plant
Cliffs Natural Resources Inc. announced it has selected a site in Toledo, Ohio, for the development of its first hot briquetted iron (HBI) production plant. Midrex Technologies was selected to design, engineer and procure equipment for the new plant, which will have the nominal capacity to produce 1.6 million tons of HBI per year. "Today's announcement marks a very important strategic milestone for Cliffs we begin to implement our plans to be the sole producer of high-quality HBI for the EAF steel market in the Great Lakes .... read more

Top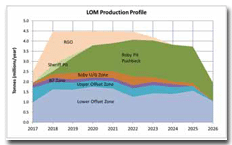 NAP Extends Mine Life at Lac des Iles
North American Palladium (NAP) has announced the results of a feasibility study that includes a new life-of-mine plan for its Lac des Iles mine in northwestern Ontario. Highlights of the study include mining a total of 37.7 million mt from surface and underground sources over a 9.5-year mine life at an average grade of 2.21 g/mt .... read more

| | |
| --- | --- |
| AROUND THE WORLD - Latin America | |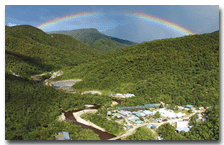 Construction Well Under Way at Fruta del Norte in Ecuador
Lundin Gold has reported that construction of its Fruta del Norte underground gold project in southeast Ecuador is well under way. The mine development contractor mobilized to the site in April, and work on the mine portals began on May 1. Construction of mine development support facilities by Lundin began later in the month. Fruta del Norte is one of thes .... read more
State-owned Company is Created in Nicaragua
In June, the Nicaraguan National Assembly (parliament) approved the creation of the Nicaraguan Mining Co. (Eniminas), which will be in charge of the exploration and exploitation of mining resources. Eniminas will be a decentralized public company of the state under the rectory of the Ministry of Energy and Mines, and will be subject to the Special Law on the Exploration and Exploitation of Mines (2001), explained the official Deputy Jenny Martinez, in the plenary. According to the law, in mining concessions .... read more

| | |
| --- | --- |
| AROUND THE WORLD - Australasia | |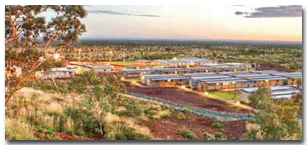 Rio Tinto Studying Koodaideri Iron Ore Development
Rio Tinto has budgeted A$30.9 million for a feasibility study of development of its Koodaideri iron ore project in the Pilbara region of Western Australia. The study will examine the project as Rio Tinto's next potential major mining development in the Pilbara, with production …. read more


Top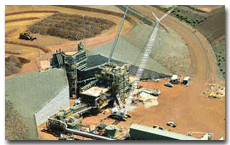 BHP Approves South Flank Initial Funding
On June 26, BHP announced the investment of US$184 million in the South Flank sustaining mine project in central Pilbara, Western Australia. BHP President Operations, Minerals Australia, Mike Henry said the funding would generate several hundred construction jobs and provide opportunities for Western Australian suppliers. The South Flank project …. read more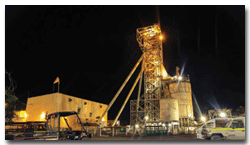 Acadia, Tanzania Discussing Export Dispute
Acacia Mining PLC and Tanzania agreed in June to hold talks aimed at resolving a dispute that has been brewing over an export ban, after Barrick Chairman John Thornton met with the country's president, Dr. John Magufuli. Barrick holds a controlling interest in Acacia (63.9%). "I feel very optimistic that we will …. read more
Top
Platinum Group Metals Reports on Waterberg DFS
Platinum Group Metals Ltd. reported that engineering work is under way to support a definitive feasibility study (DFS) of its Waterberg project on the northern limb of South Africa's Bushveld Complex. Included in the work are infill drilling, resource modeling, mine plan optimization and infrastructure engineering. Engineering and design work to reduce and improve underground development and to optimize project scale and return will also be part of the DFS. Detailed drilling targeting the higher-grade, thicker portions of the …. read more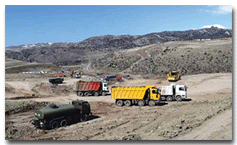 Amulsar Gold Project Moves Ahead
Lydian International Ltd. recently announced that construction at the company's 100% owned Amulsar gold project is proceeding as planned. As of May 31, project commitments totaled $213 million. Infrastructure construction power and water are in place, access roads are complete, the construction warehouse has …. read more


Top
| | |
| --- | --- |
| THIS MONTH IN COAL | |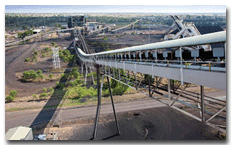 Rio Tinto Agrees to Sell C&A to Yancoal
After receiving a competitive bid from Glencore and a counter offer from Yancoal, Rio Tinto has ultimately decided to sell its wholly-owned subsidiary Coal and Allied Industries Ltd. to Yancoal. Rio Tinto said it felt Yancoal Australia Ltd.'s offer of $2.69 billion had a higher level of completion certainty. The sale is still contingent on .... read more


Top

Clean Coal Technologies Signs Agreement for Pristine M Plant in Wyoming
Clean Coal Technologies Inc. (CCTI), an emerging cleaner-energy company using technology to convert untreated coal into a cleaner burning and more efficient fuel, announced they have signed a binding agreement with Wyoming New Energy Corp. (WNEC) for the build-out of its first commercial facility in Wyoming. WNEC has recently entered into an engagement agreement with Piper Jaffray to raise up to $80 million in debt financing to build a 2-million-ton CCTI Pristine M Plant in the Powder River Basin. "We are excited about the opportunity .... read more


Coal Operator is Fined for Obed Mountain Mine Spill in Canada
Prairie Mines & Royalty ULC (formerly known as Coal Valley Resources Inc.) pleaded guilty in Alberta Provincial Court to two counts of violating the Fisheries Act. Judge C.D. Gardner sentenced the company to pay monetary penalties totaling $3.5 million. A portion of the fine ($1.15 million) will be placed into a trust to be managed by the University of Alberta to create the Alberta East Slopes Fish Habitat and Native Fish Recovery Research Fund. A total of $2.15 million will be directed to …. read more


-->
| | |
| --- | --- |
| FEATURE - Cranes And Rigging | |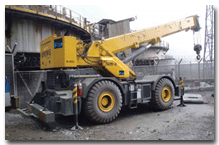 Up in the Air
At any mine site with crane-assisted construction or overhead repairs under way, what goes up must come down — at the right time and under complete control. Here's how the latest crane tech can help ensure that outcome.

By Russell A. Carter, Contributing Editor

When miners say things are "looking up," it's unlikely they're talking about overhead safety awareness. Similarly to many other industrial environments, the usual visual focus in surface mining is largely on what's in front of or below a worker, and that can be a dangerous fixation: there are often hazards overhead ranging from improperly secured or controlled crane loads to fasteners .... read more


For more companies with products in the Cranes market -
Go Here
| | |
| --- | --- |
| FEATURE - Finding Funding | |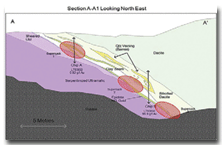 Sourcing Finances After the Super Cycle
A credit crunch and a mining bear market have created a new generation of investors — realists — making funding challenging for some.

By Jesse Morton, Technical Writer

Bankrolling the next project is not what it used to be. The global downturn that started with a housing market crash a decade ago and continues in Europe was termed a "credit crunch." While the central bankers move to exit the strategies deployed to ease lending and increase money velocity, in some sectors money remains tight. Manipulating interest rates and monetizing bad bets only goes so far. Miners, suppliers and their financiers say that, since ..... read more

Top

For more companies with products in the Financial Services market -
Go Here
| | |
| --- | --- |
| FEATURE - Rock Bolting | |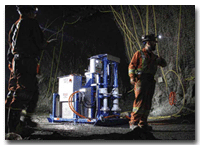 Jennmar Develops Rock Bolting Solutions
Solving the pumpable resin riddle, a new automated resin system should improve safety for hard-rock miners working in difficult geology

By Steve Fiscor, Editor-in-Chief

It's no secret. Today's miners are pursuing metals in deeper underground operations. In the western U.S., gold miners are encountering weak geological conditions. In Canada, some of the mines are so deep that the geology is becoming fluid. While the fluid description might be an exaggeration, what was needed in both cases was a rock bolting solution. If the miners are going to win the battle .... read more


For more companies with products in the Rock Bolting Equipment market -
Go Here
| | |
| --- | --- |
| FEATURE - In-Pit Sizing | |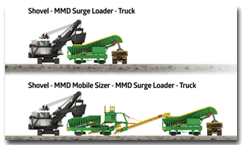 A New Approach to Truck and Shovel Mining
Employing a Surge Loader working in tandem with a Fully Mobile Sizing Station, open-pit miners could soon realize the continuous mining benefits of in-pit sizing, while using their existing truck fleet for haulage.

By Steve Fiscor, Editor-in-Chief

Professionals in mineral processing know the MMD name and associate it with the Sizer Technology it introduced almost 40 years ago. More recently, the company has been finding more uses for its large sizers in the pit. They have recently launched two new pieces of equipment that could revolutionize truck-shovel mining, the Fully Mobile Sizing Station and the Surge Loader. About 12 years ago, MMD built an apron feeder .... read more

Top


For more companies with products in the Sizing market -
Go Here
| | |
| --- | --- |
| Video Presentations | |
The latest listings from the World Mining Equipment Video Library - to view the video, click the image.
For more details on the Video Hub -

Go Here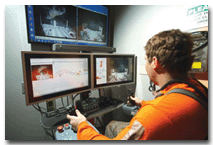 Greens Creek Moves to Automated Loading With Sandvik System
Sandvik announced that Hecla Mining Co.'s Greens Creek operation is the first U.S. underground mine to employ its AutoMine loading technology. The move to Automine Lite-controlled automated loading, according to Sandvik, will enable increased productivity, improved safety and better cost control, while bringing digitalization of the mining process closer and .... read more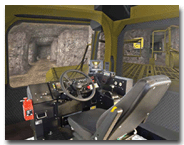 College Turns to Simulators for Training
The Canadian Collège Communautaire du Nouveau-Brunswick (CCNB) tapped ThoroughTec Simulation to equip its new Mine Training Center with the latest high-fidelity operator training simulators. The college will be receiving six CYBERMINE simulators to facilitate the training of both surface and underground heavy equipment operators. The center, which will be located ....read more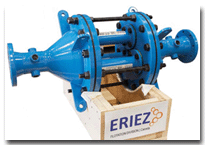 Installation of FeedAirJet Sparger Brings Better Metal Recovery
Eriez Flotation Division recently reported on early results from installation of its first FeedAirJet on a cleaner column at Capstone Gold's Cozamin concentrator in Zacatecas, Mexico. Nicknamed by the commissioning team as the "Cavitador," the FeedAirJet is a simple system for pre-aerating flotation feed streams. It is based on a proprietary configuration of Eriez's .... read more


Top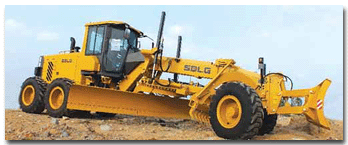 Variable Horsepower Graders Now Available in Regional Markets
Global construction equipment brand Shandong Lingong Construction Machinery Co. Ltd. (SDLG) has launched variable horsepower versions of two of its biggest selling motor graders for Middle Eastern and African markets. The new G9190 and ....read more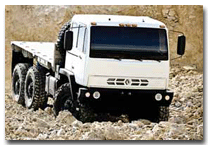 Tough Military Trucks Now Serve the Mining Industry
Acela, a producer of extreme-duty 4 x 4 and 6 x 6 trucks, recently debuted its Monterra truck line. The company said it offers a proprietary process of resetting U.S. military Medium Tactical Vehicles (FMTVs) to a near zero-mile condition, then selling them into commercial markets such as mining and other resource industries for use as operational support .... read more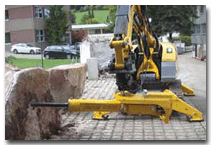 Quiet Rock Splitter
Brokk introduced the C20 Rock Splitter. Manufactured by Darda, it is a safe and quiet alternative to explosives and hydraulic breakers, the company reported. The C20 Rock Splitter quickly breaks large boulders and solid rock in mining and shaft sinking applications as well as cross passage work in tunneling. Users drill a 3-in.-diameter hole into the rock .... read more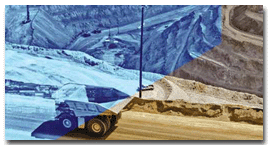 Vehicle Intervention System Takes Control When Necessary
Hexagon AB launched HxGN Mine VIS, a vehicle intervention system that detects and prevents collisions by automatically slowing down or stopping a haul truck if an imminent collision is detected. According to the company, Mine VIS is an additional layer of safety on top of the Collision Avoidance System (CAS), helping to .…. read more


Top

Engine Starters Engineered for Big Diesels
New Leece-Neville PowerPro and PowerPro Extreme series high-torque starters for medium- or heavy-duty and extreme-use applications are available now from Prestolite Electric. PowerPro and PowerPro Extreme 12 V and 24 V starters — engineered to provide starting power for 12-L to 40-L engines — include features to help reduce operating and maintenance costs and increase vehicle uptime, including ....read more
AUGUST 29-31, 2017: AIMEX, Asia-Pacific's International Mining Exhibition, Sydney Showground, Sydney, Australia.Contact: Web: www.aimex.com.au/home/
SEPTEMBER 6-8, 2017: InterDrone 2017, Las Vegas, Nevada, USA.Contact: Web: www.interdrone.com
SEPTEMBER 18-22, 2017: Perumin 33 Convencion Minera, Arequipa, Peru. Contact: Web: www.convencionminera.com
OCTOBER 18-21, 2017: The 6th International Congress of Mining Machinery and Technologies, Izmir, Turkey. Contact: TMMOB Chamber of Mining Engineers of Turkey; Web: http://immat.org
OCTOBER 23-28, 2017: XXXII Convención Internacional de Minería 2017, Guadalajara, Jalisco, Mexico.Contact: Web: www.mineross-cdmx.com
DECEMBER 3-8, 2017: American Exploration & Mining Association's Annual Meeting and Exposition, Reno, Nevada, USA.Contact: Web: www.miningamerica.com
JANUARY 28-31, 2018: 44th Annual Conference on Explosives and Blasting Technique, San Antonio, Texas, USA. Contact: Web: www.isee.org
FEBRUARY 25-28, 2018: 2018 Society for Mining, Metallurgy and Exploration (SME) Annual Conference & Expo, Minneapolis, Minnesota, USA. Contact: Web: www.smenet.org
For a full calendar of mining industry conferences and events - click here
| | |
| --- | --- |
| WHO'S MOVING WHERE | |

Cameco appointed Brian Reilly as Cameco's senior vice president and COO. Reilly will succeed Bob Steane who retired on June 30 after 34 years with Cameco.

IDM Mining Ltd. appointed Ryan Weymark as project director for the Red Mountain underground gold project.

Kerr Mines Inc. appointed Brad Atkinson as director of exploration and geology. Previously, he was a geologist for Phelps Dodge Morenci and a corporate project geologist for Newmont Gold. They also announced the addition of Michael R. Smith as a technical advisor of exploration and geology. Smith is currently president of Monarca Minerals.

Lydian International Ltd. appointed Andrew Kaczmarek as COO. He most recently served as independent technical advisor to Alacer Gold Corp. and Midway Gold Corp., interim COO for Aurcana Corp. and COO of Victoria Gold Corp.

Mountain Province Diamonds Inc. announced that Patrick Evans, its president and CEO, have reached a mutual decision and he will depart the company. David Whittle was appointed interim president and CEO. Evans will continue as a director of the company. Whittle is currently the lead outside director of the company.

Orefinders Resources Inc. appointed Charles Beaudry as its vice president of exploration and to the board of directors. He previously held the position of general manager of new business opportunities with IAMGOLD Corp. from 2008 until 2009.

ALLU Inc. announced Scott Stogsdill as its new territory sales manager for the western United States. Prior to joining the company, he served for four years as sales manager, western U.S. and Mexico, for Sandvik Mining & Rock Technology's Conveyor Products Division. ..

Nico Delvaux Humberto Gonzalez joined Hawk Measurement as a sales director. Gonzalez has been in the instrumentation and control world for more than 30 years with companies such as Milltronics, Magnetrol and Robert Shaw..
About - providing an abreviated version of the current print edition of E&MJ, WOMP is distributed throughout the world to decision makers in the global mining industry, the last week of every month.

Subscribe to E&MJ - To receive your own copy of the print edition of E&MJ, click here , and complete your details. E&MJ is available free of charge to qualified readers.

Contact - if you have views, opinons or comments or editoral that you would like to submit, we would be delighted to hear from you - click here

Top