BHP Approves South Flank Initial Funding
---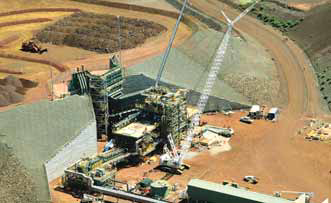 Development of South Flank would generate several thousand jobs during
construction.

On June 26, BHP announced the investment of US$184 million in the South Flank sustaining mine project in central Pilbara, Western Australia. BHP President Operations, Minerals Australia, Mike Henry said the funding would generate several hundred construction jobs and provide opportunities for Western Australian suppliers.

The South Flank project, which will leverage and expand the existing Mining Area C hub, is BHP's preferred option to replace production from the 80-metric-ton-per-year (mt/y) Yandi mine when it reaches the end of its economic life in the early-to-mid 2020s. The project is expected to be submitted for board approval in the middle of 2018, with first ore targeted for 2021 and rampup timed to coincide with the ramp-down of Yandi. Full development of South Flank would generate several thousand jobs during construction.

Henry said the capital efficient South Flank project was a compelling option to replace Yandi production and offered attractive returns. Its high-grade lump and fines ore and a strip ratio in line with the Western Australia Iron Ore (WAIO) average would establish it as a highly competitive operation. The initial funding will be used primarily for the expansion of accommodation facilities to support current and future workforce requirements.

"As well as supporting our current operational requirements, this work will advance potential first ore from South Flank, while we further optimize the full development and progress external and internal approvals," Henry said. "As we have said previously, a continuing stable investment environment in Western Australia is required to underpin ongoing investment in the business, including this project."

The capital cost for South Flank is expected to be in the range of US$30 to US$40 per mt, with expenditure fitting within WAIO's previously indicated average sustaining capital expenditure of US$4 per mt over the next five years.

"The capital efficiency of South Flank is underpinned by the planned use of existing infrastructure at the Mining Area C operation, which would, if approved, become one of the largest stand-alone iron ore processing centers in the world, within reach of several billion mt of highgrade ore," Henry said.
---
As featured in Womp 2017 Vol 07 - www.womp-int.com