Dominion Going Underground at the Misery Kimberlite Pipe
---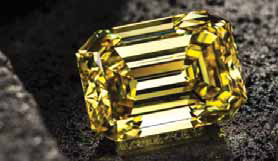 The 65.93-carat fancy yellow diamond named the 'Arctic Sun' was
recovered from the Misery pipe.

Dominion Diamond has reported positive results from a prefeasibility study (PFS) of development of an underground mine, to be called "Misery Deep," below the Misery open pit at Ekati diamond mining operations in Canada's Northwest Territories, approximately 300 km northeast of Yellowknife. The Misery kimberlite pipe is located in the Core Zone joint venture at Ekati, in which Dominion has an 88.9% participating interest.

The Misery Main pipe is currently in production as an open pit and is expected to account for approximately 20% of ore processed and 60% of carats recovered at Ekati in Dominion's fiscal 2018, ending January 31, 2018. Ekati also draws current production from the Koala underground and Pigeon and Lynx surface mines. The company also has reserves in the Jay and Sable kimberlite pipes, which have not yet been brought into production.

Ekati mine planning currently projects continued operations until 2035. The Misery Deep PFS is based on an inaugural probable mineral reserve of 1.8 million mt and 8.7 million carats. The mine plan includes extraction of 1.8 million mt of kimberlite on five underground production levels, using a sublevel retreat method similar to that employed at the Koala underground mine.

Project development will require the addition of infrastructure, including expansion of the existing Misery camp, additional compressed air supply, refurbishment of the existing shotcrete plant, a fresh-airraise ventilation system from surface, tie in of the electrical distribution system to the Misery substation, and expansion of the existing water management system.

Initial capital to develop the Misery Deep project is estimated at $94 million. Dominion was planning to make a construction decision before the end of June. Assuming a project go-ahead, Dominion will initiate the permitting process and begin detailed engineering and procurement activities in the third quarter of 2017.

Mobilization of contractors and mining equipment is anticipated on the 2018 winter road. Development work is expected to span four years, with initial ore production from development in 2019 and commercial production starting in 2020. The company does not plan to complete a standalone feasibility study for the project.

The Misery pipe has produced a number of high-value fancy yellow and orange diamonds, with valuations ranging from $10,000 to $150,000 per carat. A 65.93-carat fancy yellow diamond named the "Arctic Sun" was recovered from the Misery Main pipe, and Dominion partnered with a client to create a 30.54-carat fancy vivid yellow VS1 polished diamond with an estimated value of $5 million. The "Arctic Sun" is the largest fancy yellow stone recovered to date in North America. The potential for mining large fancy diamonds represents upside for production from the Misery Deep operation.

To accommodate the processing of Misery Deep ore, the PFS assumes that approximately 1.6 million mt of Pigeon ore, with an associated 800,000 recovered carats, will be mined according to the existing life-of-mine plan, stockpiled and deferred from processing until later in Ekati mine life.
---
As featured in Womp 2017 Vol 07 - www.womp-int.com