Acadia, Tanzania Discussing Export Dispute
---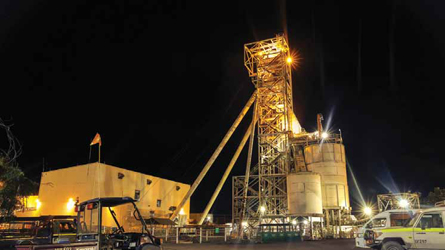 A nighttime photo of the Bulyanhulu gold mine, which is caught in a dispute between the Tanzanian
government and Barrick Gold.

Acacia Mining PLC and Tanzania agreed in June to hold talks aimed at resolving a dispute that has been brewing over an export ban, after Barrick Chairman John Thornton met with the country's president, Dr. John Magufuli. Barrick holds a controlling interest in Acacia (63.9%).

"I feel very optimistic that we will reach a resolution, which is a win-win," Thornton said. "We will be sitting down soon with a team designated by the president and our own team." Tanzania accused Acacia of evading taxes and said an audit showed the miner had 10 times more gold in containers prepared for export than the company declared.

Recently, the President's Second Committee investigating the situation presented its findings. On May 24, the President's First Committee looked into the contents of containers of concentrate. Acacia refuted the findings of the First Committee and believed they contain significant discrepancies compared to the more than 20 years of data available to Acacia. Barrick said it had requested, but not yet received, a full copy of the committee's second report, and an independent review of the results.

Acacia said it was disappointed with the findings of the Second Committee's report, which alleged that Acacia has under-declared revenues and tax payments over a number of years by tens of billions of U.S. dollars. As a result, it made a series of recommendations including the payment of outstanding taxes and royalties, re-negotiation of large-scale Mineral Development Agreements, government ownership in the mines, and the continuation of the export ban.

Acacia strongly refutes these new unfounded accusations. It said it has always conducted its business to the highest standards and operated in full compliance with Tanzanian law.
---
As featured in Womp 2017 Vol 07 - www.womp-int.com