The latest from the
World Mining Equipment
Video Library
View





Committed to the Mining Business

You may not have noticed it, but a change has taken place. There was a slight change to the masthead (that column of fine print to the right) and the title below my signature is now different. Late last year, I formed a new company, Mining Media International Inc. based in Jacksonville, Florida, and purchased Engineering & Mining Journal (E&MJ) along with Coal Age and other mining-related properties from Mining Media Inc., the Denver, Colorado-based company that has owned the titles since 2003. The title publisher was added to editor-in-chief below my signature.
Shortly after MINExpo 2016, the former owner, Peter Johnson, expressed an interest in selling the titles. In a friendly transaction, he sold the titles to Mining Media International. The similarities with the company names.... read more

Steve Fiscor, Publisher & Editor in Chief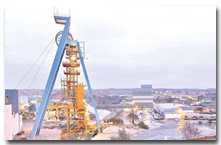 Lundin More Than Doubling Zinc Production at Neves-Corvo
Lundin Mining has begun work to expand throughput capacity at the zinc concentrator at its Neves-Corvo operations in southern Portugal from 1.1 million metric tons per year (mt/y) to 2.5 million mt/y. Production of zinc in concentrates is planned to increase from about 70,000 mt/y to an average of about 150,000 mt/y for the 10-year period from.... read more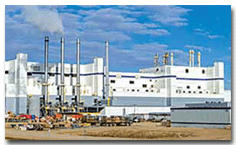 K+S Celebrates Grand Opening of the Bethune Potash Mine
Dignitaries gathered in Bethune, Saskatchewan, recently to celebrate the opening of a new K+S potash mine in Canada. During the ceremony, the new mine was officially handed over to the operations team. The five-year construction phase has been completed and the first ton of marketable potash is expected to be produced in June as .... read more

Top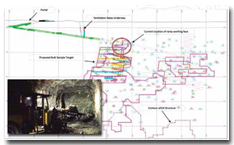 Eldorado to Acquire Integra
Eldorado Gold has entered into a definitive agreement with Integra Gold to acquire all of the shares of Integra that it does not currently own in a transaction valued at approximately C$590 million. Integra's principal asset is the Lamaque project near Val-d'Or, Quebec. Lamaque hosts an indicated resource of 5.1 million metric tons (mt) at .... read more


Darnley Bay Planning Revival of the Pine Point
Darnley Bay Resources has announced robust results from an independent preliminary economic assessment (PEA) of its 100% owned Pine Point project east of the town of Hay River, Northwest Territories, Canada. Based on the PEA, the company .... read more

| | |
| --- | --- |
| AROUND THE WORLD - USA & CANADA | |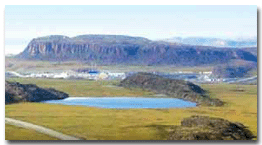 Production Begins at Doris
TMAC Resources announced that commercial production was achieved on May 15 at its Doris mine and mill complex situated on the company's Hope Bay property located in the Kitikmeot region of Nunavut, Canada. The processing plant has operated at an average in excess of 60% of its .... read more

Path Cleared for Pebble Project Permitting
Northern Dynasty Minerals and the U.S. Environmental Protection Agency (EPA) have reached a settlement agreement that will allow normal course permitting to proceed for the controversial Pebble copper-gold-molybdenum-silver project in southwest Alaska. The operating company for the project, Pebble Ltd. Partnership (PLP), is a wholly-owned subsidiary of Northern Dynasty. The current agreement settled a legal dispute that had been ongoing since 2014, when EPA action effectively blocked further work .... read more

Top
Teck Sells Waneta Dam Interest
Teck Resources and Fortis Inc. have announced an agreement under which Fortis will purchase Teck's two-third interest in the Waneta Dam and related transmission assets in British Columbia for C$1.2 billion cash. The Waneta Dam is located on the Pend d'Oreille river near Trail, British Columbia, and supplies power to Teck's .... read more

| | |
| --- | --- |
| AROUND THE WORLD - Latin America | |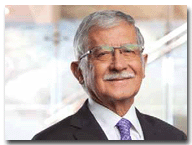 Pizarro: Codelco to Keep its Foot on the Brake
Nelson Pizarro, CEO, Corporación Nacional del Cobre (Codelco), delivered a speech at the Exponor conference in Antofagasta, Chile, on May 16. Those who are familiar with Pizarro know that he does not mince words. He is a respected engineer, who managed many Chilean mining operations during his 50-year career before taking the helm at Codelco in July 2014 in his .... read more
Continental Gold Garners Backing for Buriticá Project in Colombia
Continental Gold announced sales of company common shares to Newmont Mining and RK Mine Finance Master Fund I (Red Kite) having a combined value of $136 million. Continental will use the funds to advance its underground Buriticá gold project in Antioquia department, northwest Colombia, where formal construction is scheduled to begin before year-end 2017. The Newmont transaction is valued at $109 million and will give Newmont an approximate 19.9% interest in Continental. In addition, the companies will form a strategic alliance .... read more

| | |
| --- | --- |
| AROUND THE WORLD - Australasia | |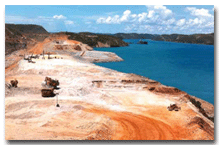 Mount Gibson Redeveloping Koolan Island Iron Ore Mine
Mount Gibson Iron Ltd. has initiated work to redevelop and restart production from the high-grade Main Pit iron ore deposit at its Koolan Island mine off the north coast of Western Australia. Seawall construction, pit dewatering and all other activities associated with restarting production are anticipated to take approximately 24 months …. read more


Top

Heron Signs Off-take Agreement for Woodlawn Project
In separate announcements in early May, Heron Resources reported it has awarded an engineering, procurement and construction (EPC) contract for its wholly-owned Woodlawn project near Tarago, New South Wales, and signed an off-take agreement for 100% of the zinc, copper and lead concentrates to be produced by the project. The EPC contract went to Sedgman. The off-take agreement was signed with Louis Dreyfus Co. Metals and covers the period of about 3.25 years from the start …. read more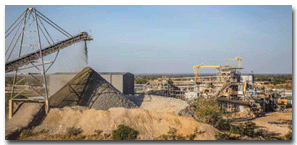 Acacia Accused of Under-reporting Mineral Exports
A damning report published in Tanzania claims London-listed Acacia Mining has been under-declaring exports, making a quick end to a ban on mineral sales from the country unlikely. In late May, Tanzanian President John Magufuli fired his mining minister and the chief of the state-run mineral …. read more
Top
Norilsk Considers Legal Action Against Botswana
Norilsk Nickel has served notice that it intends to commence legal proceedings in Botswana against the government of Botswana in respect to its involvement in the trading of BCL Ltd. and BCL Investments Pty Ltd., with a view to recovering the roughly $271 million (plus damages and other costs) that they are owed in relation to the sale of a 50% interest in the Nkomati mine in South Africa and the $6.4 million they are owed in relation to the sale of the Tati mine in Botswana. The government of Botswana is the ultimate shareholder of BCL through its corporate …. read more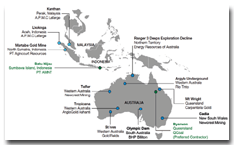 Macmahon Advances Service Agreement for Batu Hijau
Macmahon and PT Amman Mineral Nusa Tenggara (AMNT) have signed a binding agreement for mining services for the Batu Hijau copper-gold mine in Indonesia. The alliance-type agreement exchanges shares of Macmahon for one of the largest mining fleets in Indonesia. The agreement includes cost-plus payments with upside and downside …. read more


Top
Freeport Lays Off Striking Grasberg Miners
PT Freeport Indonesia has reportedly laid off striking miners at its Grasberg operation. On May 1, more than 10,000 miners who are represented by the Chemical, Energy and Mines Workers Union (CEMWU) embarked on 30 days of strike action in protest of the company's furlough policy. Contractors joined the strike on May 9. The company declared the strike illegal, and announced that striking workers would be considered absent without leave. Any worker absent for five days would lose  .… read more



| | |
| --- | --- |
| THIS MONTH IN COAL | |

Warrior Met Coal Ramping Up to Historical Levels
In its first quarter earnings reports, Alabama-based metallurgical coal producer Warrior Met Coal defines its strength and position in the market. "We are pleased with our strong performance in this first quarter .... read more


Top

Peabody to Keep Metropolitan Operation
Peabody has decided to retain the Metropolitan metallurgical coal mine and its associated 16.67% interest in the Port Kembla Coal Terminal after proposed purchaser South32 terminated the purchase contract. South32 was unable to obtain clearance from the Australian Competition and Consumer Commission (ACCC) within the timeframe required under the contract. "We are surprised that South32 and the ACCC reached an impasse, given both the physical synergies and the global nature of the metallurgical coal markets," said Glenn Kellow, president and .... read more


Committee to Probe Coal Mine Incident in Iran
The Fars News Agency in Tehran reported that Iranian Industry Minister Mohammad Reza Nematzadeh declared that a special team will probe into a deadly coal mine explosion in the northern part of the country. "A fact-finding committee has been set up to look into the incident caused by a deadly blast in Zemestanyurt coal mine in the northern city of Azadshahr in Golestan province," Nematzadeh said. The committee consists of two university professors, three to four veteran miners and two former …. read more


-->
| | |
| --- | --- |
| FEATURE - Crusher Maintenance | |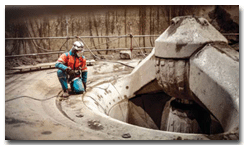 Keeping Crushers at Work
In most mines, crushing provides the gateway to mineral recovery, and proper maintenance is the key to reliable crusher operation

By Simon Walker, European Editor

Located at the front end of any mineral-processing system, crushers are heavy-duty, high-cost pieces of equipment of which a lot is expected in terms of throughput and reliability. If the primary crusher goes down, the chances are there will be no backup unit to take over. The plant runs through its fine ore stock, and then .... read more


For more companies with products in the Crusher Parts market -
Go Here
| | |
| --- | --- |
| FEATURE - Blasting Technique | |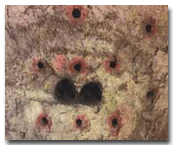 Modern Underground Blasting Methods
What face round would work best and why?

By Anthony Konya, Dr. Calvin J. Konya and Dr. Paul Worsey

Underground mining and construction projects face several challenges unique to the underground environment compared to the surface environment. The goals are the development of an effective blast pattern that minimizes cost, maximizes face advance, and provides the desired fragmentation and face profile. In addition to these goals, mines must consider the very real operational problems ..... read more

Top

For more companies with products in the Blasting Accessories and Equipment market -
Go Here
| | |
| --- | --- |
| FEATURE - Wear Protection | |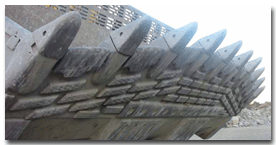 Winning the War Against Wear
'The best defense is a good offense' applies to many activities, including games and military combat. Metal wear generally can't be defeated, but proactive product selection can be effective in battling abrasion to a draw.

By Russell A. Carter, Contributing Editor

Mining takes its wealth from the Earth, which in turn imposes its own expensive toll on the equipment used to dig, move and crush ore — wearing down parts and equipment at a rate that costs the mining industry untold millions in replacement costs and downtime. In the most extreme mining conditions, it can be a race between abrasion and corrosion to see which process can destroy .... read more


For more companies with products in the Wear Plates Equipment market -
Go Here
| | |
| --- | --- |
| FEATURE - Communications | |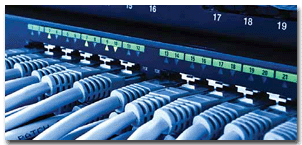 Connecting the Connected Mine
Wireless communications help tie together all aspects of large and complex mining operations

By Douglas Bellin and Paul McRoberts

How do you connect operations that cover vast stretches of land in some of the world's most rugged and remote locations? That's the question many mining companies are asking today as they look to create a connected mine. They want to take advantage of greater data access, real-time analytics, autonomous systems and services such as .... read more

Top


For more companies with products in the Communications Equipment market -
Go Here
| | |
| --- | --- |
| Video Presentations | |
The latest listings from the World Mining Equipment Video Library - to view the video, click the image.
For more details on the Video Hub -

Go Here

Mining Tier 4 Final Engines to Be Certified
Cummins unveiled ultra-clean mining engines designed to meet European Union (EU) Stage V emissions regulations. The engines will be certifi ed to U.S. Environmental Protection Agency (EPA)/ Air Resources Board (ARB) Tier 4 Final standards. The integration of Cummins' latest aftertreatment system, the Single Module, with leading combustion and air-handling technology, allows the 2019 .... read more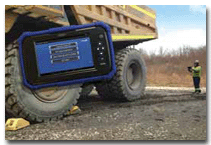 Continuously Monitor OTR Tire Pressure
The Doran 360OTR tire pressure monitoring system continuously monitors air pressure in OTR tires with valve stem-mounted tire pressure sensors. These large bore tire pressure sensors transmit RF signals to a digital monitor/display located in the cab. Wheel positions are programmed into the display with a customizable baseline pressure setting ....read more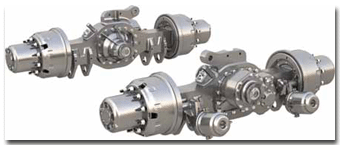 New Axle Offers Top GAWR
Meritor Inc. announced its new P600 Series Tridem Heavy-Haul Planetary Axle for heavy-duty mining applications. Built to operate in extreme conditions, the P600 Tridem is compatible with industry-leading suspension options and offers a .... read more


Top

Bearing Isolator Stops Ingress
Inpro/Seal released the VB45-S Bearing Isolator, which protects against contamination ingress and lubrication loss. It utilizes Inpro/Seal's patented XX Interface coupled with an enlarged contamination chamber to achieve an IP66 rating, the standard for premium ingress protection against both harmful dust particulates and powerful water jets from all directions, the company reported. The VB45-S utilizes an enlarged D-Groove to capture ....read more

Wisconsin Welcomes Komatsu Mining
Executives from Japan's Komatsu Ltd., Milwaukee's mayor and Wisconsin's governor formally cut the ribbon in a ceremony in May that launched the subsidiary .... read more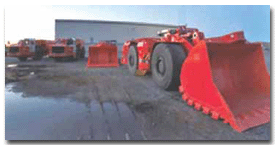 Sandvik Fleet Ready for Work at Caribou
Trevali Mining Corp. said it has received delivery of part of its new Sandvik underground mining fl eet for the Caribou zinc mine in the Bathurst Mining Camp of northeastern New Brunswick. Early-arriving components of the new fleet — haul trucks and loaders — are currently being transitioned .... read more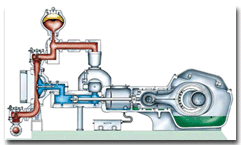 Solving a Pipeline Pulsation Problem
A recently published white paper by two employees of Weir Minerals Netherlands describes an innovative engineering solution to a pumping problem at a large South American iron ore mine. According to authors Ralph van Rijswick and Erik Vlot, Anglo American operates 18 GEHO piston diaphragm pumps in two pump stations .…. read more


Top

Digital Underground System Implementation Guidelines for Non-experts
The Global Mining Standards and Guidelines Group (GMSG) recently published the first two parts of the Underground Mine Communications Infrastructure Guideline: Positioning and Needs Analysis, and Scenarios and Applications. The guideline is intended to provide a high-level view of the processes needed by mine owners and operators to meet planning and design requirements when creating or replacing underground mine ....read more
JUNE 17-22, 2017: 16th North American Mine Ventilation Symposium, Colorado School of Mines, Golden, Colorado, USA.Contact: Web: www.csmspace.com/
AUGUST 29-31, 2017: AIMEX, Asia-Pacifi c's International Mining Exhibition, Sydney Showground, Sydney, Australia. Contact: Web: www.aimex.com.au/home/
SEPTEMBER 6-8, 2017: InterDrone 2017, Las Vegas, Nevada, USA. Contact: Web: www.interdrone.com
SEPTEMBER 18-21, 2017: Exposibram 2017, Belo Horizonte, Minas Gerais, Brazil. Contact: Web: www.exposibram.org.br/
SEPTEMBER 18-22, 2017: Perumin 33 Convencion Minera, Arequipa, Peru.Contact: Web: www.convencionminera.com
SEPTEMBER 23, 2017: National Mining Hall of Fame 30th Annual Induction Banquet and Ceremony, the Pinnacle Club, Grand Hyatt, Denver, Colorado, USA. Contact: Web: www.MiningHallofFame.org
SEPTEMBER 24-27, 2017: Solution Mining Research Institute (SMRI) Fall Technical Conference with optional technical class on "Well Integrity Management" (class subject will be repeat of spring 2017), Münster, Germany. Contact: Web: www.solutionmining.org
OCTOBER 18-21, 2017: The 6th International Congress of Mining Machinery and Technologies, Izmir, Turkey. Contact: Web: www.immat.org
For a full calendar of mining industry conferences and events - click here
| | |
| --- | --- |
| WHO'S MOVING WHERE | |

Anglo American announced that Ian Ashby will join the board as a nonexecutive director on July 25. Ashby served as iron ore president for BHP Billiton between 2006 and 2012, when he retired from the company. He is currently a nonexecutive director of Nevsun Resources and Alderon Iron Ore.

Peter Bergman has been appointed as the new general manager of Boliden Kevitsa. He will take over on August 15. Most recently, he was acting general manager of Boliden Aitik and before that, the mine manager of the Kankberg mine in the Boliden Area.

MMG Ltd. announced that COO Marcelo Bastos has resigned and will leave the company in August. Bastos was appointed COO in 2011 with responsibility for all MMG's operating assets, assuming responsibility for marketing since 2015.

Hecla Mining's Senior Vice President of Exploration Dr. Dean McDonald received the A.O. Dufresne Exploration Achievement Award from the Canadian Institute of Mining, Metallurgy and Petroleum (CIM) at the CIM Annual Awards Gala in Montreal, Quebec. This award recognizes Dr. McDonald's "exceptional contributions to mining exploration in Canada.

Moneta Porcupine Mines appointed Gary O'Connor as co-CEO and chief geologist and director. O'Connor has been vice president of Dundee Resources since 2007

Mustang Resources appointed Peter Spiers as a nonexecutive director. He spent 20 years with Western Mining Corp., during which time he worked as a senior geologist, project manager and lastly group manager of business development prior to WMC being acquired by BHP Billiton.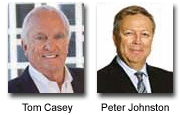 Tronox announced that CEO Tom Casey has died. Shortly before, the company had announced Casey's decision to retire due to health reasons. Peter Johnston, formerly head of Glencore's global nickel business and CEO of Minara Resources, has been appointed interim CEO until a successor is found..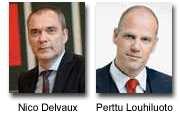 Metso has appointed Nico Delvaux president and CEO, which will become effective in November. Delvaux is currently senior executive vice president for Atlas Copco AB and business area president for Compressor Technique. He replaces Matti Kähkönen who has been the president and CEO of Metso since March 2011. A 40-year Metso veteran, Kähkönen will serve as a senior advisor to Metso's board until his retirement. Victor Tapia was named president of Metso's Minerals Capital business area. The current head of Minerals Capital, João Colagrossi, will move to the Minerals Services business area. He will focus on developing the screening business and will report to Perttu Louhiluoto, president of Minerals Services.
About - providing an abreviated version of the current print edition of E&MJ, WOMP is distributed throughout the world to decision makers in the global mining industry, the last week of every month.

Subscribe to E&MJ - To receive your own copy of the print edition of E&MJ, click here , and complete your details. E&MJ is available free of charge to qualified readers.

Contact - if you have views, opinons or comments or editoral that you would like to submit, we would be delighted to hear from you - click here

Top