Winning the War Against Wear
'The best defense is a good offense' applies to many activities, including games and military combat. Metal wear generally can't be defeated, but proactive product selection can be effective in battling abrasion to a draw.

By Russell A. Carter, Contributing Editor
---
The most cost-efficient parts-protection systems balance wear resistance and weight through application of good
design and appropriate materials. (Photo: Hensley Industries)


Mining takes its wealth from the Earth, which in turn imposes its own expensive toll on the equipment used to dig, move and crush ore — wearing down parts and equipment at a rate that costs the mining industry untold millions in replacement costs and downtime. In the most extreme mining conditions, it can be a race between abrasion and corrosion to see which process can destroy a part faster.

Miners typically employ a threepronged approach — prevention, detection and repair — to battle the problem, and industry suppliers are providing new weapons in all three areas. Here's a look at the latest wear-protection products and technology.

Staying One Step Ahead
"Prevention" of abrasion is a relative term; wear will always occur as solid rock and slurries pass over metal, plastic and other types of surfaces. A key objective to minimize this damage is to develop and use increasingly improved wear materials that exhibit superior abrasion resistance without requiring highly specialized fabrication and handling procedures. Swedish steel manufacturer SSAB believes it has a winning combination of these characteristics in its soon-to-be-released Hardox 500 Tuf steel.

Torbjörn Narström, senior specialist at SSAB's Knowledge Service Center and project leader–Hardox 500 Tuf, told E&MJ that SSAB's main purpose for developing this new steel, which will be available in September, is to replace the Hardox 450 HBW product currently used in haul truck bodies and trailers as structural wear plate. This will result in lighter truck bodies with higher payload ratings and productivity. Narström explained that in mine truck bodies, where lining/ wear liners are very common, the need for liners can be reduced with the use of Hardox 500 Tuf. Similar weight savings can also be achieved with excavator buckets to reduce the need for additional wear protection.

Narström said Hardox 500 Tuf is the first structural wear plate to be rated at a 500 HBW level. The product has the same bending recommendation as Hardox 450 and has a guaranteed impact toughness of 27 Joules at -20°C (20 ftpounds at -4°F), which makes it suitable for cold climates. Hardox 500 Tuf also can be used in the main structure — not just as a liner plate — in applications such as mine truck bodies and buckets.

Overall, said Narström, the use of Hardox 500 Tuf could reduce the weight of bodies and buckets, allow mining companies to achieve higher payloads, load more material, transport more material, achieve a higher turnover, and achieve longer service lives for their equipment.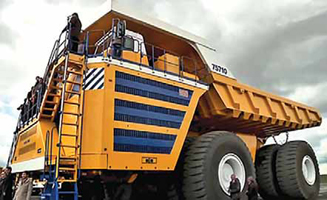 Considered to be the largest mining haul truck in production, the BelAZ 75710
uses SSAB's Hardox 450 high strength steel for various components to reduce
overall weight without compromising durability and functionality


Down to the Wire
Polymet, a manufacturer of high performance wire for hardfacing, welding, and thermal spray applications. recently introduced Vecalloy 752, an iron-based alloy specifically designed to perform in aggressive environments where impact, abrasion and erosive wear are factors. Vecalloy 752, said Ohio, USA-based Polyment, produces extremely hard, nearly spherical tungsten boride particles throughout the entire weld bead thickness.

Polymet claimed that Vecalloy 752 is designed to outperform tungsten carbide in many applications, particularly when impact resistance is a factor. Examples include vibrating screens, grader blades and other ground-engaging tools, chute blocks, wear plates, mill liners, slurry piping and shovel bucket wear packages.

Vecalloy 752, the company noted, offers the toughness required for high-impact applications while competing with the most wear-resistant coatings available. It forms a microstructure which looks similar to WC/Ni PTA, W-based hard particles immersed in a matrix. It is claimed to be the only hardfacing alloy that possesses this type of microstructure while simultaneously avoiding the long needle-like particles known to cause problematic embrittlement in chromium carbide overlays and many nanostructured steel alloys. It is commonly available in 1/16-in. metal cored wire. Additional welding diameters are available upon request.

The Quiet Solution
Metso's most recent offering in the wear protection market not only provides a solution to the conventional problem of minimizing damage from abrasion and impact, but also is designed to ease wear and tear on equipment operators' nerves and hearing. Pointing out that loud, repeated impact noise from loading and dumping material carried in a haul truck has an adverse effect on operators and nearby workers, Metso claims its rubber truck-body linings handle impact better than steel liners while reducing impact noise by an average of 10-15 decibels, which, in layman's terms, effectively cuts noise by half. In addition, its measurements show that rubber truck body liners absorb up to 95% of the energy generated by impact during loading; consequently, vibrations dissipate before reaching other parts of the truck structure, including the operator's cabin.

Metso said its rubber-liner solution offers several times longer service life compared with steel liners, and also prevents carry-back problems with moist or frozen materials.
Coorstek says its capability to fine-tune the composition of all ceramic wear products enables it to offer
a large range of material properties that meet the needs of almost any specified application.


Ceramics for Mines
CoorsTek, a leading manufacturer of industrial ceramic materials, now offers CeraSurf AD92 Plus ceramic, claimed to be engineered specifically for the wear and tear of mining and material handling applications. According to the Colorado, USA-based company, both laboratory tests and real-world installations have proven this premium ceramic formulation delivers longer useful life based on its enhanced wear and impact resistance. AD92 Plus ceramic tiles, linings, and custom parts are designed for mining OEMs and integrators — capable of enduring severe service in conveyors, chutes, cyclones, feeders, piping, storage, and other materials handling equipment.

"Downtime is not an option for our clients," said Greg Bowman of CoorsTek. "Anything that lengthens the maintenance cycle means more uptime — more profit for operators. And one way to do that is with new, tougher materials." To advance its product portfolio, CoorsTek is making a $120 million investment in a new Center for Advanced Materials in Golden, Colorado. This facility, said Coorstek, will aid it in developing and producing application-specific ceramic materials for mining, energy and other harsh environment industries.

Henkel Corp.'s Loctite wear-resistant coatings also employ the wear properties of ceramic, coupled with the storage and handling convenience of two-part epoxies to protect equipment in harsh environments. Its wearing compounds are twopart epoxy systems containing ceramic beads or ceramic powder, and silicon carbide. The epoxy-base polymer that adheres the ceramic material to the substrate is formulated to be robust, offering excellent performance under high compression and high impact loads. These coatings cure in temperatures between 55°F and 90°F with cure time dependent on mass and temperature. As a result of the exothermic heat generated by the epoxy reaction during cure, the larger the mass, the faster the cure. Higher substrate and air temperatures will also result in accelerated cure.

Because ceramic is inert, it does not react with most materials that come in contact with metal components. Ceramic coatings resist harsh chemicals and withstand temperatures to 550°F. The size of the ceramic material — powder or bead — used in the wear-resistant coating directly corresponds to the size of the particulate that will ultimately damage metal components. For large particulates and stones, coatings with the largest available ceramic beads are most effective. For fine slurries or wastewater, fine powder ceramics are sufficient to inhibit damage.

Among the more commonly used Loctite formulations are:
• Putties—thick pastes applied using a trowel or by hand on surfaces within arm's reach. Various sized bead fillers incorporated into different putty formulations give them distinct strength and hardness characteristics to resist wear based on the fluids or solids handled by the parts.
• Brush-on coatings—self-leveling, lowviscosity materials that can be applied with brushes or rollers, or simply poured onto a substrate and allowed to coat the desired area.
• Sprayable coatings—low viscosity materials similar to brush-on materials that achieve just 0.020-in. (0.5-mm) thickness. Because these coatings are so thin and the ceramic powders used in them are so fine, they should not be exposed to high turbulence or impact. Appropriate applications for sprayable ceramics coatings include augers, screens, grates, curved components, elbows and the insides of tanks and vessels.
• Impact-resistant coatings—specially formulated to absorb shock and withstand damage from medium to large sized aggregate such as rocks, coal and other substances falling onto or striking a substrate. These materials are often found protecting chutes at the end of conveyor belts.

Pins Point to Component Life Expectancy
Keeping track of how quickly vital machine parts are wearing out is a labor-intensive task that can easily be overlooked until problems arise or failures occur at inopportune times. Rockland Manufacturing Co., based in Pennsylvania, USA, has introduced a product designed to solve that problem.

According to Rockland, wear parts equipped with its patent-pending Wear Pin technology allow operators to determine how much wear life remains in a part, just by looking at it. When a moldboard, blade, liner, or wear plate wears to a specific point, contrasting Wear Pins appear, signaling the need for maintenance or replacement.

The amount of wear over a certain period of time in a certain location can also be easily determined, again just by looking at the part. This provides fleet managers with an opportunity to experiment with configurations to reduce the overall cost of equipment operations and maximize uptime. Different materials can also be easily evaluated and tested in specific applications side-by-side with one another, according to Rockland.

"We created this technology for two reasons," said Bill Pratt, Rockland's marketing director. "First, to prevent unscheduled downtime due to equipment failure by using a visual indicator of wear and second, to eliminate the need for multiple manpower-intensive ultrasonic inspections."

He went on to explain that when the steel structure of a bucket or blade wears thin, cracks appear that may not be perceptible upon visual inspection. If the cracks aren't properly repaired in a timely manner, they will continue to grow. To eliminate the need for continual ultrasonic inspections assessing the extent of cracks, Wear Pins installed directly in the bucket shell, blade moldboard or any liner component during manufacturing become visible when the steel has worn to a point at which operators should schedule maintenance or prepare for replacement.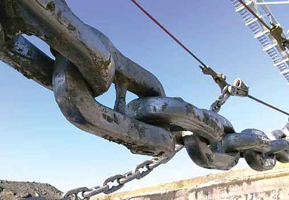 Columbia Steel says its EZ RigLok repair links allow safer, faster fixes
for worn-out or broken dragline chain sections.


Speedy Chain Repairs Cut Downtime
Another common goal of an overall wear-protection program is labor cost reduction. When parts do eventually wear out and require replacement, new wear materials and related components ideally should be easy to install with minimal equipment downtime.

Accordingly, Columbia Steel Products believes that for some mine maintenance crews, the holy grail of dragline chain maintenance would be a tough, reliable repair link that is also easy and safe to install and remove. With that goal in mind, Columbia Steel Product Engineer Charlie Dreixler has been working extensively on hoist and drag chain designs since 2010. "We're on our fifth generation of mechanical repair link improvements, and a year's worth of field trials in Wyoming and North Dakota have already convinced customers to place additional orders," Dreixler said.

Columbia said the key to the repair link's success is its EZ RigLok hammerless, mechanical pin locking system. The system has also proven to be a faster, safer locking mechanism in many other Columbia Steel dragline products as well, like hoist links, swivel links, and clevises. The EZ RigLok repair link requires no welding or special tools, and needs just a standard 3/4-in. breaker bar to install and remove.

Dreixler noted that accelerated wear on hoist chain in the bucket rub rail area is a frequent cause of downtime — and a real test for any repair link. "During our Wyoming field trial, the EZ RigLok repair link lasted for over seven months in a rub rail position."

Addressing Metal Wear and Abrasion in Mining
By Steve Bowditch, ARC-EPC

In mining and ore processing, a primary cause of downtime is related to abrasive wear and its effect on process equipment. Put simply, things rarely get the chance to corrode as they abrade faster.

Processes at most mines involve a wide spectrum of abrasion, impact and corrosion. Plant maintenance personnel are constantly working to resolve issues with equipment that no longer works as efficiently as it should, or has broken down and must be replaced.

With the increased economic pressures impacting the mining industry in recent years, mining operations must plan a more sustainable approach to more efficient operations with an eye toward reduced maintenance expenditures whenever possible.

Advances in wear and corrosion protective technologies now allow one to address variations in the size of the abrasive media, velocity, impact and more. Technologies such as thermal spray metal systems, ceramics, reinforced epoxies and urethanes provide valuable service in highly abrasive and corrosive applications, and are becoming more economical.
Application of an appropriate wear-protection product
can often extend service life or return a severely
worn component to service with minimal downtime.


A few things to consider when selecting from the various qualified options include: • Cost and ease of application. • Mean time between failure performance. • Characterization of potential of failure to significantly impact equipment or overall plant performance. • Dry service conditions may involve higher grinding and gouging wear while wet service (slurry) applications involve scratching abrasion and corrosion.

Types of Wear and Tips on Protection

Gouging Impact Abrasion – This type of abrasion generally affects dragline buckets, excavators and crushers, and is similar to machining with a cutting tool: it cuts a deep furrow or groove into softer metal. Gouging impact abrasion effects the excavation, hauling, and primary crushing phases of mining and ore processing. Over time, the surface becomes plastically deformed and work-hardened by the abrasive forces. The deteriorated equipment will fail to work as efficiently, resulting in additional expense and labor.

To protect against this type of abrasion, spend more upfront and purchase equipment made of wear-resistant material (such as Martensitic steel) or purchase lower-grade Austinetic alloy and accept a higher wear rate. For equipment already impacted by gouging, it can often be repaired or equipment life extended at a fraction of the replacement cost using weld overlay of selected alloy rod, or thermal spray coating.

High-Stress Grinding – High-stress grinding, encountered in crushers and grinding mills, occurs when an abrasive particle is crushed between opposing faces. The fracturing stress is transferred to the metal surface, which results in micro cutting and furrowing. High-stress grinding abrasion affects milling and grinding. Metal loss of these systems directly impacts yield and production output.

To protect against high-stress grinding wear, purchase Martensitic mill liners and mill media. For damaged equipment, replacement is the best option.

Low-Stress Scratching Abrasion – Often seen on slurry pumps, chutes, agitators, and cylones, this type of wear affects the movement of slurry and other systems where particles move freely across a surface. Unless the metal is hard enough, the particles cut micro furrows and grooves into the surface. Chutes, gravity classifiers, screens and pneumatic conveying systems experience this form of wear.

Ideally, purchase Martensitic steel equipment upfront for maximum resistance to this type of abrasion. To repair existing damage using protective coatings, begin by tearing down the equipment and inspecting critical wear areas. There are typically three choices for repair:
• Alumina ceramic tile inserts affixed by chemical adhesives.
• Pre-molded rubber elastomers.
• Ceramic-reinforced polymers. This option provides the wear resistance of ceramic tile and the ductility of a rubber elastomer.

Chemical Attack Corrosion – Electrochemical corrosion is a reaction (oxidation or neutralization) between the surface (metallic or cementitious) and the chemical environment (fluid or gaseous). This type of attack often affects gas handling fans and ducting, structural steel, secondary containment, as well as drainage sumps and trenches. It is probably the lowest rated form of attack on metal equipment and structures based on severity and its impact on plant performance. Heat will accelerate this reaction and hasten the rate of corrosion. Loss of integrity in the metal can result in leaks, resulting in environmental fines and costly product losses. New tanks can be prohibitively expensive.

Protect the capital investment upfront against corrosion by using a reinforced polymer coating.

Using some or all of these technologies can improve asset optimization and lower total cost of ownership, while improving reliability and availability of the required equipment. To gain the best possible outcome the process should:
• Begin with an assessment of current asset maintenance practices; and
• Create a prioritized list of critical equipment, and its performance and impact on overall plant productivity.

Once this is accomplished, a process to establish best practices by using subject matter expertise along with a well-planned technology rollout is ideal. This plan should be followed by periodic inspection and refinements. Together these efforts can yield dramatic improvements.

Steve Bowditch is a market development manager for ARC Efficiency and Protective Coatings, a brand of A. W. Chesterton Co., which offers products that are carefully engineered using the latest technologies and advanced material formulations to withstand the most challenging environments.
---
As featured in Womp 2017 Vol 06 - www.womp-int.com