Mount Gibson Redeveloping Koolan Island Iron Ore Mine
---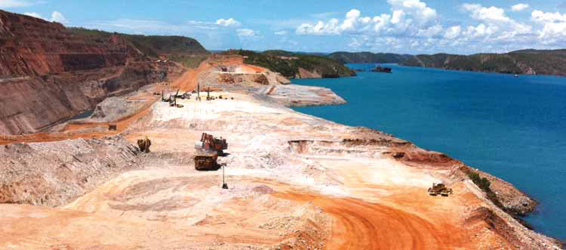 Mount Gibson has launched an A$97 million project to rebuild the seawall at the Koolan Island mine.


Mount Gibson Iron Ltd. has initiated work to redevelop and restart production from the high-grade Main Pit iron ore deposit at its Koolan Island mine off the north coast of Western Australia. Seawall construction, pit dewatering and all other activities associated with restarting production are anticipated to take approximately 24 months to complete. Mount Gibson is targeting first ore sales from the mine in early 2019.

Mount Gibson suspended operations at Koolan Island in November 2014 following a seawall failure that resulted in the flooding of the Main Pit. A feasibility study has determined that a redesigned seawall will enable extraction and sale of approximately 13 million metric tons (mt) of hematite grading approximately 66% iron over an initial mine life of 3.5 years (Stage One) based on declared ore reserves at the Main Pit deposit of 12.8 million mt grading 66% iron, with a very low level of impurities.

Capital costs to rebuild the seawall and dewater the Main Pit are estimated at approximately A$97 million, including $10 million in contingencies. Peak cash draw prior to commencing cash flow is estimated at approximately A$145 million over the period needed to complete construction, dewatering, pre-stripping and other preproduction activities.

The mine will utilize the retained Koolan Island mining fleet, crusher, shiploader, accommodation camp, stores, workshops and administration facilities. A total site workforce of up to 80 people will be required during the initial seawall construction phase, rising to approximately 315 employees and contractors once the mine is in production.

Mount Gibson believes there is potential for a Stage Two pit extension at Koolan Island by converting approximately 7 million mt of measured and indicated resources at the eastern end of the Main Deposit to ore reserves following further mine plan optimization and geotechnical evaluation.
---
As featured in Womp 2017 Vol 06 - www.womp-int.com