The latest from the
World Mining Equipment
Video Library
View





Embracing a Different Outlook and New Tools

Happy New Year! The big news this month is Sibanye Gold acquiring the Stillwater Mining Co., an iconic U.S. platinum group metals (PGMs) miner based in Montana. In a little less than four years, Sibanye, which was spun out of Gold Fields in February 2013, has grown from a South African gold miner to a South African precious metals miner to a multinational precious metals miner. Readers might recall that the company also acquired several South African platinum mining operations. Besides being a bit ambitious, what makes this move a little different from previous acquisitions is that Sibanye is pursuing a healthy mining company on the other side of the world. With Stillwater producing substantially more palladium than platinum, Sibanye would control roughly 13% of ..... read more


Steve Fiscor, Publisher & Editor in Chief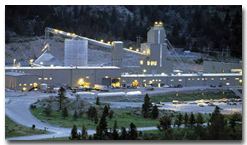 Sibanye Gold Acquiring Stillwater Mining in $2.2B Cash Deal
Copper Sibanye Gold has agreed to acquire Stillwater Mining in a cash transaction valued at about $2.2 billion. Sibanye is headquartered in South Africa and is that nation's largest producer of gold from domestic mines. The company has recently expanded into production of platinum group metals (PGM) through the acquisition of mining assets. Stillwater is the only U.S. miner of platinum group ...... read more
Rio Tinto Outlines New $5B Productivity Push
Rio Tinto has committed to generating $5 billion of additional free cash flow over the next five years from a productivity drive unveiled in late November as part of its long-term strategy. In a presentation at an investor seminar in Sydney, Rio Tinto Chief Executive Jean-Sébastien Jacques underlined the strategy centered around a strong focus on safety, cash generation, a world-class portfolio, commitment to capital discipline and the delivery of superior shareholder returns. Rio Tinto intends to raise productivity across its $50 billion portfolio of assets by focusing on operational excellence ..... read more

Top
Majors Maintain Gold Reserves
At the end of 2015, the top 20 gold-producing companies held more than 760 million ounces (oz) of gold reserves— sufficient for 16 years of production at 2015 rates, according to SNL Metals & Mining. They accomplished this while increasing their combined production 7% over the previous 10 years, from 39.7 million oz in 2006 to 42.5 million oz in 2015, and producing a total of 403 million oz of gold. At the same time, the 20 major gold companies ..... read more


| | |
| --- | --- |
| AROUND THE WORLD - USA & CANADA | |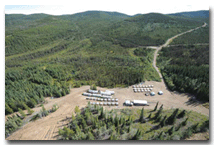 Copper North Re-engineers its Carmacks Project
Copper North Mining has completed a new preliminary economic assessment (PEA) of its open-pit Carmacks copper-gold-silver project on the southern end of the Dawson district in south-central Yukon, Canada. The new PEA improves on and replaces an earlier PEA completed in June 2014. The re-engineered project utilizes agitated tank leach processing of copper oxide mineralization to produce cathode copper, followed by agitated tank leach ..... read more
Canadian Zinc and Buchans Consider Centralized Concentrator
Canadian Zinc and Buchans Minerals, a wholly owned subsidiary of Minco Plc, have reported initial results from a process development research program that may lead to development of a centralized concentrator for their respective central Newfoundland zinc-lead-copper-silvergold deposits, five deposits in total. The initial metallurgical test program was completed by Thibault & Associates Inc. of Fredericton, New Brunswick. A bench-scale dense media separation (DMS) test program was completed to assess the amenability of mineralized samples from the deposits to physical upgrading (pre-concentration) at each site. Use of DMS processing technology .... read more

Top
| | |
| --- | --- |
| AROUND THE WORLD - Latin America | |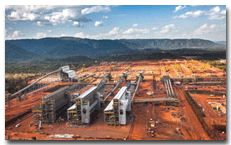 Vale Starts the S11D Iron Ore Project
Vale announced on December 9 it has received the operating license for its S11D surface iron ore mine and plant in Pará state, Brazil, and that commercial shipments will begin in January. The project is the largest in the company's history. Total investments are estimated at $14.3 billion: $6.4 billion for a mine and plant with production capacity of 90 million metric tons per year (mt/y) of iron ore and $7.9 billion for .... read more
Nyrstar Sells Contonga Mine
Nyrstar NV announced it has entered into share purchase agreements to sell its Contonga mine in Peru and various mineral claims located in Quebec, Canada, to subsidiaries of Glencore plc for a total cash consideration of $26 million. The total cash consideration is made up of $21 million for the Contonga mine and $5 million for the mineral claims. Closing of the transactions are subject to customary closing conditions and are expected to occur in the first half of 2017. The transactions are part of the sale process for all or the majority of Nyrstar's mining assets, which was formally launched in January and includes the completed sale of the El Toqui mine in Chile and .... read more

| | |
| --- | --- |
| AROUND THE WORLD - Australasia | |

Gold Road and Gold Fields Form JV to Develop Gruyere Gold Project
Gold Road Resources has formed a 50/50 joint venture with a wholly owned Australian subsidiary of Gold Fields Ltd. for the development and operation of the Gruyere gold project approximately 200 kilometers (km) east of Laverton, Western Australia. Gold Fields is purchasing a 50% interest in the project for aggregate consideration of A$350 million in cash and an uncapped 1.5% net smelter return royalty on Gold Fields' share of production from joint-venture tenements once total gold production …. read more


Top

Alcoa Secures Major Export Contract to Supply Bauxite From Western Australia Mine
Alcoa Corp., the world's largest bauxite miner, announced on December 19 that Alcoa World Alumina and Chemicals (AWAC) has secured its first major third-party contract to supply approximately 400,000 bone dry metric tons (bdmt) of bauxite from its Huntly mine in Western Australia, furthering Alcoa's strategy to grow its third-party bauxite business. "This Western Australian contract comes just months after our first trial bauxite shipment from Western Australia to China in mid-2016, which successfully introduced our Western Australia product to the global market," said Garret Dixon, president of Alcoa Bauxite, who  …. read more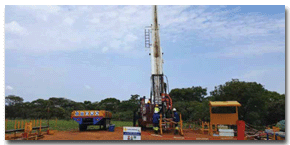 Ivanhoe Looking at Multiple Options for Kamoa-Kakula
Ivanhoe Mines announced the results of a positive preliminary economic assessment (PEA) of two potential options for the start of underground copper mining on its Kakula and Kamoa deposits in the Democratic Republic of the Congo (DRC). A second PEA, currently in progress, is considering additional options. Ivanhoe discovered the Kamoa deposit in 2008 and …. read more
Top
Zimplats Developing $264M Mupani Mine
The boards of directors of Impala Platinum Holdings and Zimplats have approved development of the $264 million Mupani mine in Zimbabwe. Zimplats is 87% owned by Impala, and its operations are situated on Zimbabwe's Great Dyke southwest of Harare, the nation's capital. The company operates four underground mines and a concentrator at Ngezi. Its Selous metallurgical complex, 77 kilometers (km) north of the underground operations, includes a concentrator and a smelter. The Mupani underground mining complex will replace production from from the Rukodzi and Ngwarati mines after they have been …. read more



Dalradian Eyes Curraghinalt Mine Development in Northern Ireland
A feasibility study of Dalradian Resources' high-grade, underground Curraghinalt gold project in Northern Ireland supports development of a mine producing 130,000 ounces per year (oz/y) of gold over its first 10 years of operation. Average total cash costs are estimated at $556/oz, and life-of-mine all-in sustaining cash costs are estimated at $674/oz. Initial capital cost to develop the project is estimated at $192 million, with payback in four years. The Curraghinalt project is based on an orogenic gold system consisting of a …. read more


Top

Berkeley Nears Construction Start at Salamanca U3O8 Project
Berkeley Energia has completed key land acquisitions that will accelerate development of its 100% owned Salamanca uranium project in western Spain. The more than 500 ha of acquired land provides space for initial infrastructure and start of construction of the processing plant in the first quarter of 2017. First production is now scheduled for 2018. The Salamanca project will produce 4.4 million pounds per year (lb/y) of U3O8 in concentrates at cash costs of $15.39/ lb, making it one of the world's lowest-cost producers of uranium. Pre-production capital costs are estimated  .… read more




-->
| | |
| --- | --- |
| FEATURE - Rebuilds | |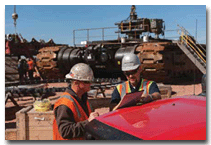 New Life for Old
Replacing time-expired mining equipment like-for-like with a new machine is sometimes not an option, especially when capital budgets are tight. Carefully undertaken, rebuilds can offer a viable alternative, producing as-new plants for lower investment.

By Simon Walker, European Editor


Aging equipment carries a cost to any operation, as maintenance bills creep up steadily and machine availability declines. The question for any maintenance manager is, when to decide that enough is enough, and begin to look at replacement options. In boom times, the obvious response is to buy new, although even that strategy may come unstuck if the equipment manufacturer already has a full order book and a long lead time for delivery. When markets are down and the funding needed for a new machine .... read more


For more companies with products in the Maintenance market -
Go Here
| | |
| --- | --- |
| FEATURE - Plant Engineering | |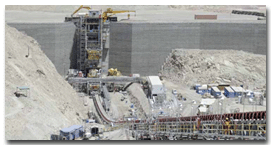 Technology Influences Plant Design and Operations
Modeling systems, connectivity and shared expertise drive costs down

By Steve Fiscor, Editor-in-Chief

The scale of some of the modern mineral processing plants is immense and the time frame from concept to commissioning has been compressed to as little as four or five years. The engineers that design and build these projects rely on experience and skill sets amplified by modeling and project management software that automates repetitive tasks, which shortens the timeline. Increasingly, engineering, procurement and construction management (EPCM) firms are ..... read more

Top

For more companies with products in the Mineral Processing market -
Go Here
| | |
| --- | --- |
| FEATURE - LHD Batteries | |

More Battery-powered Options for LHDs
Recognizing the benefits of zero emissions, miners consider lithium batteries

By Jesse Morton, Technical Writer

Tried and tested, operational and available, battery-powered Load Haul Dumps (LHDs) primarily face one obstacle to widespread usage in underground mining. Both manufacturers and academics say the equipment is largely proven, but its market share will remain limited until the perception improves. "The biggest hurdle is market acceptance," said Mike Kasaba, CEO of Artisan Vehicle Systems, maker of the 153, a 3-metric-ton (mt) (tramming capacity), lithium .... read more


For more companies with products in the Battery market -
Go Here
| | |
| --- | --- |
| FEATURE - Water Management | |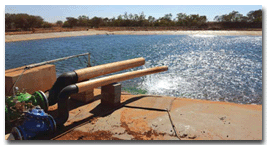 Water Management Models Save Time and Money
Using the software to create multiple design options, engineers actively manage Roy Hill's dewatering program

Water management represents a significant area for cost control for mining operations. A properly engineered network will cost less to build, operate and maintain, lowering capital expenses (capex) and operating expenses (opex). Moreover, ensuring all water management activities are completed in timely fashion, they should not affect the mine plan or mining operations, avoiding additional costs .... read more

Top


For more companies with products in the Water Treatment market -
Go Here
| | |
| --- | --- |
| Video Presentations | |
The latest listings from the World Mining Equipment Video Library - to view the video, click the image.
For more details on the Video Library -

Go Here
HPGR Exceeds Performance Expectations at US Gold Mine
In 2014, Thyssenkrupp Industrial Solutions received an order to provide a Polycom High Pressure Grinding Roll (HPGR) for the Soledad Mountain gold-silver project, operated by Golden Queen Mining Co. and located near the town of Mojave in southern California, USA. The HPGR is equipped with studded rolls measuring 1.7 meter (m) x 1.2 m and is powered by two variable speed drives. It was commissioned late in 2015 .... read more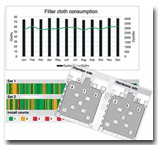 New Filter-cloth Monitoring System Uses RFID Technology
Valmet has introduced a radio-frequency identification (RFID)-based solution for monitoring the performance of filter cloth used in filter presses. The application, according to the company, has been piloted in customer filtration processes with good results, and initial orders were received in 2016. Depending on the scope of the process, filtration can consume thousands of filter cloths per year. By gathering pertinent information ....read more

Joy Announces New Services
Joy Global introduced its expanding line of Joy brand service products and consumables at MINExpo 2016 in Las Vegas. The JoyCut integrated systems solution, for example, involves testing, analysis and ultimately, the specification, design and manufacture of the right cutting system for each underground mining application. The JS Blocksaver Mark I bitholder system is designed .... read more

Top

Crusher Design Protects Users, Inspectors
Superior Industries Inc. launched the Valor Vertical Shaft Impactor (VSI), an impact-style bulk material crusher engineered to generate fines, eliminate unsound material and shape aggregate into a more cubic product, the company reported. Maximum operating rate is 800 tons per hour (t/h) (725 metric t/h), and maximum feed size is 8 inches (203 millimeters [mm]). The VSI is equipped with ....read more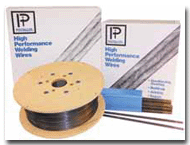 Engineered Alloys
Postle Industries increased its offerings to include a hardfacing wire for extreme abrasion applications, a high-hardness alloy for high stress grinding applications, a manganese steel surfacing wire for equipment restoration, and a matrix welding wire for tungsten carbide embedding. Both Postalloy 2826 and Postalloy 2828-FCO, hardfacing wire for use in .... read more


Custom Screen Liners Offer Durability
Cast urethane screen wear products by ASGCO, when compared to rubber, last longer; offer superior abrasion, cut and tear resistance; offer superior tolerance to greases, oils, oxygen and ozone; and can better withstand harsh outdoor environments, the company reported. The company's urethane wear products are cast from ASGCO-thane, a polyurethane .... read more

Boards Expand Belt Monitoring System Capability
4B Components Ltd. unveiled the NTC and PLC expansion boards, accessories that extend the capability of its Watchdog Super Elite monitoring system for bucket elevators and conveyors. The Watchdog Super Elite (WDC4), with a 3.5-in. color graphics LCD display, processes signals from 15 sensor inputs. It monitors belt alignment, speed and slip; continuous .…. read more

Top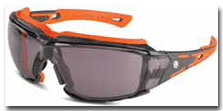 Safety Goggles Block Dust, Channel Water
Volk Enterprises company Brass Knuckle Safety Products recently unveiled the Orange Crush Safety Goggles (BKDST-1020NP), made with a rubber gasket designed to seal to the face and channel water away from the eyes. The goggles provide the liquid splash protection of a traditional dust goggle and feature a customizable PivotEase nosepiece; a super-flex ....read more
FEBRUARY 20-23, 2017: SME Annual Conference & Exhibition, Denver Convention Center, Denver, Colorado, USA. Contact: Web: www.smenet.org
APRIL 3-7, 2017: 15th World Copper Summit, Santiago, Chile. Contact: Web: www.cescoweek.com
APRIL 11-14, 2017: 25th International Mining Congress and Exhibition of Turkey- IMCET 2017, Antalya, Turkey. Contact: UCTEA Chamber of Mining Engineers of Turkey Contact: Web: www.imcet.org.tr/
MAY 7-10, 2017: Haulage & Loading, Wigwam Resort, Phoenix, Arizona, USA. Contact: Web: www.haulageandloading.com
MAY 20-27, 2017: ALTA 2017 Nickel-Cobalt-Copper, Uranium-REE & Gold-PM Conference & Exhibition, Pan Pacifi c, Perth, Australia. Contact: Web: www.altamet.com.au/conferences/alta-2017/
JUNE 1-2, 2017: Mining Forum 2017, Berlin, Germany. Contact: Web: www.the-miningforum.com/
JUNE 13-15, 2017: Longwall USA, David L. Lawrence Convention Center, Pittsburgh, Pennsylvania, USA. Contact: Web: www.longwallusa.com
AUGUST 29-31, 2017: AIMEX, Asia-Pacifi c's International Mining Exhibition, Sydney Showground, Sydney, Australia. Contact: Web: www.aimex.com.au/home
For a full calendar of mining industry conferences and events - click here
| | |
| --- | --- |
| WHO'S MOVING WHERE | |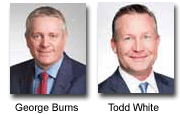 Goldcorp announced that George Burns, executive vice president and COO, will be leaving Goldcorp to assume the role of president and CEO at Eldorado Gold. Paul Wright, president and CEO of Eldorado, is retiring. Todd White, currently senior vice president, technical services and business excellence for Goldcorp, will succeed Burns. Prior to joining the company in 2014, he was the senior vice president, South America, at Newmont Mining Corp.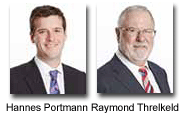 New Gold Inc. announced that Hannes Portmann has been named president. David Schummer, executive vice president and COO, is leaving New Gold, and Raymond Threlkeld, currently a member of the company's board of directors, will become interim COO. Portmann was originally with Western Goldfields from 2008 until its 2009 merger with New Gold. New Gold will commence a comprehensive search process to recruit a permanent COO.

Resolution Copper named Andrew Lye project director, replacing Andrew Taplin. Lye has more than two decades of mining experience and has been with Rio Tinto and its subsidiaries for more than 20 years. In February, he assumed duties as general manager, studies, at Resolution Copper.

UC RUSAL appointed Bob Katsiouleris to the newly created position of export sales director. Prior to joining RUSAL in 2015, he worked as senior vice president marketing, sourcing and sales, as well as a period as interim senior vice president of mining.
Nyrstar NV announced that Bill Scotting, CEO, has decided to leave the company. Hilmar Rode will be the new CEO, effective immediately.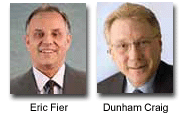 SilverCrest Metals Inc. announced that Eric Fier, president, has returned from his partial leave of absence and will resume his full-time duties as CEO. Dunham Craig served as the interim CEO in Fier's absence. Anne Yong, company controller, will succeed Barney Magnusson as CFO, who will step down from the CFO role to become executive vice president. Magnusson will also remain a director of SilverCrest.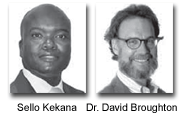 Sello Kekana and Dr. David Broughton, two key members of the Ivanhoe Mines exploration team, have received the prestigious 2016 Colin Spence Award for excellence in global mineral exploration from the Association for Mineral Exploration British Columbia for their roles in the discovery and delineation of the high-grade, flat-lying Flatreef underground deposit now being developed at Ivanhoe's Platreef platinum-group metals, nickel, copper and gold mining project on the Northern Limb of the Bushveld Complex in South Africa's Limpopo province.

The Eighth Nordic Exploration Award in 2016 goes to Timo Lindborg for energetically and decisively contributing to create a junior mining community in Finland; taking the Pampalo gold deposit into operation; and building bridges between Finland and Sweden, in industry and education. He is CEO of Sotkamo Silver AB.
About - providing an abreviated version of the current print edition of E&MJ, WOMP is distributed throughout the world to decision makers in the global mining industry, the last week of every month.

Subscribe to E&MJ - To receive your own copy of the print edition of E&MJ, click here , and complete your details. E&MJ is available free of charge to qualified readers.

Contact - if you have views, opinons or comments or editoral that you would like to submit, we would be delighted to hear from you - click here

Top