New Life for Old
Replacing time-expired mining equipment like-for-like with a new machine is sometimes not an option, especially when capital budgets are tight. Carefully undertaken, rebuilds can offer a viable alternative, producing as-new plants for lower investment.

By Simon Walker, European Editor
---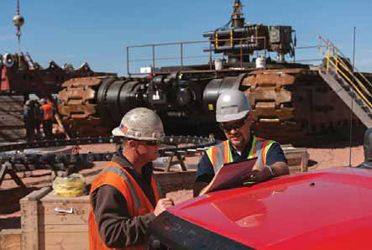 Joy Global's rebuild process begins with a pre-rebuild coniditon audit, with the company
supplyng a list of recommended productivity and reliability upgrades.


Aging equipment carries a cost to any operation, as maintenance bills creep up steadily and machine availability declines. The question for any maintenance manager is, when to decide that enough is enough, and begin to look at replacement options.

In boom times, the obvious response is to buy new, although even that strategy may come unstuck if the equipment manufacturer already has a full order book and a long lead time for delivery. When markets are down and the funding needed for a new machine is scarce, then spending less to obtain a rebuilt unit becomes increasingly attractive. Of course, there is also the bazaar scenario, in that the manufacturer may be more amenable to haggle over the price of a new truck, loader, scraper or whatever in order to keep the production line running. And, conversely, the unavailability of new machines in short order when that line is working to capacity may lead the operator to investigate rebuilding just to get fleet capacity back up to where it is needed.

Clearly, there are plenty of permutations that in certain circumstances can favor one approach over the other, or vice versa. Geography can also play a role here, in that getting access to a remote location either to bring in new equipment or to recover old machines for rebuilding at an off-site workshop may be challenging.

Then again, the type of equipment involved obviously has an impact on the decision-making process. Rebuilding a pickup, aside from replacing bent body panels, is unlikely to be a sensible option. On the other hand, rebuilding a major, high-cost plant item such as a shovel or a dragline that already has plenty of hours on the clock, but has the potential to go on indefinitely after some fairly major transplant surgery can look like a very attractive proposition to those in the corporate finance department.

Safety is another, and often completely separate consideration. In the 1970s, there was a situation in the U.K. when there was effectively a complete recall of one particular manufacturer's 50-ton haul trucks, which were then widely used in both surface mining and quarrying. A catastrophic failure in both main frames caused a fatality, after which all of the trucks of this type were systematically withdrawn for inspection. Where frame cracking was found, not only was reinforcement plating installed but—in the case of the mine where the author was working was concerned—the opportunity was taken to strip each machine down to basics and then rebuild to as-new specifications. In this instance, the trucks were being used by a cost-conscious mining contractor, and had already run up long service, so the enforced layoff provided the rationale for returning them to further work without having to invest in replacements.

Joy Global: Rebuilds Across the Range
Joy Global told E&MJ that for both partial and full rebuilds it undertakes, the process begins with a pre-rebuild condition audit that includes a review of maintenance records, assessment of structures, and evaluation of component health. The company will supply a list of recommended productivity and reliability upgrades as well as mandatory upgrades (where required) with every rebuild, after which customers receive updated documentation for their machine.
The superstructure of a mining shovel is jacked above the main frame.


For surface and underground equipment, partial rebuilds are extended interventions focused on replacing components and performing repairs aimed at ensuring machine performance and minimizing downtime between partial and major rebuilds. Surface equipment major rebuilds, carried out at or around the machine's midlife span, entail major overhauls of shovels, drills, loaders or draglines, and involve auditing, disassembling, reconditioning, updating, reassembling, testing and performance evaluation. For example, a major overhaul for shovels is defined as a complete rework, including undecking the machine to replace the roller circle components and perform structural repairs while they are apart.

The company recently rolled out three levels of rebuild services:
• Joy Prime offers rebuilds that maximize equipment life for the lowest cost per ton and full machine warranty (with a possible extension for using Joy consumable products);
• Joy Select offers rebuilds that extend machine life between full Joy Prime machine rebuild intervals at a fraction of the price based on a condensed scope and enhanced reuse of components; and
• Joy Base offers repairs that integrate customer input into a repair and return contact, with recommendations leveraging the Joy Select specification and scope. This flexible repair option keeps components and machines operating longer and extends rebuild intervals, Joy Global said.

In rebuilding customers' equipment, Joy Global can offer machine exchange programs, complete original equipment manufacturer (OEM) repair and return rebuilds, market-driven repair and return rebuilds, and underground rebuild services. Machine rebuilds or exchanges can also be bundled through a pre-agreed schedule.

According to Dan Spears, general manager for the company's eastern U.S. region, "Through our machine exchange program, Joy will provide a 'seed machine' built to OEM specifications to facilitate rebuilding a customer's fleet. Once the seed machine is provided to the customer, they, in turn, provide a machine to be rebuilt that will be exchanged with another machine in need of rebuild."

Other options are for customers to send their equipment to Joy for a complete OEM or market-driven rebuild. An OEM-rebuilt machine will be fully rebuilt back to OEM standard, while market-driven rebuilds will undertake selective repair as agreed between Joy and the customer. According to Spears, costs for the company's machine exchange programs and complete OEM rebuilds can range from 50% to 70% of a new machine— depending on the equipment type—but the machines exchanged or completely rebuilt will run the same duration as the original equipment before needing their next rebuild.
Raising and supporting the superstructure provides the opportunity to safely conduct a full
inspection of the slew ring, with access for rebuilding if necessary.


"Market-driven rebuilds cost less than the other rebuild programs and are performed to meet our customers' plans for managing their equipment fleet. The rebuild cycle and number of rebuilds a piece of equipment can undertake are largely based on the mining conditions it works in," Spears added.

As an example of the company's service in action, Joy Global recently partnered with Contura Coal West through a life cycle management agreement to relocate and rebuild two mining shovels from the eastern U.S. to Contura's operations in the Powder River Basin. Needing new loading capacity there, but without a capital budget to invest in new equipment, Contura required the two thenidled shovels to be moved, reassembled, upgraded and operational within eight months. This was achieved, with the machines averaging nearly 90% availability since being recommissioned, Joy Global reported.

Flanders: Upgrading Drills for Higher Productivity
U.S.-based Flanders claims to repair more dragline motors than any other company worldwide, as well as having 65 years of experience in electric shovel motor repairs. It also offers its Freedom open-architecture platform, which, it said, brings new life to existing equipment by replacing proprietary OEM control components.

Mid-last year, the company celebrated the 10th anniversary of its Freedom system for drills, Ardvarc (Advanced Rotary Drill Vector Automated Radio Control), a drill-control system that offers various levels of autonomy. In its most basic form, it delivers better data on blasthole positioning, drilling conditions and machine operation, resulting in improved fragmentation. While at its most advanced level, it is a fully autonomous drilling solution, providing productivity gains up to 30%, Flanders stated.

Ardvarc was developed from a request from a surface mining customer who had problems with its electric drill motors. Flanders ascertained that the shortened motor life was due to the improper control of the motor drive system, and offered a solution that provided the customer with a 20% increase in productivity. The company provided E&MJ with details of an Ardvarc installation project that it recently undertook for a South African iron-ore producer. The mine has a fleet of six Cat 6420C blasthole drill rigs to produce 44.9 million metric tons per year (mt/y) of haematite ore, at a stripping ratio of 3.5:1.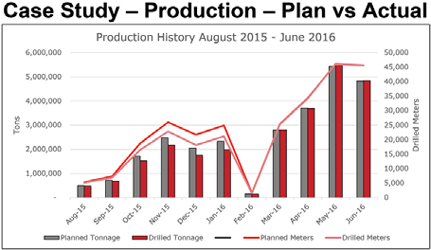 Data from blasthole drills show marked improvements in both meters and tonnage drilled after being
upgraded with Flanders' Ardvarc system.


Automation of the drill fleet began in June 2015 with the installation of a One Touch-style system on one drill to test the efficacy of the technology. As the name suggests, One Touch drill control just requires the operator to press one button for the system to undertake the entire rig positioning, setting up and drilling process. The entire fleet was equipped by November 2015, with the mine hoping to achieve fully autonomous drilling by the end of 2016.

By the end of the study period, 85% of holes were drilled using One Touch, Flanders reported. The mechanical availability of the drills rose from 85% to 90%, while the drilling accuracy increased from an average of 30% holes drilled on plan to a little more than 90% after One Touch automation. Drill cycle penetration rates improved by 27%, while the drill fleet productivity improved by more than 50%.

New 'Brains' From ABB
As Boris Rathmann, ABB Automation's product manager for shovels and draglines, pointed out to E&MJ, while rope shovels are mechanically robust and can have a 30-year life, after a certain period of operation, upgrading their electrical equipment will improve reliability and reduce maintenance costs.

Rathmann added that the capital cost of the entire electrical equipment is about 10%-12% of a new rope shovel, meaning that a retrofit of an existing shovel can be an efficient way of extending its life for another 10-15 years. Usually, just five to six weeks are needed to replace the electrics, including commissioning, he said. With AC technology offering a robust motor and reliable power electronics with digital drive control, in 2012, ABB worked with Joy Global MinePro Services on an AC upgrade for one of Drummond Coal's BE395B mining shovels. The machine had been built in 1987, with Drummond convinced that a retrofit can be a cost-efficient alternative to a new shovel, ABB noted.

In addition to AC technology applications, ABB has equipped two smaller rope shovels with modern DCS800 DC converters with reactive power compensation systems at a quarry in Germany. The new fully digital converter and drive control have helped to improve reliability and cut maintenance costs, with a 25% reduction in DC load surge currents and measured energy savings of about 15%.

As well as providing conversions like this, ABB offers turnkey overhaul services for the engineering, delivery, assembly and commissioning of electrical equipment for mining excavators of all types. An example is for a SRs 2000 bucket-wheel excavator in Germany, where the company's scope of work includes medium- and low-voltage switchgear, transformers and low-voltage AC drives. In addition, ABB is supplying the control system with semiautomated and fully automated functionality for a belt-loading transfer point.

Another recently German coal industry project has involved upgrading a large SRs 6300 BWE with a new 12-megawatt (MW) AC drive system for all of the machine's main functions, including the bucket wheel, hoist, swing, crawler tracks and conveyor belts. ABB has provided electrical services for this 14,000-cubic-meter- per-hour (cmph) machine since it was commissioned in 1981, demonstrating, as Rathmann explained, what lifecycle service can mean for large mining equipment.

Liebherr Offers Parts Remanufacturing
Liebherr stated that its remanufacturing (reman) program enables customers to significantly reduce the total lifecycle cost of their mining equipment without compromising quality, performance and reliability. Another benefit is the way in which equipment operators can contribute to environmental sustainability through substantial material and energy savings.

The company pointed out that major components account for up to 80% of customers' mining equipment maintenance costs, with Liebherr offering its customers a variety of component repair and exchange programs to provide maintenance budget flexibility.

The most basic of these, the Repair program, is based on a minimum standard repair scope, which is expanded depending on the condition of the returned component. It provides users with transparency into the cost of repair as well as the lowest upfront repair cost on first-turn components, Liebherr said, with operators maintaining their own inventory of swing components in order to minimize machine downtime while components are being repaired.

More comprehensive, the company's Fixed-price Exchange system offers users the delivery of an exchange component ahead of removing and returning of the defective part, hence reducing swing-component inventory requirements. Exchange parts come with a full new component warranty, with users receiving the latest technical version of the component involved.

The top of Liebherr's program range, the Cost Cap exchange program provides an extended pro-rata warranty that guarantees the component cost per hour, thereby providing users with the highest degree of certainty when planning component maintenance budgets, and the lowest risk for costs of early failures.

Of the three programs, the basic Repair approach provides the lowest upfront repair cost but high variability in repair costs, while Cost Cap exchange offers guaranteed costs per hour albeit at the expense of higher upfront exchange costs. Taken as a percentage of the full cost of a new component, Liebherr suggested that the Repair approach may cost around 10%, fixed-price exchange of 30% and Cost Cap exchange of 40%.

Where reman is concerned, Liebherr offers a comprehensive service covering its mining trucks and shovels. Here, used components returned to the company are completely disassembled, with potentially reusable parts stripped of paint, cleaned and appraised for reconditioning to as-new quality. For mining trucks, this covers components such as diesel engines, hydraulic pumps, motors and cylinders, electronic control elements, electric motors, radiators, wheel drives and front suspension. While for excavators, Liebherr can remanufacture parts such as displays and monitors, rotary joints, travel drives, hydraulic pumps, motors and cylinders, splitter boxes and swivel drives, with engine reman available for some machine models.

Taking an Opportunity
As reported in detail in the March 2015 edition of Coal Age (pp.37-40), between 2012 and 2014 Cabot Corp., North American Coal and the mining division of the industrial construction and fabrication firm CCC Group, took down a Page 757 dragline at the Jim Bridger coal mine in Wyoming, moved it in pieces nearly 2,100 km (1,300 miles) and rebuilt it at its new workplace in Texas. Its new owner, North American Coal subsidiary Caddo Creek Resources, took the opportunity to make some significant changes to the machine, which already had 27 years of work under its belt.

According to Rob Davies, vice president of global manufacturing at Cabot Norit Activated Carbon, planning for the company's new Marshall mine had always assumed that a dragline, particularly a pre-owned and rebuilt unit, would be at the heart of its operations. "An economic analysis showed this to be the lowest-cost option over the life of the mine," he said.

Major rebuild modifications included an improved design of truss to minimize cracking at high-stress points, and onboard transformers, which were deemed to be less costly and more reliable while altering the input supply from 8 kilovolts (kV) to 25 kV. The revolving frame deck was extended to house these, while the machine's ballast was recalculated to take the weight of the transformers into account. Cabot chose, however, to stay with the machine's original DC system rather than upgrading to AC, citing cost-effectiveness constraints.

All of the dragline's gear cases were rebuilt, with thicker baseplates installed under the hoist and drag drums, with new hoist and drag pads. A completely new upper superstructure provided an improved operator's cab, with electrical upgrades including LED lighting and a PLC-based operating system.

Recommissioned into service in November 2014, the dragline is stripping some 18 m (60 ft) of overburden to reveal a lignite seam that provides the raw materials for Cabot's activated carbon plant. As Coal Age reported, the move and rebuild project came in under budget and ahead of schedule, involving more than 200,000 man-hours with no major safety issues, recordable incidents or lost-time injuries.
A 789D haul truck at a Cat dealer's equipment rebuild center. At the end of the process, the unit is
expected to perform like a new machine.


Certified Rebuilds From Cat's Dealer Network
In a presentation made at last year's MinExpo in Las Vegas, Dave Faber, general manager for Caterpillar's aftermarket solutions division, provided some equivalent figures for the various options that the company provides for component repair or replacement. Again taking the cost of a completely new component as the yardstick, basic repair and adjustment before failure will extend a part's life at a cost of less than 25% of new, he said. A more comprehensive time and material overhaul will extend this further, costing 25%-50% of new, while a dealer rebuild or exchange—again before failure— will run to 55%-65% of the cost of a new part. Remanufacturing, before or after failure, is the most drastic procedure and carries the highest relative cost, perhaps reaching 80% of new, although still achieving worthwhile savings.

Faber went on to highlight five key points that need to be considered when decisions are made about repairing or replacing mining equipment:
• Ownership – how long does the owner plan to keep the machine?
• Utilization – how much or how often is the machine used?
• Affordability – what are the cost expectations for repair?
• Turnaround – how quickly does the machine have to get back to work? and
• Availability – where the cost of repair is offset by the cost of the machine not working.

Faber then gave the example of different repair options and costs for the final drive for a Cat 793F haul truck. For basic repair and adjustment after 15,000 hours, with maximum reuse of Cat parts, at US$2.97/hour the cost comes out at around 20% of new, he said. After 18,000 hours, slow-wearing parts begin to deteriorate, so exchange becomes necessary and the comparative cost rises to 43% of new at US$5.30/hour.

That assumes that nothing has actually failed before replacement. If this occurs, then the potential for reusing parts is reduced, exchange is essential, and the cost increases to 66% of new, at US$7.29/hour. The final scenario is where full new componentry is needed after failure, costing US$11.07/hour over a 20,000 hour overhaul period.

Faber outlined what is involved in a Cat Certified Rebuild, in which the complete rebuild process, undertaken only by Cat dealers, is endorsed by Cat. Using around 7,000 reman or reconditioned genuine Cat parts, the dealer rebuilds a machine to like-new condition, including any critical engineering updates. At the end of the process, the unit is new in both appearance and operation, and is expected to perform like a new machine, Faber added.

To illustrate the way in which the rebuild market has taken off, Faber noted that whereas in the mid-1980s, rebuild requests were very few and far between, by 2000 the interest was definitely beginning to grow. By 2005, Cat dealers were handling around 100 Cat Certified rebuilds a year, a figure that has since shot up to 300 in 2010 and around 900 in 2015.

Sandvik Rebuilds Underground Machines
While wear and tear take their toll on surface-mining equipment, the situation for LHDs, mine trucks and drill rigs underground can be even more challenging. Not surprisingly, then, the manufacturers of these machines often offer rebuild services to ensure that operators get the best from their investments.

As Sandvik pointed out, in these cost-conscious times, replacing an exhausted asset with new equipment often isn't feasible, so a manufacturer's rebuild can be the most cost-effective solution. The company offers a three-tier approach to rebuilds, starting with life extension work and then ranging upwards in complexity to a full-scope rebuild plus upgrades to the latest technology.

Sandvik suggested that its life-extension solutions offer customers flexibility, from customized scopes targeted toward extending the units life for a specified period, to a more modular approach targeting only a system or range of systems that are currently reducing reliability.

The company's "Reborn" option aims at providing customers with essentially a second life from their unit from a fixed-priced package that can save up to 35% on investment costs against a new piece of equipment. Rebuilt machines contain the latest safety and product updates as standard and are offered with "as new" full warranty terms and conditions. In addition, Sandvik's "+" solutions contain productivity, safety and operator comfort upgrades on top of this.

Sandvik cited the example of rebuilding one of its DL420- 10C production drill rigs from the Frog's Leg gold mine in Western Australia, following reduced productivity being caused by hydraulics and electrical issues. The machine was stripped, sandblasted and subjected to NDT crack testing and repair. It received a completely new drivetrain, with the hydraulic lines rehosed back to factory specifications. A 24-volt rewire, including the operator consoles, was undertaken, with upgraded drilling control modules to provide improved reliability and functionality.

Also in Australia, Sandvik rebuilt a seven-year-old development drill rig that was destined for a change of location, where it is expected to perform for a further seven years at least. The machine was stripped to its base chassis and individual components. After thorough crack tests and inspections to detect any fatigue, specified parts and components were replaced by new or rebuilt versions. The result was a completely overhauled and updated unit, in compliance with today's standards, and covered by Sandvik Australia's 12-month/1,500-hour warranty.
---
As featured in Womp 2017 Vol 01 - www.womp-int.com