Copper North Re-engineers its Carmacks Project
---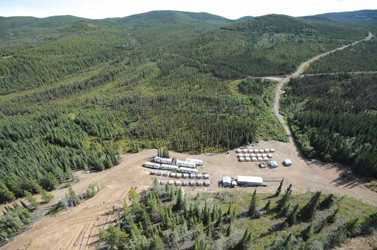 The Carmacks project in Canada's Dawson district will pursue tank leaching in favor of
heap leaching.


Copper North Mining has completed a new preliminary economic assessment (PEA) of its open-pit Carmacks copper- gold-silver project on the southern end of the Dawson district in south-central Yukon, Canada. The new PEA improves on and replaces an earlier PEA completed in June 2014.

The re-engineered project utilizes agitated tank leach processing of copper oxide mineralization to produce cathode copper, followed by agitated tank leach cyanidation and carbon-in-leach (CIL) processing for recovery of gold and silver in doré.

The 2014 PEA was based on heap leaching for copper recovery, followed by gold and silver recovery by cyaniding of the copper leach residues. Copper North CEO Dr. Harlan Meade said, "The use of agitated tank leaching provides for high recoveries of gold alongside the leaching of copper. The application of agitated tank leach technology has also reduced operating and environmental risk, compared to the previously proposed heap leach of copper.

"The agitated tank leach provides for rapid leaching of the copper followed by gold-silver and improved recoveries. The C1 cost of copper production is $1.08 per pound (lb) after byproduct gold and silver credits. All-in sustaining cost is $1.16/lb. The production costs place Carmacks project in the lower decile of the cost curve of projects in the development pipeline." The Carmacks project PEA assumes a seven-year mine life, producing an average of 30 million lb per year (lb/y) of cathode copper, 19,500 ounces (oz) per year of gold, and 21,600 oz/y of silver. Pre-production capex is estimated at C$214.7 million.

Next steps for the project include preparation of a prefeasibility study, ongoing engineering in pursuit of capex and opex reduction opportunities, and expansion of mine life by adding another three years of new oxide mineral resources not included in the PEA.
---
As featured in Womp 2017 Vol 12 - www.womp-int.com